by Advanced Sommelier Jenny Benzie
For anyone arriving on Nantucket via the ferry, one of most iconic and picturesque scenes you will see as you come into the Nantucket harbor is also one of the island's most recognizable structures. Nantucket is home to not one, but three lighthouses, and it is Brant Point Lighthouse that you see when first arriving to island by ferry.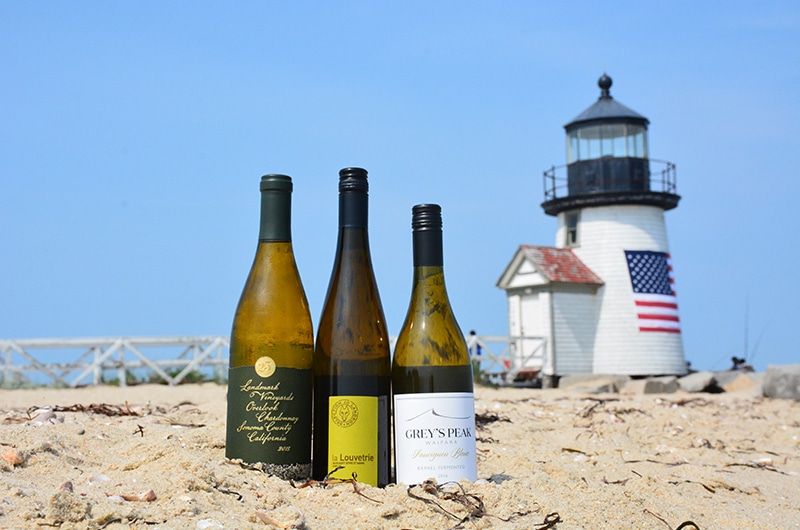 Lighthouses are an essential part of maritime navigation at sea or with inland waterways. For Nantucket, this means making your way through the Grey Lady fog and avoiding the dangerous shoals off the coast. The US Bureau of Lighthouses was created by Congress in 1789, but today lighthouses fall under the United States Coast Guard. Once widely used, the number of operational lighthouses that are monitored by actual personnel has declined due to the expense of maintenance and also the use of electronic navigational systems.
While it is safe to say that getting to see all three of the Grey Lady's lighthouses in one day is totally doable, it will definitely require an effort on your part. No need to leave yourself thirsty in your lighthouse bingo quest, however. Here is some brief insight into each of these three unique structures plus wine pairings to enjoy while on your lighthouse tour of the island.
Brant Point Light is the definite marker that you have either arrived or about to leave the waters of Nantucket Harbor. Standing only 26 feet tall, this small wooden structure is said to be the second oldest lighthouse in America and the shortest in New England. As the tenth structure in this spot, the current tower is listed on the National Register of Historic Places. To view this beacon of light is a short walk from town through the Brant Point neighborhood and down to the water's edge. Grab a quick bite to go from The Corner Table at the Nantucket Culinary Center and a bottle of wine on the way to enjoy while sitting on the beach there and watching the marine traffic float by. Side note: Little-known fact is that Mystic Seaport Light in Connecticut was built as a replica of this one.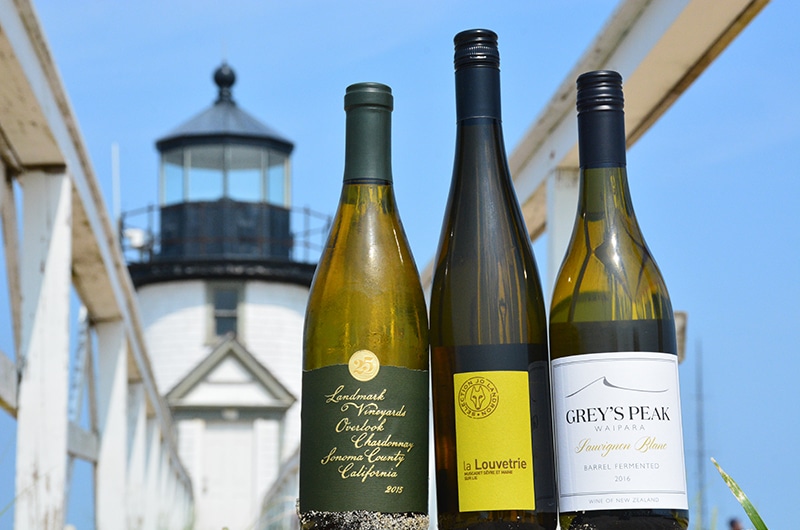 Perfect Pairing for Brant Point Light is Jo Landron Muscadet Sévre et Maine 'La Louvetrie' 2017. This organic wine is made from 100% Muscadet, also known as Melon de Bourgogne, from the Loire Valley in northwestern France. It is full of juicy fruit and tons of delicious minerality. This was is aged "sur-lees," meaning it has spent time on the lees (or leftover yeast after fermentation has been completed) in order to give the wine a little more texture or mouthfeel. Green apple and floral notes are followed by a tartness on the palate that make this a great affordable accompaniment to your afternoon snack.
Sankaty Head Light is located on the way to 'Sconset on the eastern side of the island atop the cliffs just beyond the Sankaty Head Golf Course. The word sankaty is derived from the Native American word "sankoty" which means highland, as in where this lighthouse is located. This lighthouse was cautiously moved just a slight 400 feet from its original location in 2007 in order to help prevent it from falling off a nearby seacliff. The grounds are open daily from sunrise to sunset for viewers to enjoy and learn more about the history of the lighthouse. The lighthouse is also open semi-annually thanks to The 'Sconset Trust, which gives visitors the chance to climb the tower and see breathtaking views.
Perfect Pairing for Sankaty Light is Grey's Peak Sauvignon Blanc 'Barrel Fermented' Waipara, NZ 2016. This award-winning, complex style of Sauvignon Blanc from New Zealand's Winemaker of the year is the perfect juice to drink while visiting the Grey Lady. The winery is located just north of Christchurch on the South Island of New Zealand. Aromas of pineapple and tropical fruit are accompanied by a generous texture on the palate due to the barrel fermentation. Drink now and take a bottle home with you as it is not readily available in other locations.
To continue our tour, the most remote of the three lighthouses on Nantucket is Great Point Light. This structure, standing 70 feet tall, is located on the northernmost point of the island, past The Wauwinet. The current stone tower was rebuilt in 1986 (the previous structure collapsed during a winter storm in 1984) and is most accessible by 4WD vehicle or by boat. An oversand beach permit is required to visit this beauty or take a guided tour with The Trustees of Reservations for a more leisurely adventure. (508-228-6799)
Perfect Pairing for Great Point Light is Landmark Overlook Chardonnay, Sonoma County 2016. This elegant Chardonnay is a blend of premium fruit from the best vineyards in Sonoma County. Ripe pear and baked apple on the nose with a buttery, oaky finish make this a quintessential California Chardonnay that will delightfully match any lobster roll. Don't forget your corkscrew if you take this wine with you, it's a long way back to town!
Congrats to those of you who are able to say that you have journeyed each of Nantucket's Lighthouses. If time did not allow for all three this visit, tradition has it that you should toss a penny off the back of the ferry and make a wish as you round Brant Point Light. Some believe that this will ensure you a trip back to Nantucket someday. Cheers to that!