~ by Rebecca Nimerfroh ~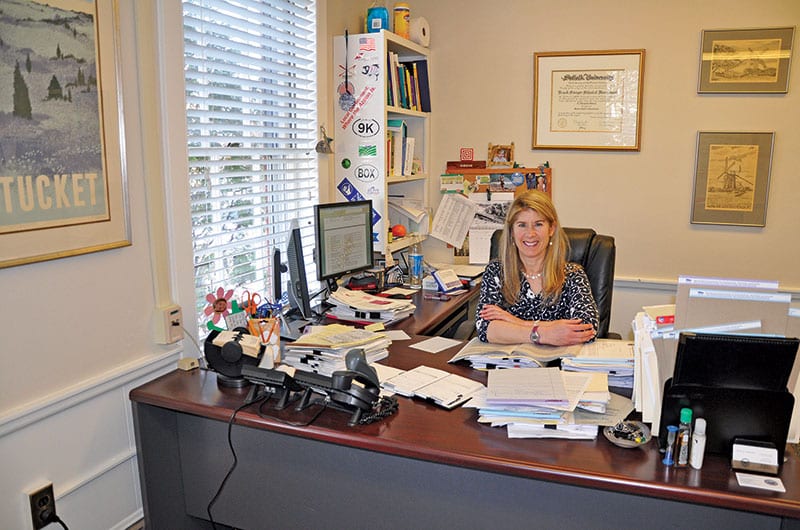 You may recognize Libby Gibson's voice from the weekly updates she does on 97.7 ACK FM, reporting the latest happenings of the town in that oh-so-relatable, down-to-earth tone. Or perhaps you have spotted her walking her dog down one of Nantucket's many gorgeous beaches, Libby's smile always warm and welcoming for a conversation.
Having worked in town administration since she was just twenty-two years old, and having served as Nantucket's Town Manager for more than twenty years, this wash-a-shore certainly knows a thing or two about this little island, to the point that its hard to believe we can't technically call her a native.
"I moved to Nantucket when I was ten," Libby tells me when I meet with her at her office on Broad Street. It is school vacation week, and although the island is much quieter than usual, in town it is still bustling with sounds of construction humming through her office windows. I came here with the intent not to interview her per se, but to hear what Nantucket was like when she first moved to the island, and how she feels it has changed today.
"My father's family had a summer home here, so we used to come here every summer," Libby says. "We lived in California." It was in 1977 that her dad and mom, H. Flint and Corky Ranney, decided to move to the island permanently, and packed up the family "in a Volkswagen van with a U-Haul and a dinghy on top of our car." The cross-country trip took two weeks, and they arrived just in time for summer, staying at her grandmother's house on Cliff Road.
When winter came it brought the blizzard of '77. "It was a summer house, so it was really cold, but we considered it kind of an adventure. My parents, a year or so later, bought a house in Monomoy and we moved there." Every summer, Libby's parents would rent the house to vacationers, and move back to Cliff Road.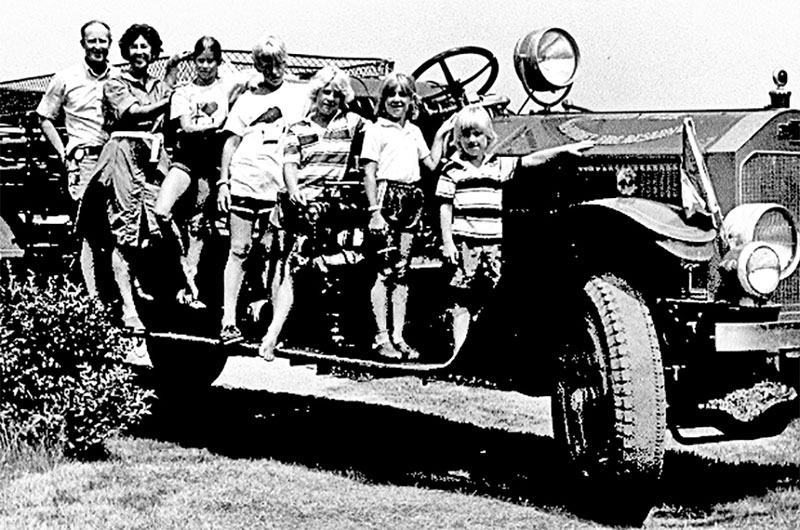 Growing up, every one of Libby's siblings attended Nantucket High School, except for one brother who went to boarding school. Libby remembers fondly taking the bus to school. "On Cliff Road we had a school bus driven by Jack Gardner. Jack still fondly remembers picking us up in front of our house. When we moved to Monomoy we had a different bus, and if we missed it, my parents would say, "If you miss that bus, you're walking." But the times we walked you could probably count on one hand because we would beg and plead and cry, and they would eventually drive us."
I asked Libby what it was like to grow up on this tiny island. "We didn't really have that many neighbors, but we had friends all over the island. If you wanted to go to a friend's house, you could ride your bike or walk there. Winter was a little quieter then, but over the weekend we would go out to eat. There wasn't much of a choice. The place we would pick would be packed, but it was fun. We saw lots of people that we knew. I think that's one of the things that I really love about Nantucket. No matter where you go, you come across somebody that you know and you can chat with them."
As a young girl, Libby asked her parents for a horse and got one. "My poor parents had to build a barn because I decided I really loved horses and couldn't live without one." And Monomoy was the perfect place to have a horse. "There's a lot of great riding out by the Polpis/Shimmo/Shawkemo area. I can't imagine doing that today, if my daughter came home and said she wanted a horse. There's no way – we couldn't do it in our neighborhood. And it's expensive, but it was a really nice thing to have growing up."
Asked for the difference between her upbringing and that of her kids, Libby says, "We rode our bikes every where. I guess kids ride their bikes now, but if I said to my kids that they had to ride their bikes to Tom Nevers they would say 'no way, its too far.' My best friend lived in Tom Nevers and we rode our bikes to each other's house all the time. Unless it was some kind of circumstance where my parents were going out there anyway, which was quite unlikely, you had to ride your bike."
Growing up, Libby's father took great joy in one particular possession – an antique fire truck. But how he got this fire truck to the island was a whole entire story unto itself. Fresh from their wedding in California, Libby's mom and dad, dressed in their traveling suits customary for the time, picked up the truck from New Bedford as they made their way to Nantucket for their honeymoon. It was just as they crossed the bridge over the Cape Cod Canal that the truck overheated and seized, so they coasted their way to the bottom of the bridge, and Libby's mother stayed with the car while her dad sought out the nearest service station. The sight of these honeymooners and the broken down fire truck caused such a commotion on the Cape that a write up even made its way into a local paper. Libby recalls her mother in that situation. "She was like, "I can't believe this is happening. This is SO embarrassing." Libby laughs. "We still laugh about it. She probably doesn't think its that funny, even today."
But it was the fire truck that was the source for many fun summer memories. "It mostly went from Wauwinet to 'Sconset. On the way there was a sort of swampy area where my dad would sometimes fill up the water tank and spray everybody with the hose. But it was big fun to go to 'Sconset in the summer time and get ice cream from the 'Sconset Bookstore, which is now a liquor store. It was sort of like a drug store then. There was a lunch counter and they had books and magazines and ice cream."
The fire truck, inherited by Libby's brother Rob Ranney, still makes its occasional debut over Daffodil Festival, but Libby warns that if you are riding in it, you better bundle up. "It's really windy up there," she says, "and really loud."
When Libby was in tenth grade, she got her first job at the Nantucket Bake Shop. "I worked with Valerie and Richard Perry. We tasted everything! That was an interesting experience. And then I worked at Young's Bike Shop for maybe four summers." Young's Bike Shop was almost a family tradition, with her brothers working there too, and these days her nephew as well.
After attending Wheaton College, Libby found herself back home for the summer. There was a job in the town building – an administrative assistant position in the Board of Selectman's Office. "I thought, well, why don't I try that. I can stay here, I can live at home, pay some tiny amount of rent, save some money and figure out what I want to do."
It was on her very first day that a handsome man stormed into her office, demanding to see the Executive Secretary. "I was like, "Ok, who are you?" and he sort of didn't think he needed to tell me who he was, and he didn't think I would really be here that long anyway, because there had been a lot of turn over in the office." The man eventually did tell her who he was, that his name was Charlie Gibson, and after fixing a radio in her car, he asked Libby out to dinner. They went to the Atlantic Café for their first date. "I am so sorry it's not still there," Libby says. "It was such a great place. We used to reenact our first date every now and then, but we can't do that anymore." Libby and Charlie got married in 1992 at the Nantucket Yacht Club, just steps from where they met on that fateful day in the Town Building.
As for her job, Libby says, "I really liked it. I became very interested in how the government works and functions and being involved in what's happening, and sort of helping make things happen. In 1990 the executive secretary left, and I became the assistant, and in 1995 I became what was then called the Town Administrator. In 2007, the title changed to Town Manager, so I just sort of moved along the chain. I just hope to keep doing it for as long as I can, for as long as it keeps working for all of us, which hopefully it is."
Not that being Town Manager doesn't have its challenges. "It seems more goes on here than in other towns. Most other towns don't have a nursing home. A lot of towns don't have a landfill, or two sewer treatment plants. No towns have their own county." She says that the unique thing about Nantucket is that the town has to work with so many other departments, and those relationships are crucial to proper function. "We all have to work together to get it done. That's nice in a lot of ways, but it's challenging in a lot of ways."
One notable change in the town building since Libby started, all politics aside, is the smoking, or lack thereof. "It wasn't even that long ago. But you could never imagine that today. The walls were yellow. It was really bad." Libby recalls how the desk she inherited as Town Manager still had a giant burn mark on the side from an un-extinguished cigarette that lit a trash can on fire many years back. In about the year 2000 Libby finally got a new desk, and she smiles, her hands flat on the surface in front of her, "I love my new desk."
These days, Libby and Charlie are the proud parents of two children and a recently adopted dog, because of whom they have been finding themselves outside for long walks along the beach or dirt paths. Nantucket's meandering dirt roads have always been special to Libby, dating back to when she was young and she and her siblings would ask her dad to turn down a random dirt road, just to see where it would go. "We really loved this "roller coaster" road which was out by Altar Rock. Sometimes, back then, the road would turn into more of a path, and we thought that was so cool. That stuff you kind of can't do so much any more, because development has occurred. But my kids sometimes still say, "Let's go down this dirt road and see where it goes," especially if they haven't been down it before."
One of Libby's favorite things about Nantucket, she says, is that you can go anywhere in the world and you will most likely find someone with a Nantucket connection. "I've run into people that I know in Puerto Rico, Turks and Caicos, Canada… You can almost always find somebody who has some type of Nantucket connection, which is really cool."
Although Libby's father passed away in 2012, her mother still lives in their home in Monomoy, and most of Libby's siblings either reside on the island or come back often to visit. Libby says, "I loved growing up here, and I wouldn't trade it for anything."