by Suzanne Daub
Unless you know where to look, it's easy to pass by the pretty winding path that leads to back of Jonathan Raith's new building at 14 Easy Street. That would be a mistake. A short walk down this topiary-lined brick walkway to the left of Fog Island will lead you to the gallery of exquisite jewelry designs by R. Simantov.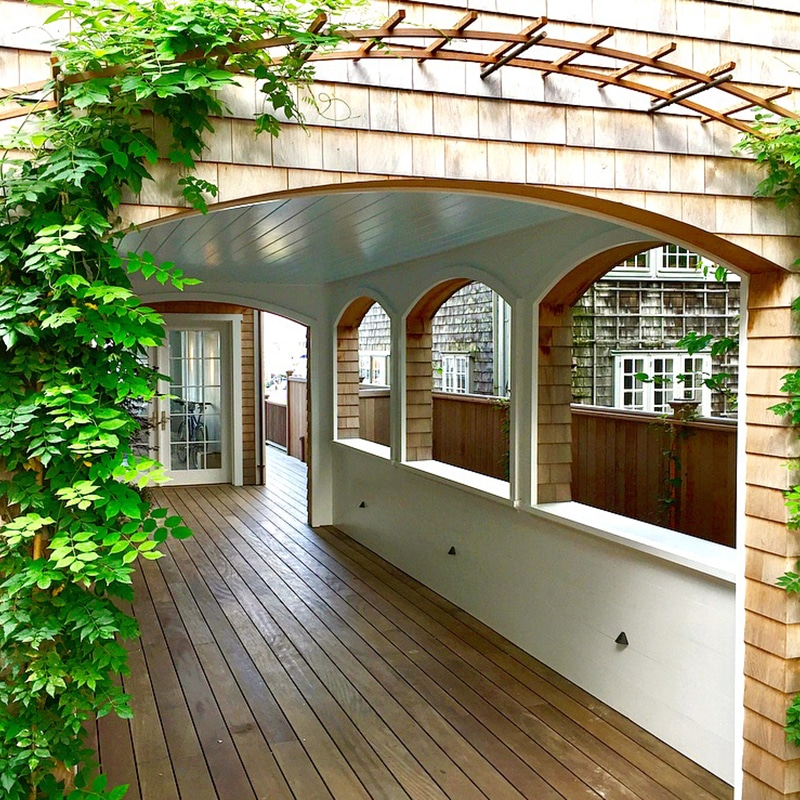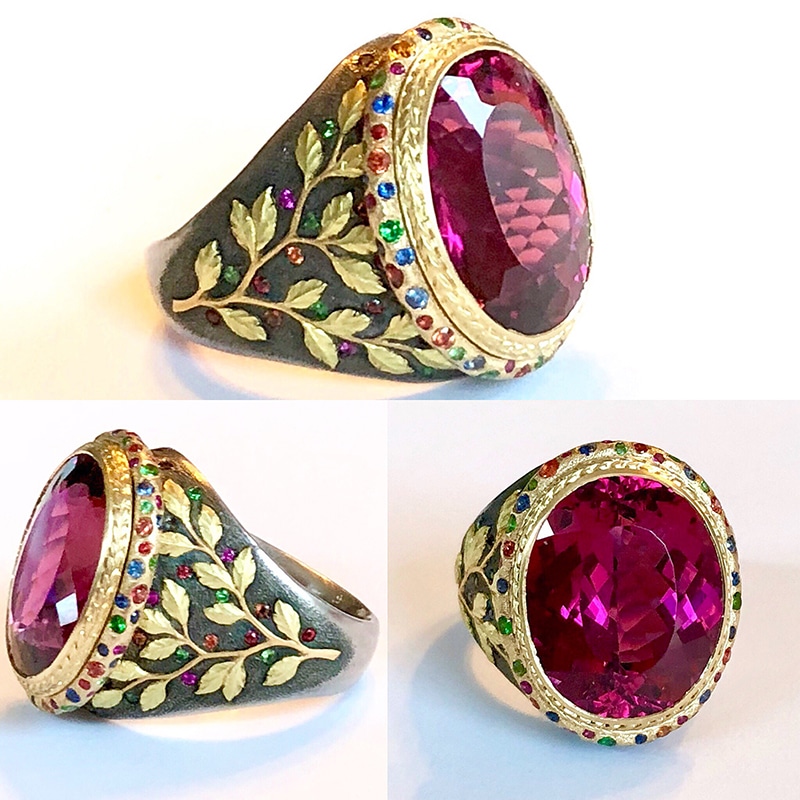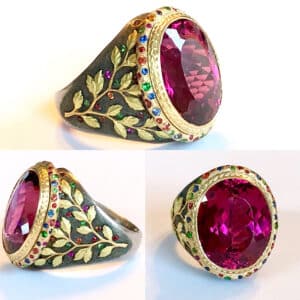 Craftsmanship is the heart of his work and attention to detail is evident throughout Simantov's artistry, particularly in the mountings and settings. Many of the pieces are inspired by the rare gems he finds and motivated by nature. His Honey of a Ring showcases a 12k yellow sapphire with yellow canary diamonds "dripping" down over honeycomb sculpted from palladium, and the "confetti" around his rare 18 carat Rubellite Ring are tiny colorful gems scattered about 24k inlaid gold laurel leaves. His Pearl Cuff Bracelet has a tiny diamond atop each and every prong holding the gems. And his collection of Cuff Bracelets are inlaid on one side and engraved on the inside.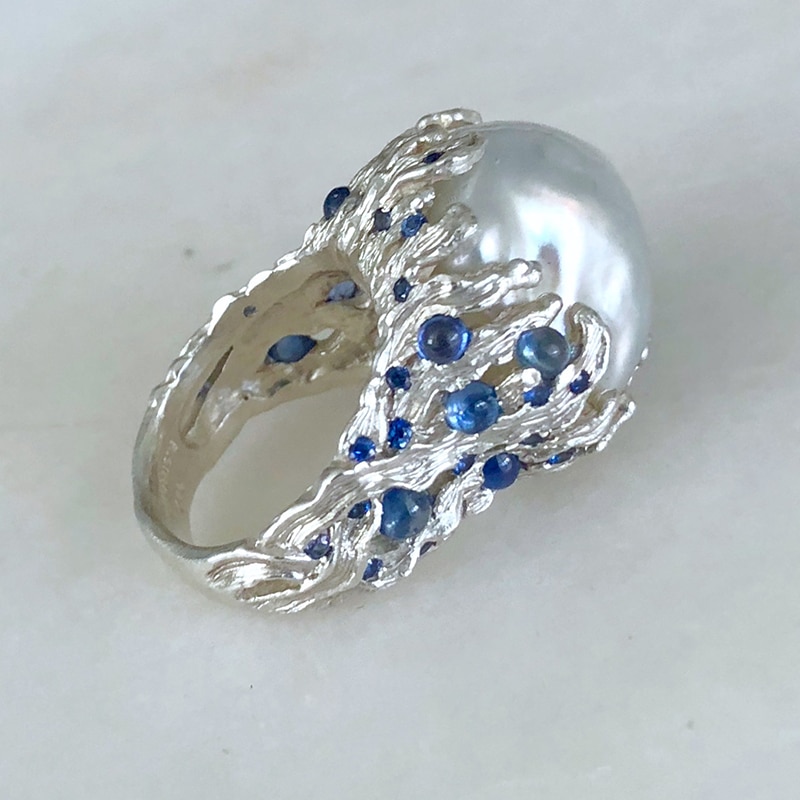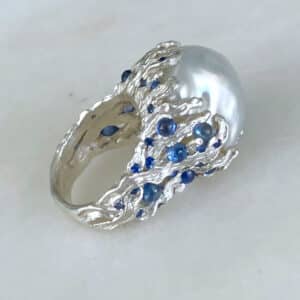 New to his collection are many large, shimmering South Sea Pearls. One he showed us is a baroque pearl nestled in a bed of carved platinum seaweed with cabochon sapphire "bubbles" floating up to the pearl. A pair of earrings he displays has gorgeous silvery pearls set in green gold scattered with green garnets and diamonds.
He does not design exclusively for women. Several of his pieces are created for men who appreciate beauty and craftsmanship. His magnificent sterling silver Scull Ring with garnet eyes is a distinctively detailed sculpture that can be worn.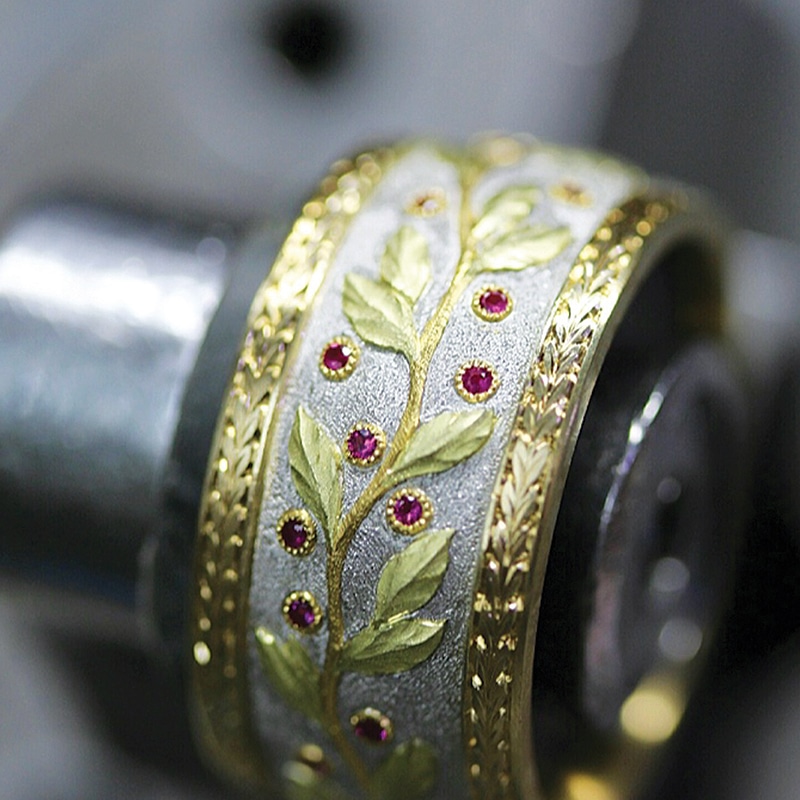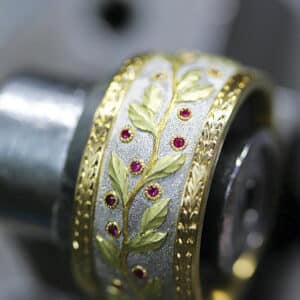 Although Reubin Simantov shies away from a title of designer, saying "You are the designer; I just help you discover what you want," he and his team of masters have resurrected techniques many jewelers have abandoned. "I execute what's lost," he says "craftsmanship is my heart and soul."
A fascinating example of this is Simantov's Intaglio jewelry. The opposite of relief printing, to create intaglio, the artist must etch into a gem. Think of it as a reverse cameo. Carved intaglio rings can be used to create seals, and so were once worn by every powerful businessman in the Roman empire and by royals through the ages. Prized by collectors of antiques, intaglios are rarely made today. Reubin wants to change that. "I want to resurrect the art of jewelry making…it's the art of it that is my passion."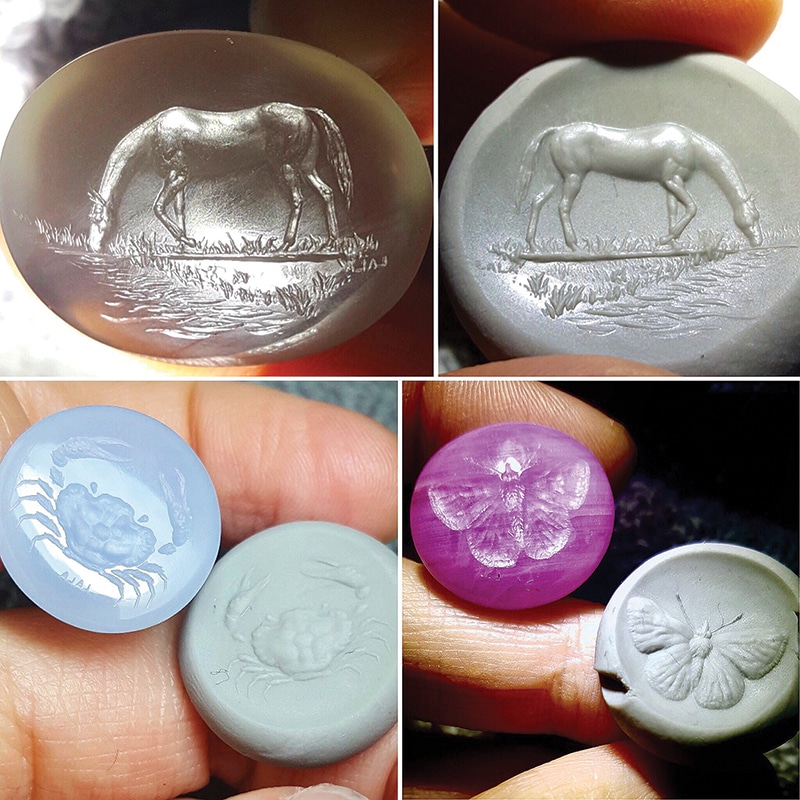 In his Nantucket gallery, he displays stunning examples of this handcarved artistry in gems: a graceful horse, a detailed crab, a delicate butterfly complete with veins of its wings and slender antennae. Not only do these make beautiful imprints, but the rings themselves are wonderfully wrought, the purpose not immediately obvious—the butterfly intaglio is carved into a ruby and surrounded by gold iris. These rings are like wearing a secret.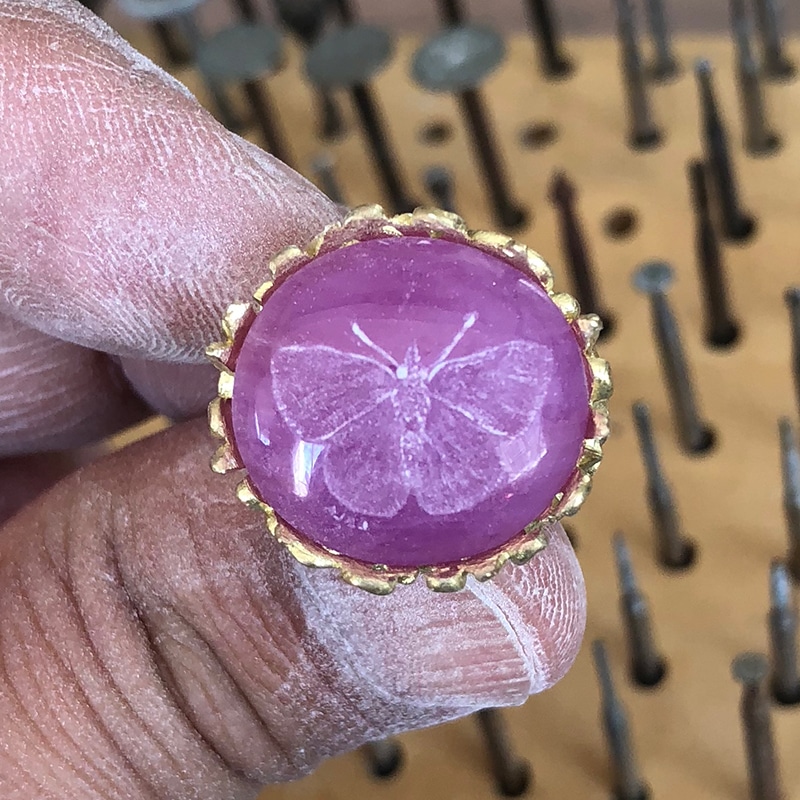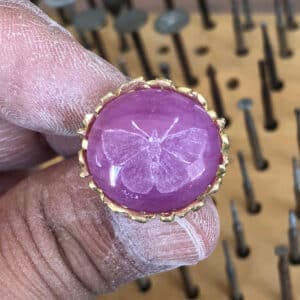 With his team of talent complementing his own gifts, Simantov creates pieces that resonate emotionally with his clients. "I'm like an interior designer who makes jewelry that means something…jewelry that gets into your soul."
While his beautiful new oceanfront location on Nantucket is seasonal, he gave us a tip that we will see R. Simantov and his designs this fall in Yuta Powell's salon in her classical town house at 19 East 75th Street, NYC.
Open daily from 10 am to 7 pm at 14 Easy Street. Enter from Easy Street &
you'll find R. Simantov behind The Haberdashery of New England.
Enter from South Water Street, and find him at the end of the garden path
that is to the left of Fog Island.