• by Sarah Teach •
Theatre Workshop of Nantucket (TWN) whisks us back to childhood this summer with composer Clark Gesner's 1967 musical comedy You're A Good Man, Charlie Brown.  Based on cartoonist Charles Schulz's beloved comic strip "Peanuts," the show has been twice nominated for a Grammy, first in 1968 in its original off-Broadway form, and again in 2000 for the Broadway revival.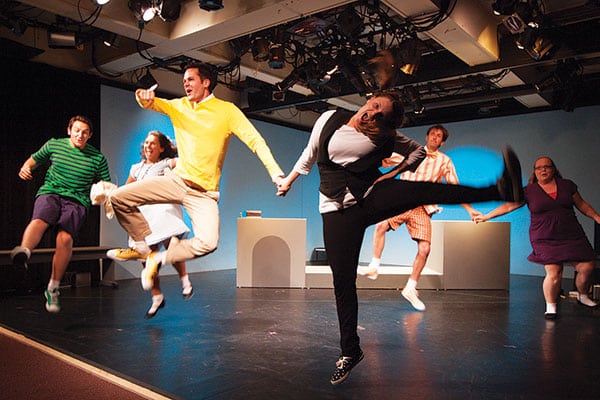 "Peanuts" launched in 1950, and appeared in seven newspapers. Fifty years later, the lessons and genuine emotionality of Schulz's world had reached 2,600 newspapers that spanned 75 countries and 21 languages. Gesner never forgot the show's "Peanuts" roots; his script is rife with direct quotes and scenes from a few of Schulz's most brilliant strips. From beagles to blockheads to baseball, Gesner gathered an expert handle on Schultz's voice and emotional intentions for his vivacious little bunch of characters.
Director Barbara Elder has assembled a delightful cast that is a blend of TWN newcomers and old hands.  Tim Ehrenberg makes his TWN debut as the loveable Charlie Brown in a sweet and expressive portrayal of America's favorite little "round-headed kid."  Ehrenberg also did all the choreography, which consists of moves that are classic to suit this show yet innovative to keep you constantly entertained.  It's evident that the cast has worked very hard under Ehrenberg and Elder's instruction; everyone is right on cue.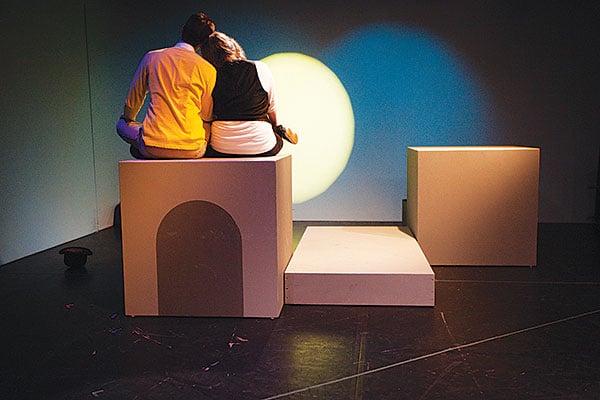 Snoopy is played by Sarah Poor, who has the crowd in stitches as she portrays the inner workings of a domestic dog.  Eddie Yankow makes an adorable Linus, the blanket-loving, philosophical younger brother of Lucy, the bossy little girl who is perhaps best known for swiping footballs just before Charlie Brown get a chance for a good kick.  Margie Zarcone debuts at TWN as a wildly entertaining Lucy.  Zarcone is at once winsome and obnoxious, which I surmise is precisely what Schulz had in mind when he was creating his dear little queen bee.  Chapin Klein is an appropriate aloof Schroeder, the ivory-tickling object of Lucy's devotion.  Amanda Torchia (Patty) has the voice of an angel, and kicks the group musical numbers up a notch.
Not unlike the original Off-Broadway production, TWN's show features simple accompaniment: a single piano played by Diane Lehman.  The cast and Lehman work almost flawlessly together on cues, and have beautiful musical chemistry.  Set Designer Tessa Young crafted a simple design that does not compete with the cast or script.  Anne Breeding's costumes are exaggerative and colorful to bring Schulz's cartoon to that quasi life between fiction and real life: live theatre!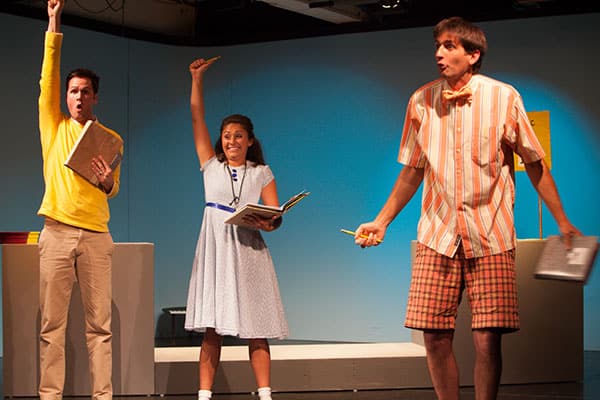 You're A Good Man, Charlie Brown will play through August 2 on Tuesdays at 7:30 p.m., and Wednesdays-Saturdays at 5 p.m. at Centre Stage, 2 Centre Street.  With no profanity and a nice 10-minute intermission to hit the bathrooms, this is a fabulous show for kids.  On Wednesday, July 24, families with children who have special needs will be admitted free as guests of TWN.  Tickets are $30 at www.theatreworkshop.com.  This show is so darned cute, "I can't stand it!  I just can't stand it!"