by Maryjane Mojer, Bartlett's Farm
Until I was fifty-four, I spent every Christmas on Nantucket. I'm not complaining even a little bit! First, at our family home on Pleasant Street, then in various rentals, in-laws, our own homes. We celebrated on-island, in large part, because of family. Though it may seem that there are fewer and fewer of us, I'm pretty certain that anytime I go to the grocery store or walk up Main Street, I'm within a hundred yards or so of a relative. (Next time you drive up Main Street late in the afternoon, wave to my uncles, Jack and John, on the bench by the Pacific Bank.)
My experience has been that traditions tend to morph and evolve over the years. Stroll is a great example of this. This annual tradition began in the 1970s as a way to promote on-island holiday shopping for residents. Over the years, it has become a very different event.
In the early days, Stroll offerings were pretty simple: mulled cider or wine at Craftmasters, assorted cookies at most of the shops, and roasted chestnuts and chowder by the Boy Scouts and Girl Scouts. Yes, there was still a line at the Brotherhood of Thieves, but you truly knew everyone in line by sight. And, honestly, waiting in line for the curly fries, roast beef sandwiches or cheddar beer soup was not a hardship. I would imagine that ease of access to the Cape played a part in the evolution of the Stroll.
During the first few Strolls, a fast ferry was not even a gleam in the eye of the Steamship Authority or Hy-Line. I'm not certain when the Steamship began year-round service to Hyannis, but I do remember taking the boat to Woods Hole, driving to Hyannis to do our shopping (and always stopping at Fall River Knitting Mill on the way to Yarmouth) before driving back to Falmouth, having dinner at the Quarter Deck and heading home the next day. My first baking job started on a Stroll Weekend. A few months before, I decided that I wanted to learn to cook professionally. With three small kids at home, and knowing that going off to school was not an option, I started as a short order cook at EJ's. After a time I was offered an opportunity at the 21 Federal Bakery with Maeve Harrington. I knew absolutely nothing about baking. Nothing. Sure, I made a great batch of chocolate chip cookies now and then and could whip up a mean carrot cake. But baking in large quantities, with consistency, knowing the science behind it? Nope. Not a clue.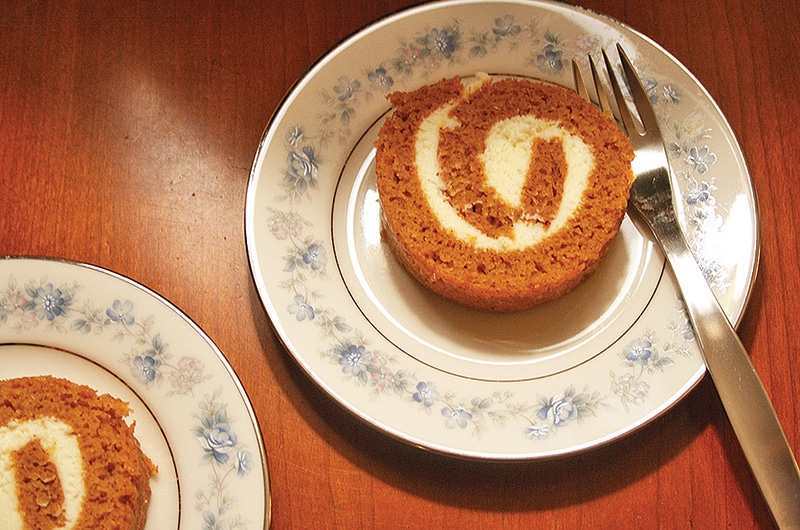 The first morning at 4 am, in I went. Met by Connie Sturgis, we unlocked the door, and entered to find the pipes frozen and twenty Buche de Noels on the order board. Those were in addition to the bread that needed to be made for service at the restaurant that night, the yeasted puff pastry, muffins and scones to be done in time for opening, pizza and focaccia to be made for lunch. It was the two of us; one consummate professional, and one wannabe; passionate and enthusiastic, but green as June corn. Connie was unfazed. She cranked up the oven, started a pot of coffee, broke out the blow torches and we were off. My first baking lesson was learning, not how to make buttercream, but how to bring it back after it was broken. To me, this is akin to turning a heel when knitting a sock. You just have to believe it, and it will happen.
By the time someone came in a few hours later to fix the pipes and get things going, we had baked off most of the cakes, filled and rolled them, and were well on our way to frosting and garnishing them. I was in awe…so very impressed and so very appreciative of the generosity and willingness to share her knowledge with someone she just met.

This is the tradition of cooking. Restaurants may be competitors out the front door, but will trade ideas, techniques, recipes through the back. Talking about food and ingredients brings out a side of people that you may not ordinarily see. It simply starts a never-ending conversation and creates a commonality. We all have those friends who, when you see each other after an extended period of time, the conversation picks up right where you left off. Food and recipes create that shared experience, build that interest, often from the first time you meet.
Every year, I go to visit my daughter and her family around Halloween. A few years back, I started bringing a Long Island Cheese Pumpkin with me, so she could use it for her Thanksgiving Pumpkin Pie. I put the pumpkin in my carry on bag. "Whose bag is this?" is asked every single time as I go through security. The pumpkin is pulled out, handed around, looked over carefully, sometimes swabbed, usually run through the machine again a time or two. It seems like a lot of effort just to bring her a squash. However, what happens next; now that's where the fun begins. "Long Island Cheese? What do you do with it? How do you cook it? You make pies with it? Soup, too? Can I get a recipe?"
Sharing recipes and talking about food. Now those are traditions I can get behind.
Slice your pumpkin in half width wise.
Scoop out the seeds, and save for roasting.
Place your pumpkin, cut side down, on a sheet pan.
Bake at 350 degrees for approximately 45 minutes, until the flesh is soft.
Let cool, scoop out and puree in a food processor.
Pumpkin puree freezes beautifully, and is a great addition to smoothies, pancakes, oatmeal, breads.
PUMPKIN ROULADE
4 large eggs
2 tablespoons pumpkin purée
1/2 cup granulated sugar
1/2 cup brown sugar
1 teaspoon vanilla extract
1/2 teaspoon salt
1 cup all purpose flour
1/4 teaspoon ginger
1/2 teaspoon cinnamon
1/4 teaspoon nutmeg
Preheat oven to 350 degrees.
Line a 17″ x 12″ jelly roll pan with waxed paper, greased.
Beat eggs, sugar, vanilla and salt until thick and light.
Using a strainer, sift all dry ingredients over egg and sugar mixture, folding in without deflating.
Spread batter into pan, and bake until cake springs back, and just starts to pull away from the edge.Let cool for approximately 10 minutes.
Lay a clean, dry dish towel out, and generously sprinkle (I love my strainer for this) with confectioners sugar.
Loosen any cake edges from pan. Carefully invert pan onto towel, and peel off wax paper. Roll up cake, starting at long edge. Let sit for an hour.
FILLING:
1 cup heavy cream
1/2 cup pumpkin purée
1/2 cup confectioners sugar
1/2 teaspoon cinnamon
2 teaspoons orange zest
Whip heavy cream till stiff peaks form.
Add remaining ingredients, and mix well.
Trim edges of cake, and unroll.
Spread filling on cake, re-roll, and chill.
Serve with maple sweetened whipped cream.