EYE ON STYLE: NATIVE SHOES
by Eleni Sinnis
Native Shoes is an innovative and unique approach to footwear, and lucky for us the only one in the US is right here on Nantucket. Beth Lloyd-Thomas, the island store's retail manager, says Native's motto is "Live lightly: everything we do here is to create a comfortable versatile lightweight shoe that is better for the planet." This is true in every aspect of the company the shoes are a lightweight material, and have a light environmental impact, and the sunny disposition of the workers at the Nantucket store is sure to lighten your day.
The brand was started in 2009 by Scott Hawthorn and has been spreading its light-hearted positivity and kindness ever since. The Nantucket store is no different— Beth is always there to help customers find the best options. Housman visited the island every summer as a child and was entranced by its natural beauty, so much so that he decided to open his Vancouver-based company's first US store here. Nantucket was the perfect next step for Native Shoes, as Beth puts it "Nantucket fits beautifully into our mission. We truly are happiest by the water."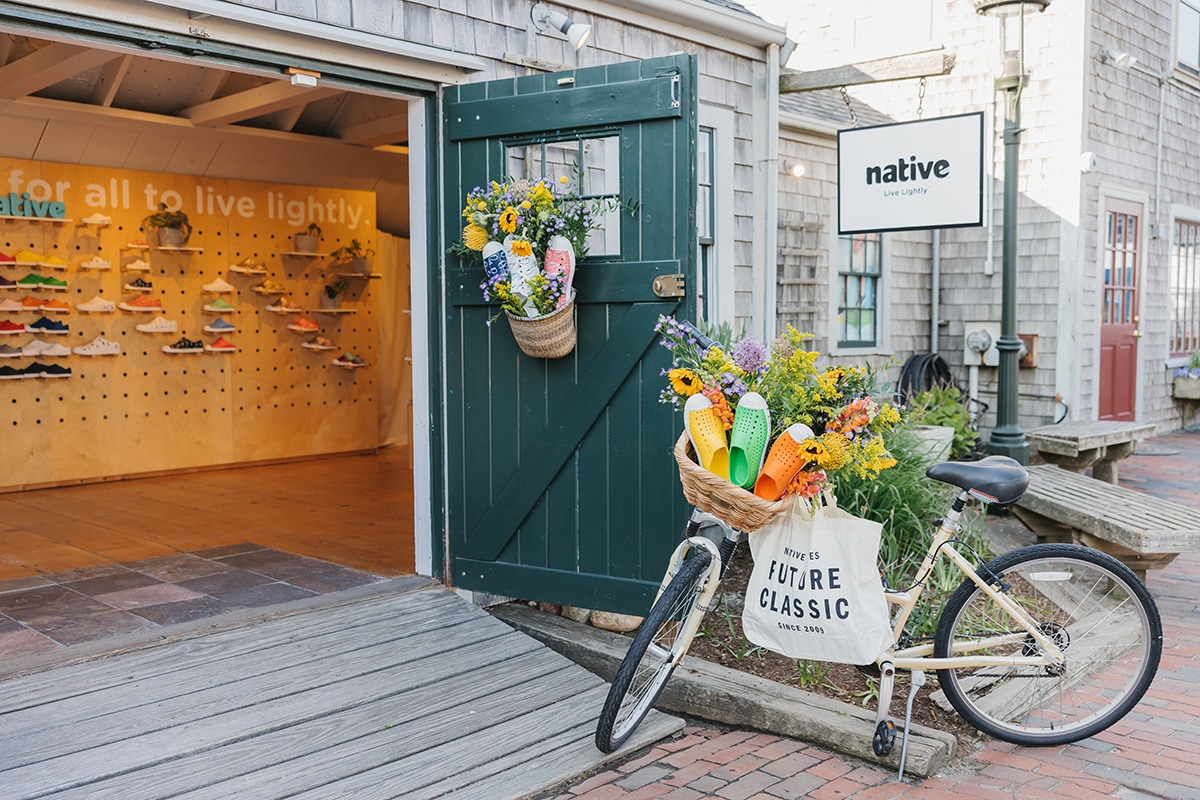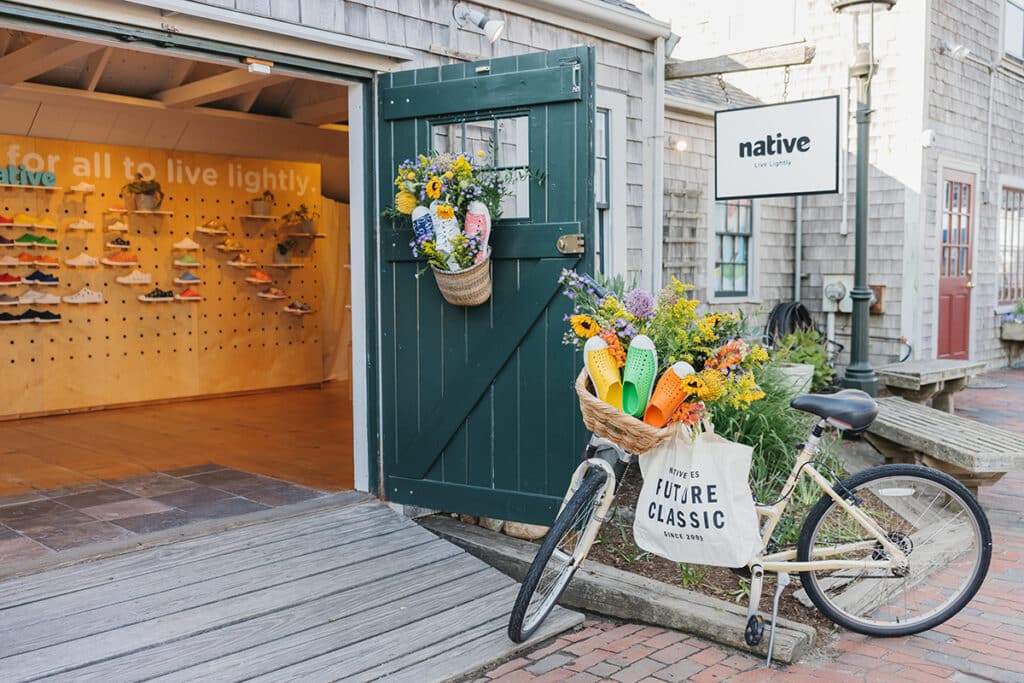 Native is the perfect island shoe, and their comfort and durability make them ideal for children. Their simple, modern design is hand-washable and comes in a variety of colors and styles, including sandals and slip-on mules that are great for adults. They fit into the Nantucket community with ease. With a seemingly endlessstream of outdoor activities to enjoy on the island, these are the perfect pair of shoes to wear on an island vacation. Native Shoes can be worn boating, fishing, heading to the beach, and to any kid's summer camp. Nantucket fit so well into the company that CEO Kyle Housman created a Nantucket Collection, decorated with sailboats and whales and only available here on Nantucket Island.
One of Native Shoes' latest initiatives is involving algal blooms, an environmental issue that directly affects the island. The company has launched "Rise by Bloom," an innovative footwear solution made with repurposed algae biomass, engineered to replace a percentage of plastic polymer typically used for making conventional EVA shoes. Algal blooms are a rising concern on Nantucket. Pollutants that are not absorbed or removed from waterways can create algal blooms. Nantucket's beloved Miacomet Pond, once a special feature of the island with children always playing and swimming in its waters, now has a five-foot-deep muck. It is full of nitrogen and phosphorous that has been entering the pond causing algal blooms and invasive plants that damage the shoreline rendering the pond unswimmable in the summer. Brands like Native Shoes are taking steps to aid communities like Nantucket in their fight against this water population.
Their new design, The Robbie, is also in the Nantucket store and is perfect for back to school. The Robbie was inspired by what Native Shoes calls "generation do," Native believes this generation is growing up as the most educated, connected, socially aware, and environmentally-minded generation in history. Native is working to promote education and climate awareness in today's kids. They truly believe in our younger generation and that environmental awareness at a young age can facilitate change. One way the company has done this is through their Remix Project, which recycles well-loved shoes to give them a new life in playgrounds. The project repurposes the bouncy, lightweight materials for which Native Shoes are known. They have already created six playgrounds in Vancouver through this initiative.
Native Shoes is open daily, so make sure to stop in to shop the exclusive Nantucket collection and all their styles in their only US store. Every purchase and wear of Native Shoes makes a positive environmental impact.
Native Shoes is open daily at 40 Straight Wharf