by Dr. Sarah Treanor Bois
Director of Research & Education at the Linda Loring Nature Foundation
Nantucket is often thought of as a virtually tree-less landscape. Picturing the conservation lands and open space, we often think of rolling grasslands and the open moors. But take a look closer.
A majority of the plants surrounding us on island – whether it be along the open fields of the south coast, the northeast swamps, or the rolling hills of the northwest of Nantucket – are, in fact, made up of woody vegetation: trees, shrubs, and lianas (woody vines). Of course, like many things on Nantucket, the shrubs and trees on our island might look a little different than their mainland counterparts. Some trees look more like shrubs (black cherry and sassafras, for example) and some trail along the ground looking more like "wildflowers" (like mayflower or false heather). You might not immediately know what a liana is, but you know them individually: poison ivy, fox grape, Virginia creeper, and green briar, to name a few.
In her new set of books: Trees, Shrubs, and Lianas of Nantucket (Volumes 1 and 2), Lama Yeshe Palmo lovingly details every aspect of these woody plants. A life-long naturalist educator, these books represent a lifetime of learning about the natural world, making observations of the plants, and collecting their stories.
More than a field guide to the woody plants of Nantucket, these books are a loving portrait of each species. Multiple pages are dedicated to each plant, so that nothing is left out and several photos illustrate each distinguishing feature in all seasons. For example, Arrowwood (Viburnum dentatum) begins with the typical field guide info: plant family, habitat, leaf type, etc. But then Yeshe Palmo goes on to describe how to identify the species in all seasons, the life cycle, looka- like species, uses for the plant (and what parts NOT to use), threats to the species, and where to find them on Nantucket. All this with no fewer than 27 photos to aid in the description!
Yeske Palmo's books describe 89 common woody plants on Nantucket. Volume 1 is dedicated to trees and lianas while Volume 2 describes shrubs and berries. She covers natives as well as non-natives in equal measure. While the species covered are common on Nantucket, many are widespread throughout the northeastern US, so these volumes have broad appeal.
In putting pen to paper and creating these volumes, Yeshe Palmo said she wanted to "get the stories of the plants out for people to get to know and appreciate them." In doing so, she hopes that knowing the plants will help people understand and feel connected to the landscape around them.
One of my favorite parts of these books is the inclusion of seasonality. Most field guides offer one line drawing or photo of an individual species at its peak flowering, possibly offering a fruit photo or some other distinguishing feature. These volumes portray each species throughout the season. Thus, the reader can get to know each plant throughout the year: bark, leaves, flowers, fruit, seeds, and color changes. Whether you travel a trail in February, April, July, or October, you can find a description for each.
The gorgeous photographs illustrate Yeshe Palmo's descriptions. This is truly a labor of love as she is the author as well as the photographer. Photos include habitat, leaves, flowers, bark, thorns, and anything necessary to identify and appreciate the plant. Always carrying her camera on daily walks, she has been taking photos for years to capture just the right representation of each character.
And all of this work pays off. In the pages on bayberry (Morella caroliniensis), for example, there are close-up photos of the bayberry wax surrounding each fruit with descriptions of why the plant produces the wax (to protect the fruit from dehydrating, thus protecting the embryonic seed) as well as a recipe for using the bayberry wax for candles, past and current medicinal uses for bayberry, and natural history information about bayberry's importance as a food source for migratory birds.
For each species she goes over the buds, the leaves, flowers, fruit, bark in each season, male and female plants…and it's still not enough! She covers what to look for and where to find them – how to read the landscape. And that is what Yeshe Palmo succeeds at: helping readers interpret the landscape.
Once we know the stories of the plants around us – the trials, the struggles, how they came to be where they are – Yeshe Palmo is "giving us roots in our own landscape." And this is the beauty of Yeshe Palmo's volumes. The photos, the descriptions, all lovingly rendered to make the plants more accessible. She is a natural educator and this comes through in her writing and descriptions. She loves these plants and this landscape and wants to share them with her readers.
Non-native invasive species, such as Japanese barberry and Scotch broom are treated equally in these volumes. They are labeled as non-native and their introduction histories described. However, Yeshe Palmo treats them as another piece of the landscape puzzle – not to be vilified. They just are.
When I asked Yeshe Palmo if she had a favorite species in the book (I realize that was an unfair question) she said, "Well it would have to be kinnikkninnick. It's such a friendly plant. It's circumpolar so you can find it all around the world." Known on island as bearberry or mealy plum, kinnikkinnick refers to Artostaphylos uva-ursi, one of the most ubiquitous plants on Nantucket. This low, creeping woody evergreen plant defines the heathland ecosystem on Nantucket and is found in the heath and acidic barrens throughout the northern hemisphere. I hadn't thought about it being a friendly plant myself, but I knew exactly what Yeshe Palmo meant. In 2012, when I moved to Oregon to work as the Director of Conservation Research at the Institute for Applied Ecology, I had to learn a whole new flora on the west coast. It was with great joy that I found a decent sized patch of bearberry on a botanizing trip to West Sand Island. When the other botanists told me it was kinnikkinnick, I responded "Whatever name you call it, I know this plant!" It was like seeing an old friend.
Lama Yeshe Palmo is a Teacher of Tibetan Buddhism who came to Nantucket in 2011 by way of upstate New York. When she isn't found out in nature, Yeshe Palmo is on the front lines for our Nantucket community. As the current manager of the Nantucket Food Pantry, she makes sure there is food for those in our community. She said that since COVID-19 stay-at-home orders, the need on-island has tripled. The Food Pantry has been running on emergency mode for two months, feeding 380 households (around 1400 people) every week. Just as she describes the lesser known plants of Nantucket, Yeshe Palmo knows and cares for the lesser seen parts of the Nantucket community.
When I asked why she focused on the woody species of Nantucket, Yeshe Palmo laughed, almost to herself. "This one was supposed to be the easy book!" With fewer shrubs, trees, and woody vines, a volume of the forbs and grass-like species were to follow. As she told me, the collecting of information, taking the photos; that was the fun part. It's the publishing that is the burdensome part. While there are no current plans to publish more, I am hopeful that future volumes will follow.
These books are for any and everyone. From experienced naturalists who will learn something new about Nantucket flora to amateur plant enthusiasts eager to discover more about the world around them or just the plants in their backyard.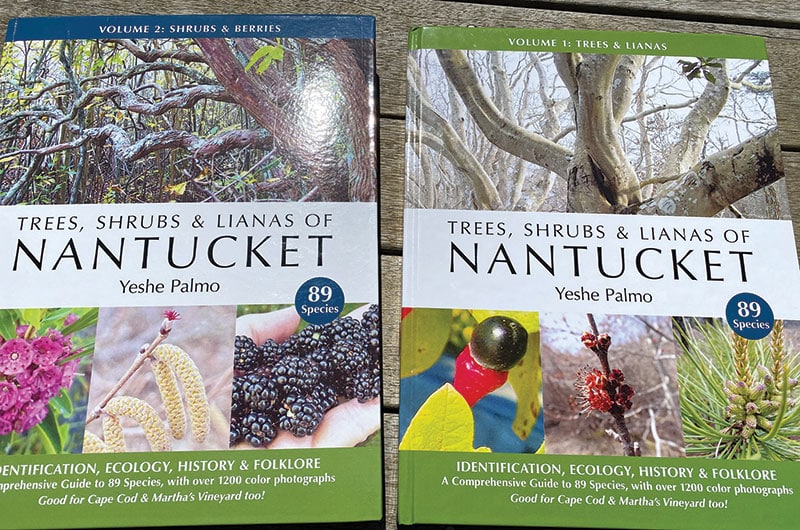 When I spoke with Lama Yeshe Palmo she was at the Nantucket Island's Land Bank property, Gardner Farm, walking her dog. She described the scene around her – a Japanese Black Pine stand – dead individuals in the center, the young on the edges, and the pollen cones beginning to elongate. She could see the ecological succession in action. The smaller shrubs, little bluestem grasses at the edge mixing with the sedges and forbs. "The landscape is waiting to be read."
To purchase your copy of the Trees, Shrubs, and Lianas of Nantucket, stop by Mitchell's Book Corner on Main Street or Nantucket Bookworks on Broad Street.