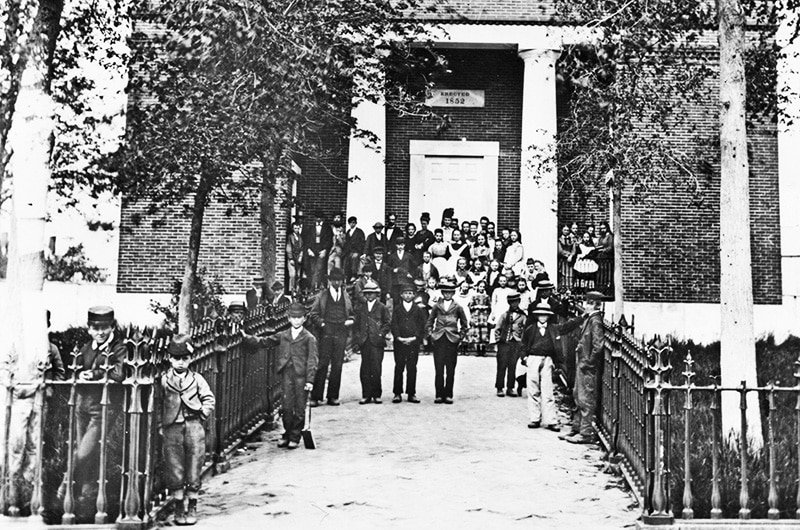 English Admiral Sir Isaac Coffin visited Nantucket just once, in 1826, but his visit led to the creation of a school that educated generations of Nantucket children. To mark the 190th anniversary of the admiral's trip, the NHA invites visitors to explore The Coffin School through rarely-seen artifacts from a century and a half of student achievement. "The Coffin School: A Gift of Education," is the 2016 Mezzanine Gallery exhibit in the Nantucket Whaling Museum, 13 Broad Street.
"Before I began planning for this exhibition, I hadn't fully realized the importance of what today seems like a sleepy little building on Winter Street," says Sarah Helm, NHA Special Collections Librarian. "By researching, writing, and exploring the NHA's collections associated with the Coffin School, I've come to realize how this building symbolizes more than a beautiful example of Greek-revival-style architecture, but also shares a rich history associated with the beginning of formal education on Nantucket."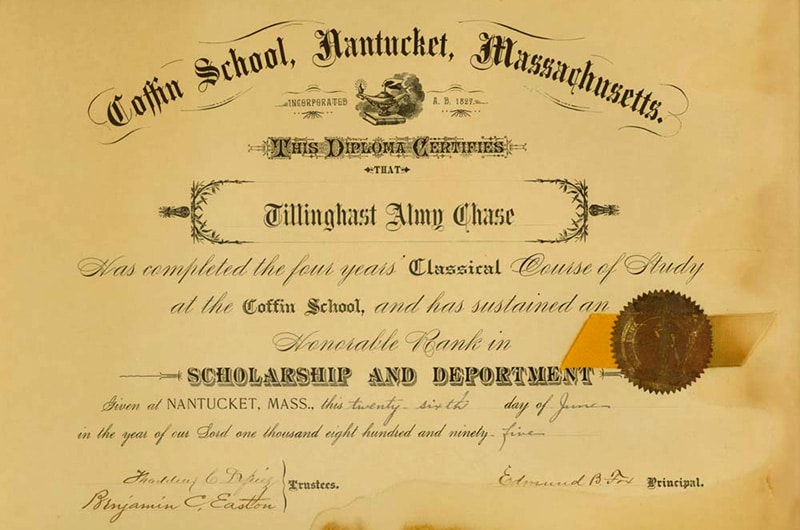 The Coffin School is a unique memorial to one of Nantucket's founding families. Admiral Coffin, a British hero of the Revolutionary War, funded the creation of the school in 1827 to honor his ancestors' role in island history by providing "a good English education to the youth who are descendants of the late Tristram Coffin." At the time the Coffin School was founded 189 years ago, more than three hundred Nantucket children lacked the benefit of formal education.
In 1854, the school moved from Fair Street to a new brick building on Winter Street, and beginning in 1903, the school offered manual-training courses to students. By 1941, the school was fully integrated with Nantucket's public school system, and classes continued there until 1968.
Throughout the late twentieth century, the building also served island nonprofit organizations as a venue for lectures, classes, and musical events. The Coffin School Trustees, some descended from the original trustees or from former students, continue to own the building and advance their educational mission by providing grants and scholarships to island youth and supporting youth-oriented programs.
Some artifacts in this exhibit include a striking portrait of the admiral painted by Gilbert Stuart; the journal of Henry Clapp Jr., written aboard the school's early American training ship, and student work that includes a lightship basket and a sewing-sample book.
"It is fascinating to think of the journal Henry Clapp Jr. kept on board the brig Clio and what an adventure going to school must have been during this time," says Helm. "What an amazing hands-on opportunity it was for those children from a small island off the coast of Massachusetts to set sail for the southern coast of Brazil!"
The Coffin School: A Gift of Education will be on view in the NHA's Mezzanine Gallery on the second floor of the Whaling Museum through November 20, 2016 during museum hours and is included with museum admission.