by Carl Oscar Olson
There are lots of top quality places to stay on Nantucket and there are just as many fine dining establishments, but there are few that wrap both in as perfect a package as Brant Point Grill at The White Elephant.
The menu is full of fresh, locally caught seafood options and incomparable steaks, chops, and of course, lobster. It's thorough without being overwhelming. There's a gourmet Raw Bar, Bucka- Shuck every Friday afternoon, and live music every night from 8pm. Sunday Brunch is a treat, too, served every Sunday from 10 to 2.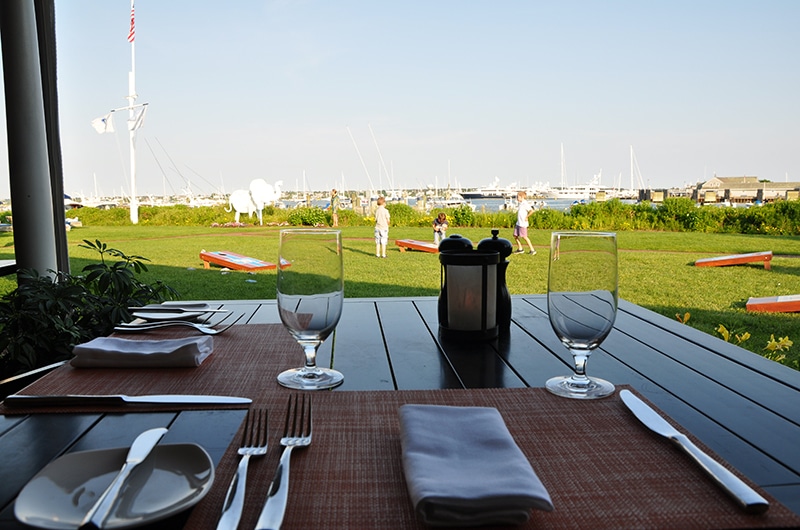 We sat indoors, but looking out the gallery of windows before us, just a few steps beyond was a massively accommodating covered patio overlooking a lush lawn laying just above the harbor. Children ran and played, guests sipped summer cocktails and eagerly awaited their entrees. The restaurant boasts a bar setting not only indoors but out as well, and both come complete with high-tops galore and room for all your friends. So relax indoors or breathe in the ocean air, because the scenery comes with both options. Our server presented a small, silver bucket of assorted breads and crackers, all of which were warm and invited us to snack while meandering over the menu.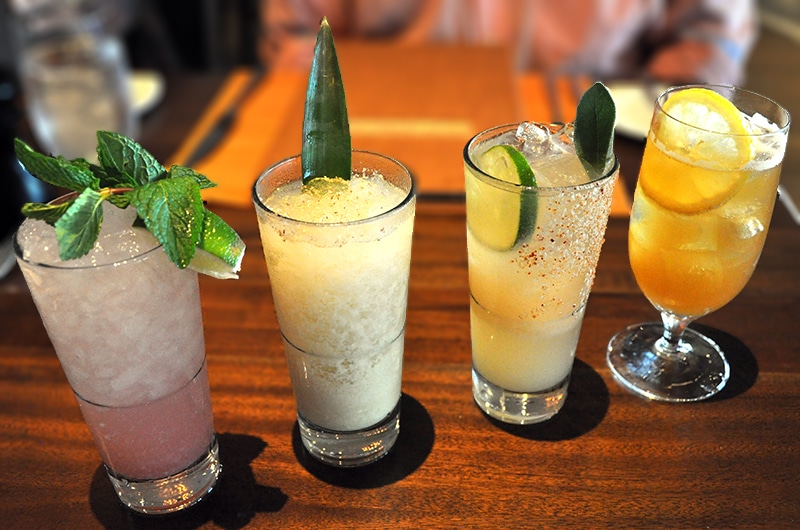 The sun was starting to set, and the view just didn't feel right without a few cocktails, so we asked our server for the top four of the season. The Earl Grey Lady was a super refreshing take on the classic Arnold Palmer. It mixed house earl grey infused Ketel One Citroen vodka adding the earthy flavor of bergamot to floral, citrusy St. Germain. Lemon and honey take it home and made for one bodacious beverage. You can probably guess what the Ooohh Mai is emulating. Fruity and oaky, complex cognac- aged pineapple rum and dry curaçao get a boost from orgeat, an almond based syrup, pineapple, and nutmeg. It's sweet and savory at the same time with a subtle spice, and would give Trader Vic a run for his money. If you're planning on having more than a couple, then go for the Watermelon Mojito. This clean, cool, sublime summer sipper mixes white rum with fresh juiced watermelon, mint, lime, and a splash of soda. It's as aromatic as it is delicious, with a marvelous minty finish. A sage-garnished Paloma brought things to a new level with Altos Blanco Tequila, spiced grapefruit shrub, lime, and some light bubbles from soda. No heat here, just a subtle boost from the chili that made this one hard to put down.
BPG also boasts an incredible wine list, and they know how to use it. The options from the beer list are excellent as well, featuring fresh craft beers exclusively from Nantucket and New England.
Click Images for Larger View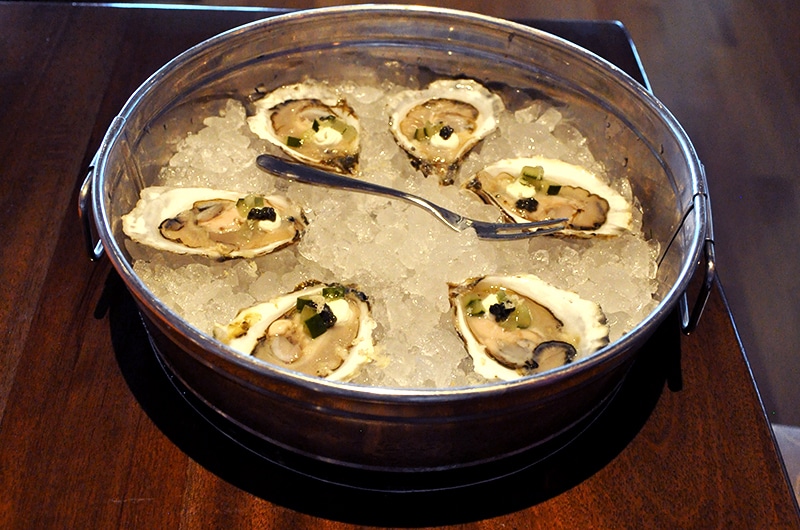 As the yachts were being painted a peachy pink by the setting sun, our chef's selection of starters began to arrive. All were served cool: a very appropriate tribute to the warm weather and a relief from the heat of the day. Oysters are a must at any seaside eatery, but these little bivalves are different. Dubbed "Retsyo," they're grown locally in Pocomo Bay intentionally above and away from flavor influencing seaweed. Their wonderfully crisp and clean sea-spray flavor was enhanced by pickled cucumber and mild horseradish creme fraiche.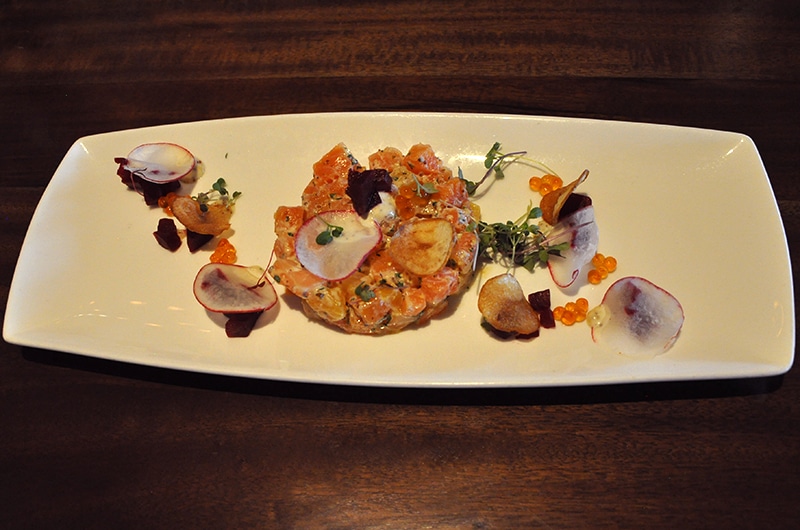 Rich king salmon was offset by sweet pickled beets in the King Salmon Tartare (cover photo), but the two met in the middle with a sumptuous savory brine. A horseradish aioli adds a new dimension and holds things together. Razor thin radish and fingerling potato chips were crispy clean notes while salmon caviar came with pops of salt in every bite. The barely-seared Pineland Farms Kobe Beef Carpaccio is rich, fullflavored, and tender. The thinly layered meat was like canvas to a zig-zag of truffle aioli, smatterings of pickled red onion, dollops of shimeji mushrooms and a glimmer of black garlic. Brioche croutons crumbled and every bite was better than the last.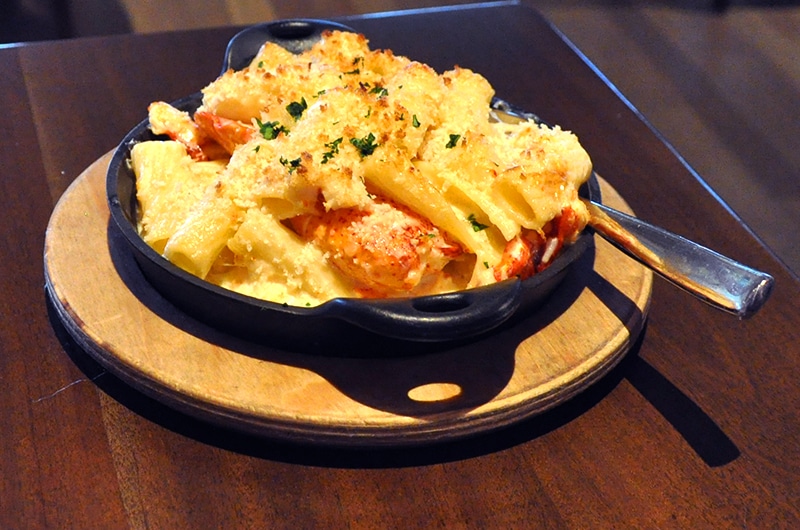 For those of us that like getting an early start to the evening, the spacious BPG bar offers options from 3pm, including from scratch clam chowder, crab cakes, burgers, and more. And quite frankly, the Signature Lobster Mac & Cheese was the best we've ever had. Served in a cast iron skillet that helps keep it hot, it was piled high with Vermont cheddar laden rigatoni and tons of lobster. We had two massive claws plus more; all of it was so tender and perfectly prepared.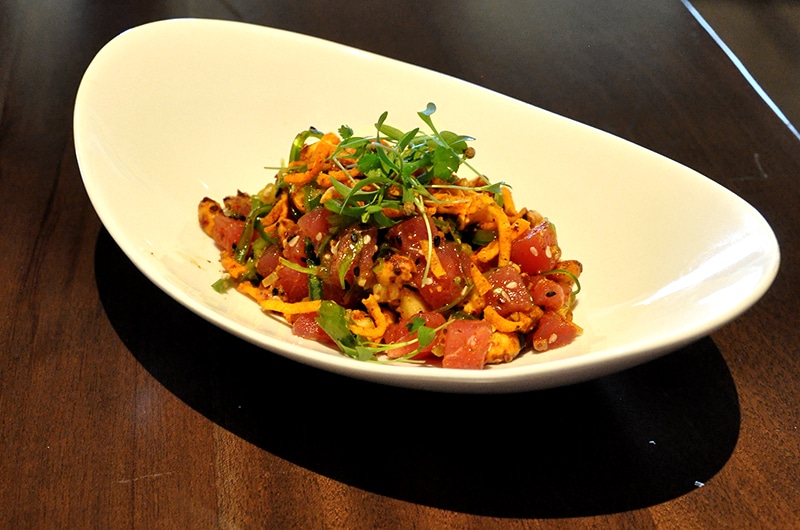 The Ahi Tuna Poke is an umami dream. Flavors of prominent wakame seaweed, fresh cucumber, earthy sesame, fragrant scallion, sweet pineapple, and togarashi spiced peanuts are married and stand apart all at once with cute cubes of tuna serving as a delivery device. Wonton chips add an essential crunch factor, reminding us that this dish brought a little bit of everything to the table.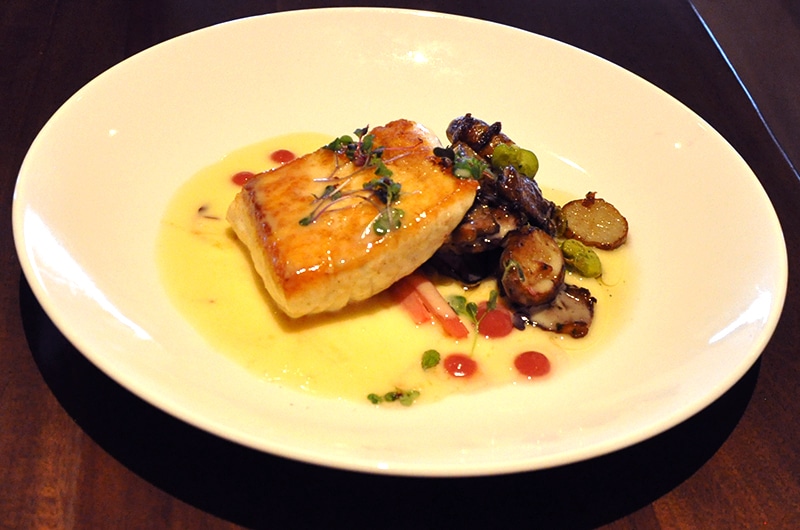 The surprising touch of poached rhubarb and strawberry puree added an exhilarating dimension to the Atlantic Halibut Filet. The sear on the fish is a toothsome crackle revealing brilliant white meat that mingles with roasted sunchokes, fava beans, and oyster mushrooms. A table side butter sauce pour lets everything swim and dance before you take your first bite.
Veal Osso Bucco was a first for a few of us, and we were titillated to try. The meat is cut across the leg, bone in, enhancing the richness throughout. It's slow cooked, succulent, and delicious with a bone marrow gremolata in the middle (save some of that bread!). The luscious parmesan polenta underneath absorbs every drop of goodness from the veal while the asparagus atop contrasts in color and crunch. This dish would be ideal on a cold day, but quite frankly we would never turn it down.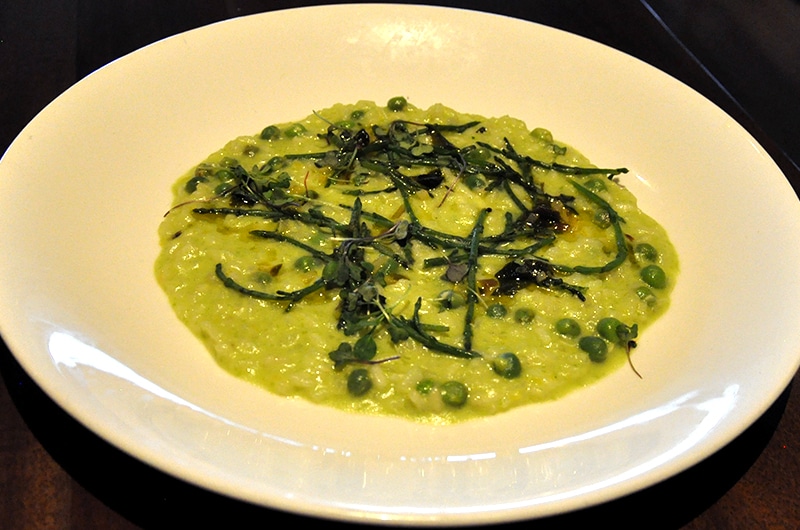 A perfect Pea and Parmesan Risotto was so rich and creamy we thought for sure stock was involved. Snappy peas pepper the plate alongside tart pickled ramps, sea beans, and a drizzle of preserved lemon vinaigrette for an amazingly lively finish. When vegetarian options are this good we often think about changing sides.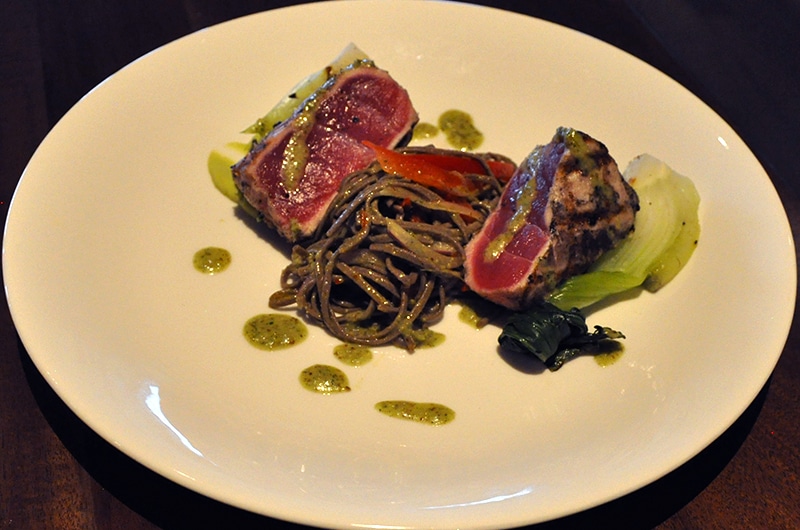 The 5-star grill marks on the Grilled Ahi Tuna tell a story of what's underneath: superb, slightly warm rubyred flesh resting on a wholesome buckwheat soba noodle salad, fresh barely blackened bok choi, and a drizzle of charred scallion vinaigrette that sets everything off. Nothing is overdone and the simple flavors throughout are allowed to speak for themselves.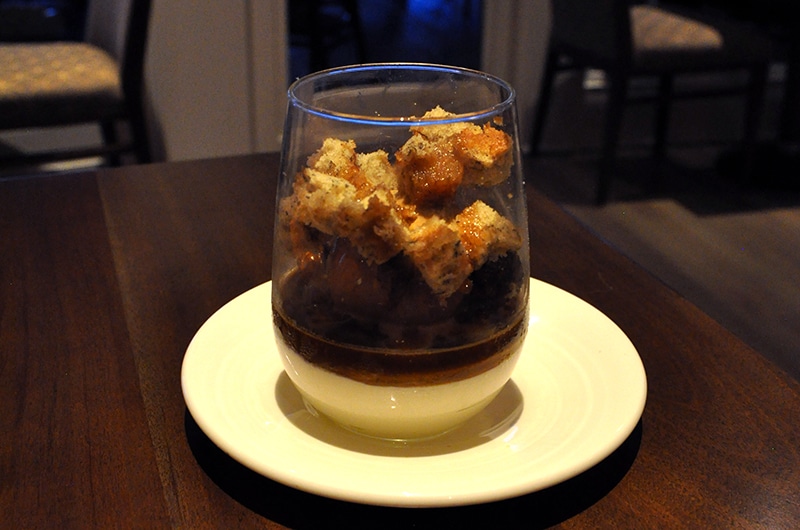 The desserts at BPG are out of this world. All are prepared European Style: a method that puts less focus on sugary sweet outcomes and more on the flavor and quality of ingredients. All were radiant and picture-perfect, as nice on the eyes as they were on the palate. White Chocolate Semifredo was served parfait-style in a stemless wine glass. Cascading layers of banana bread and coffee ice cream were brought down to the semi-frozen base by a table side pour of warm rum sauce. Crunchy, cool, and marvelously creamy.
The Key Lime Tart was zesty and refreshing, dense and delectable.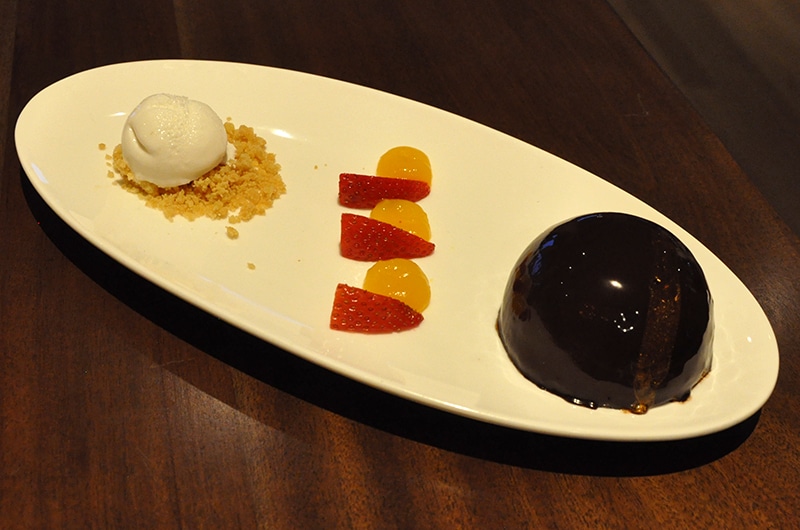 The Chocolate Dome was so dark not even light could escape it, but hiding within was an airy, fruity passion fruit puree. Pillows of even more passion fruit dotted the plate alongside fresh strawberries and a tangy coconut lime sorbet. The lively combination of the four features was mind blowing.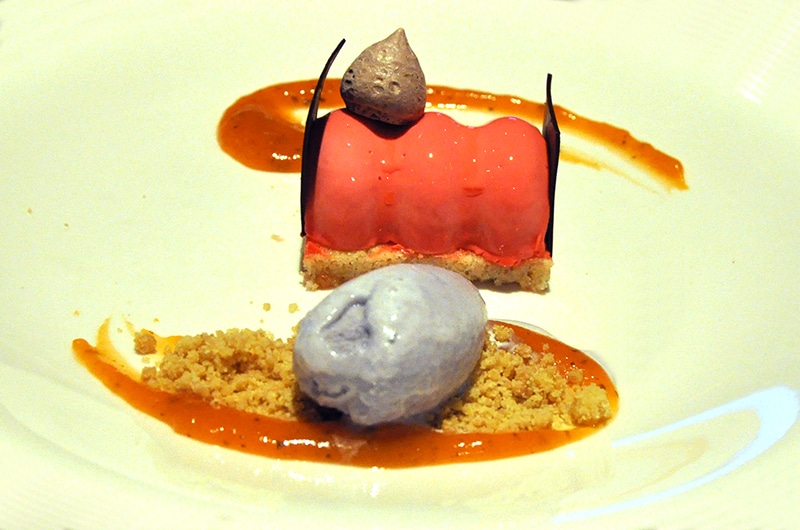 Our favorite final course was the Vanilla Mascarpone. A pink puffy "bed" with chocolate headboard was so fun the cut into and even more fun to eat. A florally fantastic lavender sorbet served as an excellent herbal contrast of flavors and temperature.
The family friendly Brant Point Grill is an island hot spot for a reason. A "come as your are," unpretentious dining room with stellar service that is only eclipsed by the quality of meals served. Come for a quick snack or feed the family, you'll always have options at Brant Point Grill.
Brant Point Grill at the White Elephant
50 Easton Street
BrantPointGrill.com • Reservations suggested: 508-325-1320
Breakfast served 8 to 11 am • Sunday Brunch from 10 am to 2 pm
Lunch 11:30 am to 3 pm • Bar Menu 3 to 11 pm • Dinner from 5:30 pm
Most dinner entrees from $29 to $38
Full Bar • Indoor & Outdoor Dining • Handicap Access
Major Credit Cards Accepted Veal Osso Bucco • Families welcomed