Staff Picks & Insider Tips
This year, jewelry fashion on Nantucket has been all about pearls. We spent the whole summer oohing and ahhing – and groaning, too – over this season's pearl selection. We found that not all of the Nantucket jewelers who specialize in pearls are created equal. We will give you the inside scoop on which ones we can't live without.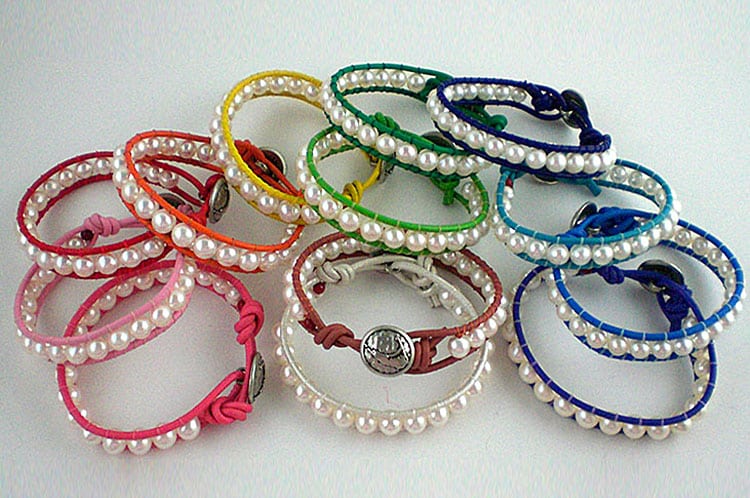 Judi Hill's partnership with Pam Freitus of Pearlhill Jewelers has resulted in The Nantucket Pearl Company, which offers classic and elegant freshwater pearl jewelry designs in a variety of styles and colors.  Freitus creates her designs using hand-selected pearls that are square, coin, disc, oval, potato, egg, teardrop, pebble, and star-shaped as well as the traditional round. We love their necklace selection, especially the strands that wrap for different looks. Our favorites this summer are their colorful Rainbow bracelets and the chic Nantucket "Must Have" Bracelets adorned with a handcrafted clasp with an island, a scallop shell, or a lightship basket. Each bracelet starts at just $50, a nod to the sincere mission of Hill and Freitus: to make authentic, beautiful pearls affordable for everyone. Stroll down to 40 Straight Wharf and see what all the excitement is about!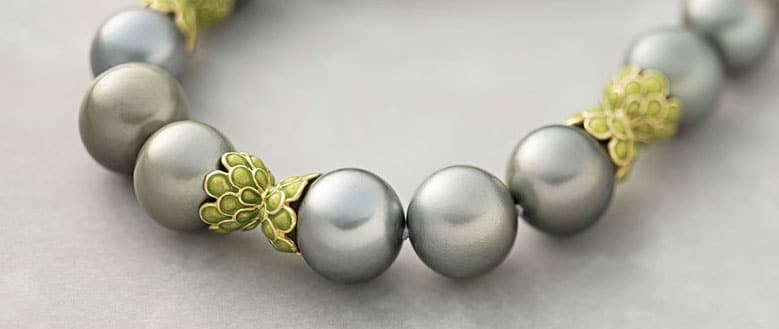 Much of the intricate, luxurious jewelry of R. Simantov is inspired by the sea, and his pearls are no exception. Owner and designer Reubin Simantov uses only the finest quality of pearls available from around the world. He says, "Our pearl jewelry always follows an oceanic motif. We don't collaborate with massive diamonds. After all, pearls only need minimal enhancement, and we do that with our unique gold work. It's usually very whimsical and playful; and it's also very rare and high end. Sizes range from the very tiny – one millimeter – to almost 55 millimeters, which is about the size of an egg!" Simantov describes his work as "extremely classical" and notes that he always incorporates a little bit of 21st century tone. He expresses a relationship with pearls as unique as his jewelry itself, saying, "It is so interesting to me that pearls bring people this sense of calm. They're just so soothing, so fresh, so amazing to feel in the hand…. They somehow enhance people's feelings. It's amazing." During the summer months, you can connect with R. Simantov in his shop at 9A South Beach Street, right next to Serenella. Additionally, Simantov has recently acquired a fabulous Greenwich location on Greenwich Avenue, just across from Ralph Lauren and Hermès, where his jewelry will be available year-round.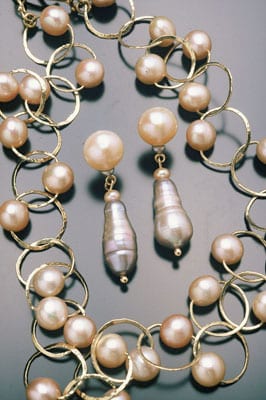 The eye-catching, color-rich jewelry of Victoria Greenhood can be found at 5 Easy Street. The designer's creative pearl jewelry designs have been enjoyed on Nantucket and beyond for more than 30 years. Greenhood says, "The big difference between pearls is where they're grown. You have your freshwater and salt water, and there is a huge distinction between the two. I find that a lot of people don't know their way around the world of pearls…there's just so much to know!" She chuckles and continues, "A great pearl is like a great wine. The longer it stays in the oyster, the more luster it has. Note that some pearls exhibit natural colors, and others are altered to achieve that look. In years past, jewelers used to use dye them; now they irradiate them to enhance that gorgeous coloring." She reflects on the fact that many times, pearls are considered a very conservative choice. "Now," she says with a grin, "You can get pretty wild with them! I integrate them into everything, and I make them very unusual. I have a pair of earrings that are made with the oyster shell that my Tahitian pearls grew inside! I actually like a more baroque pearl that's not perfectly round and has a bit of personality, which is funny because the ones that are valued are the ones that are perfectly round." Greenhood's taste for naturalness serves her customers well: she creates jewelry that is practical, wearable, affordable, and completely original.
George Pelz, owner of Main Street's fine jewelry store Pageo, is especially proud of his pearl jewelry's variety of price points. He says, "We carry a range of pearls that start at $365 and go all the way up to $22,000. We have very casual, funky pieces made with leather as well as classic, formal looks. So whether you are looking for something traditional or uber-modern, we have you covered." No matter which end of the spectrum fits your budget and style, a Pageo piece is certainly one to be coveted! Pageo is a member of the Jewelers Vigilance Committee, which ensures buyers of the quality of any purchase and of the education of the jeweler. The glittering sophistication of Pageo can be found on Nantucket at 46 Main Street. When you are off-island, visit them at their locations in Newton and Boston.
We can recommend two of the jewelry stores on Centre Street: Jewelers' Gallery of Nantucket and JOLA.  Jewelers' Gallery specializes in fine estate jewelry. Owner Jim O'Leary says, "We carry the very famous line Paspaley, which is one of the best cultured South Sea pearl lines in the world. They are handcrafted into a variety of pieces, mostly earrings and necklaces. They're really worth seeing! We carry the work of more than 10 leading American pearl artists, including Laura Gibson." See Jewelers' Gallery's 100 pearl pieces at 21 Centre Street.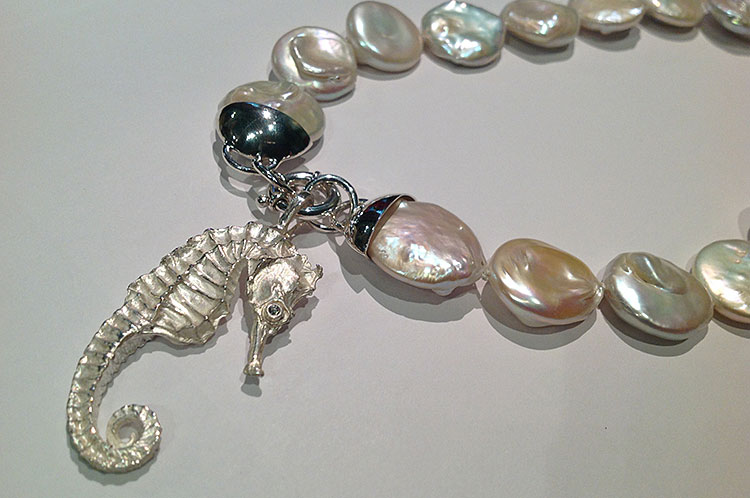 If you have a vision for your own custom pearl jewelry, you won't want to miss JOLA, which can be found tucked into the Meeting House building at 29 Centre Street (which is also home to The Bean and Centre Street Bistro). Most of owner and designer Jolanta Gutnik's work consists of handcrafted custom projects for clients. The silversmith says that her pearls come from all around the world, but she adds, "It doesn't matter where pearls are from, it's all about quality. After that, what makes pearls special is what's attached to them."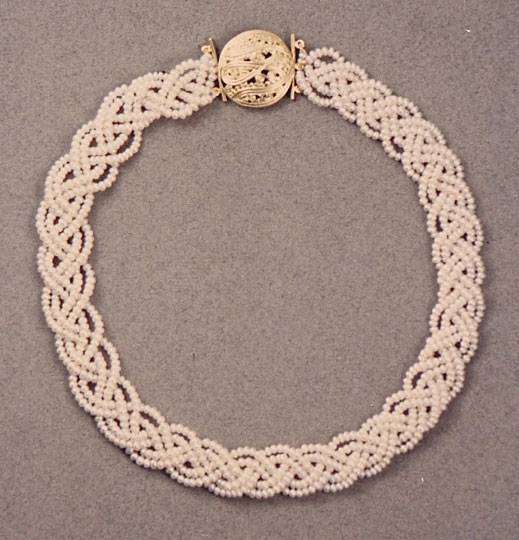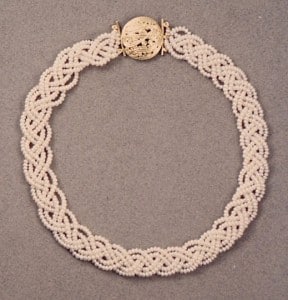 Nantucket jewelry designer & ocean pearl expert Emilly Brooke Rubin has spent the last quarter of a century creating bohemian jewelry. She says, "If someone is going for a specific look, whether it be on trend or one-of-a-kind, I get it. Pearls are sexy, fun, and showcase really well, whether [they are] formally strung or if you want to wear them at the beach." And if there's one thing that Rubin disagrees with, it is the sale of poor-quality pearls being passed off as superior ones. She says, "I find that most people don't know what they are buying; many vendors don't know what they are selling and don't care just as long as the consumer has an interest. The sky's the limit with what you can charge for substandard material."  There's nothing substandard in Emilly's shop—you'll find her stunning designs at 22A Old South Wharf; watch for the sign.
Figaro features estate jewelry from all periods and from a variety of well-known designers. Owner Kathy Tucker says, "We have a whole range of very unique jewelry that appeals to lots of different style palates. Our pearl jewelry comes from freshwater pearls to very classic South Sea pearls, rare gold pearls, and the most gorgeous black Tahitian pearls. Pearls are tougher to grade than diamonds and other stones, which is why people can grossly overpay for them. These days, everybody's putting black pearls on leather. I don't do that. Mine are a little more traditional. My designers sometimes mix them with diamonds and sapphires." Visit the shop at 21 Main Street, to see Tucker's collection.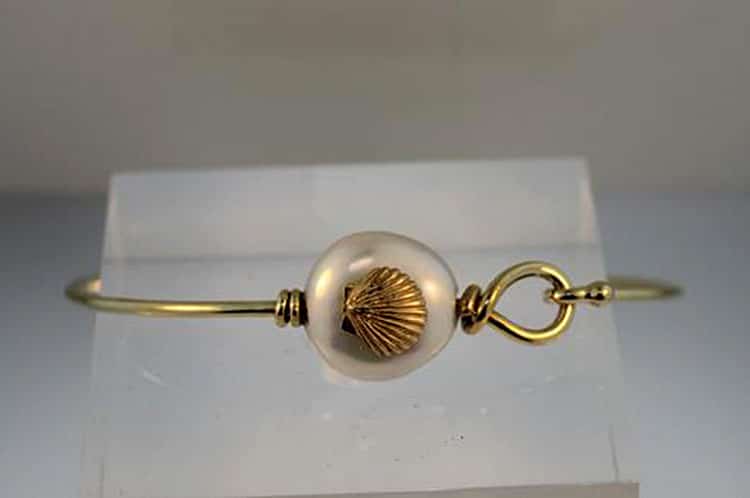 Gary and Kelli Trainor, owners of designer goldsmith studio Jewel of the Isle, take pride in their Nantucket-themed collections. There, gracing their island-inspired bracelets, rings, earrings, and necklaces, you'll find some of the most beautiful Tahitian pearls on the island. The Trainors take special care to ensure that they accept only the highest quality pearls. Kelli says, "There should be no imperfections in the nacre, which is the outside of the pearl. Freshwater pearls are a little more abstract, and we work with those, too." Jewel of the Isle makes amazing bangle bracelets, our favorite of which is the Cobblestone Collection of charm bangles. But wait, we can't forget the classic wonders of the Monomoy Collection! See them at 6 Straight Wharf.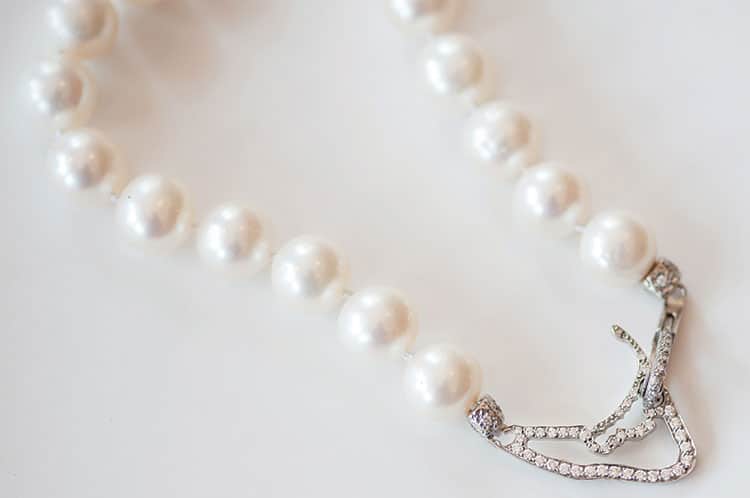 Susan Lister Locke uses pearls in nontraditional ways while also bringing in an element of elegance. She says, "I don't do the old strand of pearls type thing. I mix it up with different gemstones, precious coral, and different types of pearls, too. The only traditional strand I do have, I put my diamond Nantucket strand clasp on. I don't do the same old knotted with a little hand hammered glass thing because, to me, that's not something that stands out. I like to create outside the box, and I work with pearls that are more textural and organic. I work with different South Sea pearls, which are optimum for pearl purists who are really interested in quality. And I love these tiny Japanese pearls called keshi, which are composed entirely of nacre. They look a little bit like a cornflake! But they are so wonderful, and each one is unique." See Susan Lister Locke's distinctively beautiful pearl creations at her new location at 28A Easy Street and at www.susanlisterlocke.com.
Vanderbilt Gallery carries ornate investment pieces. This boutique, filled with colorful jewelry from around the world is the place to go if you are looking for pearls to pass down to your children and grandchildren. Designer Barbara Vanderbilt can help create the perfect custom look for any occasion; you can even have a pair of earrings or a necklace made to match your eyes or your outfit. Experience her jewelry at 18 Federal Street.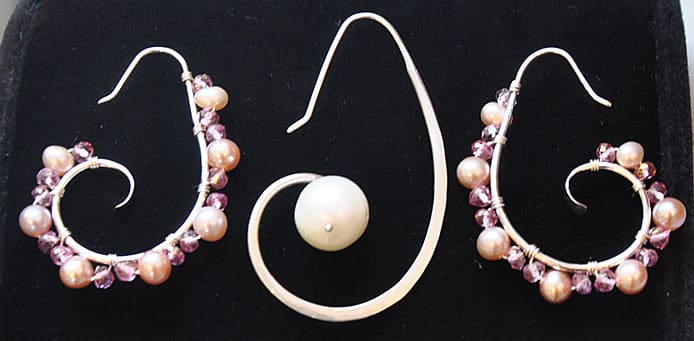 Made on Nantucket does not specialize in pearl jewelry, but we had to mention the graceful and gorgeous Nantucket Wave Earrings adorned with pearls and made by island jeweler Sarah Hutton that they sell in their shop on Old South Wharf.
In our quest for the finest pearls on Nantucket, we did discover some surprisingly overpriced pearl jewelry of questionable quality being sold based on risqué swagger and a come-on rather than the quality of the pearls and the design. The money to be made on Nantucket does attract the occasional "pirate,"  but if you shop at the jewelers mentioned here, you will find exquisite pearl jewelry that can be cherished for generations and avoid the pearls that should stay in the oyster. September is the perfect time to venture out and find the pearls that fit your style and budget!