This Friday and Saturday, August 10 and 11, there are several downtown gallery and studio openings you don't want to miss! Start your Friday evening with a visit to 2 Union Street, where from 5 to 7 pm you can enjoy conversation and shopping at open studios with three independent jewelry designers. This historic building was once the home of Nantucket's town offices and courthouse and retains much of its original charm.
On the first floor, Jessica Hicks creates edgy and nature-inspired jewelry peppered with diamonds and other precious gemstones. Jessica's "Perfect Couple" ring was recently featured in Elin Hilderbrand's newest novel of the same name. Upstairs, Jennifer Greenwood's designs are focused on highlighting unique stones in original, hand-made settings. Finely textured gold and silver surround opals, tourmalines, sapphires, and other natural gemstones in Jennifer's one-of-a kind pieces in her signature style. Clay Twombly hand-knots strands of semi-precious gemstones, sandalwood, and Tahitian pearls into prayer beads and necklaces. He has also launched a collection of gold and silver jewelry for both men and women and carries porcelain wares by local artist Nell Van Vorst.
Walk from 2 Union Street down to Easy Street to see the art of Cindy Pease Roe from 5 to 7:30 pm in the Susan Lister Locke Gallery, 28 Easy Street. Artist in Residence at Nantucket's Maria Mitchell Association, Roe collects marine debris and creates captivating sculptures. This exhibit is entitled Unsculpting Seabirds to Protect Our Oceans.
Robert Foster Fine Art at 8 India Street is a warm and welcoming gallery that represents some of the island's most talented artists working today. From 6 to 9 pm this Friday, August 10, Robert is welcoming people to meet and see the work of Chalermkhwan "Kwan" Buadam
Kwan's decorative painting talents range from painting huge murals & frescoes in ancient Thai temples to doing faux finishes and everything in between. She has also done various forms of decorative artwork in businesses, homes, and children's rooms.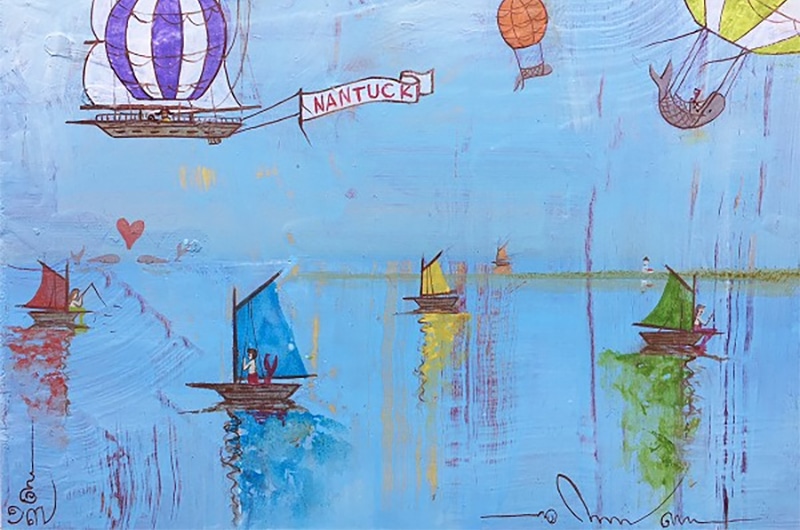 This show continues through August 22, and with their full schedule of rotating exhibitions, you're sure to find a gem to add to your collection at Robert Foster Fine Art.
Known for the graceful and meaningful sculptures of the female form by sculptor David Hostetler, this Friday, August 10 from 6 to 9 pm, Hostetler Gallery at 42 Centre Street is hosting an opening reception for a special photography show. This exhibit features Polaroid Pulls and abstract color photograms by Ellen Carey, abstract photographs of iconic movie scenes by hazart, color photographs by Sherre Wilson Liljegren, and unique photograph based prints by David Hostetler. All the artists use dramatically different techniques to create their artwork.
Hostetler Gallery has also represented Power Boothe, Art Werger, Xanda McCagg, and other exemplary artists in their Nantucket gallery. For more about what they offer, visit hostetlergallery.com
An exhibition of paintings and silkscreen prints by contemporary British artist Dan Baldwin will open this Saturday, August 11, in the Samuel Owen Gallery at 46 Centre Street. The artist is at the forefront of the new Young British Artist movement. This is the artist's premiere show in the U.S.
Dan Baldwin communicates directly with the viewer through his dramatic paintings. His work can be multilayered both in medium and technique and in meaning. Baldwin's works draw in the viewer with his close attention to balanced, rich colors and harmonious composition which he layers with innocent and jarring images, vehicles of the artist's internal thought and emotional processes. Motifs in Baldwin's organic compositions include children's storybook illustrations, images of war, skate graphics and Vanitas.
Though primarily a painter, Baldwin has also created silkscreen prints and ceramic work, as well as book cover and album art. He has also collaborated with clothing designers such as Sara Berman. Exhibiting globally, Baldwin has become an established figure in the art world and has garnered a passionate following. He has become an art investment favorite, and prominent artists such as Damien Hirst, Gilbert & George and Peter Blake collect Baldwin's work and credit him as a key influence of his generation. Celebrity collectors include Bernie Ecclestone of the Formula One Group, British businessman and political figure Sir Ronald Cohen, Jake Chapman of the artist duo The Chapman Brothers, and BBC radio host and television Jo Whiley.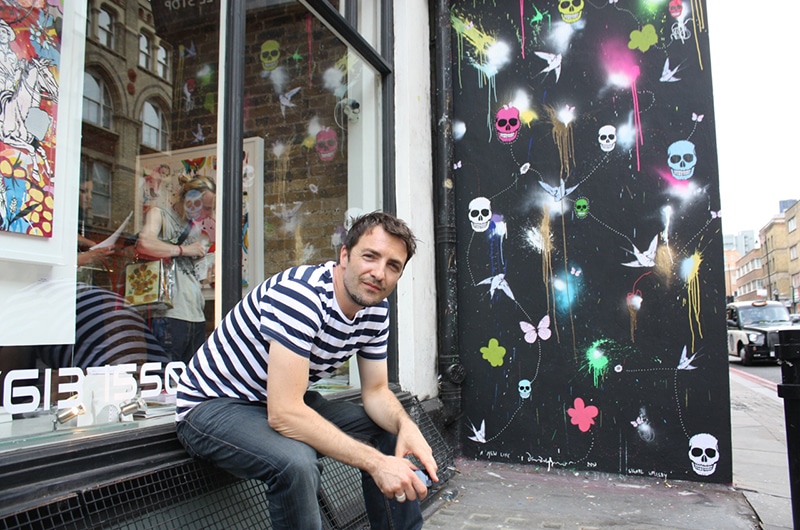 Samuel Owen Gallery is a contemporary art gallery located on Centre Street in Nantucket. In 2015, Samuel Owen Gallery took up summer residence in the historic Seven Seas building on Nantucket Island; it is also open yearround on Greenwich Avenue in Greenwich, Connecticut. In both locations Samuel Owen Gallery is committed to exhibiting the work of emerging to midcareer artists, as well as a variety of strong secondary market works.