Play Review: See Monsters of The Deep
by Suzanne Daub
There was little reason to smile during the first half of 1937: the Great Depression was grinding on, unemployment was at 14%, the Hindenburg burst into flames attempting to moor in New Jersey, and Amelia Earhart had vanished. And on Nantucket Island, a sea monster lurked around our shores. Despite the country's turmoil, this mysterious creature drew national attention. Reporters and newsreel photographers reported the sightings.
On August 18, 1937, about 10 days after the island frenzy began, the sea monster was beached on Coatue and revealed to be an elaborate hoax by genius puppeteer and artist Tony Sarg. Although Sarg was the mastermind, several Nantucketers were in on it, and the island newspaper was willing to play along.
Mark Shanahan, resident director of Nantucket's White Heron Theatre Company, captivated by the true event, has captured this slice of Nantucket history in a fantastically fun and magical production he wrote and directs called See Monsters of the Deep, being performed through July 20.
"The many pictures of Tony Sarg and his Sea Monster on the beach on the morning of August 18, 1937, capture a moment in time," Shanahan explained. "Children and parents alike can be seen frolicking about, thrilled by the silliness and magic of Sarg's creation. But what is most apparent of all is the smile plastered on Sarg's face. For a brief moment, Tony Sarg made people believe in the possibility of a sea monster, only to let them realize it was something both beautiful and fantastic, something to be celebrated rather than feared."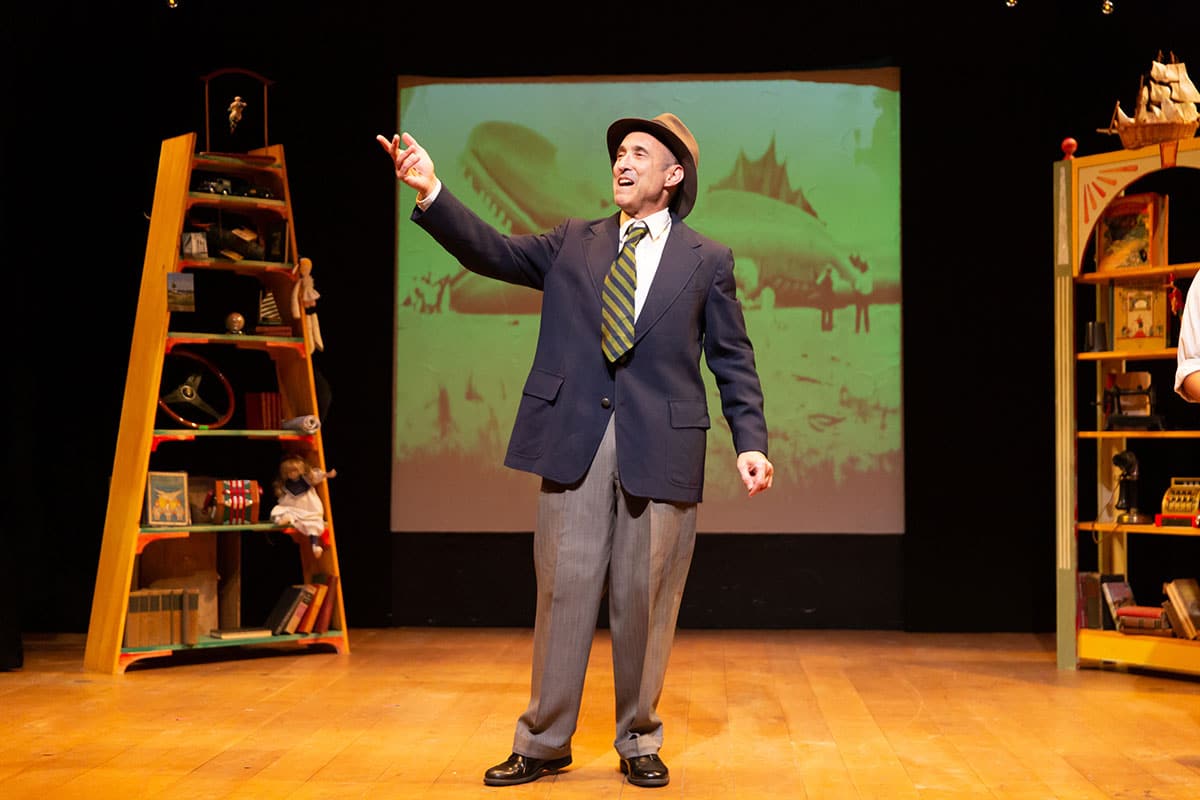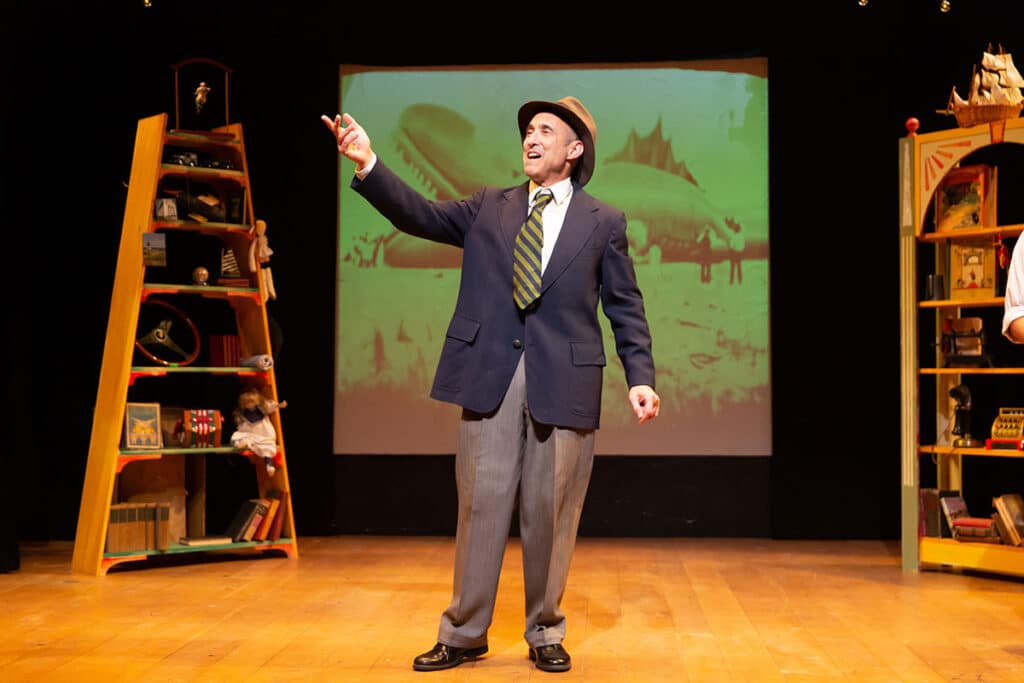 Shanahan's play centers on New Yorker Morton Plank, haunted by an accident during a childhood trip to Nantucket, who reads a newspaper report about the sea monster, corresponds with Tony Sarg, and returns to Nantucket to face the fear that started all his phobias.
The stage designed with a simple and imaginative set with creative props and digital projections. Actual historic images enhance the feel of Nantucket in the 1930s, and lighting and sound bring the underwater scenes to life.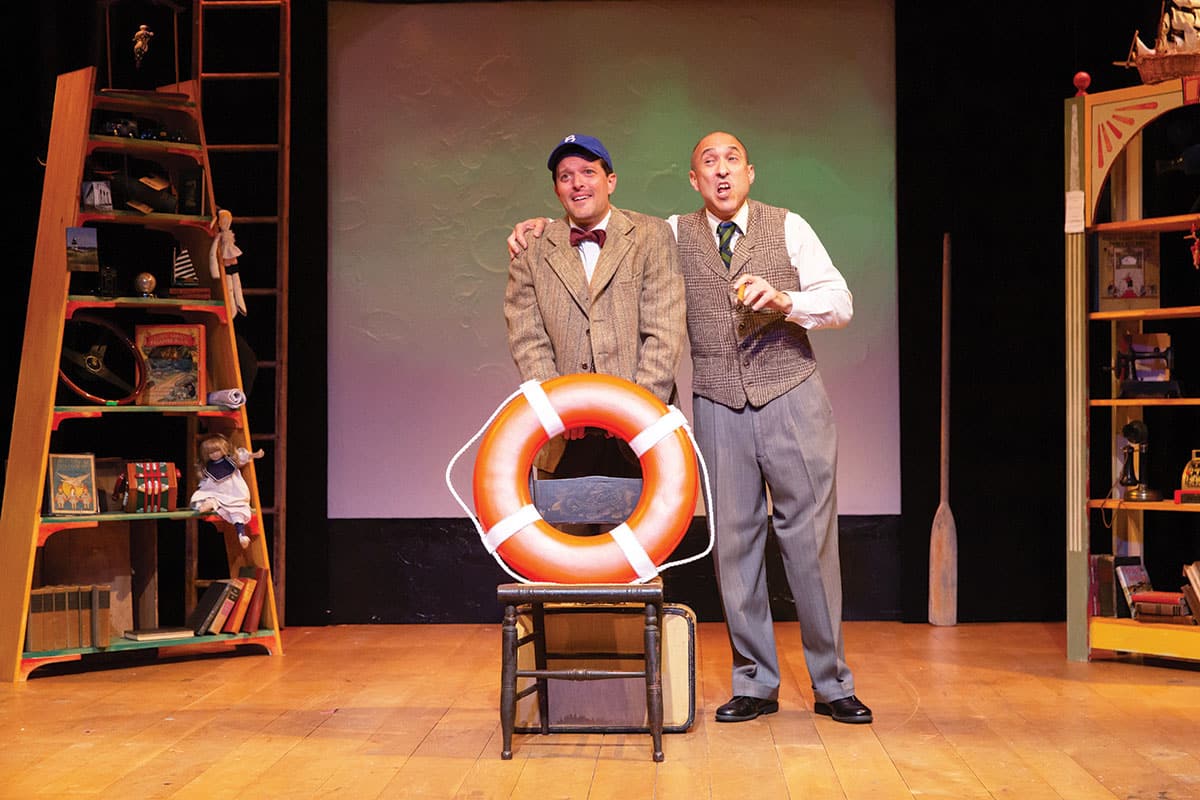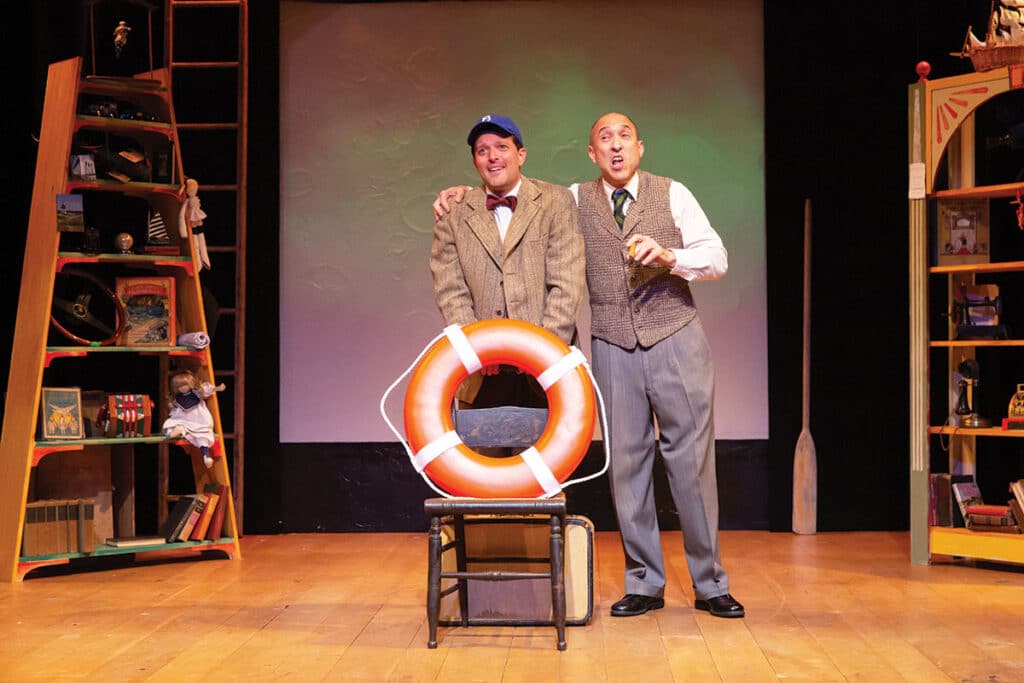 Steve Pacek gives a stand-out performance as the main character, Morton. He perfectly portrays the obsessively fearful but engagingly optimistic young man, capturing both his vulnerability and the character's boyish charm. And Pacek brings the audience along as Morton, through his many encounters, gains the insight and confidence to become the man he was meant to be.
Broadway actor Jonathan Brody nimbly plays all the other characters: yes, all! This is no mean feat when you realize this includes more than a dozen fast transitions from one very different character to the next: Morton's father, a train conductor, an Old Salt of a sea captain, a female innkeeper, aviator Jean Adams Cook, a little girl, island businessmen, and Tony Sarg. His body language and brilliant expressions demonstrate Brody's great range: a true showcase of talent.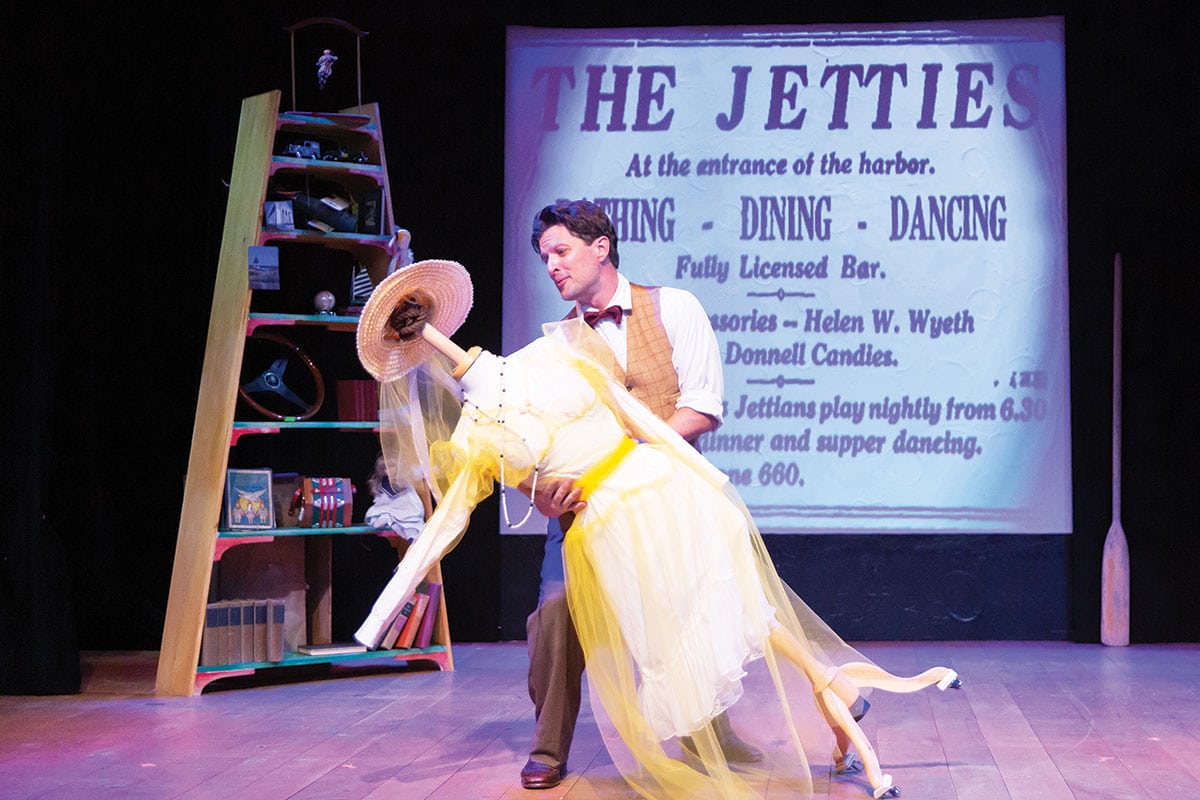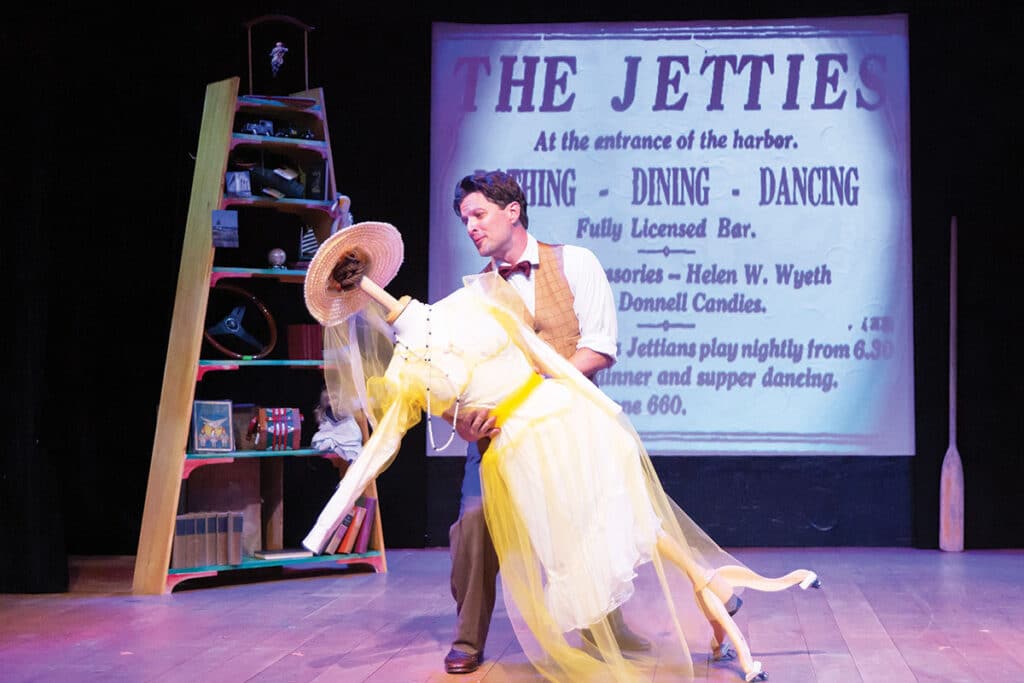 Shanahan's script and direction demand perfect comedic timing and physicality from Pacek and Brody, and they both deliver from the moment the play begins with performances that are believable and funny and that welcome the audience into the fast-paced action.
See Monsters of the Deep is a delightful summer offering at White Heron Theatre, located downtown at 5 North Water Street, behind the Whaling Museum. Theatergoers who arrive early can enjoy a delicious libation from the White Heron bar while they mingle before curtain time.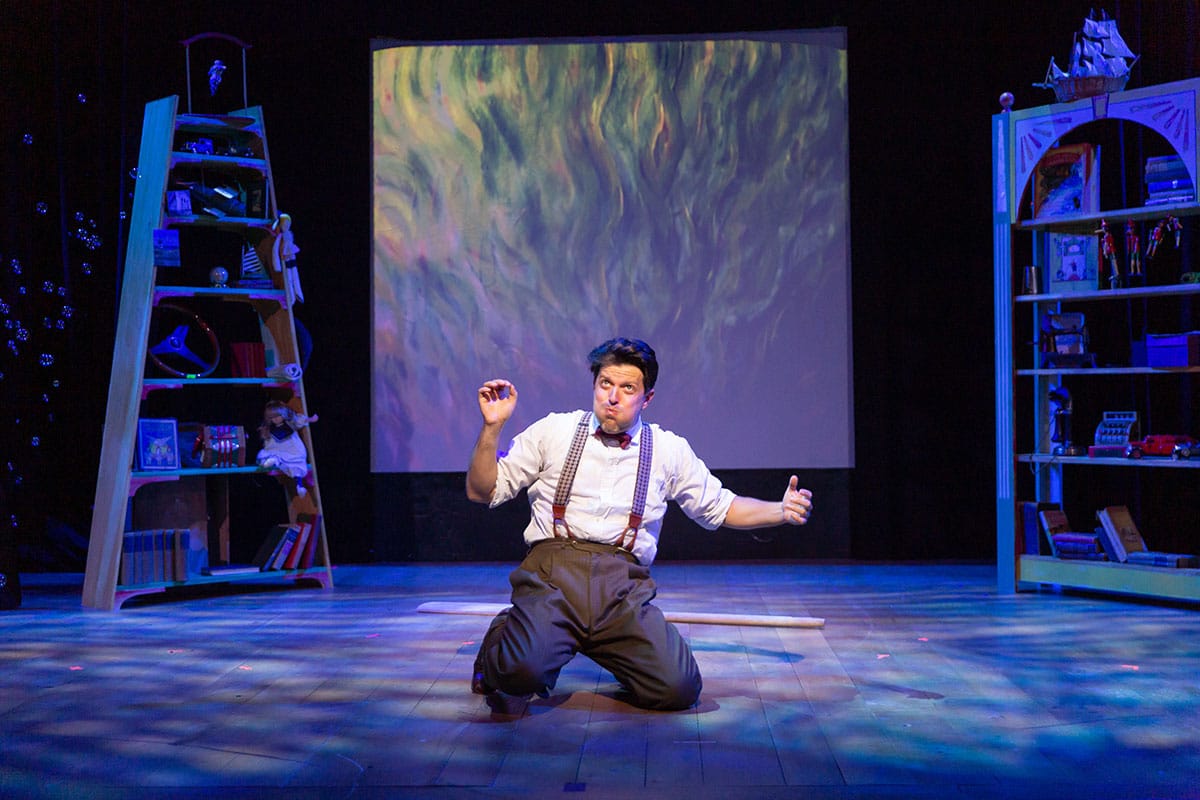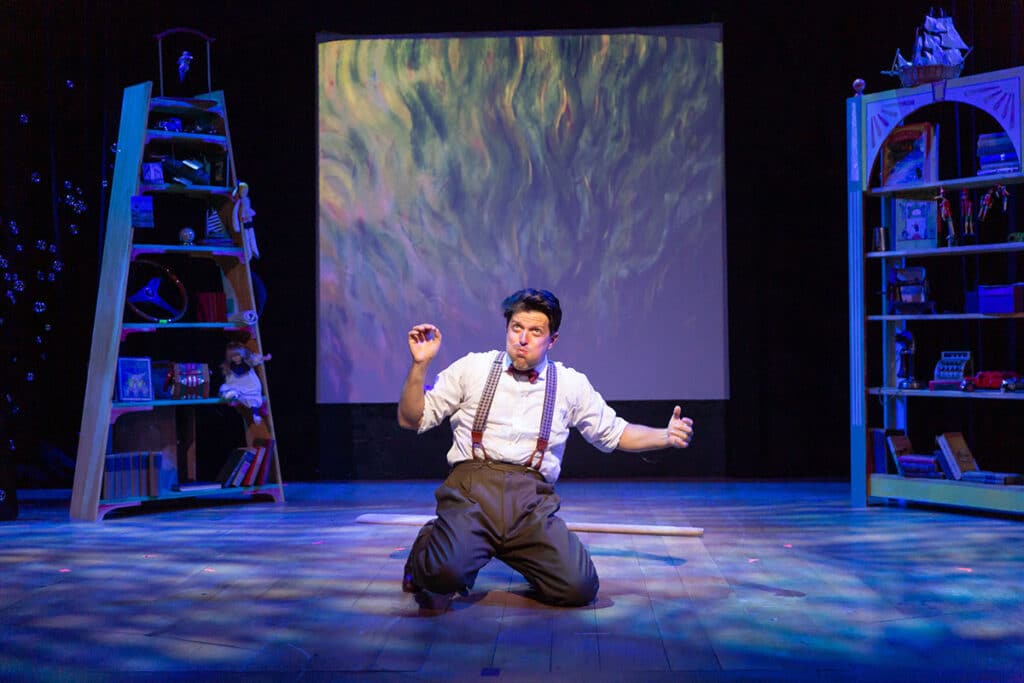 With masterful storytelling, heartfelt themes, and extraordinary acting, See Monsters will add joyful fun and plenty of laughter to your island evening.
Tickets to See Monsters of the Deep and The Half, playing in repertory, are available at WhiteHeronTheatre.org or at their Box Office at 508-825-5268.