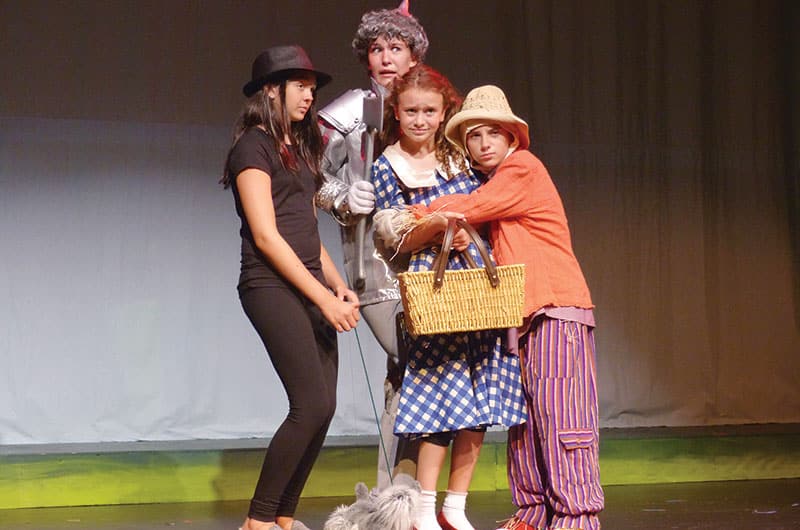 More than 50 children ranging in age from 6 to 14 are reveling in the joy of performance as they follow the yellow brick road in the Children's Theater production of the beloved family musical adventure The Wizard of Oz.
These participants in The Dreamland's Young Performers troup take audiences over the rainbow, through the twister, from adventure to adventure down the yellow brick road to the wonderful and merry old land of Oz to learn with Dorothy that no matter how exhilarating the journey may be, there is no place like home.
Well before the new structure that is the Dreamland's Performing Arts Center was completed in 2010 this company of young actors was established. The Wizard of Oz is Dreamland's 16th major children's production. Tiffany Gallo, Director of Theater Education for the Dreamland, describes the mission of the program: "There was a time in our theater's history when we thought our purpose was to work with children to make great art. Yet through that work we discovered our true purpose was to work with art to make great children."
This set of young actors have the good fortune to work with professional director, Jimmy Calitri, Assistant Professor of Theatre at Providence College. This beloved American fairytale is Jimmy's fourth production at the Dreamland. The production is under the musical direction of Rich Silverstein, choreography by Katrina Pavao, scenic design by Trevor Elliot, lighting by Daniel Harrison, sound design by Bryce Brashears, and Gaby DeParis returns as stage manager. The show's costume designer, Karen Wheeler, has produced over 150 beautiful and whimsical costumes to enhance the show's magic.
This Children's Theatre production will be on stage through August 20. Tickets are available at The Dreamland Box Office, 17 South Water Street or at NantucketDreamland.org