~ by Corinne Muffly, Educator ~
A series of articles dedicated to helping parents find places and activities on Nantucket to enjoy with their children.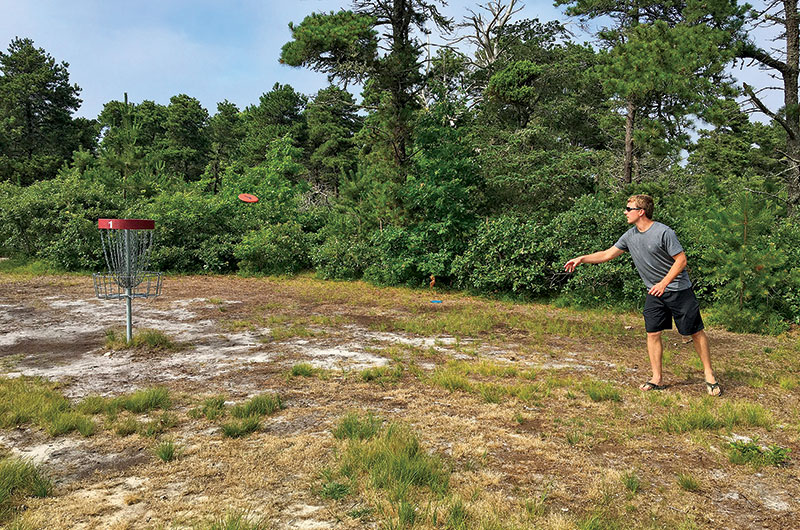 Having a family has allowed me to try fun new things and get out of my comfort zone once in a while. One excursion I went on the other day was disc golfing. Let me start by saying, I am terrible at all Frisbee related activities. My dog often becomes frustrated with me during a game of fetch. However, disc golf is very forgiving if you are simply playing for fun.
Nantucket has its very own tranquil course tucked back in the South Pasture of the State Forest just off Lover's Lane, which can be accessed off of Old South Road or down the Boulevard. There is a very convenient parking lot and many walking trails. Yes, this is where I went blueberry picking last week! Once you have parked, a large information board that includes a map of the 18-hole course, the rules of disc golf, information about the sport, and a little advertisement about the Nantucket Disc Golf Open welcomes you. Along the bottom are yellow scorecards with a map and some of the basics. There are also small pencils that should be returned upon course completion.
What is disc golf? It is very similar to golf, in that the object is to complete each hole with the least amount of strokes, or throws, as possible. Rather than clubs, you use discs that can have different purposes. I purchased a disc golf kit containing three discs from Island Variety. Discs are also available at Sunken Ship, but there is no location here that rents discs for the day. In the kit I purchased were a driver, mid-range, and putter discs. I didn't think it was entirely necessary to buy a kit, but my husband insisted. It seemed to make a difference for him, but not so much for me due to my unfortunate skill level. Let's just say that if the object were to hit as many trees as possible, I would have won for sure. Patience and fun are the keys to this particular excursion. There is, of course, the possibility to get competitive with this activity. Overall, disc golf is a healthy, fun, family-friendly recreational sport.
The Nantucket Disc Golf Course is completely free and open every day, all day, all year long since 2013. You can bring your kids and your dogs, just be sure to clean up after both. The disc golf grounds are clear, clean, and very well maintained, though there are no trash cans. Each hole is basically spotless, which makes it easy to spot your disc once it lands, unless it lands in the bushes. If you have to go hunting for your disc, watch out for poison ivy and check for ticks along the way and after you get home as well.
There are many aspects that make this accessible for all levels. The course offers two types of tee boxes. The green arrows lead you towards the closer beginners tee and the gray arrows direct you to the advanced tee, farther away from the hole or basket. All of the holes are marked and have a map of each hole at each tee and wooden arrows attached to trees near the basket directing you to the next hole. Each trail is well maintained and it was so peaceful walking from one hole to the next. You do not have to play all 18-holes and can do what works for you, as long as you are not interfering with other players.
Please keep a few things in mind when you go enjoy a nice game of disc golf. Make sure you use the bathroom before you leave because this course does not have bathrooms. This beautiful course has sun and shade and allows for a leisurely enjoyable experience. As instructed, "Grip it, rip it, and have a good time!"