• by Sarah Teach •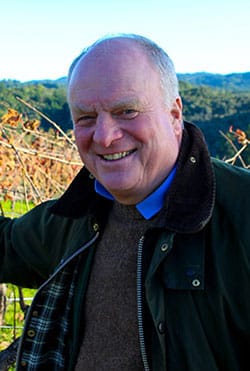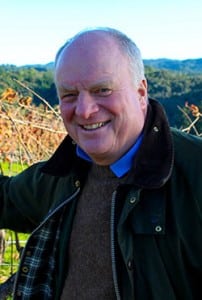 Joe Donelan isn't one to grab the mic and crow about his winemaking prowess. In fact, it's hard to even get him to talk about himself. But catch him for a chat, and you'll find the founding owner of Donelan Family Wines casts a calming spell over his conversations, honing in on the reasons we drink wine rather than on the minutiae of each beverage. This is not to say the long-time seasonal island resident hasn't earned his grape stripes. Donelan's California winery consistently produces wines that tip Robert Parker's Wine Advocate scales into the 90s. (Hats off and jaws dropped to their 100-point 2009 Syrah.) How did this former paper executive reshape his ambitions into a successful boutique winery?
The year was 1989. The place: Topper's Restaurant on Nantucket. Donelan was sitting down to a nice dinner with his wife, Chris, when the sommelier drew near. It went something like this:
Donelan: "Any suggestions for a pairing with the tuna tartare?"
Sommelier: "How about this '87 Sauvignon Blanc?"
Donelan pressed the sommelier, Michael Fahey, for details. And more details. And then more. Fahey remembers vividly this man who made it clear that he was an eager wine student. "There were a lot of people who liked Topper's," says Fahey, "but Joe was on a mission. He started coming in two or three times per week, probably to the chagrin of his wife. I imagine she was thinking, 'Geez, Joe, Topper's is good, but don't you want to switch it up and go to the Galley once in a while?'" Fahey continued: "When I first met Joe, he told me, 'I don't play golf. I don't belong to a country club. This is my hobby, my passion, and I have elected you my teacher.'" What began as a quiet curiosity blossomed into eight years of journeying to France, where Donelan would learn from Fahey and his world-class wine contacts.
If there is such a thing as a wine bug, Donelan definitely caught it in France. Fahey's tours to Europe were billed as educational trips, not relaxing vacations. This suited Donelan just fine. "Everyone on the tour was interested, of course," says Fahey. "But Joe thoroughly submerged himself in the topic." Donelan always carried fresh pads of paper that turned quickly into creased sheets scrawled with notes. "Sometimes," says Fahey with a chuckle, "we had to give him the ol' elbow in the gut, like, 'Come on Joe, we need to move on!' He was just so driven to learn." Fahey recalls, "When I met Joe, all he could really drink was California chardonnay. I weaned him off of that and onto French wine. This was partly because I love French wine, but also because even great rock and roll bands do best if they learn classical first. In France, you go to these amazing vineyards and see the beauty of passing winemaking down through the generations, perpetuating the family love. It can take a whole lifetime to understand a vineyard. You knock on a drab wooden door, but then enter a winery with a 530-year history of unbroken father-to-son winemaking. And that," finishes Fahey with a flourish, "is where Joe learned about wine."

Call it obsession, passion, or both. Whatever it was that overtook Donelan in France, it paid off. Each time he'd return to the States after a trip to Europe, Donelan heard Sonoma County singing a siren song to him. Eventually, the music grew too loud to ignore. At the turn of the millennium, Donelan shed his corporate suit and took up the vine. Thanks to years of fervent study, success wasn't that far ahead of him. With the help of a young winemaker, a 2003 vintage of Syrah garnered 100 points. After accolades arrived from influential critic Robert Parker, the wine world started to take notice of the little winery. Nantucket Wine Festival founder Denis Toner invited Donelan to participate in the prestigious event, and the Donelan brand grew an East Coast client base. To boot, the festival quickly became the Donelans' favorite excuse for an annual family reunion. "It's a homecoming for us," says Cushing Donelan, the youngest Donelan son and the winery's Director of Marketing. "What's unique about the Nantucket festival is that our family members are pouring your wine."
Some wineries bank on flashy marketing to make a quick buck. Donelan Family Wines entrusts its handiwork into the loving arms of authenticity and dedication. Joe Donelan personally calls every new customer, and handwrites thank-you notes with each order, whether it's for a case or a single bottle. "My dad is a romantic," says the eldest Donelan son, Tripp, who serves as the winery's Director of Sales. "He's a big believer in personal touch and going out of his way for the customer. And despite his third grade handwriting," adds Tripp with a grin, "He cranks those notes out and loves every minute of it." The winery's team is made complete by winemaker Joe Nielsen (or "Little Joe," as Tripp has affectionately dubbed him). Nielsen took over the winemaking after Tyler Thomas' 2013 departure. (Tyler Thomas fans, have no fear; he continues to consult at Donelan and has utmost confidence in Nielsen's expertise.) Tripp says, "We're a small brand family business with top-notch customer service. We're the best winery you've never heard of!"
As a winery owner, Joe Donelan has been all over the world, but reserves his highest regards for this tiny island. "Some people complain about the ferry. It's never bothered me," he says softly. "Since 1976, every time I round Brant Point, I feel like the worries of the world are off of my shoulders." Today, the Donelans enjoy their home on serene West Miacomet Road as often as they can. "We're sort of billed as the Nantucket Wine Festival's 'local' winery," he says. "Our whole family loves it here. It's a great place to get family time. It's so peaceful. The swimming, the beautiful beaches, the people. The sky and landscape. It's all very, very therapeutic." Cushing likens the family's wines to Nantucket in their purity. "Nothing added, nothing taken away," he recites. "We strive to make our wine as pure an expression of the fruit as possible. And with wine – just like Nantucket – every day is different. We're dealing with Mother Nature here."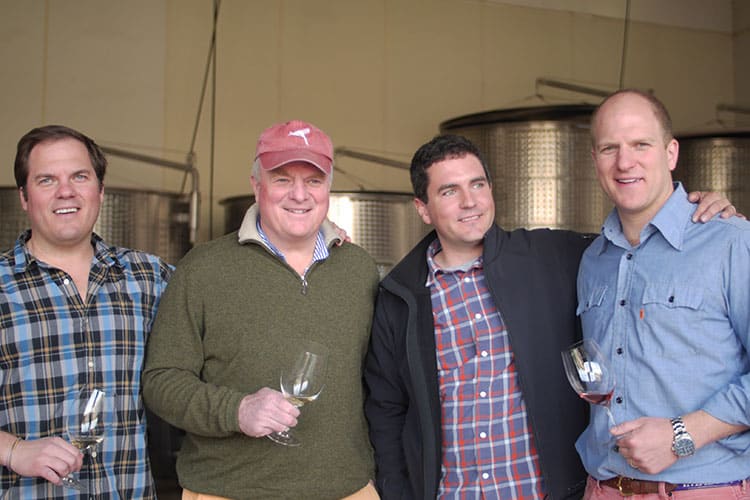 The entire Donelan family knows their way around Nantucket's food and wine scene. Joe Donelan proudly reveals that all four of his children have worked in the restaurant business on the island. Cushing attributes the gentleness of his own wine learning curve to his parents' European approach to raising kids. "There's a big difference between Europe and the U.S.," says Joe Donelan. "Most Americans weren't brought up with wine, so their introduction to it comes through cheap brands like Yellowtail. Europeans serve wine with water at meals. For them, it's a celebration of being alive, a chance to review the activities of the day. If you're reflective, wine gives you an opportunity to be thankful for a lot of things. Wine should give you pleasure."
At the 2012 Nantucket Wine Festival, I confessed to Donelan's then-winemaker Tyler Thomas that I didn't know how to drink wine properly. Thomas smiled, handed me a glass of his pinot noir, and asked a simple question: "Does it give you pleasure to drink this?" It did. Wine really is that easy. Its creation may be complex and highly variable, but the end goal is always the same: to enhance our experience of life. And Joe Donelan of Donelan Family Wines is living, breathing, winemaking proof.