~ by Rebecca Nimerfroh ~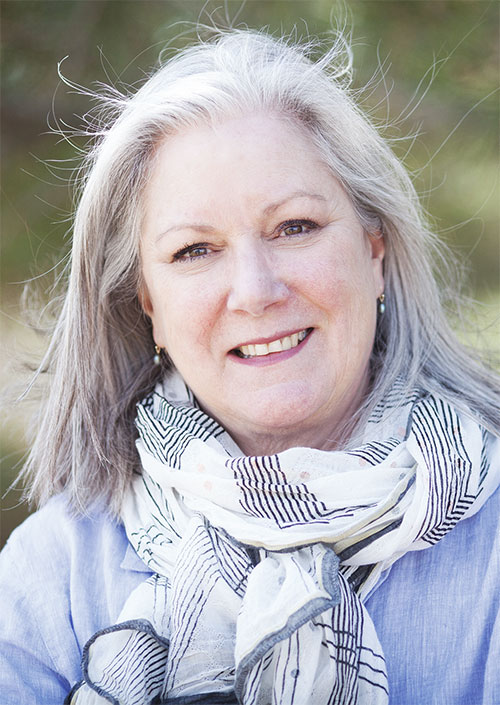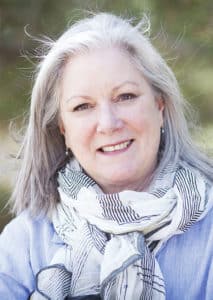 Walking into the brightly lit sunshine of Kitty Pochman's office, on location at 110 Eel Point Road, the view from her picture window does not disappoint. Her second story office at the Linda Loring Nature Foundation offers an unspoiled view west toward marshland, North Head Long Pond, and a nesting Osprey Pole where a mother falcon is sitting on her eggs. It is was summer when I meet with Kathryn, whom everyone calls Kitty, Executive Director at the foundation, to speak with her about life on Nantucket and to laugh about the years gone by.
"I moved to Nantucket in 1973 when I graduated college," Kitty Poachman says. "I came out like so many people to work for the summer, and I was a waitress at Captain Tobey's." Just off Straight Wharf, Backyard BBQ now fills that now defunct watering hole. "One of my good friends from college and I came out here together and got jobs." In fact, Kitty, who was raised in a small college town called Elizabethtown just outside of Lancaster, Pennsylvania, had never even been to Nantucket before, or heard about it, until she was attending college and her then boyfriend had visited the island. "He sent me a postcard of the three bricks!" Kitty laughs.
When Kitty and her college friend decided to go for the summer, the two girls came up in March before the summer season to secure jobs. Kitty recalls that several things were different back then, including the ferry which would depart from Woods Hole instead of Hyannis, and the ride was three-and-ahalf hours instead of two-and-a-quarter. "Some of the ferries had state rooms," Kitty recalls. "So that was very fun. They didn't charge extra. It was first come, first serve, so you could go and sit in the stateroom, and it was a more elegant way of traveling." Were there beds, I asked? "What I recall is they were a curved bench with a table in the middle. Just a little bit cushier than our current benches. They were private rooms."
Once on-island, Kitty discovered a Main Street on Nantucket that still had a hardware store and a Robinson's 5 and 10. "It was still very much a tourist economy, but it was much quieter," Kitty says. With the useful stores in town, Kitty says, "You could actually find a lot of things on island that you can't find now."
During that March trip, her maiden voyage to this island, Kitty and her roommate knocked on doors, looking for jobs. One thing she does remember clearly is Portuguese bread and enjoying a delicious sandwich at Henry's, which was on Main Street at that time.
Returning for the summer, she and her roommate had secured jobs and a place to sleep. What is now Souza's Seafood on Trotters Lane in mid-island was her tiny cottage that she shared with two other girls. "It was $1,700 for two months," Kitty recalls, split three ways. "It was a lot of fun."
At the end of the summer, Kitty was at Preston's Airport Lounge, a bar that at one point sat across from the airport, and a man asked her to dance. "I said noooo," Kitty says. "And he said, 'Oh, please?' and I said 'Ok, alright.'" The man was Thomas Pochman, and they were married seven months later, and have been together ever since
This was Labor Day Weekend, and Kitty recalls that the island changed fairly quickly in its transition into winter. "All the boats left Labor Day Weekend and then the scallop boats were in the marina. The island rolled up the sidewalks and shut down."
Falling in love rather quickly ("We knew," Kitty tells me) they moved together back to Pennsylvania for a year, during which time they married, and then decided to return to Nantucket. Kitty recalls that she worked again as a waitress, but this time serving breakfast at the Indian Room in the Overlook Hotel, now the Veranda House. "I used to serve Fred Rogers, who was one of our famous visitors," Kitty smiles. "He was very friendly and very sweet." When I ask what he would order, she says, "Goodness, I don't remember. Probably Blueberry Pancakes!" and she laughs.
That first summer together with Tom, Kitty recalls the beauty of the island. When I ask her for her favorite memory of that time, she says, "Going to Coatue for the first time. It's just so spectacular. Going clamming was one of our favorite things to do, and picking blueberries. And then we would have blueberry muffins and stuffed clams for dinner and you just felt like – wow – foraging your own food was really kind of fun." Even more romantic, Kitty says, "We bought a canoe early on and we'd take it out on moonlit nights on the harbor, which was neat and really beautiful." It's clear Kitty had fallen in love with not only Tom, but with the island, too.
Although Kitty and her husband had each secured jobs in the summer, winter was another story, and with the island nearly completely shut down, they decided to leave and work for a private Country Club in Charleston, South Carolina that was only open in the winters. "We thought that was going to be for one year, and it ending up being for 12 years that we did that seasonal shift between Nantucket in the summers and Charleston in the winters."
During this time, Kitty and Tom welcomed two children, now adult boys, one born on Nantucket and one born in Charleston. "It was fabulous raising kids here on Nantucket," Kitty says. But moving back and forth seasonally had its hardships, especially on the children. "At that point and time, they didn't have a lot of transient students who were in and out," Kitty says of the two school districts. "And the children were really the reason we decided we had to settle down someplace yearround, because they were being excluded from extracurricular activities and even some academic programs that they would have been able to participate in otherwise." Tom was offered multiple jobs in other states, but accepted a year-round position at The Nantucket Golf Club, and so they returned to the island and settled permanently.
"It was a community that was very easy to get involved in," Kitty says of their first winter on Nantucket. "Of course we had young kids, so immediately I was involved with the schools, volunteering there, getting involved with school counsel, and getting involved with Friends of Nantucket Public Schools." And the school system itself is something Kitty thinks very highly of. "I think it was terrific. Very caring teachers willing to work with parents as much as possible on whatever their individual student needed."
But more so than just the school, Kitty talks glowingly of the community of Nantucket at large. "The close knit community is something I didn't experience growing up, even though I grew up in a small town. There's a sense of taking care of one another in this community that is something that is very powerful."
Now a year-rounder, Kitty led nature walks at The Maria Mitchell Association, and soon became their first Executive Director. After 17 years there, Kitty took a year off, and then joined the Linda Loring Nature Foundation in 2007. More than just a land sanctuary, LLNF is a research center and a place for people of the community to connect with nature. With 86 acres of land, a family-friendly walking trail provides access to rare sights including nesting birds, insects, harmless snakes, and beautiful Nantucket fauna. "The land was never developed in any way, so it is pristine," Kitty says.
When I ask Kitty is she ever finds it fascinating that she has spent more years on Nantucket than anywhere else, she says, "Sometimes I think it is unusual to think that I landed here from Amish Country. But it has become such a part of who I am and has shaped me quite a bit as an adult." She continues by saying, "I don't really think of the island being an island so much."
It is clear that Kitty has found a position that connects her to the island that she loves and the passion that she has for preserving it. "We are all interconnected," Kitty says. "What we do impacts everything. That to me is a really important message, that people find a way to connect with nature, whether it's a bird walk, a nature walk, a children's program, or going out for a walk on your own, but find that connection. Because once you care about your earth, you are going to start taking actions to change your own behaviors."
At the end of our meeting, a big yellow school bus full of nearly 50 children pulled up to the Linda Loring building and they unload in a long stream of smiles, following Peter Brace as he led them down a nature trail. Kitty continued, saying," So what we do here is connect with nature, learn about it, become passionate about it. As children learn about the world, they will become adults who care about the world, and help make an impact."
From the community center deck of the Linda Loring building we watch the Osprey mother bird on her Osprey pole, sitting on top of her eggs, and through the offered telescope I can see her head shifting, cautious, watchful. "It really is a very special place," Kitty says, referring to Nantucket, her home for so many years. "It is spectacular."
Photo by Cary Hazlegrove