~ by Sarah Moreau ~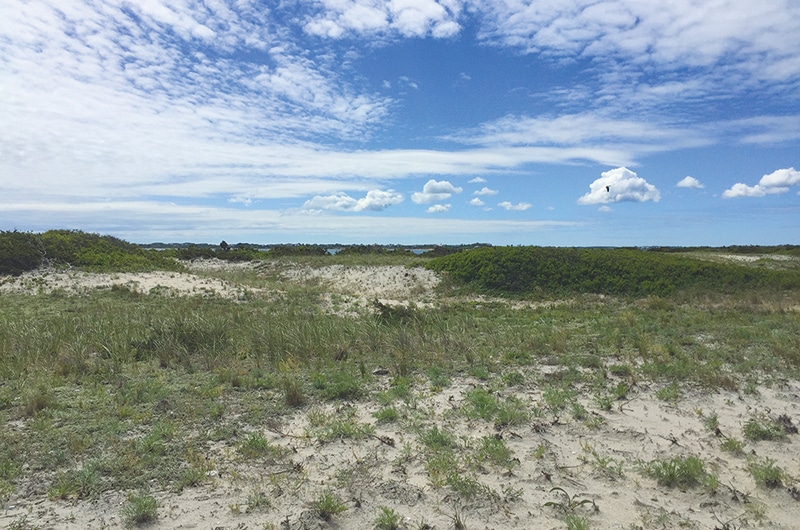 The Trustees of Reservations holds over 25,000 acres of land across Massachusetts that has scenic, historic, and ecological value for public use and enjoyment. Nantucket boasts an impressive amount of open space for its size, with over 45% of it preserved in its natural state. Of that, the Trustees maintain 1,117 acres of land on the island, and on their Natural History Tour I was able to explore a part of Nantucket that is hard to reach.
The Coskata-Coatue Wildlife Refuge is a remote part of the island that can only be accessed by 4×4 oversand vehicle or by boat. We visit Coatue occasionally on our boat, but I hadn't driven the peninsula in almost 10 years, so I was very excited to revisit this quieter part of Nantucket. This is where you can really get away from it all and enjoy the quiet and beauty of nature.
You can rent a Jeep or get an oversand vehicle permit for your 4×4 from the Wauwinet Gatehouse to head out to Coskata-Coatue and Great Point Lighthouse, but if you are inexperienced in off-road driving and don't know where you are going, it is easy to get stuck in the soft sand, requiring a tow truck to come and rescue you. I recommend sticking with an experienced tour guide, and the Trustees of Reservations will conveniently pick you up in town at 33 Washington Street or meet you out at the Wauwinet Gatehouse. I met tour guide Barry at the Washington Street location and settled into the van for a comfortable ride out to Wauwinet. It takes about 15-20 minutes, depending on traffic to reach the gatehouse from town, and Barry gave us some Nantucket history on the trip out. He's lived on Nantucket his entire life, and was a wealth of knowledge Once we hit the gatehouse, he hopped out to air down the tires so we could make the ride onto the sand.
The 4×4 van has no trouble maneuvering through the soft sand, and we make our way from Wauwinet out onto the peninsula. On one side are the calm waters of Nantucket harbor and on the other, the crashing waves of the open ocean. Once we hit the beach, Barry points out the different shore birds and we see seals bobbing in the water. We pass an ever-changing variety of scenery, from woodlands to wetlands, to ponds and ocean.
On the day I went, a section of the beach was closed due to nesting birds, blocking access to the Great Point Lighthouse. Instead we headed into the inner trails of Coskata and had a more extensive tour of the coastal plants and animals that make this place so special. I had never seen baby seagulls until this tour, and they are fluffy cuties hiding in the underbrush compared to large and often bold shore birds they grow into. We could still see the lighthouse from a distance, but if going up close is important to you, make sure you call ahead to verify that the trail out is open.
The tour including the trip to and from town is 3 hours and runs twice a day, seasonally from May to October. They also offer sunset tours during peak summer, as well as private tours. The van is equipped with maps and information on the refuge, as well as numerous pairs of binoculars for getting a closer look at the wildlife. Make sure to wear comfortable shoes, dress for the weather, bring a bottle of water, and apply your sunscreen. No matter what season you go, the beauty of this untouched land is not to be missed. To learn more go to thetrustees.org or call 508-228-6799 to book a tour.