Featured Restaurant: The Chanticleer
by C. Oscar Olson
In all of our travels, there are only a few restaurants we've come across that combine fine dining and the hospitality of home. These places of picture- perfect calm and comfort are hard to come by and should be treasured and remembered. The Chanticleer is one such restaurant—an oasis of fine dining.
For more than a 100 years, this much loved establishment has been serving the village of 'Sconset and the Island of Nantucket. Originally opened as a small tea house at the turn of the century, The Chanticleer is now one of the most sought after restaurants on- and off-island. Relaxing, refined, and romantic, it is a most suitable spot for occasions of all kinds.
Though Siasconset is just eight miles from town, it feels like an entirely different island. It's slower and sleepier in all the right ways, with everything you need within reach. Blending right in with the climbing roses and high hedges on New Street sits our destination. We were lucky enough to score a table in their airy front garden with its famous colorful carousel horse. The peak of the roses that bloom profusely over the restaurant has passed, but the garden is still lush and carefully tended.
Chanticleer's Executive Chef is the legendary Jeff Worster. He focuses on only the best seasonal ingredients while remaining true to classic techniques and fantastic fusions of flavor. His cuisine wanders across the globe while remaining true to his island home and honoring what's at hand. Partner Susan Handy insures all runs smoothly and that the service lives up to the high expectations of this fine dining establishment.
Summer has flown by, but all good things must come to an end. There is certainly a silver lining: late summer vegetables. The Chiogga Beet Salad  celebrates the summer sunshine and coming change of season with perfect pink beets that are as mild as they are marvelous. A healthy wedge of blue cheese accentuates the earthy element, while sweet, ripe raspberries bring out a fruitier side. The crunch from maple walnuts brings both elements together.
On the richer side of starters is the Lemon-Garlic Roast Chicken Salad. Prepared on toast in the style of Hawaii, with the crunch of macadamia nuts and sweet Maui pineapple. The chef's light curry mayonnaise brings those two together and the Spam cracklins on top bring a salty spark to it all. The beer-battered onion rings above it all were simply a special light, crisp treat.
Our favorite first was Chef Jeff Worster's Yellowfin Tuna Tartare. The ruby red fish is mixed with Lao Gan Ma, an outstanding sort of saucy spread made with aged chilis and crisp onions along with Weak Knees Sriracha, a wellknown sweet and spicy condiment made by hand in New York. The tuna is served alongside crisp yet tender scallion pancakes and decked out with a crisp Japanese cucumber salad, creamy avocado, and lime. It was the most delightful cooling appetizer for a warm afternoon.


An ideal setting for events of all kinds, The Chanticleer will welcome you for lunch or dinner in their verdant front garden, in their handsomely clubby Grill Room, in their spacious main dining room, or on their cheery "Porch," that overlooks the chef's herb garden. We can't imagine a better venue for weddings, parties, and celebrations of all sizes.
Chef Worster's lunch menu ranges from light and easy to rich and filling, all in generous portions, and you'll find a few similar offerings on the dinner menu. You won't miss a thing no matter the time of day, and that was obvious up front when were presented with the Confit de Canard. A sublimely succulent crisp-skinned duck leg and thigh was served alongside asparagus, cauliflower, and leek risotto with a bordelaise sauce, luxurious and delicious, with dry red wine, bone marrow, butter, shallots and demi-glace.
When you're really hankering and hungry for lunch, go for the New Zealand Lamb Bolognese. Rich, hot, and hearty, this luncheon entree will keep you going all day with both chunks and ground lamb along with Marquez sausage, a lamb sausage originally from North Africa. It's all simmered for hours with a mirepoix of vegetables, San Marzano tomatoes, and a mix of 21 secret herbs and spices. The final product is tossed with orecchiette pasta, arugula, and plenty of Pecorino Romano alongside to mix in as you desire.
Tomato season is in full swing, so be sure to take advantage of the Maine Lobster – BLT Style. Served open-faced on buttered toasted brioche, it's piled high with applewood smoked bacon, arugula, juicy heirloom tomato, and, of course, sweet, succulent lobster. The lemon mayonnaise brightens every bite and the sweet potato tots add a delightfully fun and crispy contrast.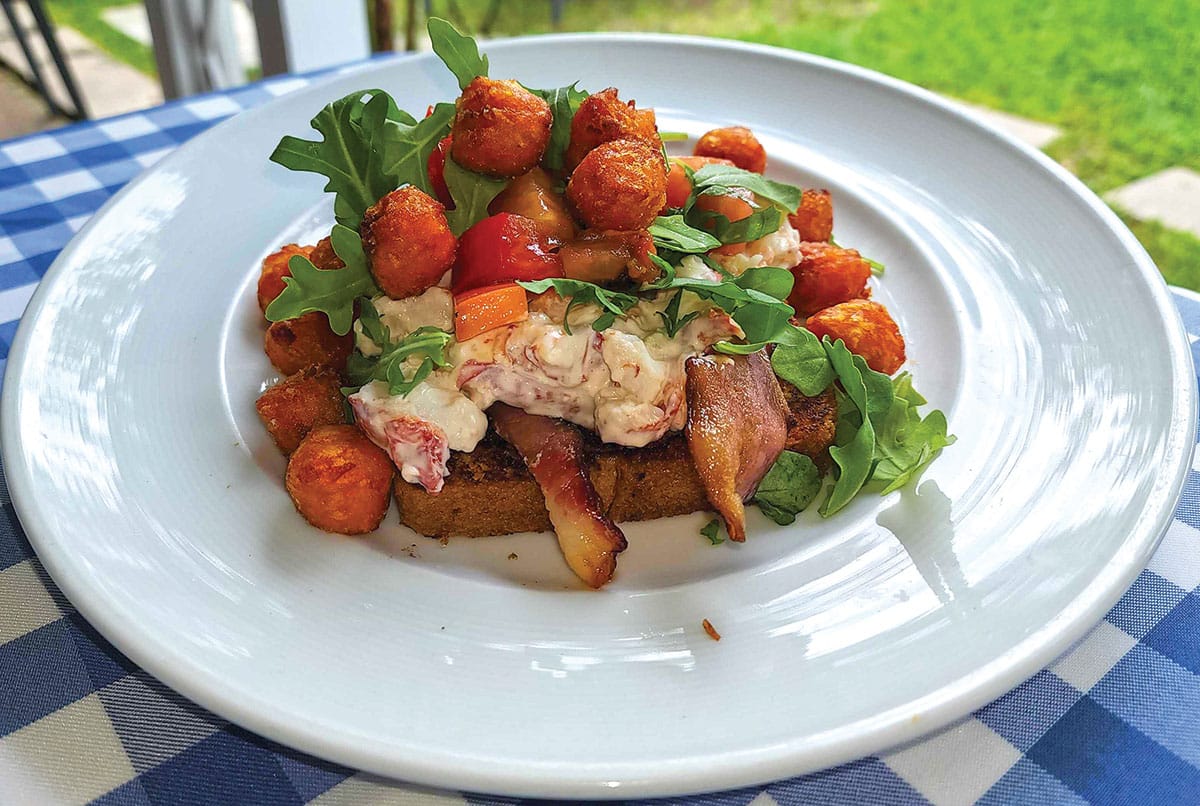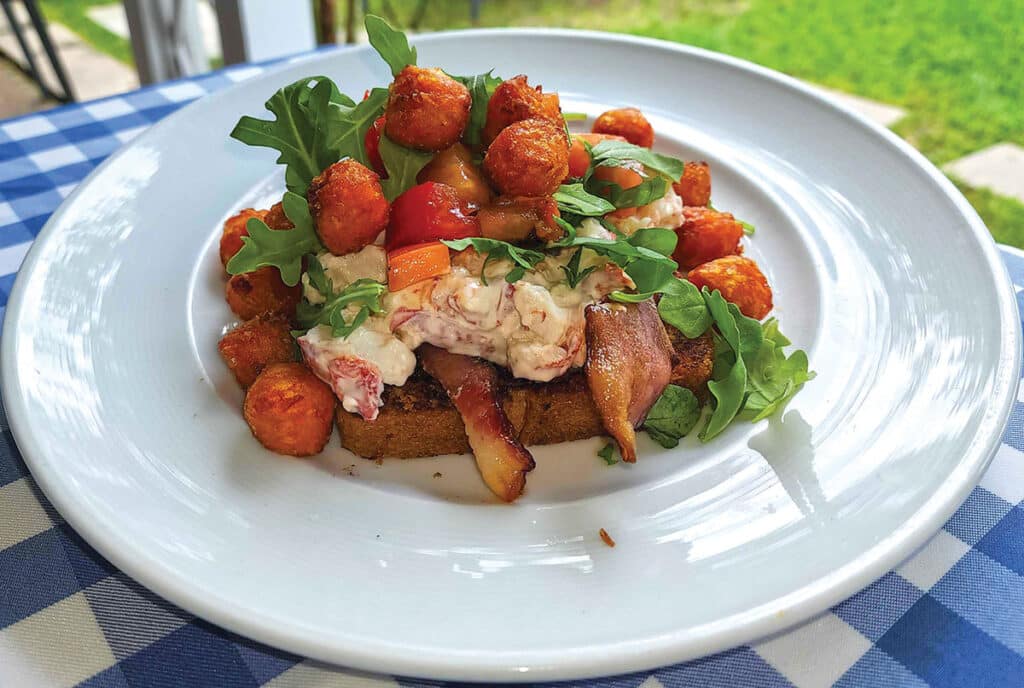 One of the best dishes we've had this entire summer was Chef Worster's Fresh Catch. A menu option that rotates regularly, we lucked out with salmon. Pan-seared and sublimely moist, it was presented atop pommes puree and surrounded with an array of freshly harvested vegetables: al dente zucchini, summer squash, sweet cherry tomatoes, and nice pops of salt from green Calvestrano olives. A sweet, spicy, slightly puckery sauce made with tobacco, parsley, and lemon butter tied it all together.
Though we all arrived famished, this mighty and marvelous meal still left us longing for a sweet finish. Of six superb sounding options, we chose two to share. Their Lemon Tart is tangy yet buttery and bold, bursting with more fresh raspberries and sauce framboise. Served parfait-style in a sundae glass, Marco Pierre White's Eton Mess was a classic delight on every level. Layers of strawberries, crushed meringue, and gelato made certain every bite revealed something new, and there was nary a nibble left behind.


Cozy yet elegant, relaxed yet refined, we cannot wait to revisit this rare island treat. Everything about our leisurely lunch was perfect, and we look forward to repeating the experience. The Chanticleer is making marvelous food through Columbus Day, so escape to the east side of the island and to the oasis that is Chanticleer while you can.
The Chanticleer
www.TheChanticleer.net • 508-257-4499, Reservations Recommended
Lunch served from 11:30 am to 1:30 pm
Dinner served nightly from 5:30 pm to 9 pm
Indoor and outdoor dining for lunch and for dinner
Dress for lunch is Nantucket casual; for dinner, jackets preferred for men
All French wine list • full liquor license • major credit cards accepted
Open seasonally through Columbus Day weekend
Facilities for private celebrations