• by Sarah Teach •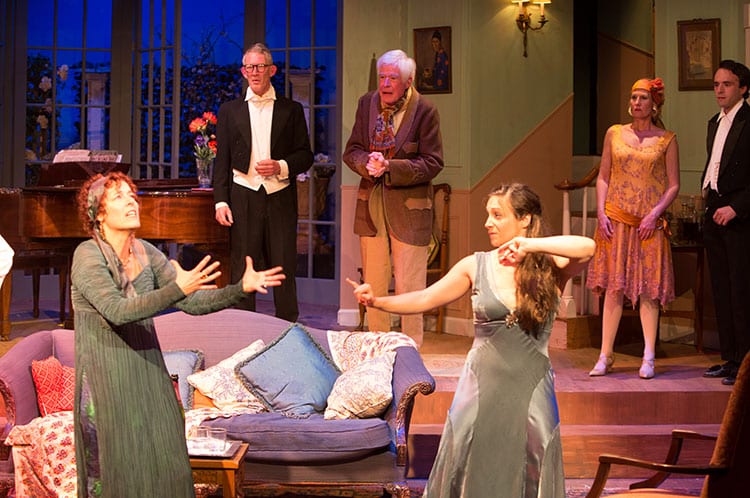 It's pollen season on Nantucket, and Hay Fever is just what you need. Theatre Workshop of Nantucket (TWN) kicks off summer with the comedy that helped British actor-turned-playwright Noël Coward (1899-1973) get his foot in the writing door. Penned in 1924, Hay Fever is 90 minutes of bliss with a family of the same name (as in, "ignorance is…"). They live in a world that is entirely their own, marked by the overdramatic. Others are invited as unwitting props into the everyday Bliss family drama, and are discarded when they lose luster, as all new toys do. Not far from inbred rednecks that build a McMansion with lottery winnings lie the Blisses, who carry on a sumptuous lifestyle that is mismatched with their social defectiveness.
Without consulting any other family members, each of the four Blisses—mom, dad, and grown daughter and son—summons their own guest to the family's estate for the weekend. Upon discovering the overlapping invitations, the Blisses fret extravagantly over potential love relationships that could form between their callers. Bit by bit, the company arrives, unknowingly stepping into a household that brandishes a cringe factor to rival the very finest reality TV. The family puts on airs as if they are excellent hosts, but pays no actual mind to their guests' feelings. They're too busy hopping nimbly from ecstasy to agony. As the Blisses strive to extract every drop of drama from their interpersonal exchanges, it becomes clear that their grip on reality is as strong as their barometer's flimsy clasp on the wall.
Hay Fever is a comedy, but its subgenre is hard to pin down. It is neither especially high nor low comedy, and is as much farce (with the acting profession as its victim) as it is comedy of manners. Coward grew up poor but became a master of the latter, a style that usually pokes fun at behavior within the upper class (which is not always identical to "classy" behavior). His text is dense, even if his plot is thin. Coward himself acknowledged those facets of his writing, and focused on creating curious relationships instead of epic tales.
Director Erik Pearson either ended up with a cast with high comedic talent in place, or he trained every last one of them extremely well. He took full advantage of Coward's generous opportunities for physical comedy, putting props in his actors' hands whenever possible. The effectiveness of Pearson's blocking is not only a testament to his directing but also to the deliberate design of the set. For this, he has designer Eric Shultz and decorator Anne Breeding to thank. Breeding catches all the Bliss family's loose screws and drills them into the misshapen places where they belong. The set conveys that although the family's flexible schedules and bank accounts could allow them to frame their paintings and choose matching furniture, they cannot be bothered with such conventions.
The cast of this British play is sprinkled with several authentic Brits: Nantucket washashores and TWN regulars John Knox-Johnston and David Lazarus, along with TWN newcomer Hannah D. Scott. As Sorel Bliss, Scott's movements—which are as believable as they are intentional—suggest training in Stanislavski's method. Susan Lucier gives us matriarch Judith Bliss in all her grandiosity. Playing Judith's son Simon Bliss is TWN main stage newcomer Wally Marzano-Lesnevich, whose sniveling diction is the source of his comedic success. Susan McGinnis is the sexy Myra Arundel, whose ornamental worldliness flirts with the histrionics of the Blisses, but ultimately lands in saner pastures. Kate Splaine makes a rare onstage appearance and nails the role of the tetchy but loveable maid, Clara. Outwardly, she's the least proper presence in the home, but we eventually see that she is the only household member who isn't caught in the Bliss lunar cycle. Blonde-haired beauty Laurie Richards plays the dim-witted flapper Jackie Coryton. Though her candle doesn't burn too brightly, it shines enough to lead her out the Bliss's door by the end of the show. Vince Veilleux is the same character he often plays: the token charmer. Although Sandy Tyrell is winsome, he learns to lose some romantic conquests and exits the estate in a state of dismay.
Lighting Designer Danny Harrison brought his two decades of theatre lighting experience to TWN for the first time. He says, "The play is set in the 1920s, so I was trying to envision how everything would look with bulbs that had big, fat filaments. No LED stuff. I wanted that 1920s hard amber look. In the second act, I went for warm incandescence and saturated colors that would really play up how fabulous they're all being." When the guests first verbalize the truth about the ignorant Blisses, the stage's illumination grows brighter and whiter. Quite literally, the situation is brought to light, and the guests must decide whether to hail all four sensational skippers or jump ship.
Hay Fever will show at Bennett Hall (62 Centre St) until June 21. Shows last 90 minutes with no intermission. Tickets are $30 at theatreworkshop.com or at the door.