New England is known for small seaside cafés and clam shacks that specialize in fresh seafood, but we can think of only one eatery on Nantucket that carries on that tradition. Easy Street Cantina is by the harbor rather than the sea, but it definitely offers fresh seafood prepared simply and deliciously along with so much more.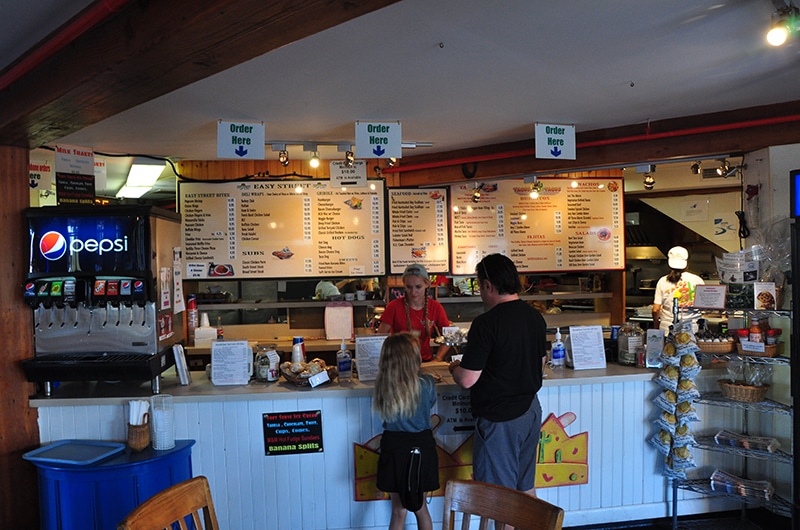 Easy Street Cantina is on the corner of Easy Street and Broad Street, the last place on "The Strip" before you get to Steamboat Wharf. You've seen it: it's the restaurant with the pretty, flower-filled corner patio enclosed by hedges and filled with picnic tables sheltered by colorful market umbrellas. Dining here is self-serve, and the counter help is pleasant, fast, and efficient (even more so if you call ahead). They make it easy to get your food and head to the beach, back to work, or off to catch the ferry. If you decide to eat there, in addition to the outdoor patio, they have a spacious indoor dining room with booths and tables. Easy Street Cantina is one of the first downtown eateries to open in the morning at 7:30 am (earlier in the heart of the season) and the last to close on weekends at 2 am!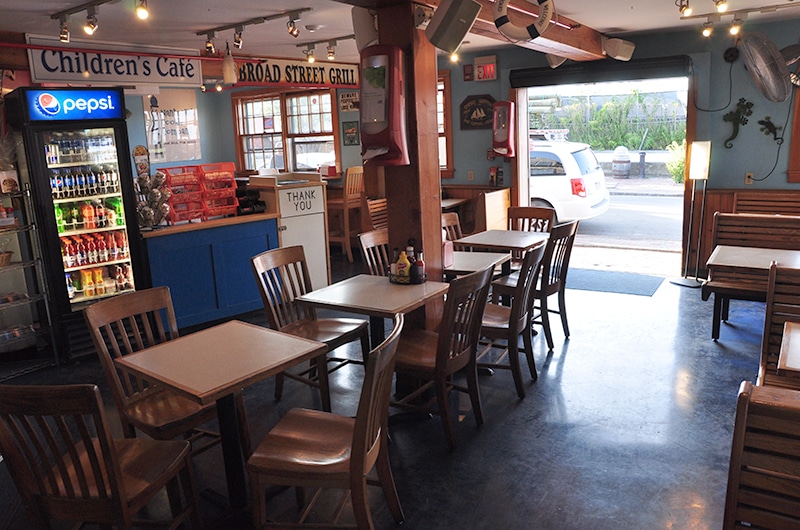 After Labor Day Weekend, they'll close earlier, but will still be open past the time most other island night spots stop serving food.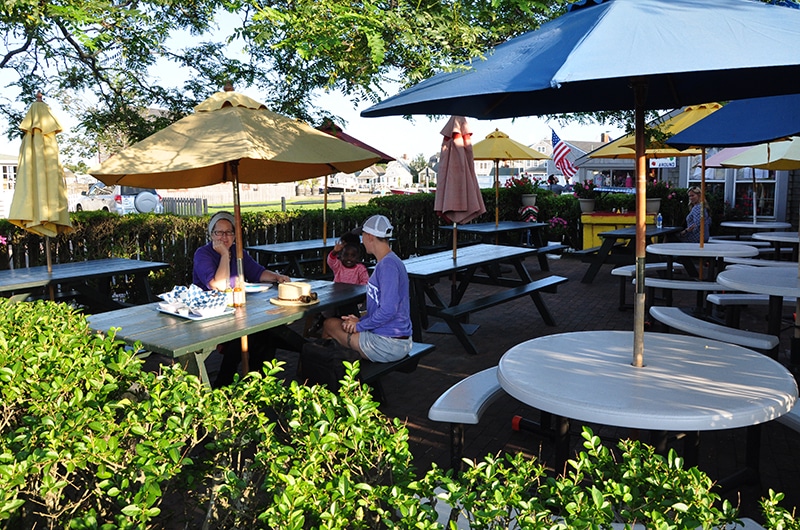 Their extensive menu offers an assortment of American favorites, Mexican fare, and fresh New England seafood. Owner Bartholomew Gangemi's background is finer than fast food, and it shows in the care he takes with the freshness and preparation of everything served. He even mixes his own "Island Spice" seasoning blend and harvests his own Nantucket sea salt, which you can buy at the counter to take home or at NantucketCookieCompany.net if you need more after you get home.

Click on images to view enlargements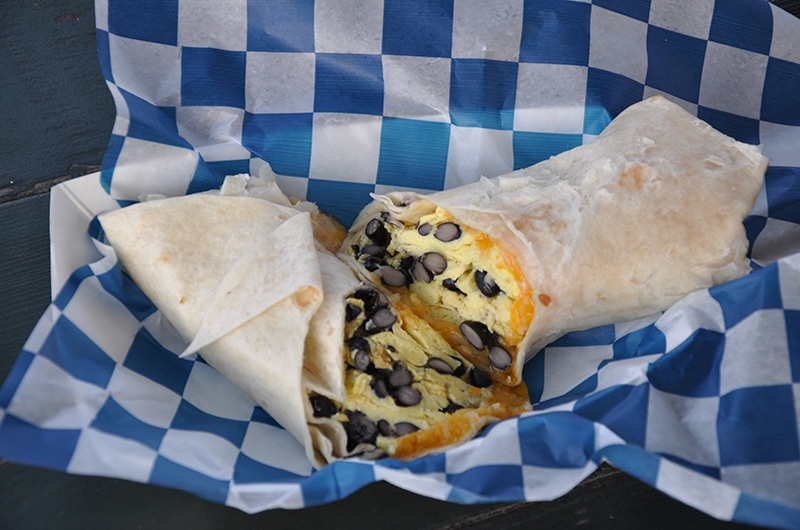 Breakfast is served all day long at Easy Street Cantina. Breakfast Sandwiches are featured, 8 different varieties, from a simple Egg and Cheese Burrito for $7.95 to their "Grand Slamwich," a morning feast with bacon, sausage, ham, egg, and cheese on a maple-grilled bun for $9.95. Their Large Breakfast Taco with black beans, egg, cheese, sour cream, and salsa is gluten free.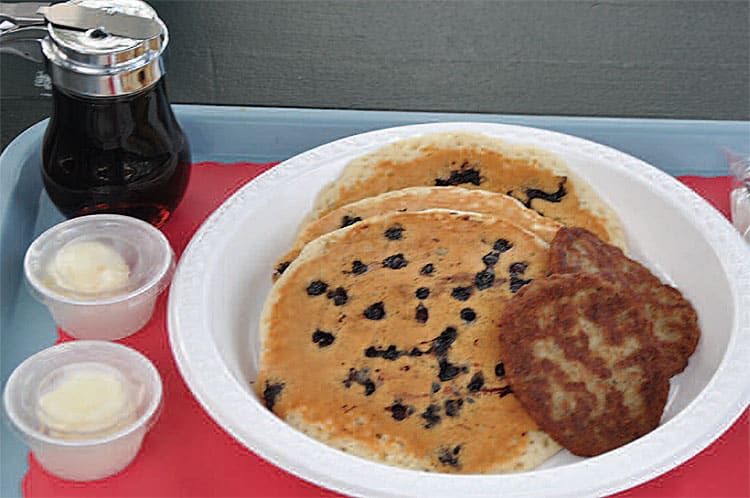 If you have time to sit down and enjoy breakfast, then order the light and fluffy pancakes. A stack of 3 with a side of bacon, butter, and syrup is just $10.95 and for 95 cents more you can add blueberries, cranberries, or chocolate chips! Easy Street Cantina also has a selection of sides to add on, including ham, hash browns, sausage, scones, muffins, and bagels.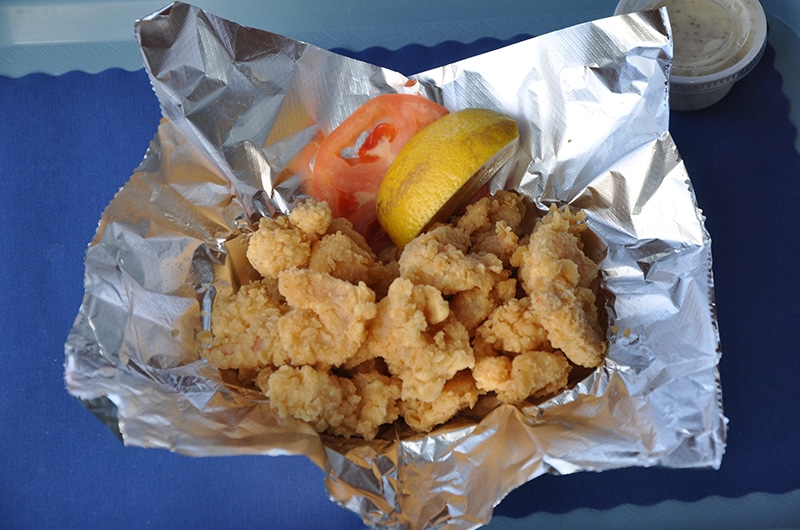 Easy Street Cantina serves more than a dozen different "Easy Street Bites" — finger foods for any time of day. We highly recommend the Popcorn Shrimp, which we order every time we're here. All the seafood served at Easy Street Cantina is hand-breaded, these included, and the shrimp Gangemi uses are larger that what are often served as "popcorn shrimp" at other island eateries. The mustardy "Tiger" dipping sauce adds a delicious spark of heat.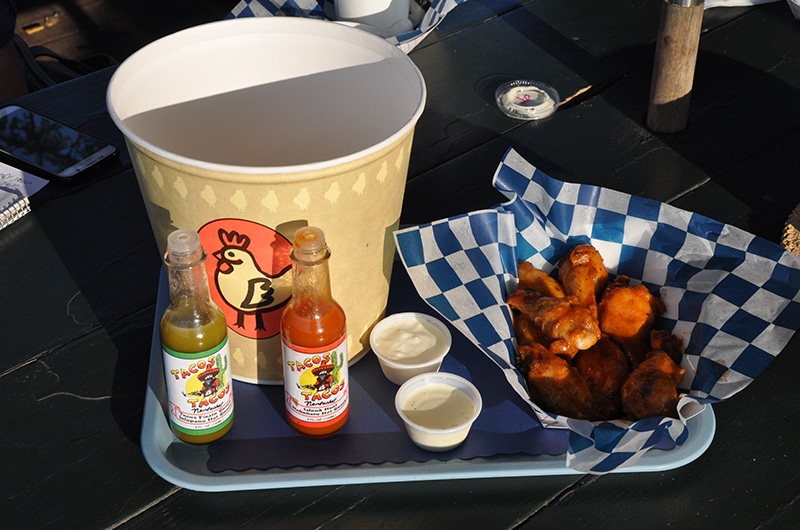 Also very good are the Cantina's Buffalo Chicken Wings. One bite of these and you'll understand why they're so popular: a thin, crisp exterior, moist and meaty chicken, and a nicely balanced spicy-tangy sauce that doesn't make the crust soggy because they are cooked to order. Thursdays are Wing Day at Easy Street Cantina, and all day you can get a basket of 16 wings (Teriyaki, BBQ, Buffalo, or Plain) for $12.95 or a half basket for $8.95. (As of September 9, Wing Day moves to Saturday.) New this season is the Cantina's Huge Bucket of Wings: for just $33.95, you get enough for a party!
Speaking of specials, the buffets will soon be back at Easy Street Cantina. Starting next week they serve all-you-can-eat lunch buffets Monday through Friday with a different feature each day plus salad, nachos, and pizza.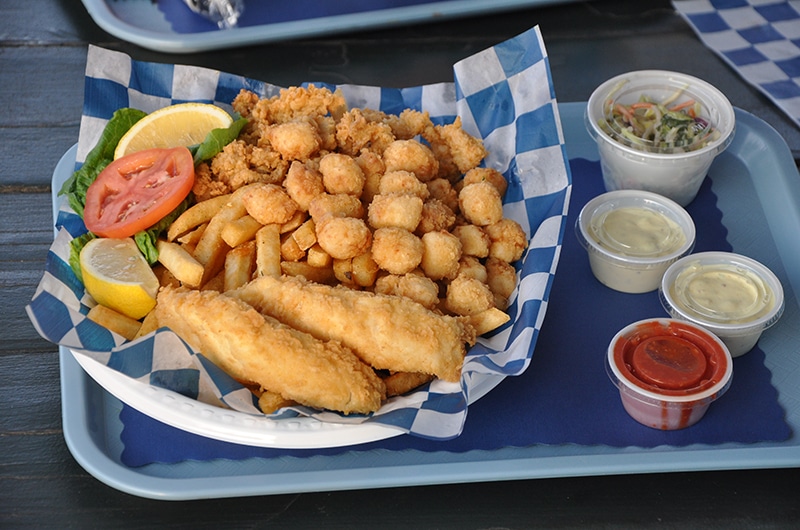 Fresh, breaded by hand, and cooked to order, Fried Clams at Easy Street Cantina are the best on the island. The clams are whole belly and delightfully tender with a crunchy breading. You can get them on their own or as part of the Fisherman's Platter. This enormous Platter has a big portion of clams, plus lots of succulent scallops, and freshly cut, breaded, and fried codfish that is hot and flaky. All the seafood is perfectly cooked to be tender, and nothing is greasy. Even the cool, crisp slaw and the delicious house-made tartar sauce prepared with two kinds of mustard, red wine vinegar, and tarragon that come with with platter deserve high praise.
The Fisherman's Platter (shown above) and most of the sandwiches served here come with Gangemi's habit-forming Seasoned Fries, crisp on the outside and fluffy inside, dusted with his delicious Island Spice.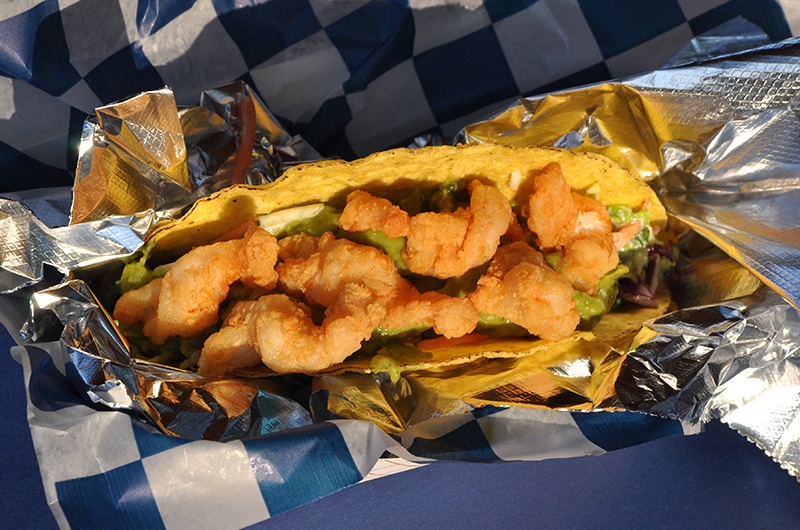 Easy Street Cantina's Tacos were also a hit with the whole team. For a mere $5.50 you get deliciously seasoned and freshly fried codfish nestled into a warm flour tortilla with chilled lettuce, salsa, corn, onion, sour cream, and cheddar and monterey jack cheeses. If you prefer, you can order this in a corn tortilla. Cantina Tacos can be ordered by the box if you have a crew to feed. Our favorite taco is their superb new Shrimp Taco filled with creamy guacamole, crunchy chef's slaw, and lightly battered butterflied shimp that are flash-fried and pop with flavor.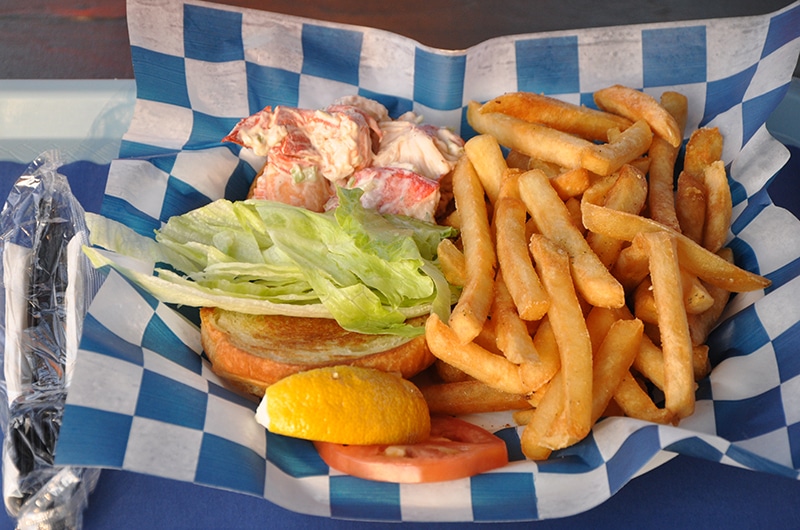 The Lobster Roll here hits the spot with big chunks of sweet lobster meat in a light mayo and celery dressing served on a grilled bun.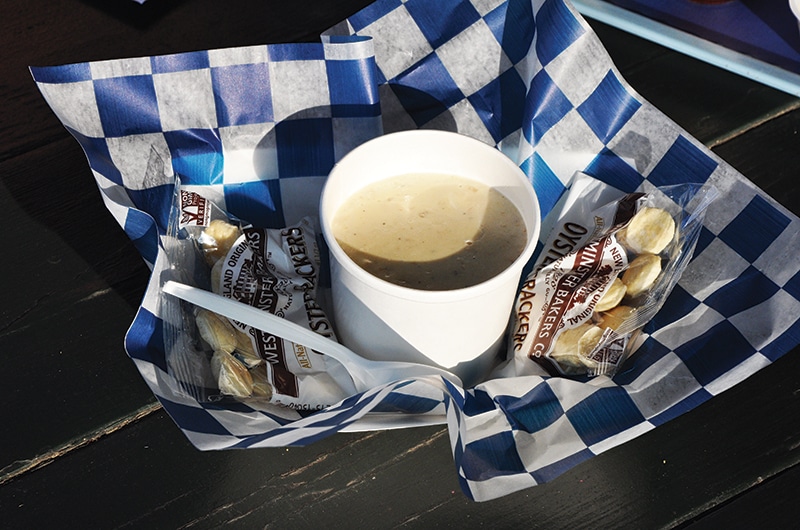 Order the Lobster Roll with a cup of their New England Clam Chowder for a true seaside café meal.
Not in the mood for seafood? Easy Street Cantina has chicken tacos, bean tacos, and beef tacos as well as fish tacos. And they have a very tasty taco-in-a-taco called the Macho Taco that can satisfy any appetite. This is a beef taco, its crisp corn tortilla shell filled with meat, lettuce, tomato, sour cream, salsa, and jalapenos, served in a flour tortilla with refried beans.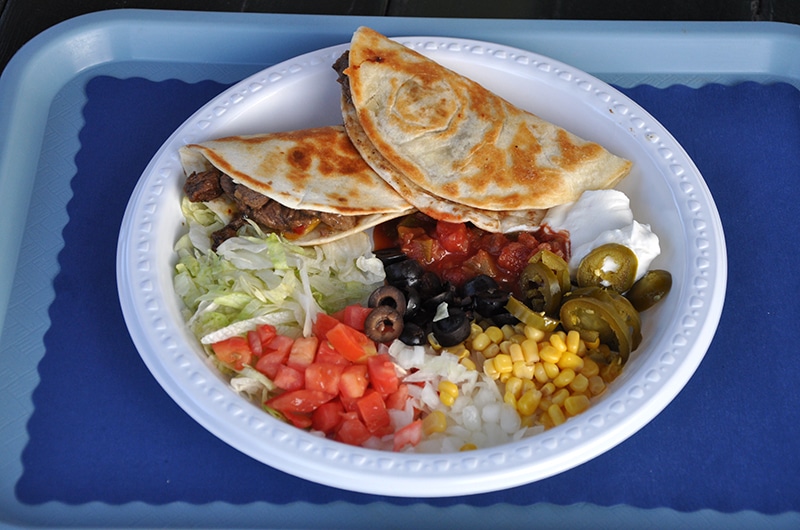 The Steak Quesadilla is another hearty meal, with flour torilla folded over a steak and cheese filling plus lettuce, tomato, olives, jalapeno, onion, corn, salsa, and sour cream on the side.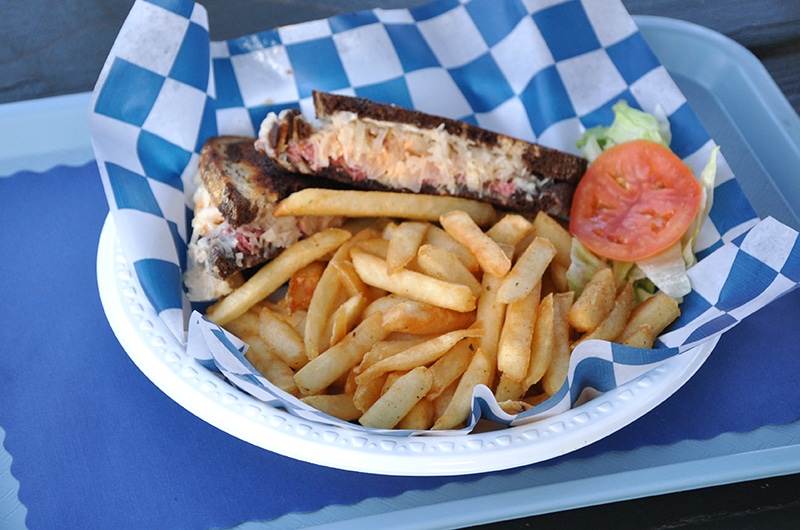 The Cantina also serves a variety of burgers (including a veggie burger), several hot sandwiches, five types of burrito, three hot subs, and ten different wraps. We especially enjoy their Grilled Reuben (shown). It's a classic, with layers of corned beef, sauerkraut, cheese, and dressing on marbled rye. We also love their South Street Cheese Steak and their Classic Chicken Parmesan: both served on enormous soft rolls with plenty of melted cheese.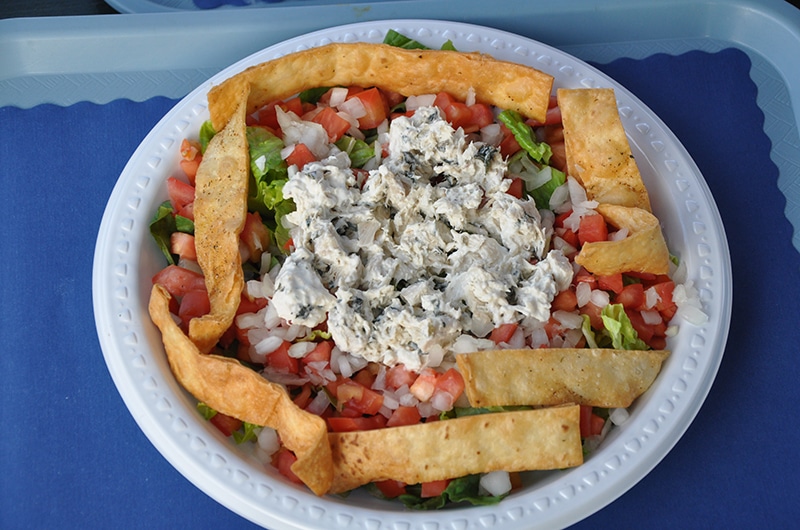 It's still summer, so if it's a salad you want, Easy Street Cantina can satisfy! Their Teriyaki Chicken Salad is very good, with moist and deliciously seasoned chicken over a bed of lettuce, chopped tomato and onion, and a blend of cheeses garnished with crunchy seasoned tortilla strips. Even better (and more summery) is their superb Fresh Basil Chicken Salad (shown).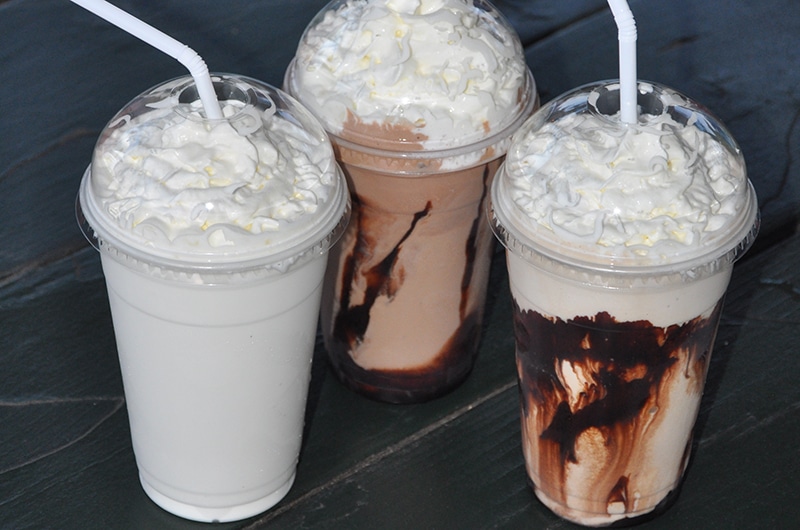 New this year, Easy Street Cantina is serving thick and creamy Milk Shakes in vanilla, chocolate, or mocha and they'll make yours malted upon request. Our favorite is the mocha—it has a nicely defined coffee flavor and matches well with a Chocolate Chipolte Cookie from the Nantucket Cookie Company.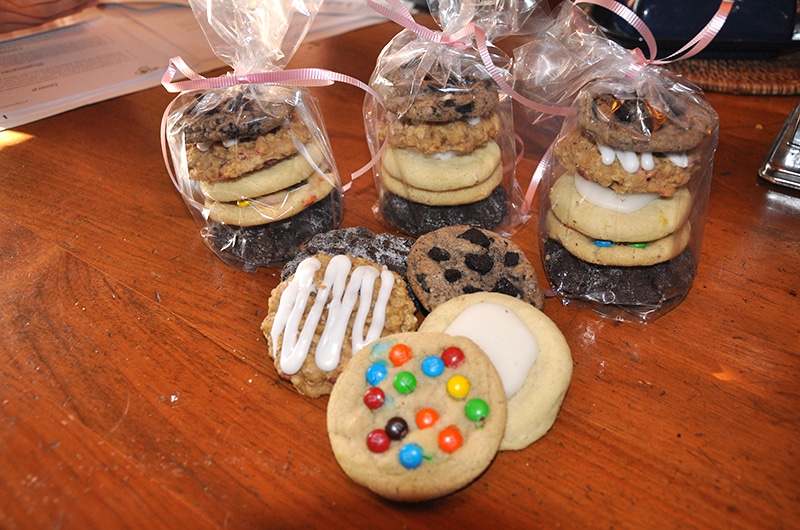 A bakery within Easy Street Cantina, the Nantucket Cookie Company makes small batch cookies from scratch daily with no preservatives, along with fruit-filled scones and muffins. Our favorite cookie flavors are their chocolate chipolte (the flicker of heat cuts the rich dark chocolate) and their Nantucket Cranberry cookie (an island variation on oatmeal raisin). They had sold out of the Iced Key Lime, Butter Pecan, and the Mocha Frost cookies, so we'll stop back for those!
Not only can you buy freshly baked cookies in a variety of flavors, but you can also buy a Lightship Basket filled with chocolate chip cookies nicely wrapped to take home to the friends you left behind in America. Another fun gift (or activity for the boat ride home) is their Cookie Decorating Kit with a dozen fresh sugar cookies and colored toppings. And after you've rounded the point, you can still order these scrumptious cookies (along with Gangemi's Nantucket Island Spice and ACK Natural Sea Salt) at NantucketCookieCompany.net.
We loved lingering over a casual, tasty, and affordable dinner at Easy Street Cantina: great food and plenty of it, relaxing patio dining, and we still had cash in our wallet when we left.
Easy Street Cantina • 508-228-5418
Corner of Easy & Broad Streets • easystreetcantina.com
Open every day from 7:30 am to 10 pm
and open till midnight on Friday & till 2 am this Saturday & Sunday
Breakfast foods served all day • Lunch Buffets begin September 7
Prices range from $4.95 to $12.50
Indoor Dining, Outdoor Dining, & Takeout • Party Platters available Home of the Nantucket Cookie Company: NantucketCookie.net