by Catherine Macallister
Not far from the Hyline docks and just behind the famous Straight Wharf Gazebo are the wide wooden steps that bring you into Perch Nantucket. This store is large and open, carrying some the island's trendiest clothing. Laurie O'Connell, owner and buyer for the company, is primarily based out of their other location in Colorado, but is visiting the island and took time to sit down and tell me all about her exciting endeavor that began Perch seven years ago.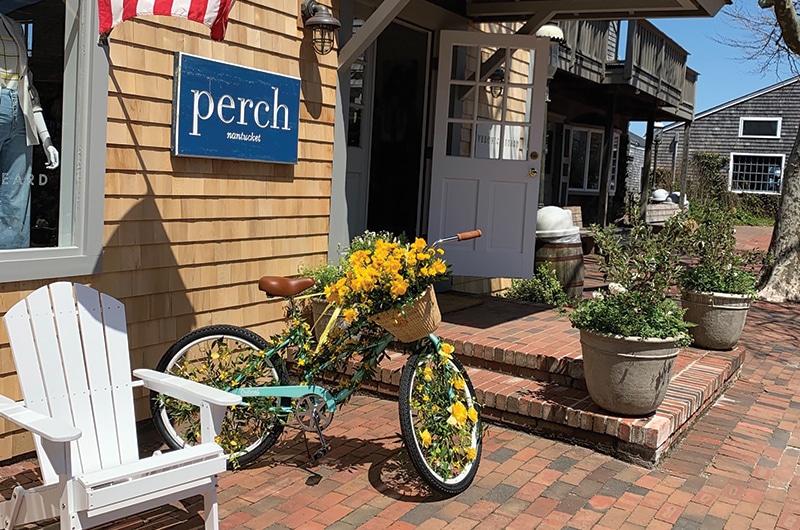 Laurie has been traveling to Nantucket summers since her college days, and eventually returned to vacation for many years. She worked in New York City fashion for 10 years and opened her first Perch clothing store in Vail, Colorado, a natural step for the owner who has an eye for fashion. She shares: "A customer came in within a couple weeks of opening and said 'This would be a great store on Nantucket'," first planting the seed of what is now Perch Nantucket at 2 Harbor Square. "The dream manifested itself," says O'Connell, who was finally able to bring Perch to Nantucket three years ago. Perch got its name from the Vail location, as they are located "up on a 'perch' above the street," but the name is so unique and perfect that it fits its newest home on Nantucket, perfectly.
"All the women in town love what we're doing" says O'Connell, a statement evidenced by the bustling shop. The store itself is designed for an "experiential shopping visit," complete with a large sitting area that allows for shoppers and their friends and family to enjoy the Perch space. The store remains professional in terms of sales staff, who cater to customers and help them to cultivate wardrobes they will love, "it is a pleasing customer experience," explained O'Connell. While they provide a top-notch shopping experience, they also have fun and build important and memorable shopping relationships: "we like to chit-chat" says O'Connell, with a laugh.
Perch caters to the "multifaceted woman," it could be "a mom who is working professionally and raising kids or working on herself." The shop itself carries a mix of fashion-forward items, offering stylized modern work wear or cute swim suits, and beach clutches with clever phrases like "Sea You." There is a wide variety, and O'Connell appreciates that her store has been cultivated to have "something for everybody." The store is "multigenerational, with moms, daughters, and grandmothers all shopping together." From start to finish this is a relaxed and personalized shopping experience that will make you and all of the generations in your family Perch shoppers for life.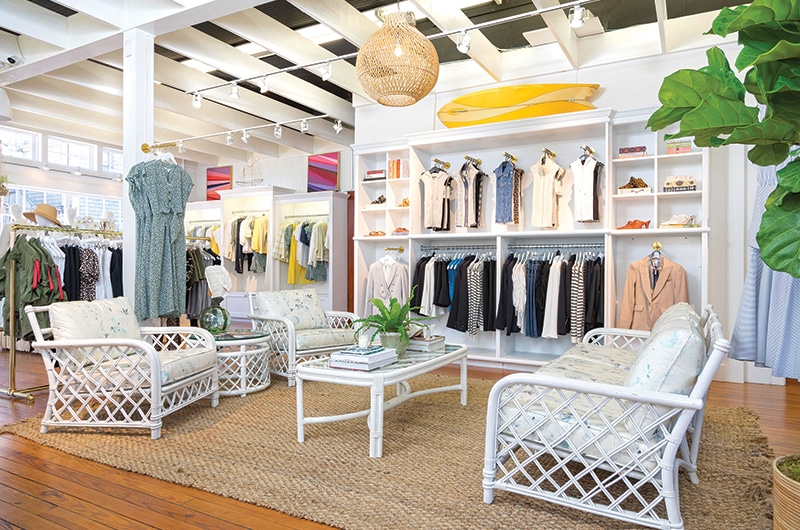 This trendy shop features several lines of contemporary clothing including Veronica Beard, Tanya Taylor, rag & bone, and L'AGENCE, to name a few. This summer Perch and Veronica Beard have partnered to host an exclusive collection of Veronica Beard shoes, clothing, and goodies in the main shopping area of the Perch store. Veronica Beard is a clothing company based out of New York City, owned and operated by "The Veronicas," a sister-inlaw duo who share a first name and a passion for clothing. They bring a unique and innovative style to their line, one that reflects well in the clothing that O'Connell has curated for Perch. Shoppers can count on a look for any occasion, knowing that they are shopping sophisticated and elevated lines, and can enjoy the special opportunity to shop Veronica Beard this summer.
What has been most popular at Perch this summer? "Lots of denim and lots of cashmere," says O'Connell, with brands like Minnie Rose, Kule, and Duffy giving more casual looks an edge. Veronica Bear jeans are a must, with a variety of flattering cuts bearing the "Secret Skinny Pockets" great for any season. Dresses have also been popular this summer: check out Zimmermann, Tanya Taylor, Camilla, and Alexis for a dress that will add a fabulous flair to your wardrobe. Heading into Fall, it is important to think about building a wardrobe that can easily transition between the seasons: a Veronica Beard Dickey Jacket is a staple that every woman needs in her wardrobe. The jackets come in different styles, textures, and fabrics but bear a unique transitional piece that will make them a standout in your wardrobe: an interchangeable "dickey" that can be switched out from day to day, outfit to outfit.
One of the most unique aspects of Perch is their "Curate Program" that gives customers the ability to build a style profile based on style and color preferences and then have hand-selected items shipped to them. They can keep the items they love and return any items they don't. "Customers love it," says O'Connell, who finds that some of her shoppers are "starved for time." The Curate Program takes the stress out of shopping and gives you a personal stylist to choose the best clothing options for you. She even goes so far as to cater to on-island clients, delivering to 'Sconset or Madaket when a client needs something for a last-minute engagement. Going above and beyond defines hospitality on Nantucket, and Perch is no exception, offering exceptional service to all customers and clients. Knowing that you have a reliable and professional sales associate who will help you look fabulous creates an important bond. From what O'Connell shares, their clients are incredible, "cross-sectional" even, visiting all three of her stores from Nantucket to Colorado to finding the perfect pieces to complete their wardrobe.
Perch Nantucket is located a 2 Harbor Square space, near The Tavern and behind the Gazebo. Head on over and prepare to indulge in the chic and sophisticated clothing lines that are part of the store. Veronica Beard will "always be a part of Perch," but this summer is especially geared towards the elevated fashion line so make sure you stop in to get the full VB experience. For a wonderful, relaxed, and personalized shopping experience, look no further than Perch Nantucket. Perch is open daily from 9-7, Monday-Sunday. For the Curate Program or to shop online visit perchvail.com. Follow their Instagram @perchnantucket where you can interact with their page and find out about all of their new goods and items, arriving daily!