by C. Oscar Olson
There are a lot of choices for in-town dining on Nantucket. Hungry patrons can find options for every occasion and budget, every taste and mood. When we're not quite sure what we want, we head to a place where the menu is fresh and eclectic, the atmosphere is classy yet fun, and the service is nothing short of superb. We walk down India Street to The Proprietors Bar and Table.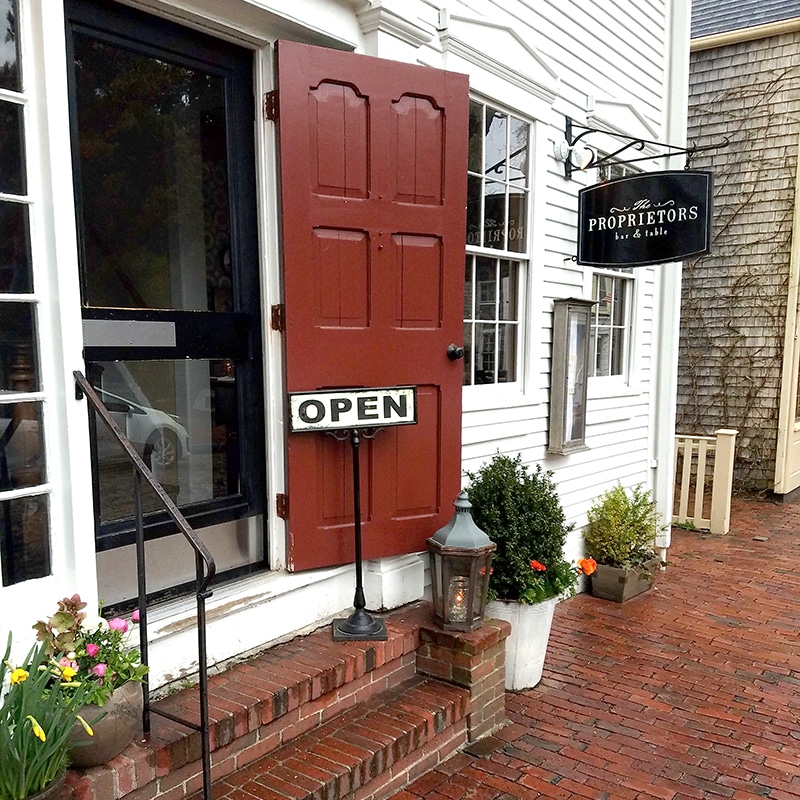 We arrived on a chilly Thursday evening, cold even by Spring standards on Nantucket. The heat was on and the welcome was warm, we relaxed immediately as we walked to our table. Every dining room in the restaurant brings its own special vibe to each meal. Every space is packed with personality. We sat in our favorite spot, underneath a skylight and surrounded by 2 walls of windows overlooking colorful spring flowers brightening this gray Nantucket evening.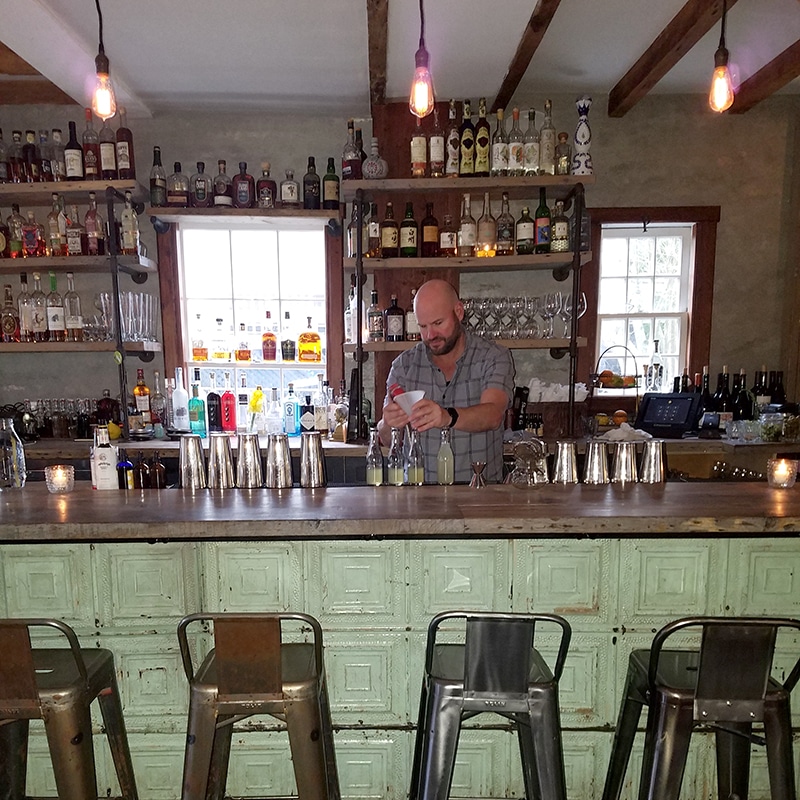 Mixing up some of the best cocktails on-island and an impeccable wine list compiled by co-owner Orla, a drink before dinner is always a good idea. Proprietors also boasts hard-to-find drafts, cans, and bottles that keep us coming back to see what's new.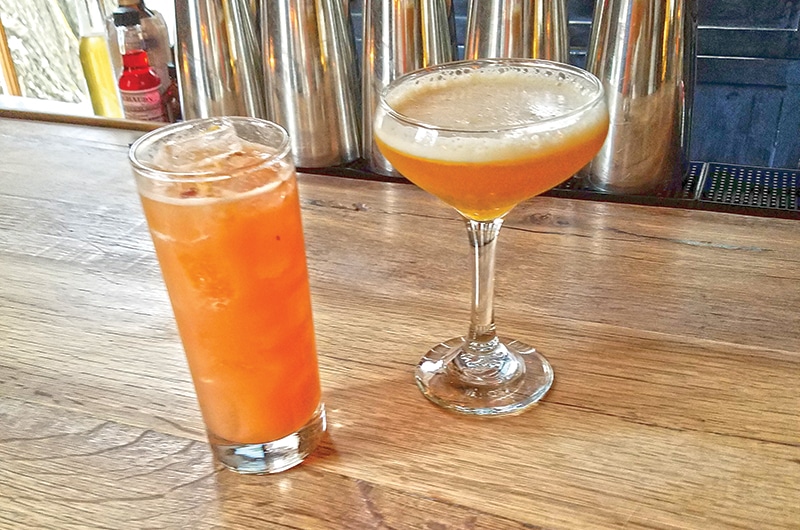 General manager and restaurant partner
Anna Worgess brought us two of her favorites. The No. 2 combines a refreshing
sparkling rose with Grainger's organic vodka. It gets some zip from
passion fruit and lime and leaves a lingering luster of vanilla on its way down.
The No. 7 is for the tequila lover: Espolon Blanco meets a house coconut
chili liqueur, there's a kiss of sweetness from guava and a bite of acidity from
fresh lime.
Proprietors' menu, like a lot of other things, is refreshingly different from most other island eateries. Not only are about a third of their offerings vegetarian, the kitchen will happily make most of them vegan-friendly—all you have to do is ask. Also, instead of dividing the dishes into categories like soups, salads, entrees, or sides, Chef/Owner Michael LaScola arranges it from light to heavy, top to bottom, start to finish, beginning to end. There is a clear emphasis on small plate and family-style dining, with each dish designed to be shared, though you might not want to. It might be less traditional, but we think it's a lot more fun. So bring your friends and get ready to pass some plates.
Both Chef Michael and Anna urged us to try the Everything Bagel Doughnuts. These little bites are just like they sound: The fluffy, airy texture of a doughnut with the savory crustiness of a bagel. They're filled with a fluffy dill pickle creme and topped with pickled onion and Hackle Back Caviar, the last wild-caught caviar in the country. It's also lower in salt than most caviars, so the pickles easily enhance its beautifully briny character. This is one doughnut that won't ruin your meal.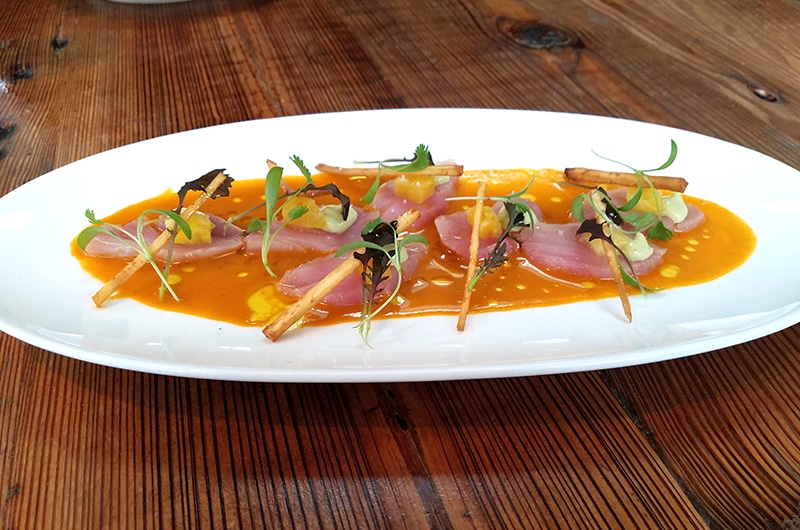 The Hamachi Crudo had us dreaming about warmer weather. Served cold, the smooth and buttery fish takes a dip in a vibrant tomatillo turmeric aguachile. A smooth mole verde compliments the richness of the tuna while tidbits of pineapple bring out a fruitier side. A crunch of crispy taro keeps things interesting, much like a class of chilled sparkling wine; the perfect match to this meal.
For a seemingly endless symphony of flavors and textures, try the Fried Rock Shrimp. Crunchy clouds of white conceal tender succulent shrimp, the best we've tasted in a long time. A savory, nutty salsa macha is offset by ripe ruby red grapefruit, while popcorn only adds to the fun. Everything comes together in a new way with every bite.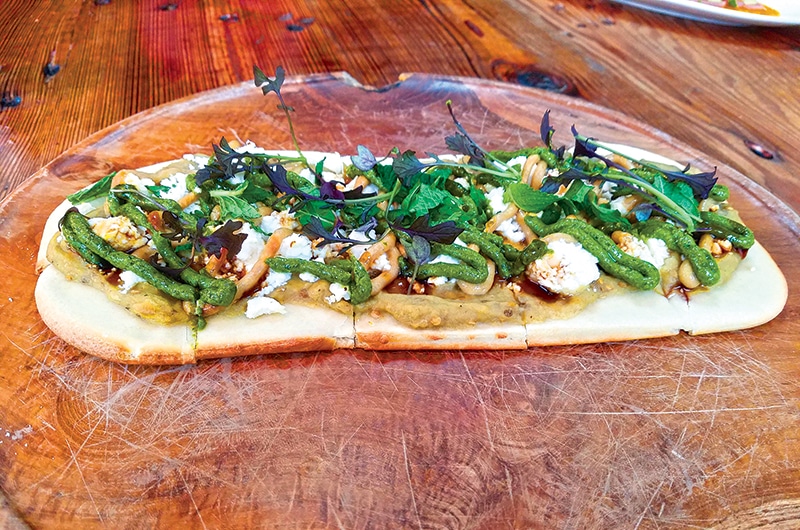 If you think you know Flatbread, think again. The warm, just golden bread delivers a smooth spread of sweet and sour eggplant, crumbles of Vermont feta, and vibrant green kale zhoug—a rich play on pesto. These brighter components are contrasted by a sunflower tahini. These earthy colors swirl and sing on the palate bringing layer after layer of incomparable flavor. If there was a perfect bar snack this would be it.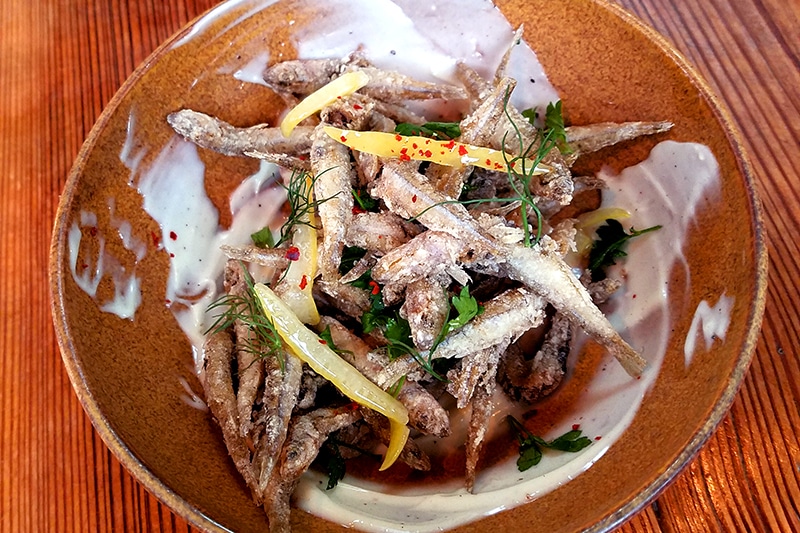 Full disclosure: we were on the fence about ordering the Crispy Greek Smelts. Not unlike anchovies, these small, finger-sized fish are fried whole. Served atop a spread of garlic aioli and topped with parsley, they were easily our favorite starter of the evening. Every bite offered a delicate crisp and the essence of the sea, then magically melted away in our mouths.
All of these small plates hit every mark and left us satisfied but still wanting more. We were very much excited about what was coming next.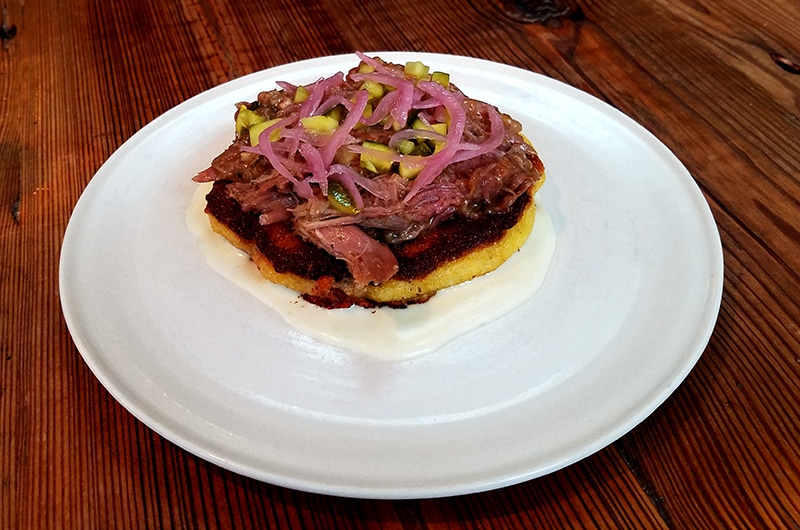 We won't soon forget the richness of the Vidalia Onion and Cheddar Johnny Cake. Cornmeal can often lead to a heavy, stodgy mess, but this flapjack is fluffy beyond belief. It's browned beautifully and topped with delicious duck confit. Bread and butter pickles and pickled red onions both work to enhance the sweetness throughout and offer a tang to tie it together.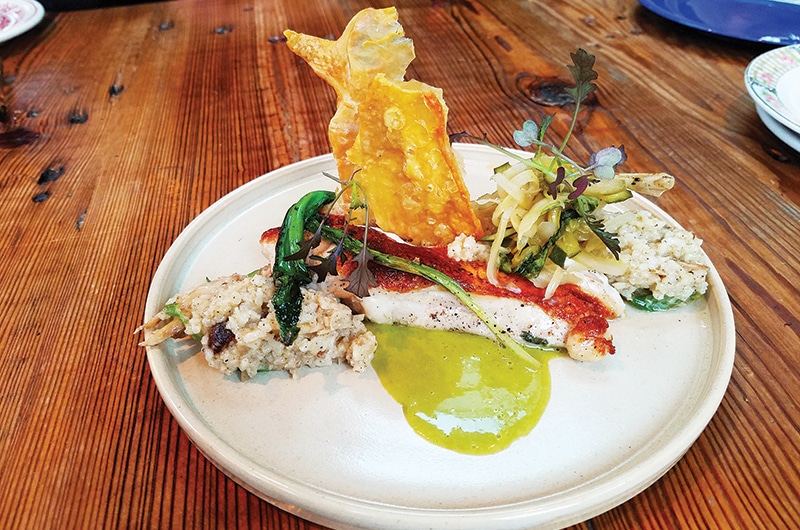 The Buttermilk Brined Chicken was unimaginably juicy. A buttery smoked hock stands tall on the plate alongside creamy rice grits. Mop it all in the ramp butter and leave the perfect pickled slaw for that clean crunch.
If there was ever a night for comfort food this was it, and Props scores a home run with their Cavatelli. A piping hot mushroom bolognese mingles with finely chopped kale and creme fraiche offering contrast in color and flavor. It's topped with a pine nut crumb, and the fresh doughy pasta soaks it all in.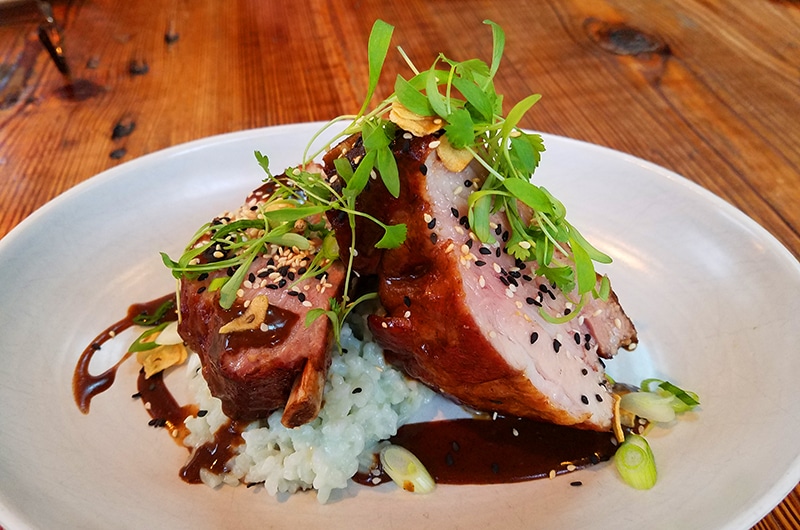 The Pork Ribs are tender and toothsome with a salty-sweet crust. They're served with a deliciously different bamboo rice, fried garlic, green onions, and crazy complex Chinese black bean sauce.
When you live on an island it's normal to get spoiled with fresh seafood. It seems every menu in town offers scallops, but not every menu has Seared Scallop perfection. These browned beauties are served atop a savory sunchoke miso with barely charred bok choy for added depth. Gingered kumquats brought a dazzling brightness and black vinegar combines each component seamlessly. The scallops were easily one of the best dishes of the evening.
At this point, we could have happily said our good-byes as we headed home to settle in. But then we would've missed dessert. The options are ever-changing; to be sure to ask your server and finish your meal with something different. Every option seamlessly combines both sweet and savory components for a truly unique finish.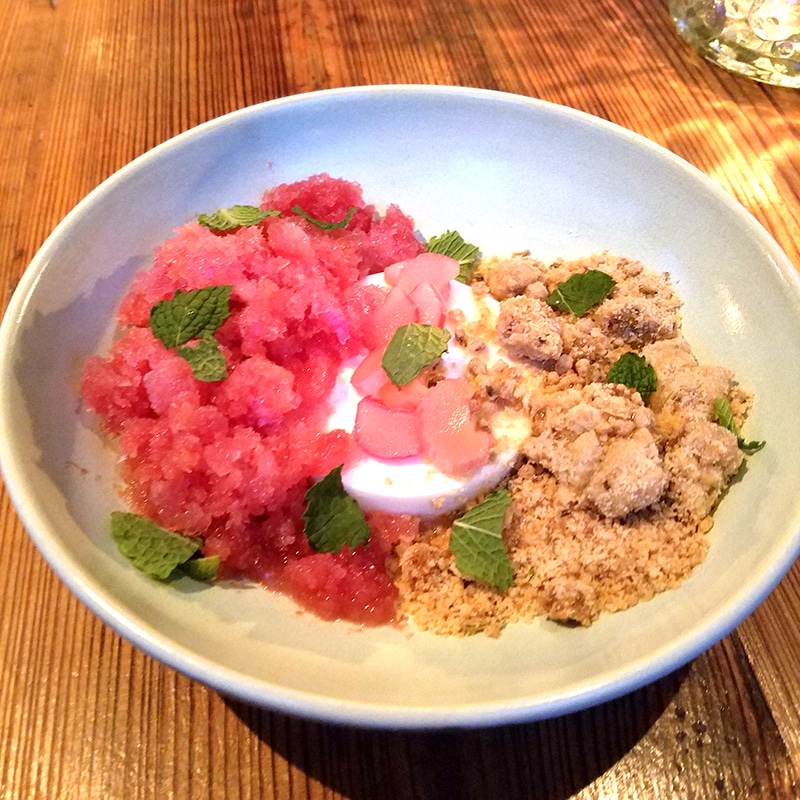 The Blood Orange Panna Cotta brought the best of both worlds. The soft, sweet custard was caught between an icy rhubarb grenada and herbal fennel crumble. Different combinations of the three reveal otherwise unnoticed flavors.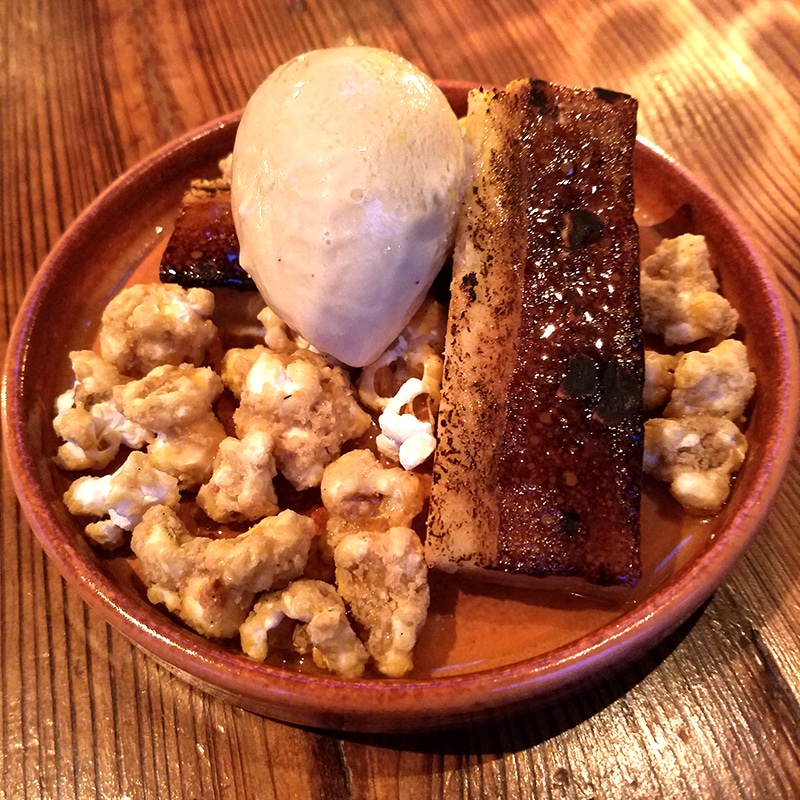 Our favorite part of the Peanut Butter Fudge was the scoop of brown butter ice cream. It helped to lighten the deliciously dense fudge, and the candied popcorn was just plain fun.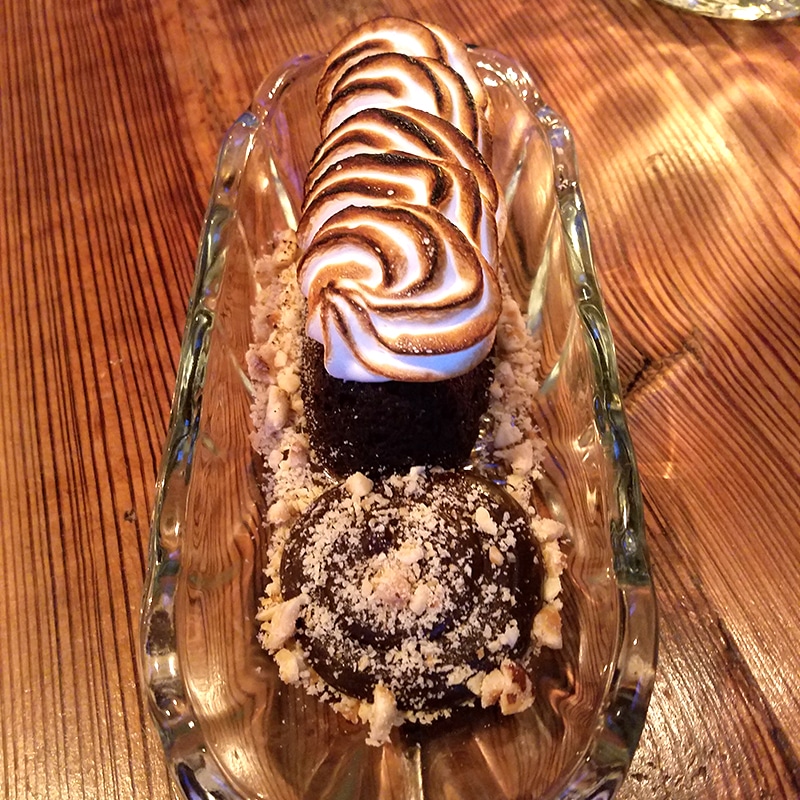 For something a little more classic, go for The Chocolate Cake Twinkie. It's rich and sticky-sweet, sharing the plate with candied hazelnuts and decked out with flame kissed marshmallow.
Nothing settles the stomach after a good meal like ginger, which made The Ginger Beer Float our favorite finale. Stunningly citrusy blueberry lemon curd ice cream erupts when it meets the ginger beer, and there's a full 12 ounce can so you can keep topping it off.
When dining at The Proprietors, we urge you to take a step outside of your comfort zone. Every ingredient, no matter how foreign or exotic it might sound, is prepared and plated immaculately every time. Be adventurous— you won't regret it.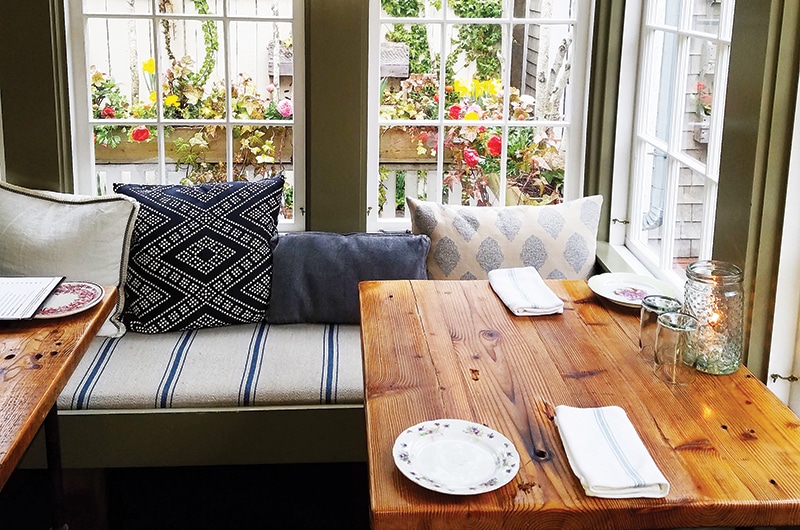 The Proprietors bar & table
9 India Street
Reservations: 508-228-7477 or Online for up to 4 guests
proprietorsnantucket.com
Dinner from 5 pm • Sunday Brunch from 10 am to 2 pm
Prices range from $16.50 to $35
vegetarian options • full bar • credit cards accepted
first floor accessible