• by Sarah Teach •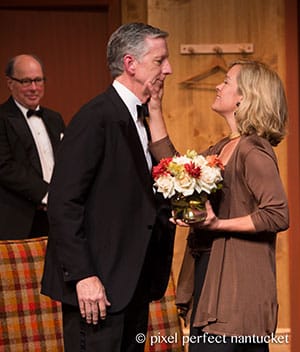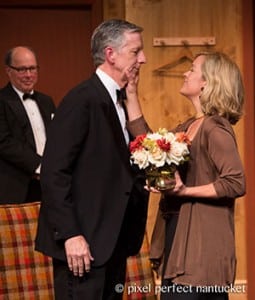 We denizens of the 21st century are not the first mortals to mutter, "darn kids," as we shake our heads at the agenda à la mode then stuff them back into the cage of our conventions. Every mutterer should mind that he or she too once took a turn at shattering the time-honored. So who, at a WASP-y wedding, decides which traditions get borrowed, and who ends up feeling blue when in lieu of old customs, the couple wants new? That is the question visited by A. R. Gurney's 2011 play Black Tie, which is currently being presented by Theatre Workshop of Nantucket.
After Black Tie was gently denied by several Broadway companies, it was snatched by the Off-Broadway 59E59 Theaters, which ended up producing a sold out, extended run of the little gem. Gurney, one of America's most prolific playwrights, wrote on argurney.com, "At the age of 80, I feel personally fortunate to have come up with what one might call a hit play, even if it is only playing in a smallish theatre for a relatively short time."  Critics' lack of affection for the show hasn't stopped it from spreading to select theaters around the Northeast; and posh Nantucket has proven itself to be the perfect milieu for this play.
Since the beginning of Gurney's career, his most highly acclaimed stories have revolved around upper-middle class New Englanders. Fritz Michel, director of the TWN production, says, "I thought this play would feel natural in the preppy stronghold that is Nantucket. There are 10 or 12 'bridal dinners' happening here on any given Friday night. Imagine how many fathers are on the island right now doing the exact same thing as our main character, Curtis: writing speeches for their children's imminent wedding celebrations." Gurney may be a comedy writer, but he doesn't dilute drama with drollery. His stories are always at least semi-plausible. They make us laugh because they crouch down next to reality—a little too close for comfort—and gaze at it, grinning quizzically.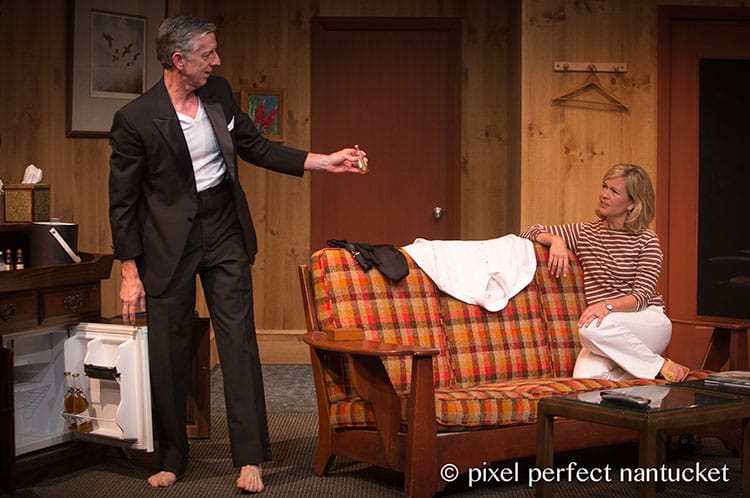 If set designer Anne Breeding's Black Tie hotel room set could talk, it would probably beg for orange shag. Its faux wood paneled walls have discoed right out of the 1970s to link arms with stale plaid couches and dusty mirrors. The adjective "bad" is often implicit when referring to hotel art, but this room's pedestrian prints of flying ducks and cloudy mountains deserve the distinction. The play is set in modern day, so such decor adds a touch of class (and it's not the high kind). This setting serves to pluck our protagonist, Curtis from his elite fishbowl and plop him out of water. We've got our bearings; now it's time to watch the little fishy flail.
Curtis' son Teddy is having a wedding. To paraphrase George Banks in Father of the Bride, getting married and having a wedding are two entirely separate creatures. Curtis (Geoffrey Wade) sweats over the appropriate words and clothes for the rehearsal dinner, as if there exists a lone, linear path to the event's success. Teddy, however, is simply interested in getting married, even if it means defying his family's customs. As Curtis struggles with changing times, he conjures his very own version of his late, distinguished father (David McCandless), whose generation was unapologetically hell-bent on tradition. Father presides over Curtis' every move, chastising him for his "below the salt" lingo, lack of propriety, and for young Teddy's unorthodox life choices. But Curtis' dear departed dad isn't the only one trying to swivel his mores' compass. His wife Mimi (Ellie Cornell) swims against high society's tide, including the formidable wake left by her late father-in-law.
In the words of director Fritz Michel, "Directing is 90% casting." It is evident that Wade has spent thousands of hours onstage. Ironically, his comfort as Curtis is evinced via his character's hand wringing and shoe shuffling. Cornell makes a sexy mother of the groom and was well cast to befit the superficial compliments of her character's ghostly father-in-law. A fine chemistry exists between Wade and Cornell, who between cheek-squeezing kisses and biting banter, seem like they really have been married for decades. McCandless, complete with condescending enunciation, evokes laughs through his character's lack of humor. Theatre Workshop newcomer Samara Neely-Cohen plays the straight-thinking Elsie, sister to the groom and mule to the storyline. The character is flat, but we need all the news she delivers. Teddy (Wally Marzano-Lesnevich) arrives on scene seeming very much like a man experiencing his last hours as a bachelor: twitching and ready for some liquid refreshment. Marzano-Lesnevich remains deadpan even while delivering the biggest laugh of the night.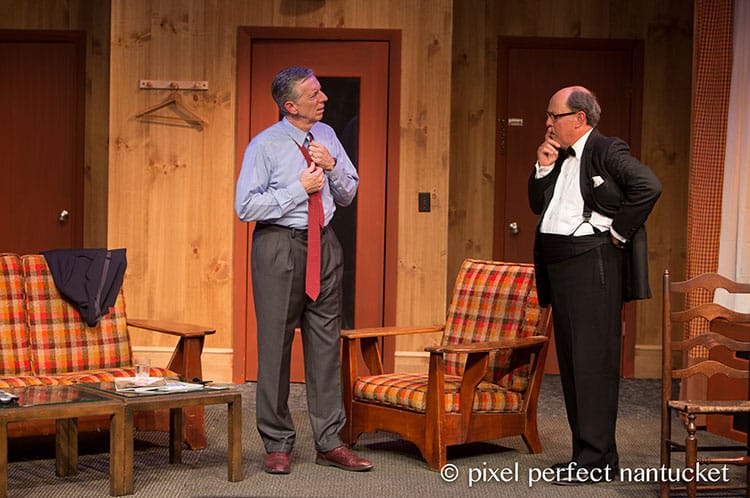 Much of the beauty of this play lies in the unseen. The single room set and never-glimpsed bride character do not hinder audience understanding, but heighten our imagination. Also, through providing the audience with a visible ghost, Gurney spotlights the endurance of familial culture. Even if your mother died 20 years ago, you might still approach your wardrobe and hear, "No sweetie, you don't wear a tank top under a suit jacket. Anything but a silk shell is unbecoming."
Is it acceptable to feel burdened by the principles of our youth, or should we be grateful for the gift of legacy? Is it possible to be both? Come think it through with Curtis and his family at Centre Stage, located in the basement of the Methodist Church at 2 Centre Street. Tickets are $30 at theatreworkshop.com. Black Tie is showing until August 2. See website for show times.