In order for something to be the best, it has to be consistent. Achieving greatness again and again, no matter the challenges of the season, is one of life's most difficult feats. It is all too easy to receive some recognition then take your hands off the wheel, to sit back and just follow the tide. Consistently hitting the mark isn't easy, but it's the only way Dune knows how to do it.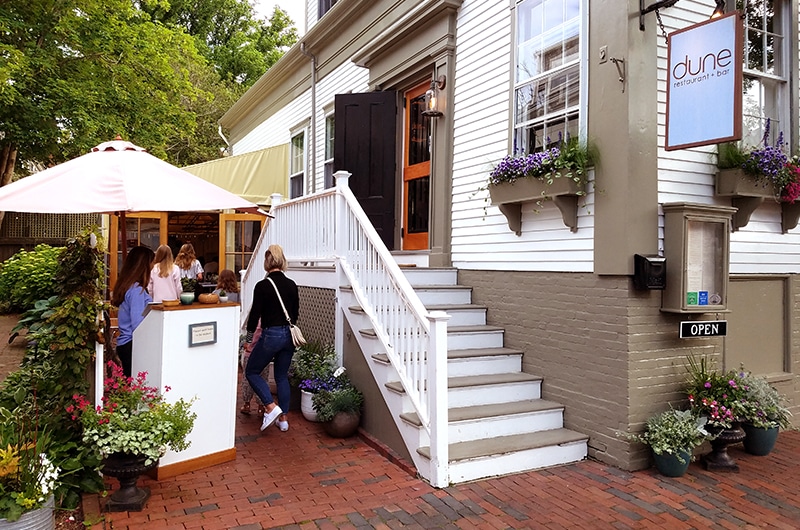 Located in the heart of town on Broad Street, Dune is always friendly and fresh. Three distinct dining rooms offer feelings of relaxed sophistication: the evening calls for comfortably lit lounging while dining during daytime lets loads of natural light in through the many windows. The restaurant is complete with a breezy patio area just outside, perfect for food and drink at all hours of operation.
We love the new splash of blue in the main dining area, eye-catching and enhancing the clean, contemporary decor. The restaurant was filling up in a hurry on a Wednesday evening: we were glad we had reservations. We snacked on some warm, subtly sourdough bread with their signature butter topped with pink Himalayan sea salt as we got comfortable with the menu.
The first thing we noticed was the abundance of seafood being featured, as it should be on an island. Every dish sounded more tempting than the last, so choosing our starters was proving more difficult than usual.
House-Made Burrata seems to be a trend this summer, and Dune has it down better than most. The char on the grilled broccolini compliments the natural bitter note in the fresh cheese, while sweet roasted tomato and rich balsamic bring out a sweeter complexity. Seedy sesame crackers add savory crunch to every bite.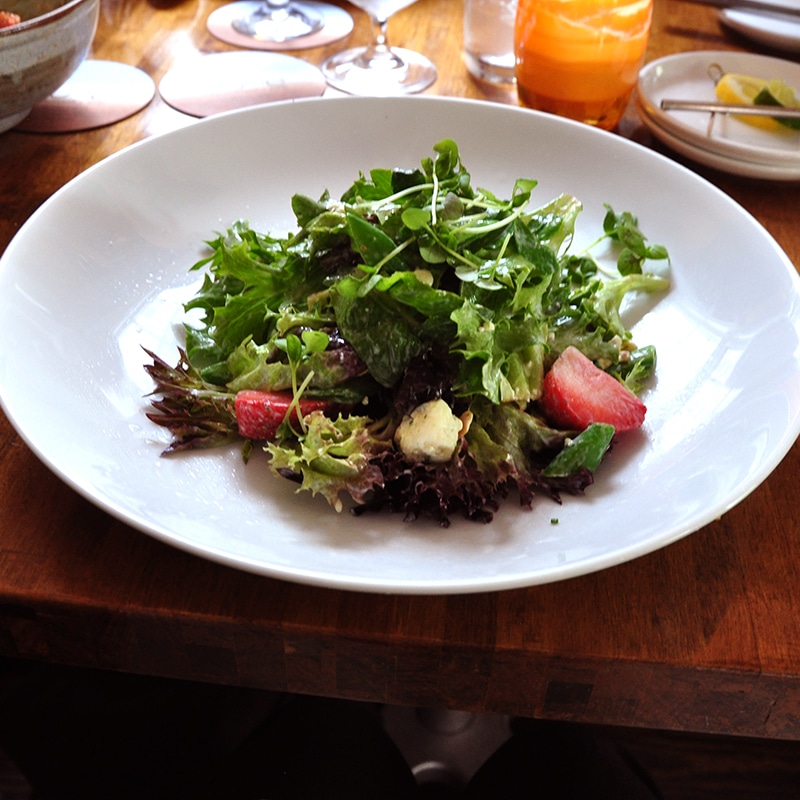 Fresh, sweet strawberries surprised and delighted us in the Local Organic Farm Greens as they are an uncanny compliment to the smoked blue cheese. This salad could serve as an entree with loads of lettuce and snap peas all mingling in a bodacious buttermilk chive dressing.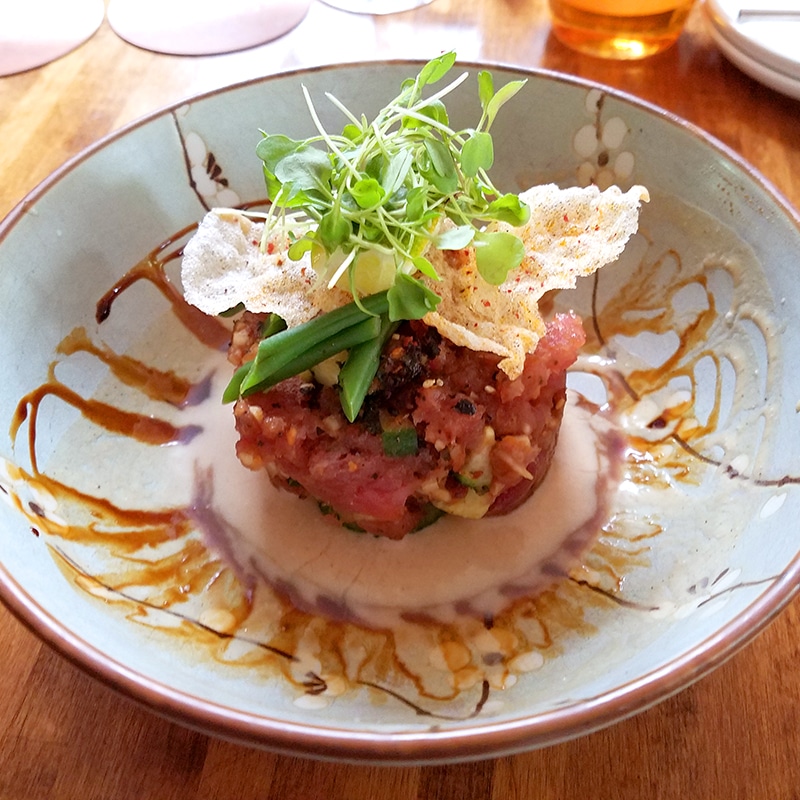 The kitchen sent out one of the specials of the evening, another item that makes the rotations on many island menus. But Dune's Tuna Tartare is the best we've tried, with cool, crunchy cucumber and bittersweet green papaya. A coconut lemongrass broth below adds a subtle sweetness to the fresh tuna while the Szechuan peppercorn crackers above bring a bright, citrusy snap.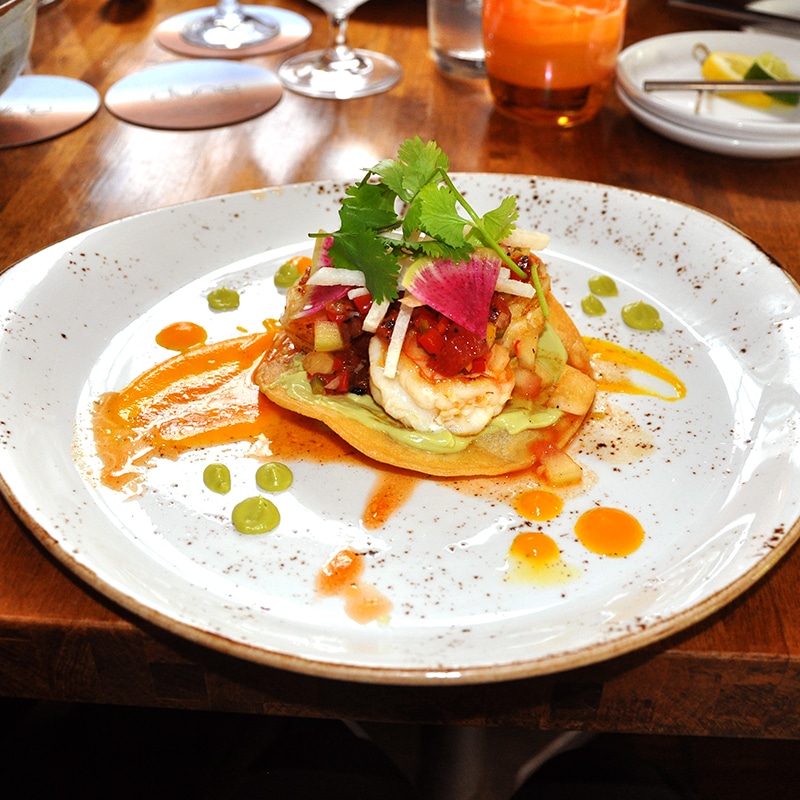 A down-home dish is elevated in the Sautéed Wild Shrimp Tostada. A crispy corn tortilla is decked out with succulent shrimp over an avocado crema, piled high with charred watermelon, radish, and cilantro. A chili-lime vinaigrette sets off every flavor, while a sweet potato-citrus puree heightens and brightens each component.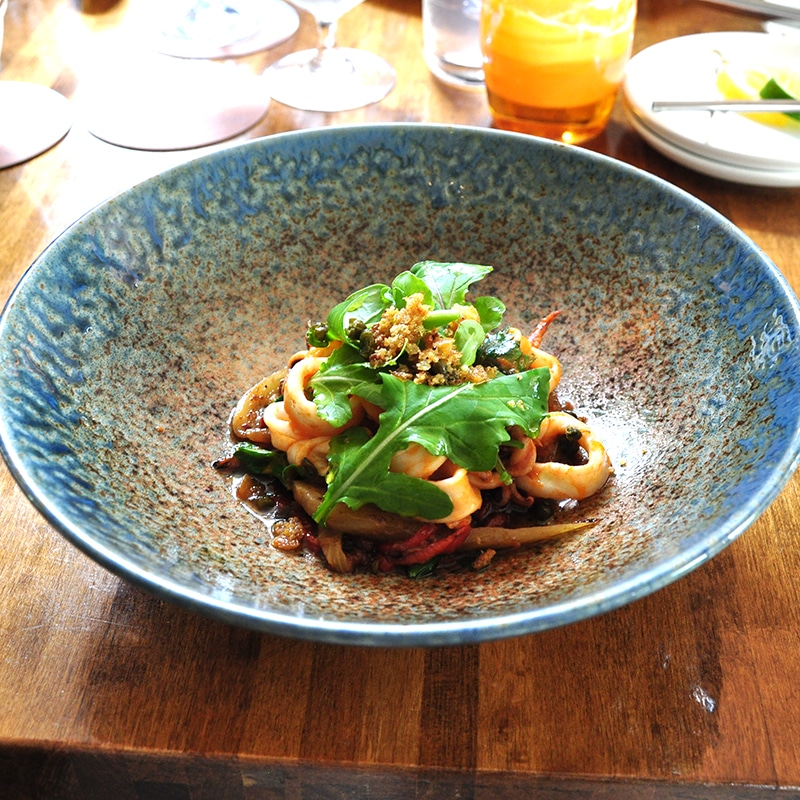 We love being surprised by our favorite foods, and the Rhode Island Calamari "Puttanesca" is the best surprise. All of us were expecting the typical battered and fried version, but Dune does it differently. Tender, white squid is perfectly prepared in a sauce made rich beyond words with pancetta, braised fennel, and fermented tomato. Lemon caramelized vidalias and fried capers add just enough acid, while a sprinkle of migas on top provides a pleasant, airy crunch.
Chef Michael Getter has been doing it at Dune since 2009. Renown since his days at 21 Federal and American Seasons, his friendly face is a fixture around town. He has made his restaurant on Broad Street an island institution— a restaurant you don't want to miss—with help from his professional staff and his long-time Chef de Cuisine Joseph Ranstatler.
Throughout the first course we sipped on some summer cocktails brought to life by Dune mixologist Josh. His drinks are dynamic, complex, and original, so join him at the bar for a taste with your dinner or snack on one of the kitchen's stand-alone sides like farm tomatoes, baby bok choy, or shishito peppers with pomegranate molasses.
The Spirit Guide is a clean and easy seasonal sipper we could get carried away with. It mixes Chilean Pisco, lemon/orange oleo saccharrum, and fresh lemon with the subtle spice of ras el hanout, a North African blend of spices. On the other side, the Watermelon Apertivo boasts a bold Tequila backbone. It combines Casamigos blanco with aperol, black cardamom, a dash of salt, and of course, watermelon.
Gin drinkers rejoice over the Foam Party, an eye-catching concoction with Monkey 47 gin, grapefruit bitters, white pepper, a fun IPA foam, and italicus, a Bergamot liqueur. It's a party that doesn't stop with waves of sweet, sour, and spice.
We love trying new Mocktail creations, and Josh dazzled us with one featuring purple basil, lemon, and mint. It has some herbal hang time and is just so refreshing!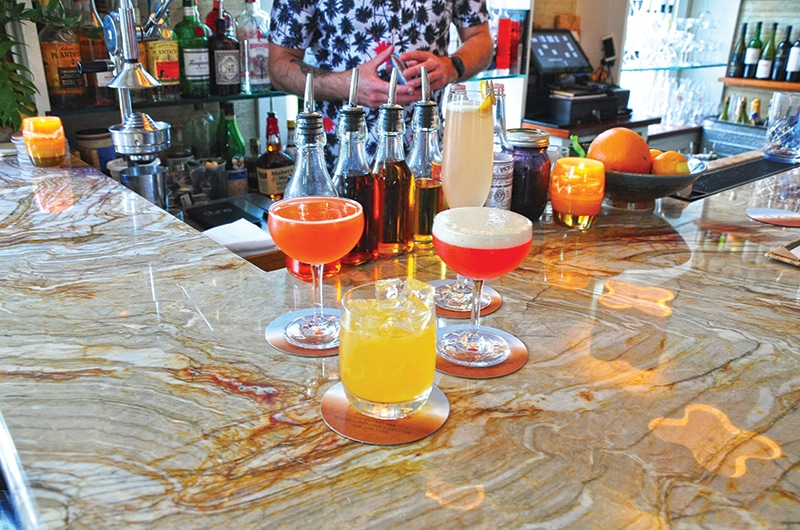 With clean plates and empty glasses all around, we were eager for the 2nd courses to make their way out of the kitchen. They arrived in perfect order, the timing and service being just as fabulous as the food.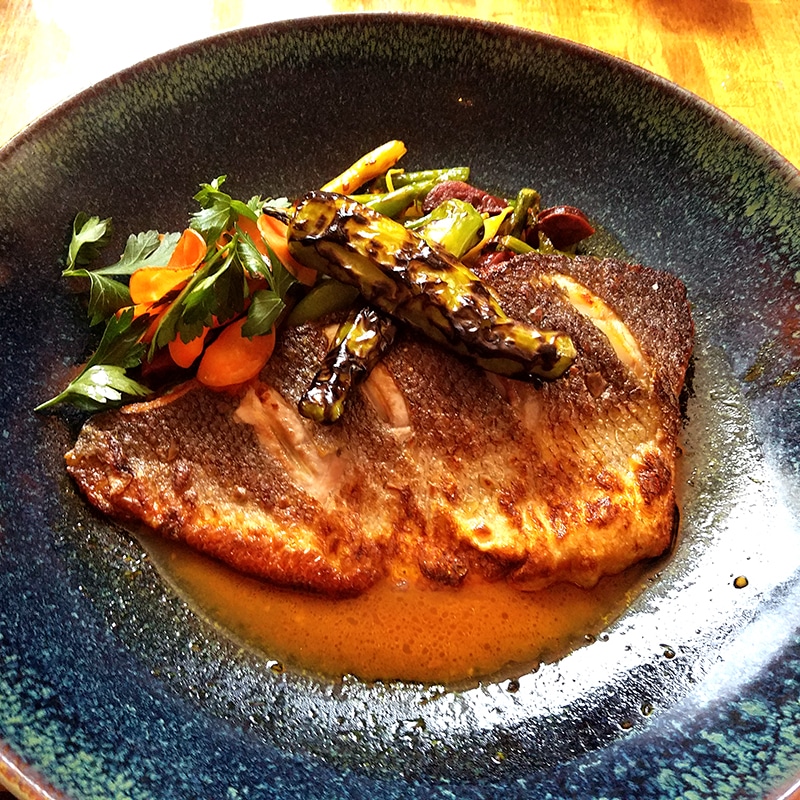 The shatter of crispy skin on the Sautéed Mediterranean Sea Bass is worth writing home about. Break through it to reveal the moistest flesh on record, and then dig into tender mussels, smoky chorizo, earthy sweet Romano, and yellow beans all soaked in a delicious saffron-carrot nage. Charred shishitos perch on top and are an essential part of every bite.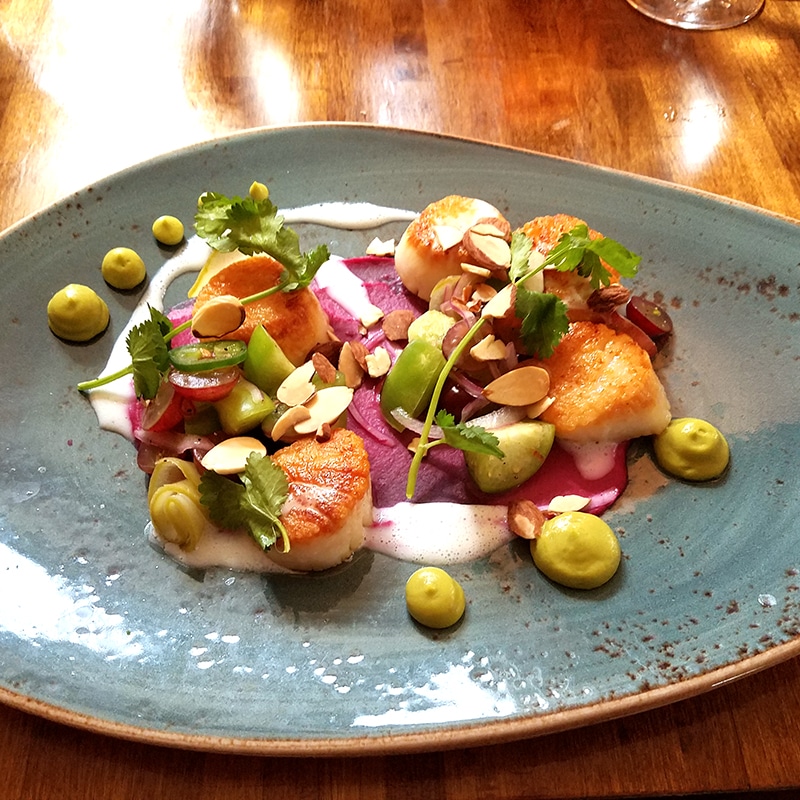 Saying we love scallops would be an understatement, so sampling the Seared Dayboat Scallops was a must. Beautifully plated and bursting with color, these sweet golden brown beauties share the plate with an almondtomatillo "salsa," chayote squash, purple sweet potato puree, and a rich buttermilk froth. The flavors come together remarkably with every bite.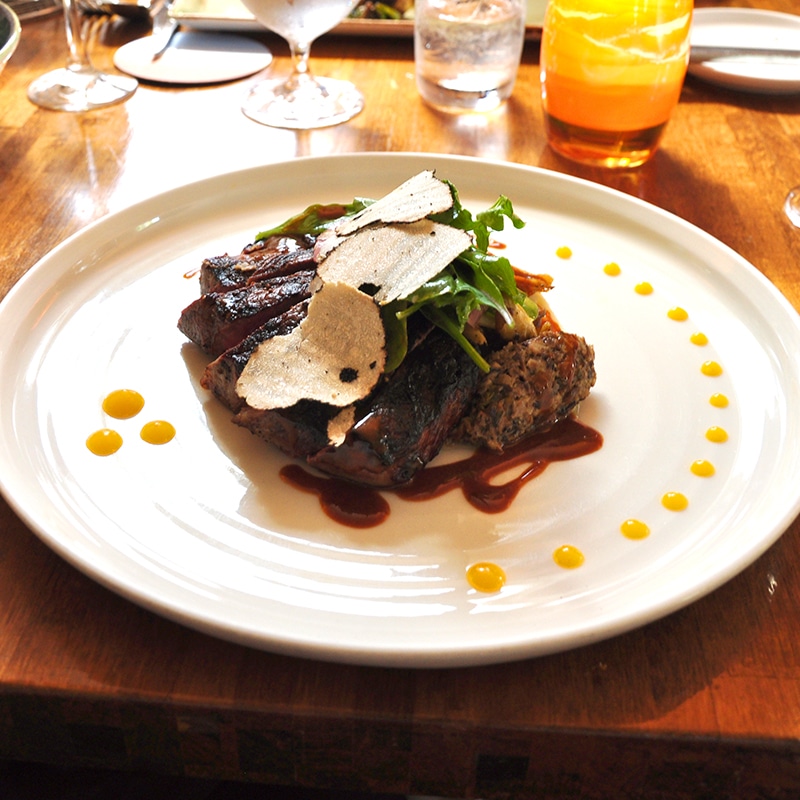 It's hard to go wrong with a steak, and it's harder yet with a steak from Dune. The Grilled Prime Sirloin was served sliced just as we ordered it; a perfect medium rare. It sits atop a bed of buttery whipped potatoes, enhanced further with generous shaved truffle, contrasting lemon, peppery arugula, and a foie gras jus. What really makes this dish pop is the mushroom duxelle—an earthy dice that brings everything to life.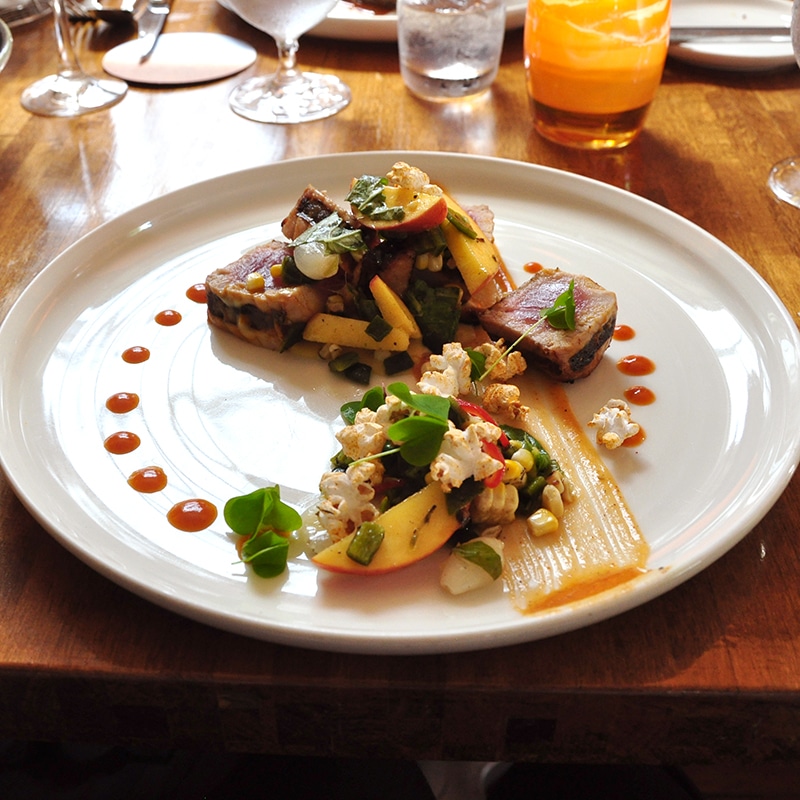 Chef Getter treated us to another of the evening's specials: The Grilled Yellowfin Tuna. Beautifully seared outside and ruby-red within, the plate is full of warm-weather flavors like Georgia peach barbecue, corn salad, basil, and fresh poblano peppers. Make sure every forkful comes with the corn puree and try the spiced popcorn for a complimentary crunch.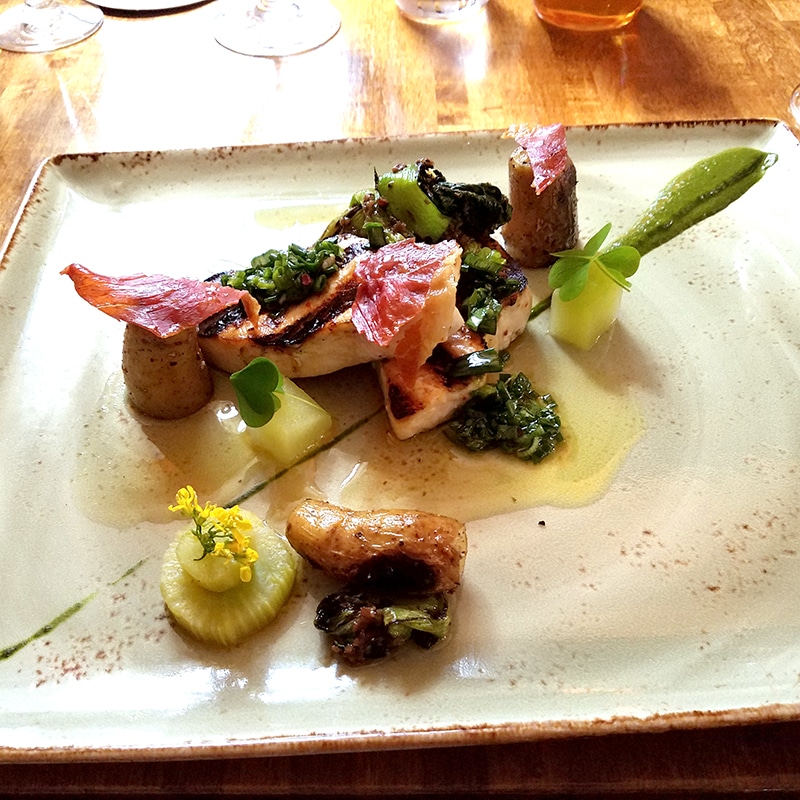 Our final and most favorite entrée was a fresh catch of Grilled Atlantic Swordfish. Moist and meaty medallions are served with creamy confit fingerling potatoes, crispy fried prosciutto, farm bok choy, and cured shiitake mushrooms. A scallion salsa verde brightens every bite and green apple celtuce adds a touch of tangy tartness.
Throughout the meal, we couldn't help but notice that each preparation is unique and every accompaniment is customized, with no repeats. Every dish is a one-of-a-kind powerhouse—all of the flavors in each stand alone but are even better in the limitless combinations available to the diner.
There are very few places we'd go to with just dessert in mind, and Dune is one of those places. With a vast selection of after-dinner drinks and dessert cocktails, it really is the perfect place to end the night.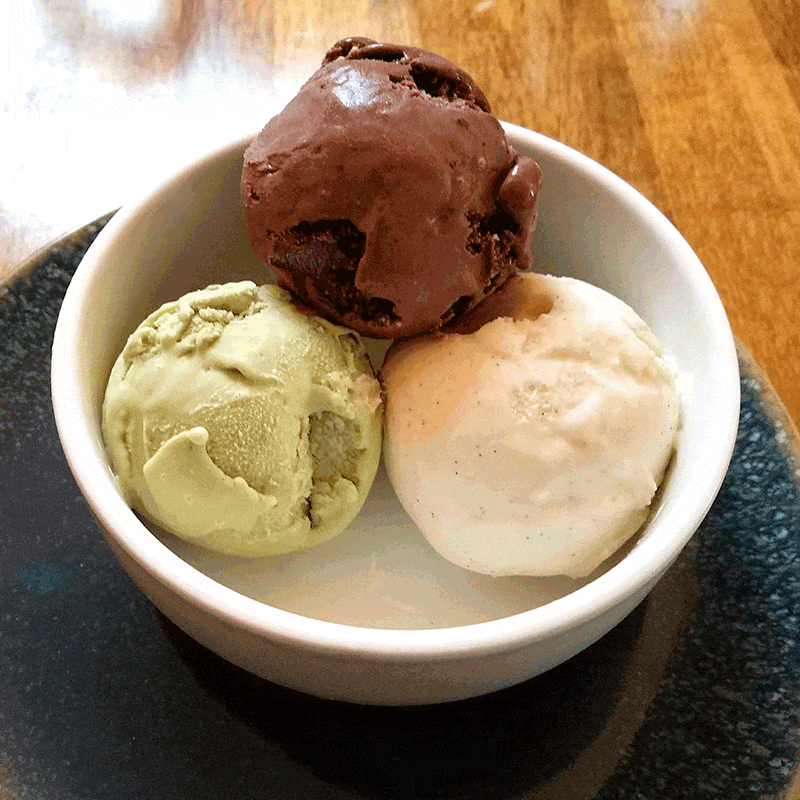 Enjoy a rotating selection of incomparable of Gelatos and Sorbets made fresh at Gelato Giuliana in New Haven, Connecticut. It was hard to choose between classic chocolate and vanilla or everyone's favorite nut, pistachio. All were velvety smooth and luscious. The sorbets were more delicate yet so bright and enlivening, the perfect sweet finish to a grand dining experience.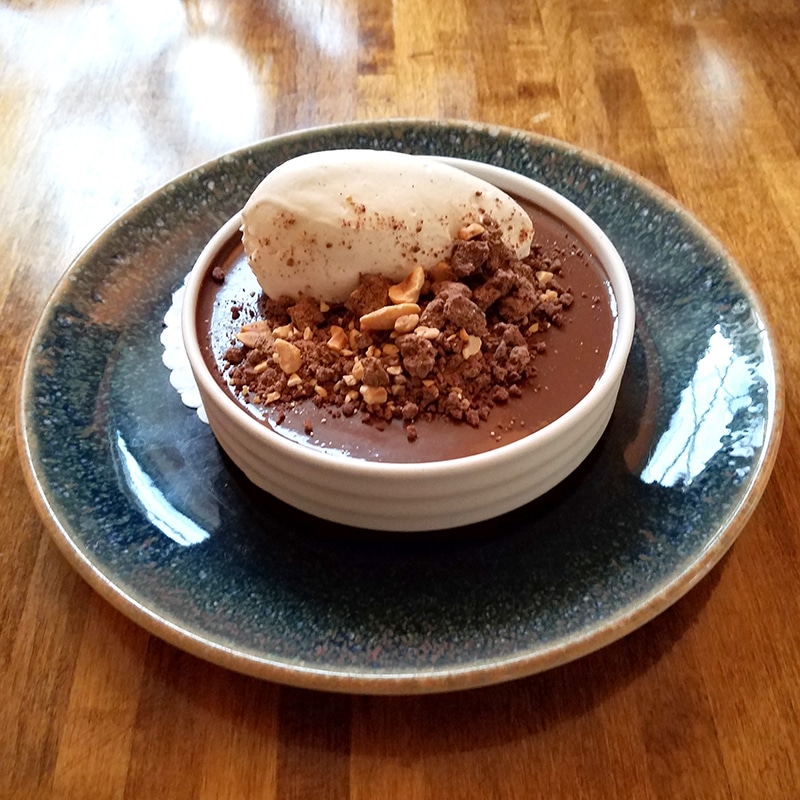 A healthy peak of whipped cream sits proudly on the Pot de Creme, the silkiest, most decadent deep chocolate dessert in recent memory. Peanut and chocolate crumbles were the crown jewels on this after dinner delight.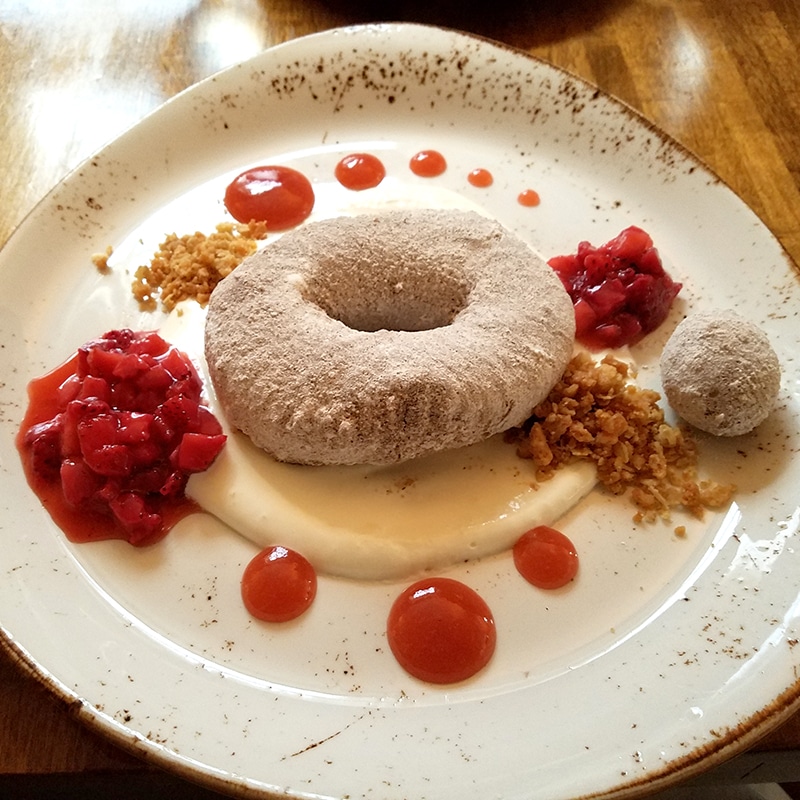 Two seasons become one with the House Made Cinnamon Sugar Donut, lingering flavors of fall coming to life beside dazzling strawberry compote and rhubarb puree. Oatmeal crumble brings the brightness down to earth and whipped creme fraiche enhances every bite.
Everything about our evening was simply sublime, with a consistency we have come to know and love. Dune is one restaurant at the top of our list throughout the year: stop by yourself to find out why.
Dune
20 Broad Street • DuneNantucket.com • 508-228-5550
Lunch Monday – Saturday from 11:30 a.m. to 2:30 p.m.
Dinner nightly from 5:30 p.m.
Bar opens at 5 p.m., Cocktails served until 1 a.m.
Dinner entrees range in price from $36.50 to $45.50
Full Bar • Indoor & Enclosed Patio Dining • Major Credit Cards Accepted
Private Dining available for 8-60 people, call to arrange your celebration