by Dr. Sarah Treanor Bois
Director of Research & Education at the Linda Loring Nature Foundation
Nantucket is a resilient community. Historically, we have weathered many storms and come back; the great fire of 1846, the end of the whaling industry, and countless hurricanes, a sewer main break.
Predicted sea level rise, erosion, shifting sands, and other climate changerelated impacts are now testing the island's resiliency in ways never imagined. Not only will our community need to be resilient, but so will our infrastructure, economy, natural environment, and the rest of island life.
As an island, we have an opportunity to affect our own response to the rising tides. Nantucket is working to be a leader in coastal planning action. The beginning of these efforts was highlighted last week when experts from around the globe gathered on Nantucket for not one, but two back-to-back conferences focused around the issue of coastal resiliency.
So, what is coastal resiliency? Generally, it's the ability of a community to recover after extreme events (such as storms, flooding, heat waves, and toxic blooms) rather than simply reacting to impacts. One of the things the Town of Nantucket and others are doing to get ahead of the curve is to learn from other communities and experts.
On June 26, the 2nd Nantucket Coastal Conference (NCC) was held in the Nantucket Atheneum. This free conference was open to the general public, so anyone could register and learn about this important issue in our community. Organized by the Sea Grant program and the Massachusetts Center for Coastal Zone Management, the NCC kicked off with a keynote by the Puerto Rican head of Sea Grant, Professor Ruperto Chaparro. We have a lot to learn from our fellow island tourism community.
Prof. Chaparro's main message to the riveted audience? Get to know your neighbors. We are our own best resource. After the devastation left by hurricane Maria in September of 2017, the island has yet to fully recover. He particularly noted the difficulty of the elderly and disenfranchised in getting information and assistance in the immediate aftermath of the storm. From his footage of the shoreline in the days after the hurricane, you can see the failure of sea walls and concrete foundations, but you can also note the green jewels of resilient natural areas. Storms like Maria are predicted to increase in size and number with global climate change. Hopefully Nantucket can learn from other communities before we get a "Maria" of our own.
Multiple speakers presented about new models of coastal change taking into account waves and wind, water flow, and risk assessments—all leading to planning. Because since we can't stop climate change or sea level rise, we have to plan for it. Nantucket, it seems, now has three choices left: protection, adaptation, or retreat. Based on the presentations from experts (local and those from far afield) and town officials, it looks like we will be using a combination of these choices across the island.
I gave a talk on work that is a collaboration between the Linda Loring Nature Foundation and Dr. Jen Karberg from the Nantucket Conservation Foundation. This talk steered away from the built environment and infrastructure and focused, instead, on the island's natural areas as a feature to help mitigate the effects of sea level rise. This research uses mapping and publically available data to prioritize conservation management in light of climate change. It hopes to shed light on vulnerable areas to target efforts for various conservation strategies.
Dr. Jen Karberg with the Nantucket Conservation Foundation argued for the importance of the saltmarsh ecosystem in mitigating for the inundation of water with storm surge and expected sea level rise. In protecting and restoring saltmarshes, we as an island are increasing the area of resilient habitat. Her work on the recovery of Hither Creek and the area of the former stilt house after the washover of 2018 illustrates how quickly a landscape can change with rising seas. What was once a functioning marsh system was inundated with sand overwash and saltwater, with much of the sand smothering the marsh. Today, there is a functioning dune system that, while still a viable community with new plant life, doesn't have the same ecosystem function it once did. It demonstrates that the effects of climate change and sea level rise are not to be seen in the distant future, but are here now.
The Town itself has been working on coastal resiliency in various ways; first becoming a "Storm Ready" community, then completing the Coastal Management Plan in 2014. These initial efforts as well as some damaging storms and tides coupled with recent coastal erosion have led us to where we are today. The Town recently completed updates to the Hazard Mitigation Plan, is working on the Coastal Resiliency Plan, and was named a Municipal Vulnerability Preparedness (MVP) community by the state in the spring of 2019. The MVP designation allows Nantucket to compete for state grants addressing issues of resiliency.
This winter, the Town hosted a coastal community resiliency workshop. Local stakeholders came together to evaluate risks and vulnerability of our coastal community. Fifty-one people participated. The Town has posted the full report at nantucket-ma.gov/DocumentCenter/View/24242/Community- Resilience-Building-Workshop. Moving plans into actions, the Town has focused on the top five priorities for action that came out of this workshop:
Resiliency coordination
Isolation from the mainland
Tidal wetland protection and restoration
Historic preservation guidelines
Infrastructure resiliency plan.
In response, the town has already begun the hiring process for a Coastal Resiliency Coordinator. They have also created the first Coastal Resiliency Advisory Committee. The Town has also already been awarded a grant to fund assessment of the historic preservation guidelines.
The rest of the week was filled with the Keeping History Above Water symposium lead by the University of Florida's Preservation Institute of Nantucket (PIN). This meeting had a different focus, with preservation leading the way. I think more overlap between the two meetings would have been beneficial for attendees of each. However there were several, like myself, who attended all three days.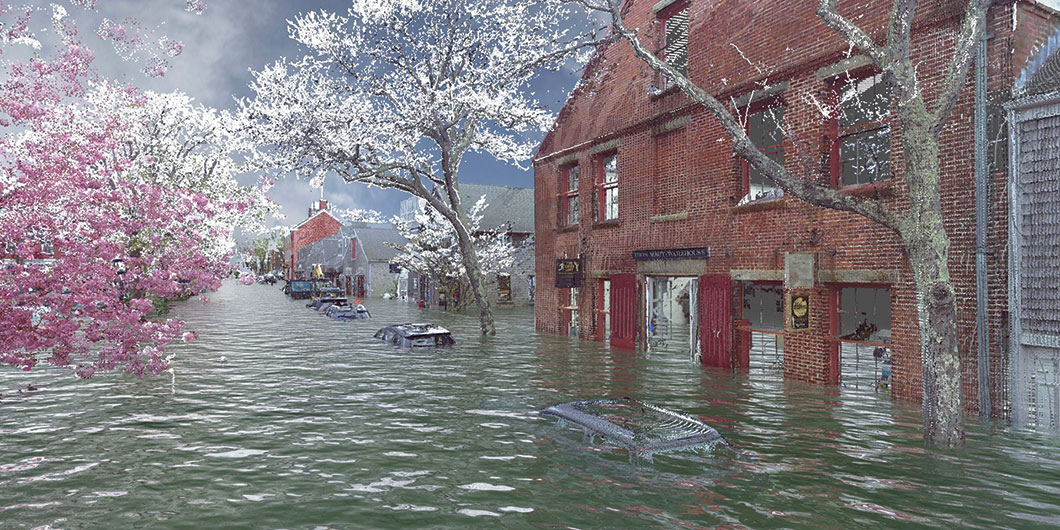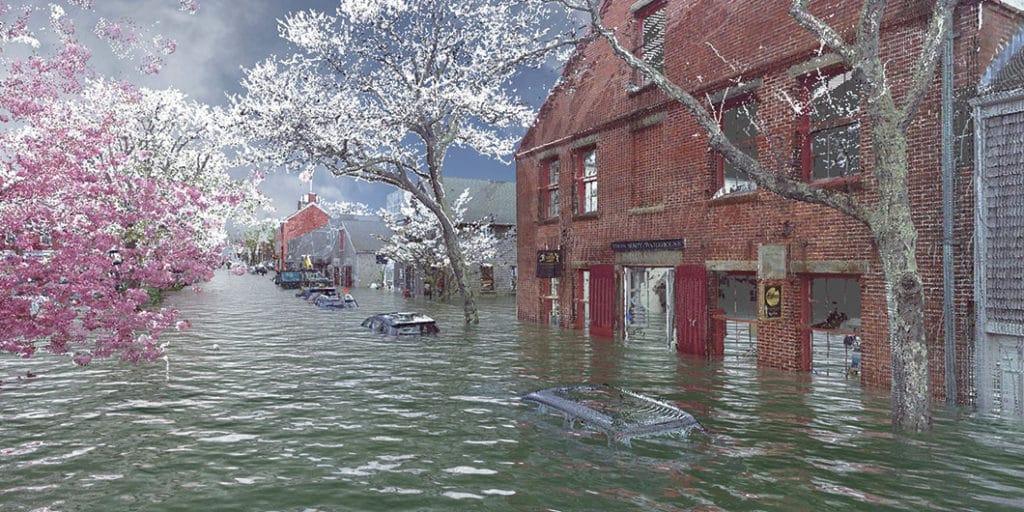 Nantucket's historical significance lends itself to being a preservation laboratory for the University of Florida's PIN program. Our community has benefited from this relationship over the years with experts and academic minds helping preserve our history in a multitude of ways. Preservationists are now taking a new approach looking forward to see what they should be preparing for. Using sophisticated laser scanning and 3D digital documentation, Nantucket's historic structures are being preserved (at least digitally) for posterity. This same technology has allowed researchers to use sea-level rise visualization throughout much of the downtown area. Many of us have seen the sea level rise projection maps in two dimensions. It shockingly comes to life in these visualizations which are based on normal high tides. All of the images are available at dcp.ufl.edu/historic-preservation/resilient-nantucket
Marty Hylton, director of the Historic Preservation Program, University of Florida, was the driving force behind these digital techniques. In addition to the stunning visuals, his impassioned speech relayed not only the need to preserve this history, but offered solutions from other coastal communities. With an issue such as climate change, which affects every single person in our community, holistic approaches are needed.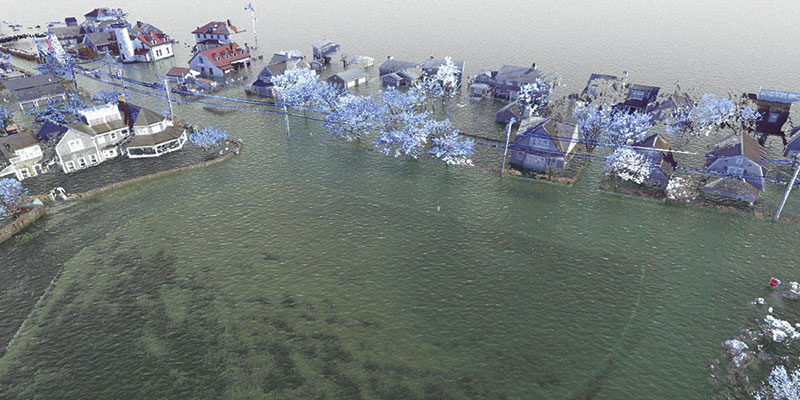 Beyond discussion of predictions and strategies, much was made of education and outreach. Including younger generations in this led to some incredible student art proposals through the ACKlimate Nantucket program. Ideas included various temporary art installations such as a beam of light across the wharf cottages indicating where water levels will be in 2100. Another project used temporary signage and water-based paint to indicate areas of the downtown that will be inundated in future decades.
In all, these conferences highlight the need for coordination among agencies, towns, countries, disciplines, and communities dealing with issues of coastal resiliency. Not only can we learn from each other, we can ensure that we aren't duplicating efforts within our community. The piecemeal approach to resiliency planning that has been the norm, has everyone doing something different. Working together, outside our typical boxes, we will be able to deepen the impact and the resiliency for our island community.