High Tide for Cigars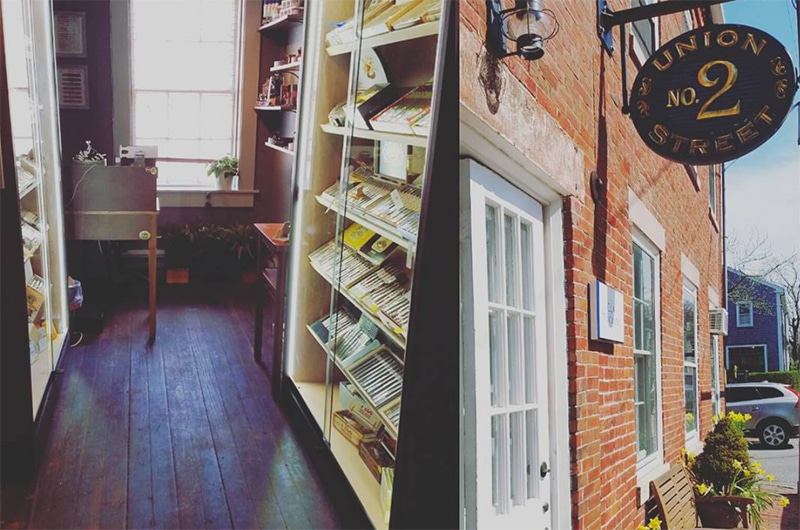 Nantucket is a haven for many things: leisure and fun, sun, and some of the best beaches and restaurants in the country. Something the island has been lacking, though, is a place that offers a wide selection of fine, handmade cigars and accessories. Until now.
Open upstairs in the historic 2 Union Street building, just off Main Street behind Ralph Lauren, is Gray Lady Smoke Shop. With the island's largest selection of cigars in every shape and size including Oliva, Ashton, Macanudo and more, Gray Lady Smoke Shop has everything for the cigar aficionado in your life. Handmade in the USA from sustainably harvested rare woods and leathers, their line of Brizard & Co accessories make great gifts (Father's Day is fast approaching).
Ask for recommendations, quantity discounts, cutting and lighting services. If you don't see your favorite brand, ask and they'll place a special order for you.
Gray Lady Smoke Shop can add a little something different to your next island event with exceptional cigars for gift bags and even a "cigar bar" with one of their experts to guide your guests to a smoke they'll enjoy. Keep cigars in mind when planning your wedding, parties, or celebration of any size. Stop by Gray Lady Smoke Shop (open weekends till mid-June, then daily) — just look for the large oval sign for 2 Union. You can also visit ackgraylady.com, call them at 508-901-9399, or find them on Facebook and Instagram @ackgraylady.
Take Time for Tea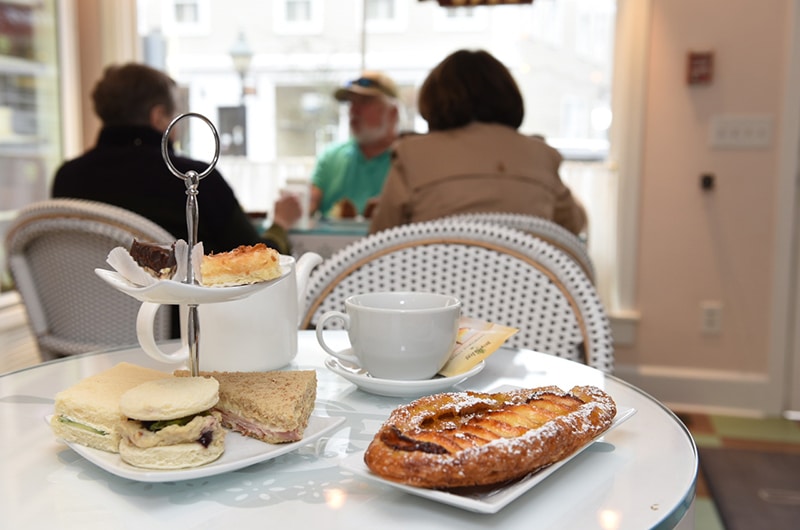 Redesigned with comfortable seating, Petticoat Row Bakery now invites you to take time out of your busy afternoon and connect over a cup of tea, with sweet and savory treats and a delightful selection of organic Mighty Leaf teas. For those who prefer coffee, there's organic brewed coffee and Illy espresso and cappuccino.
CIA-trained baker Caroline Brugo joined the Bakery in April and commented, "I want our loyal customers to know there's more at Petticoat Row Bakery than muffins and frosting. Our sandwiches and savory options are perfect for a light lunch or afternoon tea." The changing selection of tea sandwiches offered from 2 to 5 pm will include cucumber boursin, caprese on crostini, and roasted red pepper with goat cheese.
Petticoat Row Bakery still offers the full spectrum of breakfast pastries, cupcakes and cookies, as well as their signature petticakes. In addition, this season Caroline has launched a selection of homemade breads to enjoy at home or while relaxing in the bakery.
Join us in the afternoon for freshly brewed organic tea and coffee, tea sandwiches and sweet and savory snacks.
Located at 35 Centre Street, in the heart of historic downtown Nantucket Petticoat Row Bakery is open Tues.-Sat. 8 to 5; Sun. 8 to noon. They'll be open daily as the season progresses. petticoatrowbakery.com • 508-228-3700