by Advanced Sommelier Jenny Benzie
Summer on Nantucket is filled with momentous occasions. Your best friend from summer camp is getting hitched at First Congregational Church and you're in charge of getting cigars for all the groomsmen. You and your wife are receiving congratulations on your new bundle of joy that just arrived at the Nantucket Cottage Hospital, and you dole out cigars to share the good news. Smoking cigars and ceremonious celebrations have long been linked.
Cigars are often given as a trophy for "winning" or reaching a milestone in your life, and who isn't winning when you are spending time on Nantucket?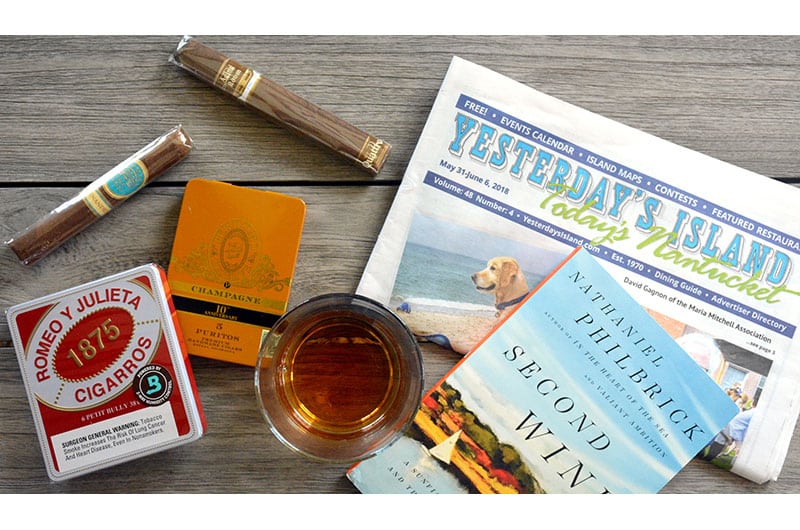 Adding a cigar to some of life's most important moments can also help to create a special bond between those you are sharing this life-changing moment with in your life. Nantucket provides us with a multitude of opportunities to partake in the luxury of a fine cigar.
WEDDING BELLS ARE RINGING
Cigars are the perfect way to celebrate time-honored traditions. The first of many traditions for most young people coming of age is when they exchange their wedding vows on this fair isle, then returning to the island at the same time year-after-year to celebrate their anniversaries. Lighting up a fine cigar is symbolic of a man taking his life-long partner, for better or worse, and ceremoniously sealing the deal with a smoke. Guests can enjoy in sharing their sentiments and support of this new partnership by joining in to honor the new couple. This joyous occasion as a form of sharing to celebrate is most grand at a wedding, where people from all over are excited to be on Nantucket to celebrate.
Symphony of a Cigar Pairing: Romeo Y Julieta Cigarros 1875
Ever seen a Shakespeare play while on Nantucket? Most are familiar with the love affair between Romeo and Juliet. You may have played the role yourself during that one summer romance with the young lady from the yacht club. This happens to be the brand name of world-renowned cigars that are handmade in the Dominican Republic. This particular cigar is a medium bodied blend with oak and coffee flavors that produces an enchanting aroma (similar to the scene set with their brand name). The smoke has cedar and hazelnut undertones with a delicate spiciness. This package offers all the taste but in a pint-sized form, beautifully packaged in a tin of 6 Petit Bullies for easy access and sharing.
BIRTH ANNOUNCEMENT
While congratulations should be given to the mom for going through all the trouble of carrying Junior for nine months and birthing the baby on top of that, it is a grand tradition for a new father to pass around cigars after the birth of his child. Who doesn't want to celebrate that their offspring will be considered a Nantucket native? Centuries ago when cigars where considered a rarity and only for the wealthy elite, they were considered a sign of pride and value that this new child added to the family, especially if it was a son. Luckily nowadays, cigars are readily available for anyone (of legal age, that is) and to celebrate the coming to life of any child of yours!
Baby Bliss Cigar Pairing: H. Upmann Reserve by AJ Fernandez 1844
Originating in Cuba back in the mid-1800s, H. Upmann is considered a classic, refined brand of cigar and boasts being among the oldest cigar brands in existence. After a long and storied history, the cigars are produced in Havana for local consumption or in the Dominican Republic for worldwide export. Now there is a new H. Upmann interpretation in town, hailing from Nicaragua with a partnership with AJ Fernandez. Fernandez is known for recreating heritage brands where he reimagines them to satisfy the cigarsmoking consumer trends of today. Think historic Nantucket building refurbished to house the island's hottest new restaurant of the summer. This cigar is intensely delicious, very complex with medium to full body flavor. Notes of roasted coffee, hazelnut, and cedar are evident with each savoring draw. Considered an ultra-premium cigar, it has an elegant powder blue band, reminiscent of that famous blue box color any gender loves to get as a gift, and has this cigar oozing with ultra-luxury all over it.
PAYING RESPECTS TO THE OLD MAN
Your father speaks highly of his old man, reminiscing about days of fishing the Nantucket waters together. You and your dad had many moments yourselves casting a line off the shores of Great Point. This special male bonding time as a youngster shouldn't be lost as you are a dad now and truly understand the sacrifices he made in order to give you the life you had a child. A cigar is a special way to show respect to the man who helped raise you. This meaningful gesture can also be a satisfying way to share a stogie with the old man when sometimes you just need to smoke a cigar to relax, unwind, and take in the peace and serenity that summer days on Nantucket have to offer you.
Dad's Delight Cigar Pairing: Aging Room Quattro F55 Expressivo Small Batch
The masterminds behind the Aging Room brand are skilled brand owner Rafael Nodal and cigar maker Jochi Blanco. These cigars are made with limited batches of tobacco leaves that are too small for regular cigar production. This makes these small batch cigars highly unique, hence in more demand. Also making this cigar of interest to cigar connoisseurs is the unusual, rarely used Sumatra wrapper. Hailing from the Dominican Republic, this cigar offers a well-rounded, medium to full strength profile. A subtle sweetness and rich coffee aromas are evident with every draw. This particular cigar performs like your dad's sports car that you have always wanted to drive unleashed on Milestone Road.
PAR FOR THE COURSE OF LIFE
"You win some; you lose some" is a phrase well-known on the golf course. After a day on the links, the winner of the day's match will reflect on their achievement by sharing cigars at the 19th hole. Smoking a cigar with your golfing compadres exudes a sign of respect, not just to the gift bearer, but also to the others with whom you are smoking — respect that is earned for hitting a hole-in-one and respect also given for those who show up in your weekly foursome no matter the weather. The excitement of the win is celebrated by all and sharing this happiness with a great smoke.
19th Hole Cigar Pairing: Perdomo Reserve Champagne 10th Anniversary
Perdomo originated in Cuba, like most cigar brands, and its company headquarters are now Miami, FL, based for the cigars that are made in Nicaragua. This premium handmade 5 pack of cigars comes in a pint sized, convenient durable tin that offers a cigar for each of your foursome and one left over to share with a new friend you meet at the clubhouse. This unique cigar has a filler made from extensively aged tobacco. The binder is a stunning, triple fermented Connecticut shade wrapper, which helps to make this approachable mild cigar easy going a perennial crowd pleaser. Creamy undertones with a sweetness almost like honey, these delicate beauties are like the fine bubbles found in the glass of a tête de cuvee Champagne!
Whatever the occasion you decide to smoke a cigar, remember a few key elements of cigar smoking etiquette. Never put your burning cigar down on the ground, especially on the lawn or greens. Be sure to bring enough to share with the whole group. And when you are finished with your cigar, be sure it is fully extinguished and dispose of it properly. Cheers to your next milestone and the memorable stogie that is paired with it!