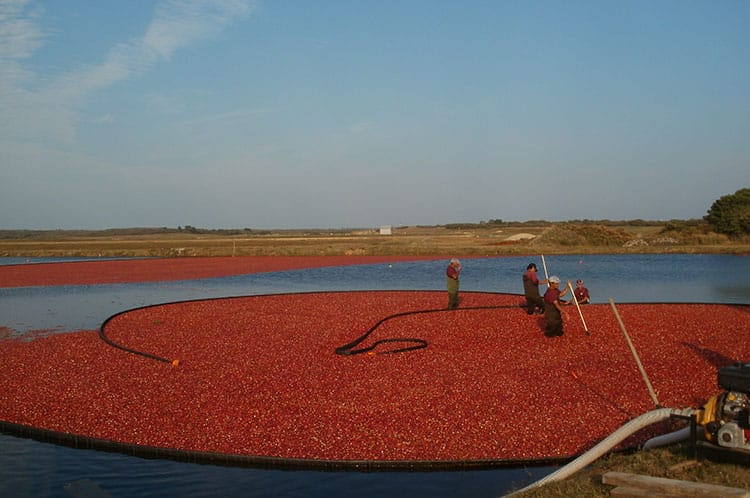 What New Englander doesn't love cranberries? Nantucketers are no exception. Island residents have cultivated cranberries for over 150 years, and today, the island is home to two cranberry bogs, including one of the nation's only organic bogs. In celebration of this tart, tradition-steeped red berry, the Nantucket Conservation Foundation (NCF) invites the community to the 12th Annual Nantucket Cranberry Festival on Saturday, October 11 from 11 am to 4 pm. The event is held at the 195-acre Milestone Cranberry Bog on Milestone Road.
If you have never witnessed the cranberry harvest, then this event is a must for you. You can even watch it all happen while you're on a hayride! Take a tour of the entire bog, either by yourself or with a guide. (Signs at the Nantucket Cranberry Festival will direct you to the tours.) Already seen the bog? Lounge in the grass and listen to live music by Four Easy Payments, while the kids enjoy sack races, face painting, along with other fun and games. Barnaby the Bear will be on hand to sign copies of his newest book, Barnaby & Wood Lily.
Rem the border collie will work with his shepherdess, Jess Pykosz, to herd sheep, and a number of farm animals will be present for a special petting zoo. Car buffs can get an up-close look at antique tractor displays, and history fans will love learning about the early days of Nantucket's cranberry harvest. There will be a raffle, with the grand prize being a 2015 Over Sand Vehicle permit, NCF fleece vest, and Festival hat!
After you watch the berry bouncing demonstration, don't forget to pick up some chocolate-covered cranberries by Sweet Inspirations, which will be available on-site throughout the day. You can also purchase fresh island-grown cranberries, straight from the bogs. Organic cranberries from Windswept Bog will be available. All fresh cranberries freeze quite nicely, so it is not too early to grab a pound or two for this year's Thanksgiving feast.
Admission to the Nantucket Cranberry Festival is free; on-site parking is $15 per car. To get to the bog, head east (away from town) on Milestone Road toward 'Sconset. Slightly over four miles from the rotary, you'll see a brown rock on the left hand side of the road bearing the number 220. Continue on Milestone Road for another 100 yards and turn left.