by Carl Oscar Olson
You might say the staff at Yesterday's Island have it made. Nearly every week during the Summer season, we are treated to not only the best dining on Nantucket, but often in the state and country as well. After each fantastic meal, we pass the review on to you in our Featured Restaurant section of the paper. We tell you not only where to go but what to order when you're there – sometimes before it's too late!
Every year as fall grows nearer, we like to boil the best from around the island into the culmination known as 'Best Bites' – a list of our favorite food from Madaket to 'Sconset. So get your pen, belly up, and bring your appetites, because here are the Best Bites of 2018.
Proprietors Bar & Table
9 india street • 508-228-7477 • proprietorsnantucket.com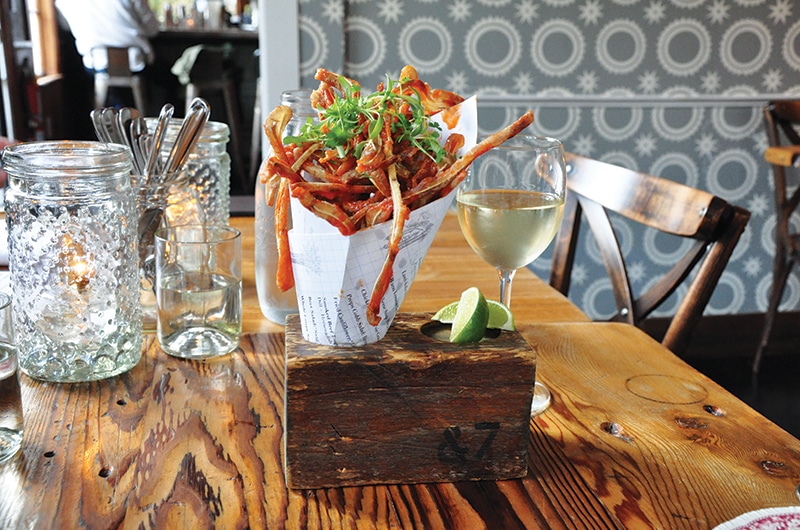 It's traditional but predictable to begin a meal with bread, and with so many people watching their carb intake, why not switch things up? For starters and anytime after at Proprietors Bar and Table, pick the Pig Ear Fries. We still find ourselves craving these thin sliced, deep fried strips of salt and spice.
Surfside Beach Shack
surfside Beach • 508-228-2921 • surfsidebeachshack.com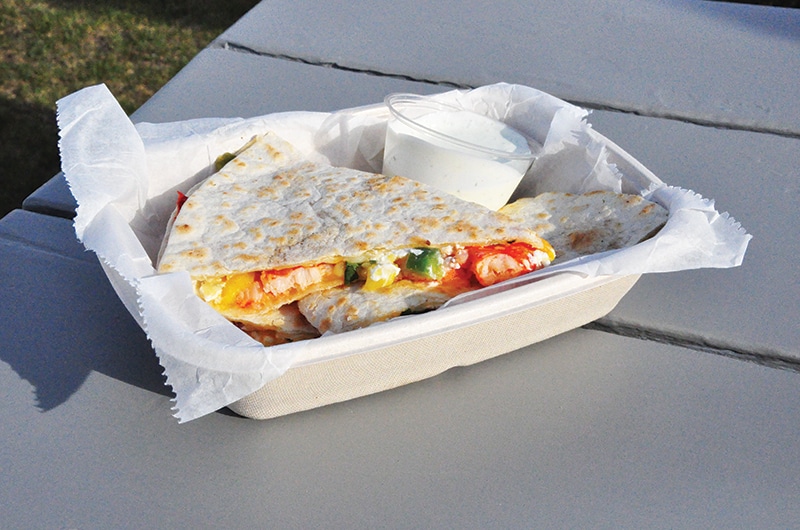 Before the sun sets on summer, we like to squeeze in as many chances to eat outside as we can. We found an old favorite with a new twist at Surfside Beach: The Surfside Beach Shack test-driving it's new taco truck. We would have tried one of everything if we could, but our favorite still holds the crown for our favorite lobster dish of the year. The Lobster Quesadilla combined warm, sweet lobster with bright, tangy goat cheese and was topped off and turned up with a cilantro lime crema and mango lime salsa.
The ship's inn
13 Fair street • 508-228-0040 • shipsinnnantucket.com
One thing we are all spoiled on, 30 miles out to sea, is seafood. The North Atlantic offers a bounty to choose from, but it's always a treat to try something from across the pond. The Grilled Langoustines at Ship's Inn are a European standard uncommon to plates in New England. These saltwater cousins to the crayfish were served with strips of salsify, a crisp white root not unlike parsnip, and a tomato basil
beurre blanc.
Sandbar
4 Bathing Beach road • 508-228-2279 • jettiesbeachbar.com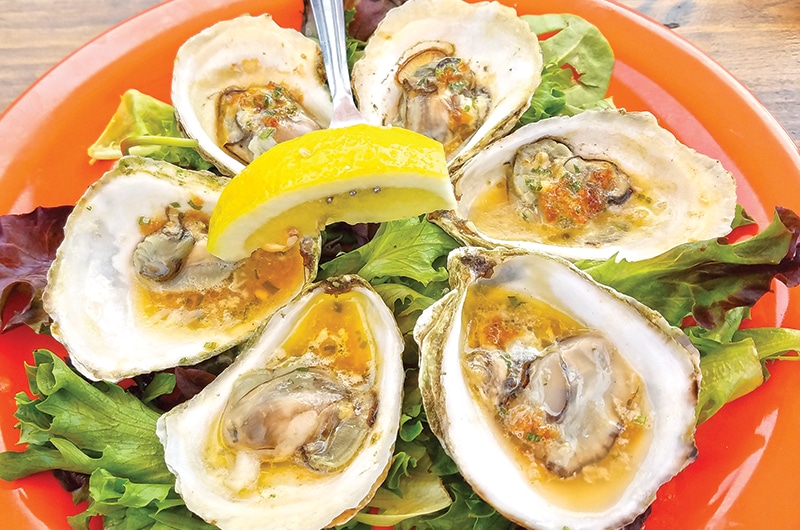 Oysters by the ocean is one of life's simple pleasures. Sandbar, offering buck-a-shuck daily from 3- 5pm, know the bivalves well, a fact that no doubt made their Grilled Oysters one for the books. They were warm and creamy with a smooth shallot butter to offset the brine, and 6 were not enough.
Dune
20 Broad street • 508-228-5550 • DuneNantucket.com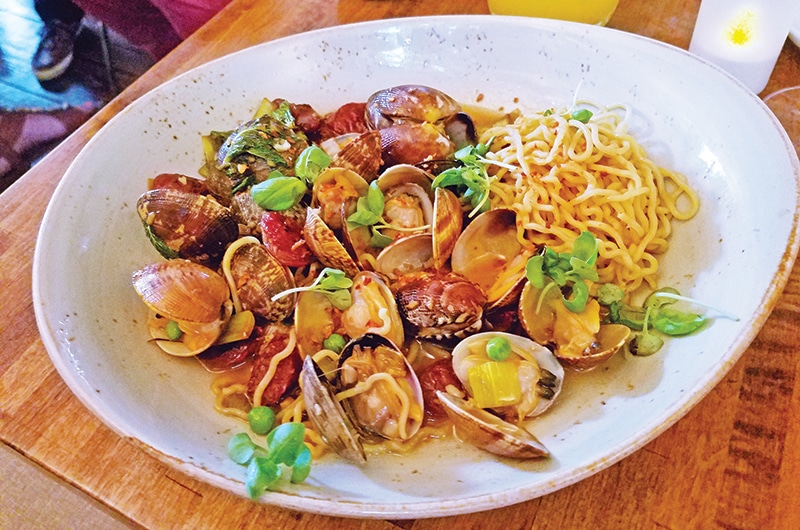 There is lots of fine dining downtown, and one spot the does not disappoint is Dune. Their menu is always changing, and the food is always fresh and local. One of our and Chef Getter's favorites earlier this summer was the Stir Fry of Manila Clams. Delicate, subtly sweet quarter- sized clams still shined through the bold flavors of Chinese sausage, fried garlic, ginger, scallions, and lemongrass. When the clams were all gone, a bed of ramen noodles helped soak up what was left of the succulent sauce.
Brant Point Grill
50 Easton street • 508-325-1320 • brantpointgrill.com
With colder weather around the corner, it's time to hunker down with some slow cooked classics, and the Veal Osso Bucco at Brant Point Grille would fit the bill. This generous piece of meat is cut across the leg, bone in, and we can verify it's spoon-tenderness. It sat a top a luscious parmesan polenta, but the cherry on top was the bone marrow gremolata in the middle.
Fifty-six union
56 union street • 508-228-6135 • fiftysixunion.com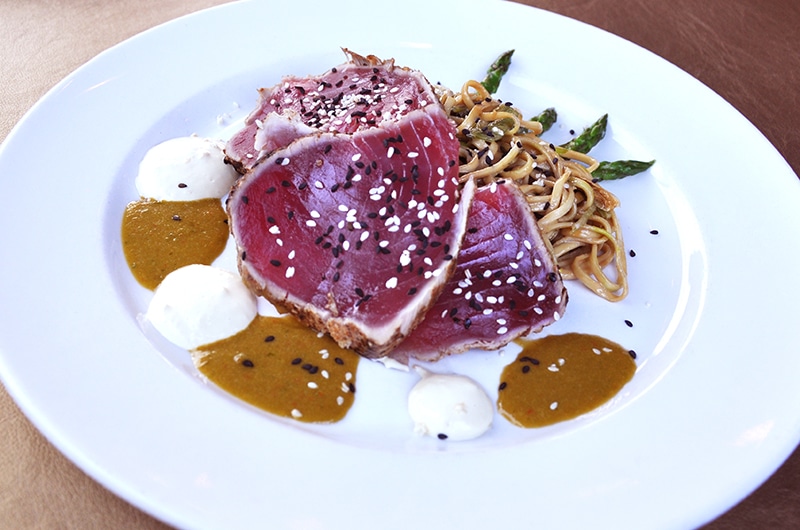 This year was once again one of the warmest on record, and when we wanted to stay cool but fill up we headed to Fifty-Six Union and ordered the Seared Rare Tuna. Ruby red fish was dusted with 7-spice then barely seared. It was sprinkled with sesame seeds and served alongside asparagus and udon noodles tossed in a tahini sauce. Dollops of pickled ginger aioli and nuoc cham, an asian style garlic-lime sauce, livened things up and made every bite interesting.
TOPPER'S at The Wauwinet
508-228-8768 • wauwinet.com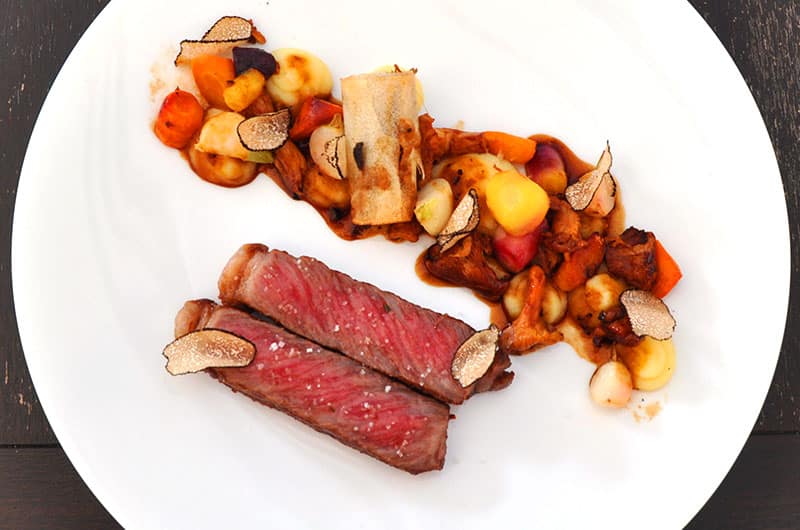 5-star dining calls for a 5-star entree, so when we went to TOPPER'S at the Wauwinet the Satsuma A5 Wagyu Strip Loin called to us. It's the best of the best for beef, and a simple sear was all it needed to melt the marbling of fat into the meat. A sprinkling of sea salt sets it off, and it was matched with compliments of young vegetables, chanterelle mushrooms, and divine drizzle of sauce perigueux, a luxurious final touch flavored with Madeira, truffles, and black pepper.
Saltbox Tavern and Table
7 Macy's Lane • 774-333-3814 • acksaltbox.com
Salads don't usually make the list, but the flame-kissed Grilled Romaine at Saltbox was unforgettable. A few minutes on the fire brought out an intense, juicy flavor in the lettuce while a classic Caesar dressing and thick-cut bacon could make it meal. They offer add-ons if you want a little more, and the tender, perfectly cooked shrimp were certainly a bonus.
Rose & Crown
23 south Water street • 508-228-2595 • theroseandcrown.com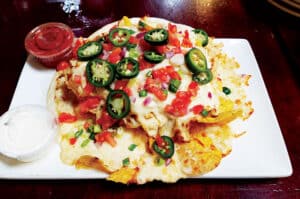 We all need a place to relax and unwind, to comeas- you-are and be treated like a local. We're always thankful Nantucket has the Rose & Crown, and we're always thankful for their tap list and their Nachos. They come piled high with nary a chip un-cheesed, fully loaded with fresh tomatoes, jalapenos, and red onions. Take them as they are or add a little extra; we recommend the house favorite 'crack chicken'. It's slow cooked in a secret blend of sour cream and ranch until it melts in your mouth.
Downyflake
18 sparks Avenue • 508-228-4533 • thedownyflake.com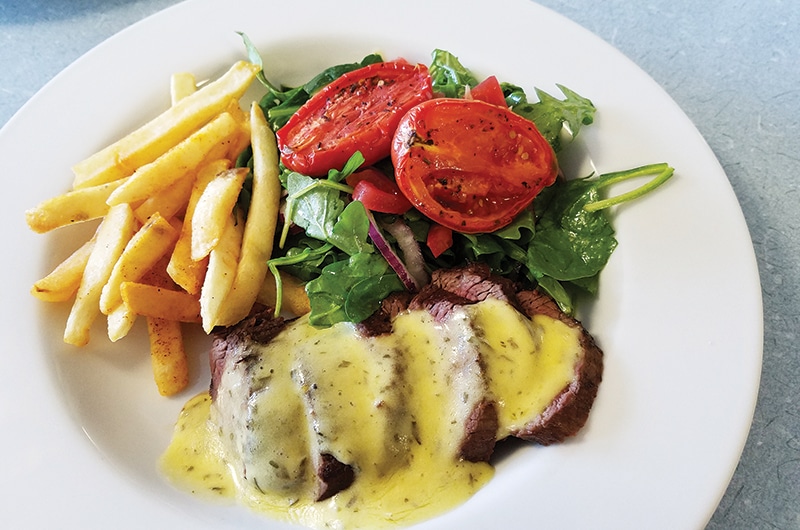 Some of our favorite fare is served up every day at diners across the United States, and we boast one of the originals on Nantucket: The Downyflake. For over 80 year they've been leaving patrons pleased with breakfast and lunch, and this summer dinner was added to the list. It was more than clubs and melts, too. The Steak Frites boasted Bernaise sauce perfection and showed us all what this little standby can muster.
Easy Street Cantina
Corner of Easy & Broad st • 508-228-5418 • easystreetcantina.com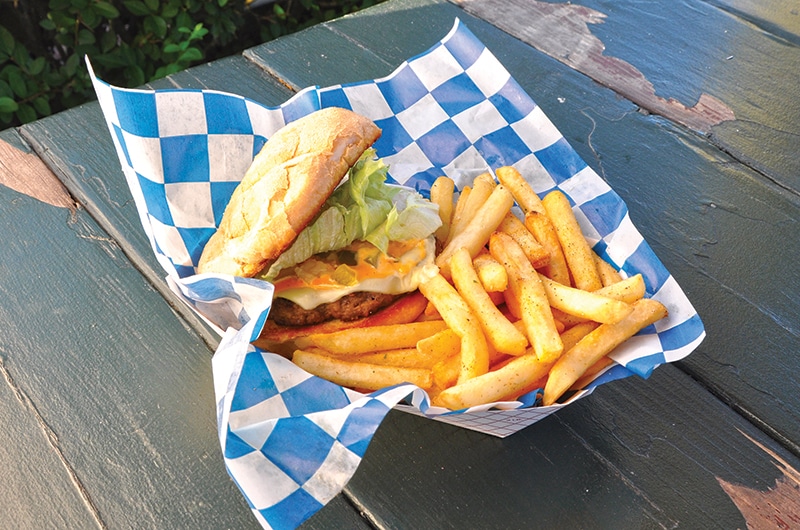 Everyone has a place for fresh, fried seafood in their heart, and Easy Street Cantina is the place to get it. While you're there, try the tacos. And the breakfast options, which are served all day. Don't forget about the burgers, either, because theirs was our favorite of the season. The thick beef patty on the ACK MAC is decked out with lettuce, tomato, cheese, and of course your favorite 'special sauce'. Served on a buttered toasted bun alongside golden brown fries dusted with house Nantucket Spice, it's everything a burger should be.
Black-Eyed susan's
10 india street • 508-325-0308 • black-eyedsusans.com
Downtown favorite Black-Eyed Susan's is known for their wide open kitchen and dynamic, eclectic menu. There are flavors for every palate, but our favorite was the Seared Atlantic Halibut. This dish is full of savory flavor. The well-seasoned and perfectly cooked fish is bathed in an onion-bacon dashi with tender slices of fingerling potatoes and grilled asparagus that tastes delightfully of bacon. Wasabi sprouts as garnish added a verdant crunch.
We hope you join us on our restaurant adventures around Nantucket. Though some of the dishes mentioned here are no longer available, there are no doubt other island eateries offering the same spectacular styles. Will you be the one to find them?