Here are our choices for "Best Bites" at Nantucket Restaurants for 2017: these are our favorite dishes among those we tasted during our Featured Restaurant visits this season – appetizers and entrees that we'd love to have again. Some of these dishes that we enjoyed during July and August were seasonal and have been replaced by autumn fare; some that we tried last spring are back on the menus for autumn. We're confident that even if you cannot try the dishes we list here, you're sure to find an alternative at each of these eateries that can become your Best Bite pick! Send us a photo and description of your favorite to yi@nantucket.net and follow and tag us on Instagram @NantucketInsider.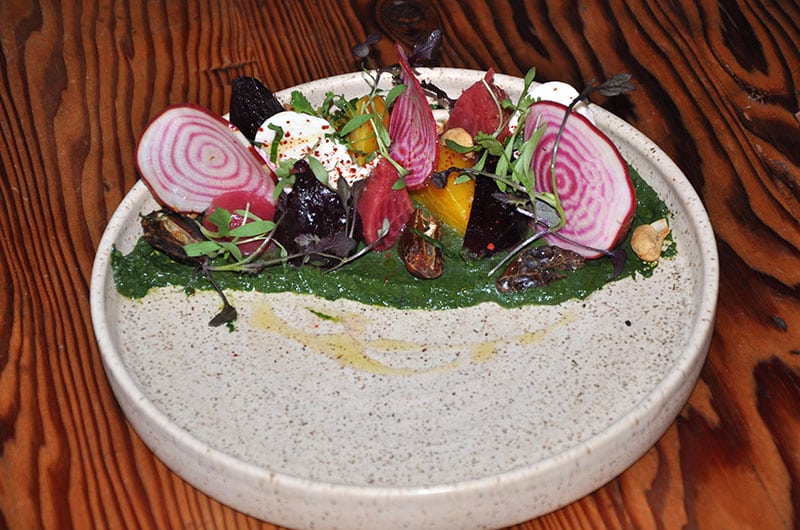 proprietors bar & table
9 india Street • 508-228-7477 • proprietorsnantucket.com
There is much to love on the menu at Proprietors, and new items are added frequently. Dining at Proprietors is a meal of Best Bites, but one we like best is their Beet Salad. The beauty of this was second only to the subtle sweet flavors of the golden, red, and purple beets arranged with delicate buttermilk mozzarella, cashews, and dried dates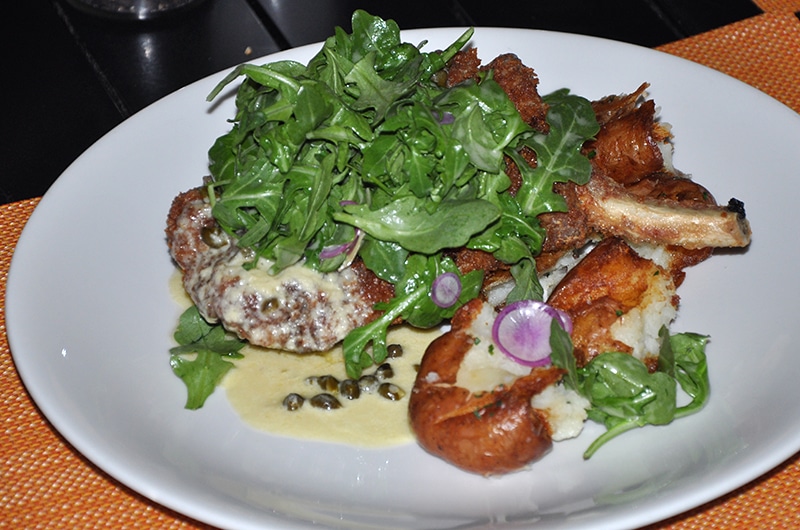 Brant Point Grill at the White Elephant
50 Easton Street BrantpointGrill.com • 508-325-1320
With the return of cooler weather, we're dreaming of Chef Thomas Pearson's Breaded Pork Chop, a massive 12-ounce bonein chop, its thick, crisp breading enclosing superbly moist and tender pork. A handful of arugula and parmesan salad was served on top of the chop, and a tangy lemon-caper sauce poured over. Even the roasted red bliss potatoes deserve praise: the crunchy browned exteriors gently smashed to reveal fluffy white centers.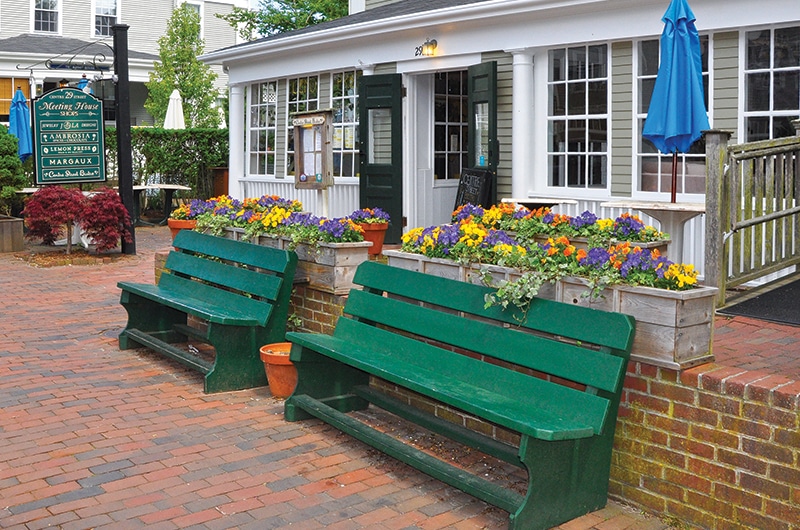 Centre Street Bistro
29 centre Street • 508-228-8470 • NantucketBistro.com
Whether you stop in for a bountiful weekend breakfast, supremely satisfying weekday lunch, or a very special dinner, Centre Street is sure to please. We adore their Bistro Shrimp, plump with a delectable sesame crust, served over rice noodles and vegetables in a red curry sauce and topped with fresh mango relish.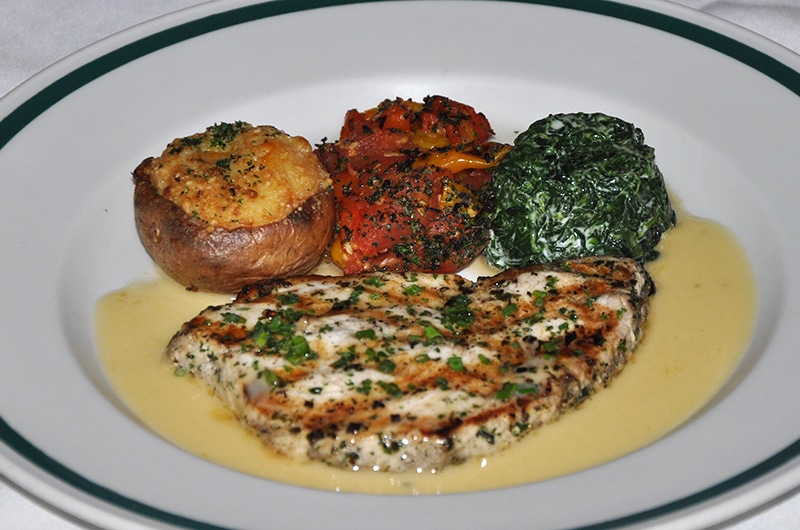 The Ship's Inn
13 Fair Street • 508-228-0040 • shipsinnnantucket.com
The Grilled Swordfish stole the show this summer at Ship's Inn! This was the best swordfish we'd tasted in a decade. The fish was moist and flaky, and drizzled with a lemon thyme beurre blanc that was both bright and rich. The timbale of creamed spinach, truffle baked potato, and roasted tomato topped with a tomato compote accompaniments were also superb. When our server collected this dish there was not tidbit left on it.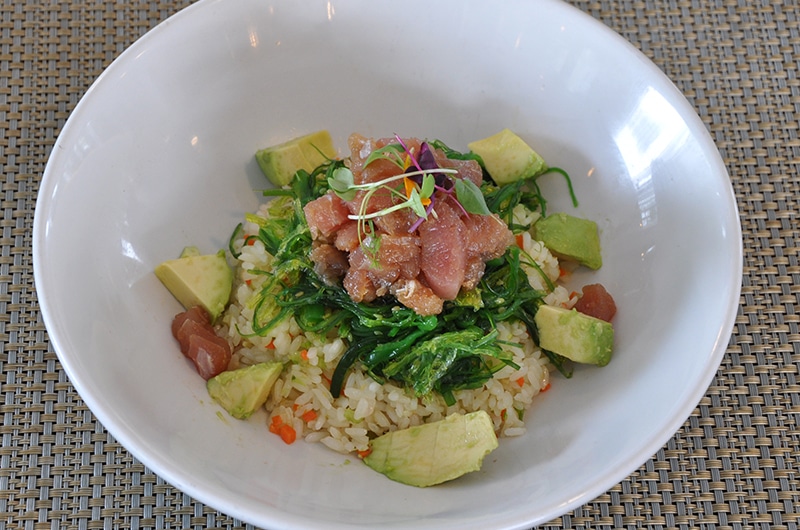 Breeze Bar & Café in the Nantucket Hotel
77 Easton Street breezebarandcafe.com • 508-228-4730
Chef Bill Weisse described his Pacific Poke Bowl as "sourced locally and tastefully infused with delicate flavors that leave you wishing for more." We discovered from the first forkful that his description was spot-on. Fresh tuna, its pink flesh anointed with sesame oil, shoyu, and dried seaweed, is cut into medium pieces and served deliciously cool with creamy diced avocado and crisp chilled wakame over warm rice with tiny bits of sweet carrot and ginger root stirred in. The mix of textures and temperatures makes this especially appealing.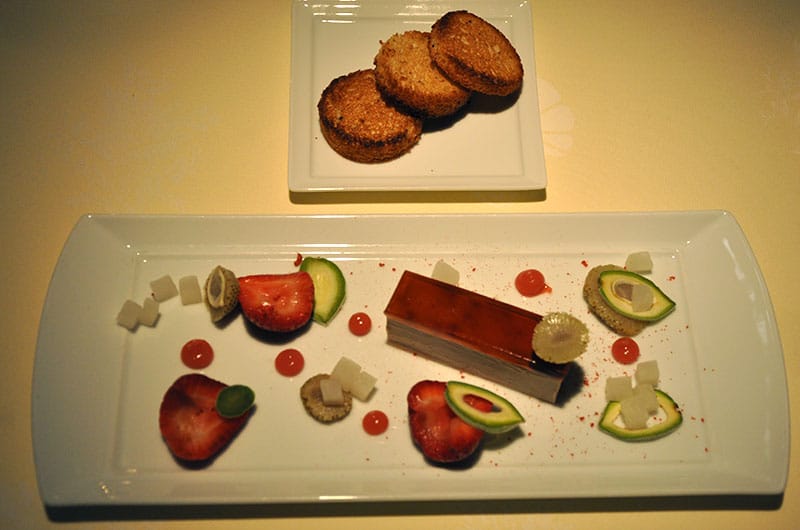 TOPPER'S at The Wauwinet
508-228-8768 • wauwinet.com
Our favorite appetizer of the evening (perhaps of the season!) was Chef Kyle Zachary's Terrine of Hudson Valley Foie Gras. This beautifully curated dish looks like an elaborate dessert. The irresistibly smooth foie is topped with a translucent ruby red hibiscus gelée. Fresh sweet red and white strawberries are scattered around the plate, with green almonds, dots of strawberry puree, and crunchy cubes of kohlrabi.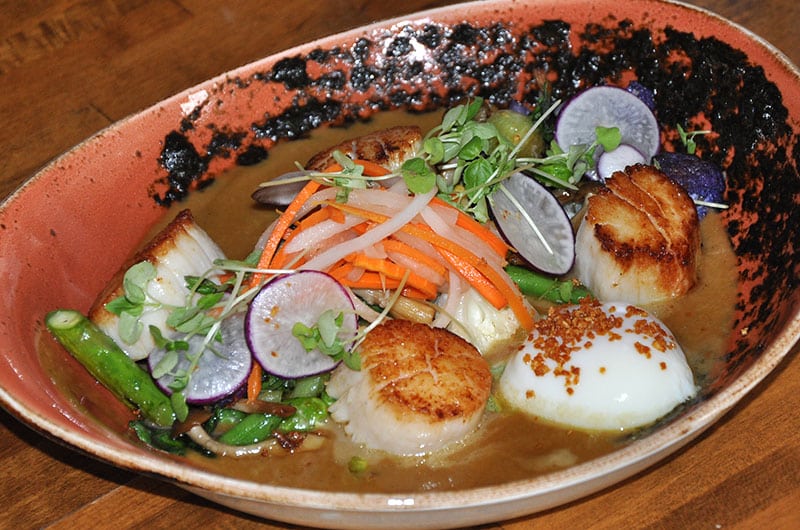 Dune
20 Broad Street • 508-228-5550 • DuneNantucket.com
We rarely order scallops until Bay Scallop season starts, but at the encouragement of our server, we tried the fresh Seared Georges Bank Scallops and found them astonishingly good! Perfectly caramelized top and bottom, the sea scallops were sweet and succulent and served in a vivid gingery broth of coconut and lemon grass made even richer when we broke open the poached egg. Chilled pickled daikon and carrot with thin slices of radish and beans added a tasty contrast in taste and texture.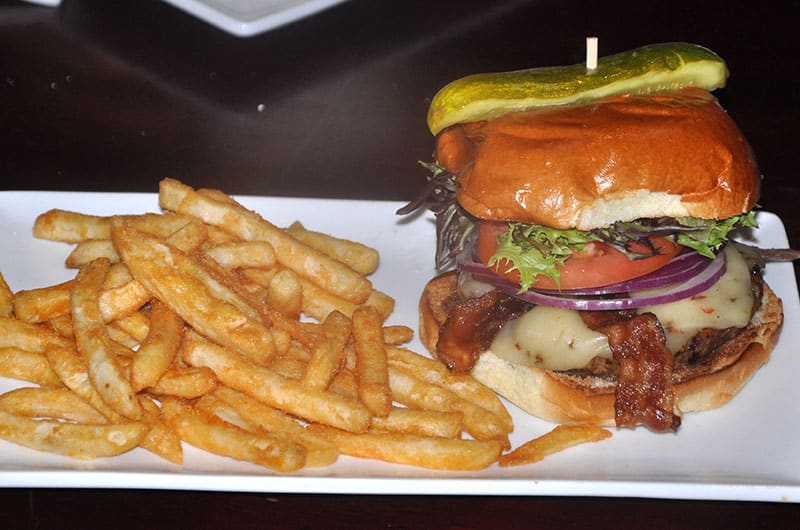 Rose & Crown
23 South Water Street • 508-228-2595 • theroseandcrown.com
We can't offer enough praise for the Burgers at The Crown. You can BYOB (Build Your Own Burger), adding sauteed onions, mushrooms, bacon, and any of six different cheeses to your custom 8-ounce Angus beef patty. If you try one of the Specialty Burgers, make it the Sriracha. The Sriracha Burger has more flavor than fire, but make no mistake, it is spicy! Sriracha is added to the patty and the mayo and the burger is topped with jalapeno relish, Pepper Jack cheese, bacon, lettuce, tomato, and onion. And the fries that come with are crisp on the outside, fluffy inside, salty and hot. YUM!
Fifty-Six Union
56 union Street • 508-228-6135 • fiftysixunion.com
Fans of fish will adore the Pan Seared Day Boat Fluke Chef Peter Jannelle prepares at Fifty-Six. A coating of pecans crushed nearly to dust imparts the essence of the nut to the bracingly fresh fluke without masking its mild, sweet flavor. The moist fish is served on deep purple Forbidden Rice ringed by a colorful jumble of tendercrisp vegetables: golden sweet corn, red and orange bell pepper, asparagus, purple bits of onion, and red tomato. Lemon-thyme butter sauce adds luscious richness to this seafood supper.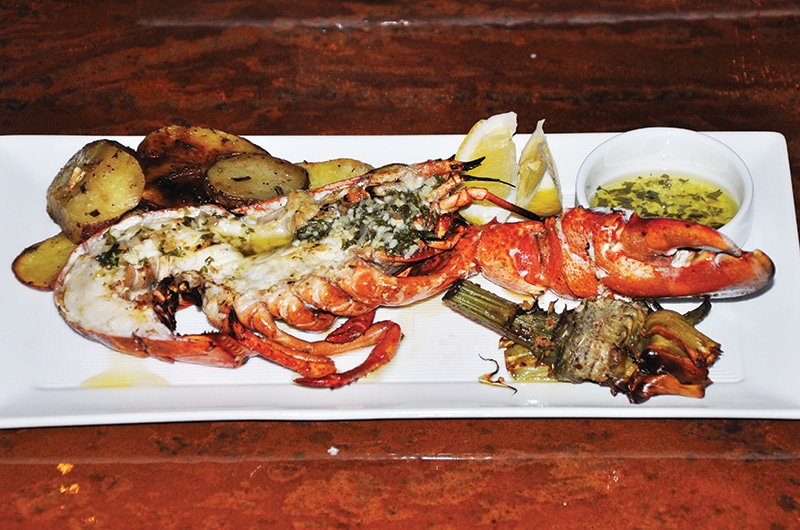 Atlas Restaurant
130 Pleasant Street • 508-825-5495 • atlasnantucket.com
Chef Brandt Gould of Atlas is equally talented with meats as he is with fruit de mer, so it was difficult to choose just one favorite here. We chose his Half Local Lobster because is just sings with flavor! It's so sweet and tender that it is exactly what you think of when you long for lobster. Chef Gould grills it with a light touch, adding French shallot and garlic butter, and serves it with creamy new potatoes and elegant roasted artichokes.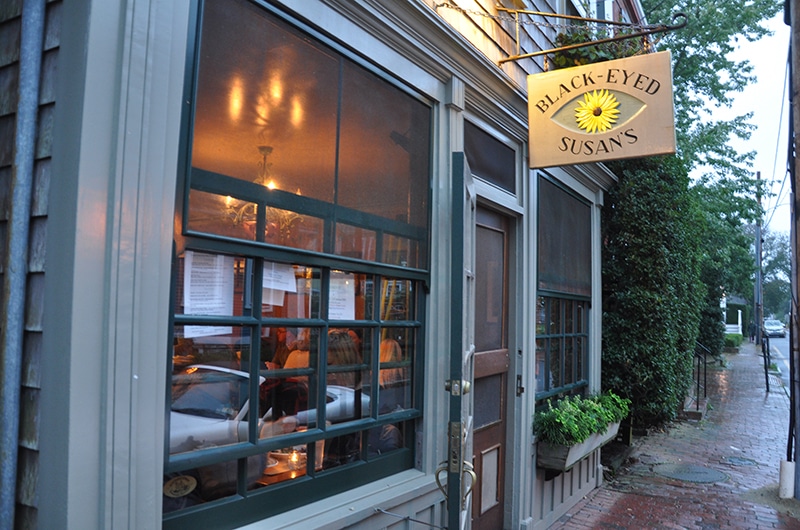 Black-Eyed Susan's
10 India Street • 508-325-0308 • black-eyedsusans.com
This downtown eatery is known for innovative dishes and an open kitchen where you can watch the magic happen. Several of the classics at Black-Eyed Susan's have been on their menu for years (yes, they're that good)are offered in half portions as appetizers or full plates as entrees. Of these, our favorite is the Linguini with Local Quahogs. Simple and simply delicious, everything about this dish is perfect: the linguine just al dente, the clams fresh, briny, and tender; there's just the right amount of sauce, plenty of parmesan, and a touch of freshly ground pepper.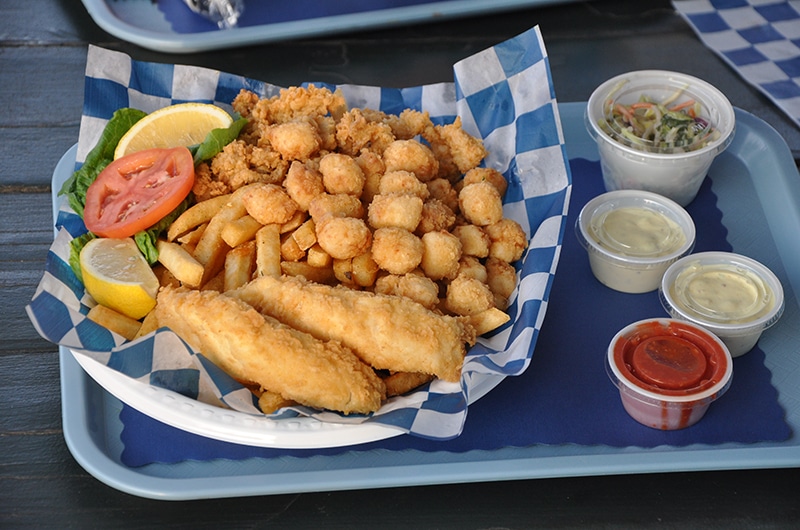 Easy Street Cantina
Corner of Easy & Broad Sts • 508-228-5418 • easystreetcantina.com
Fresh, breaded by hand, and cooked to order, fried clams here are the best on the island. The clams are whole belly and delightfully tender with a crunchy breading. You can get them on their own or as part of the Fisherman's Platter. This enormous Platter has a big portion of clams, plus lots of succulent scallops, and freshly cut, breaded, and fried codfish that is hot and flaky. Even the cool, crisp slaw and the delicious house-made tartar sauce prepared with two kinds of mustard, red wine vinegar, and tarragon that come with the platter deserve high praise.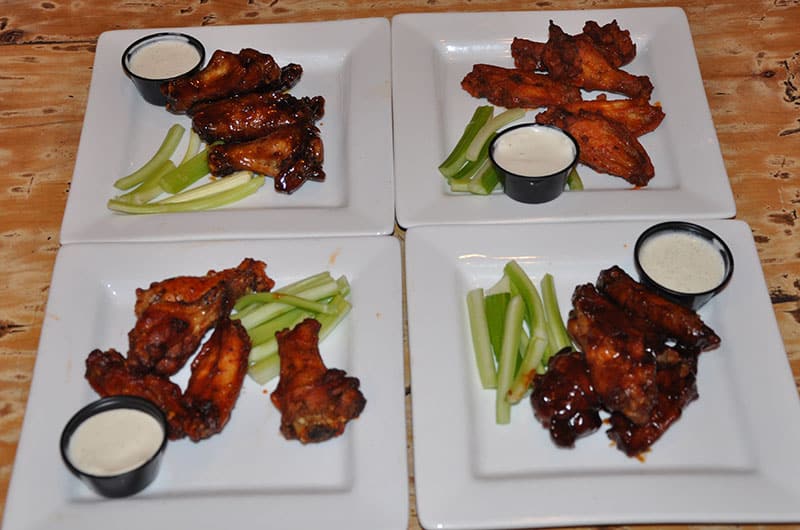 Crosswinds
Nantucket Memorial Airport • 508-228-6005 CrosswindsNantucket.com
There's a different special every night at this local eatery. If you have to choose just one evening, make it Wednesday, when they have Wing Night and their Endless Pasta special. Their jumbo wings are a real treat: moist and meaty, but our favorite is the Honey Sriracha Wings that start out sweet and end with a flicker of heat. For the pasta, order their Orecchiette with Shrimp. For this, the pasta is tossed with sauteed pancetta, mushrooms, baby spinach, cherry tomatoes, and a fresh basil in a luxurious chipotle cream sauce is folded in. The perfectly grilled shrimp just guild the lily!