by Sarah Teach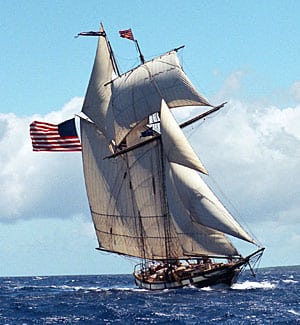 During the American Revolutionary War and the War of 1812, privateers sailed around Nantucket's coastline. This Thursday, August 16 at 3 pm, the weatherly, fast, and heavily armed Clipper Schooner Lynx will be sailing into Nantucket Harbor.
The 122-foot square top sail schooner Lynx will fire a salute from her main battery of 6-pounder carronades upon her grand entrance.
Sailing enthusiasts can sail aboard Lynx on August 17,18, 20, 21, and 22 (ticket prices $45-$85) or watch the Opera House Cup Regatta from the ship on August 10 (ticket price $500). "We are very excited to visit Nantucket for the first time, and want to thank wholeheartedly Nantucket Atheneum Library, Lynx's sponsor for Port of Call Nantucket.
Lynx is an interpretation of an actual privateer named Lynx built by Thomas Kemp in 1812 in Fell's Point, Maryland. She was among the first ships to defend American freedom by evading the British
naval fleet then blockading American ports and serving in the important privateering efforts. Although captured early in the war, the original Lynx design was recognized as superior. With her rakish profile and superior sailing abilities, she served as an inspiration to those ships that would follow. Naval Architects continue to study her power and grace. She is fitted with period ordnance and flies pennants and flags from the 1812 era.
The Privateer Lynx was hired to train the cast and crew of the hit movie Pirates of the Caribbean. Climb aboard and step back in time as you relive history and feel the adventure. Join the crew and hoist the sails, steer the ship, fire the main battery of six-pounder carronades and experience first
hand life aboard a traditional, square topsail schooner. On decks and below Lynx evokes the life, spirit, and atmosphere of a vanished age of sail.
With a noble mission, Lynx acts as a dynamic educational platform and provides a unique opportunity for students to interact with their American History lessons and renders a hands-on experience. Students and adults recognize the War of 1812 as a significant element of American heritage and as a turning point in the development of our national identity. The Nantucket Atheneum Library will be displaying a 1812 curriculum and exposé of the war of 1812 and Nantucket's difficult role—remaining neutral in the waters of the world to protect the whaling fleet and supply the island's people with the necessities of life.
Bess Clarke, Director of Development at the Atheneum has been instrumental in getting Lynx to Nantucket. Other organizations partnering with Privateer Lynx in one way or another we wish also to thank, Nantucket Harbor Launch, Nantucket Community Sailing, Nantucket Chamber of Commerce and the Nantucket Boat Basin. It is through their generous support that Nantucket residents will have the chance to walk the decks and step back in time aboard Lynx, America's Privateer our National Treasure."    Jeffrey Woods, Executive Director, Lynx Educational Foundation said. "Lynx    is scheduled for a five-year mission along the East Coast of the United States and Canada celebrating the 200th anniversary of the War of 1812 and the Star-Spangled Banner."
To purchase tickets to one of the sailing trips while Lynx is in Nantucket Harbor, visit www.privateerlynx.com/calendar.html