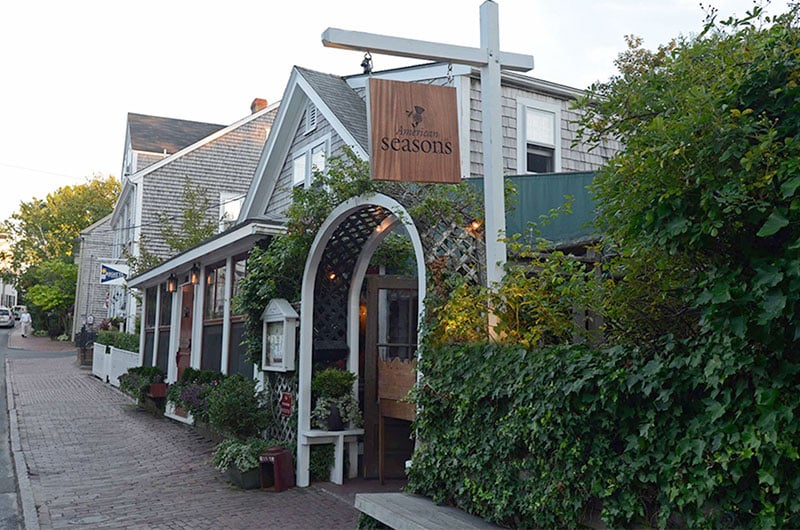 In the quest for great dining, we're always looking for that special combination of brilliant food, tasty cocktails and fine wines, warm and professional staff, and comfortable ambiance that allows you to relax and enjoy it all. Last week we found it at the new American Seasons.
Chef Neil Ferguson purchased American Seasons in 2015, starting a new chapter in the long history of this Nantucket restaurant. Since it opened nearly 30 years ago, each chef who has taken the helm has continued the founding principle of celebrating regional American cuisine with local ingredients.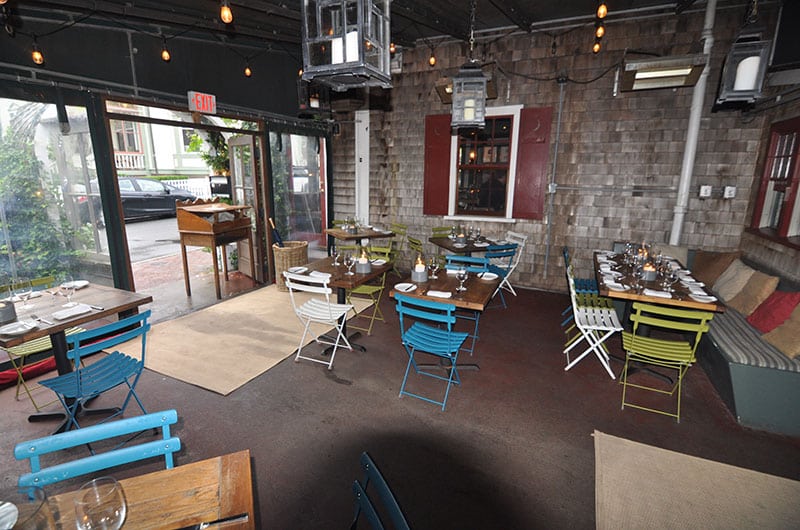 Chef Ferguson came to Nantucket with more than 20 years of international experience, cooking at top Michelin restaurants in London, Paris, and New York, including a decade with Gordon Ramsey. He brings to American Seasons his impressive talent for combining diverse ingredients to create dishes that become far more than their parts. His respect for his ingredients is evident in the lack of heavy sauces or overwrought garnishing—every bite on every plate adds to the whole. At our dinner here last week, our first time back since the changeover, every detail was spot-on: food, service, and cocktails. From the warm welcome as we entered the arbor through the professional service during our meal to the sincere "thank you for coming" on our way out, we felt more like honored guests than customers.
Click images to view enlargements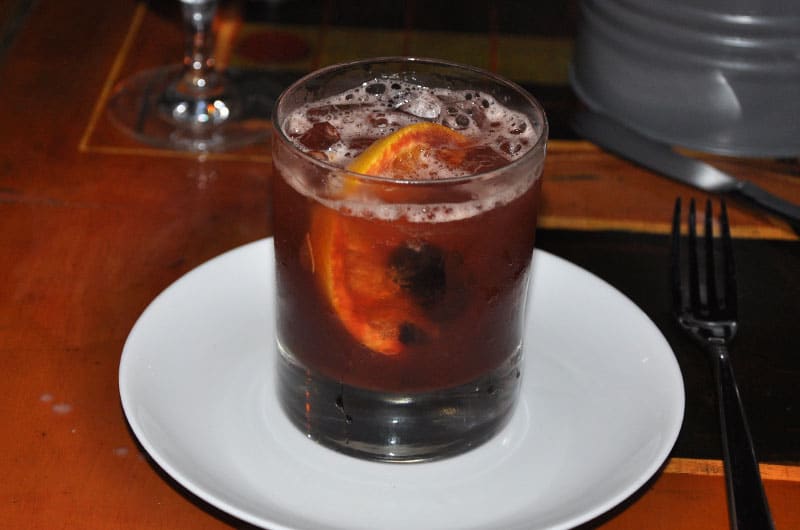 We began with a round of cocktails to toast the last days of summer. Everyone has a favorite, but we'd encourage you to try one of their eight signature cocktails. The Seasonal Nectar is a refreshing blend of house-infused cucumber vodka, local honey, and fresh lemon. Our favorite is the slightly sweet and spicy Sunny's Old Fashioned (shown), expertly mixed by Starr and deliciously balanced, with mellow Basil Hayden, muddled orange, angosturas, and rich luxardo cherries.
As we sipped our cocktails and perused the dinner menu, which had just been updated for the late summer harvest, we were offered freshly baked Bacon and Sage Rolls and slices of Baguette. Both were delicious—too good, really—take care not to fill up before the main event.
On this late summer menu is an appetizer that captures summer on a plate in the form of Local Heirloom Tomatoes and Melons. This is a beautiful composition of red, yellow, and green tomatoes, red and yellow watermelon, and paper-thin slices of prosciutto with just enough fresh basil and fresh mint to add accents of flavor without overpowering the sweet, fresh, juicy fruits. (Suggested Pairing: Edi Simcic Pinot Gris from Slovenia)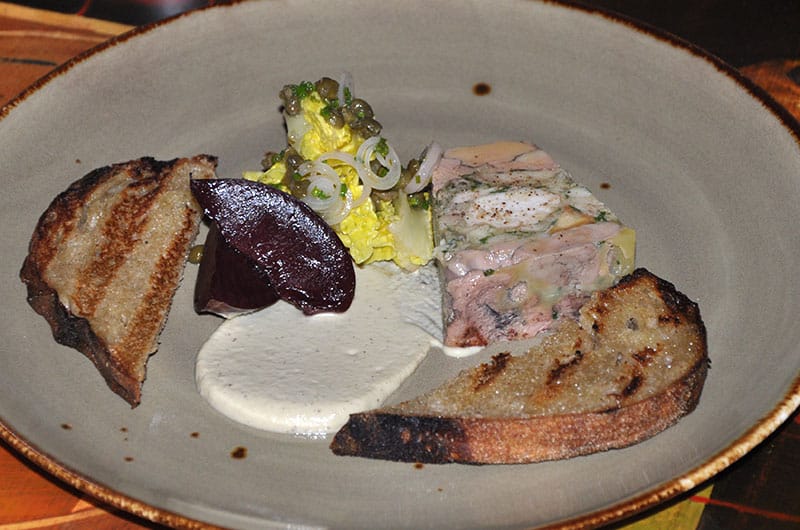 Another cold appetizer as pretty as it is delicious is the Rabbit and Foie Gras Terrine, a plate of surprisingly compatible components vibrant with flavor. The terrine of tender meat and creamy indulgence is marbled with colors and textures that combine superbly with a mellow hazelnut pesto, dark and delicious wedges of spiced pickled plum, and cool, crisp hearts of lettuce anointed with a light vinaigrette and capers. Rich, smooth, meaty, mellow, puckery, and crisp, this appetizer hits all the high notes! (Suggested Pairing: Chateau Simon Sauternes)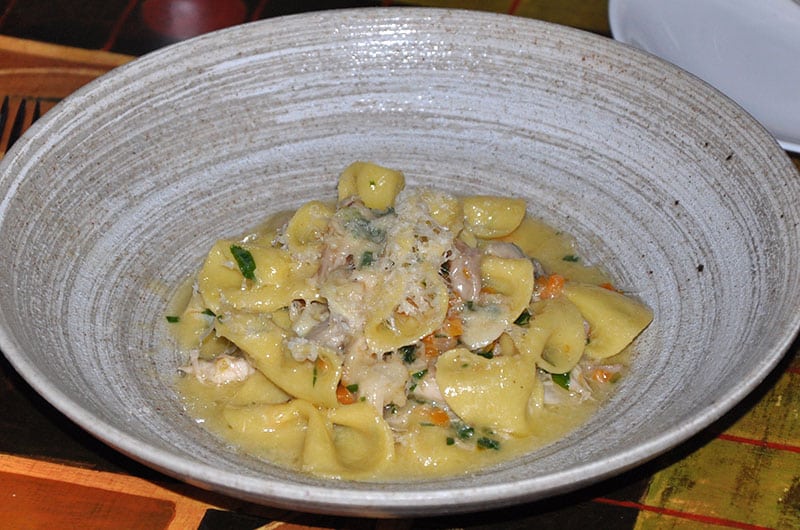 With autumn fast approaching, we have a renewed appreciation of hot and heartier dishes. Chef Ferguson's Farfalle Pasta with Confit Chicken is robust and full of rich flavor. Like everything served here, the pasta is housemade and delicious, its folds and cups capturing a sauce that is the essence of chicken, garlic, and parmesan. Ask for a spoon when you order this dish; you'll need it to finish every drop of this. (Suggested Pairing: Murrieta Albariño)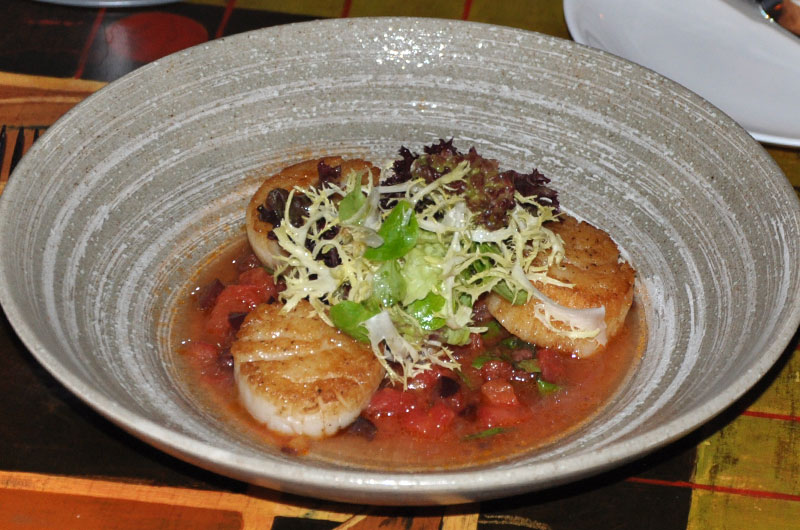 The Roast Sea Scallops was our table favorite. Surrounded by the famously delectable bay scallops whose season has not yet begun, Nantucketers sometimes distain to eat sea scallops, but Chef Ferguson demonstrates that in the hands of a master these larger cousins can be just as delicious. For this appetizer, a trio of scallops is presented on a vinaigrette antiboise whose light, bright flavors of tomato and bits of kalamata olive make a delicious backdrop for the sweet, succulent, golden crusted scallops. (Suggested Pairing : unoaked Beaujolais Blanc from Domaine Cheysson) 
With just seven entrees (plus evening special), Chef Ferguson manages to please many palates, even his vegetarian (vegan) dish —Summer Squash Casserole with toasted bulgur, gem lettuce, and zucchini hummus — sounded tempting to our table of omnivores.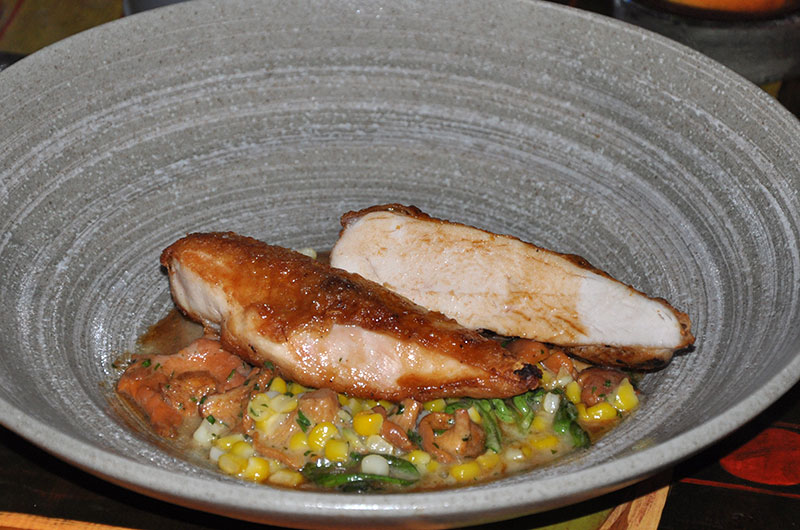 The island's fresh summer harvest of sweet corn is given rich fall flavors in Ferguson's Roast Chicken Breast. The aroma of this entree turned heads as it was brought to our table. The moist chicken is topped with a sinfully crisp skin and drizzled with a rich jus reduction that flavors the bed of corn succotash, basil, and chanterelle mushrooms underneath. We are reluctant to call this dish "homey" because few home cooks could make it like this, but its aromas and flavors elicit fond memories of the best comfort food. (Suggested Pairing: Bouchaine Pinot Noir)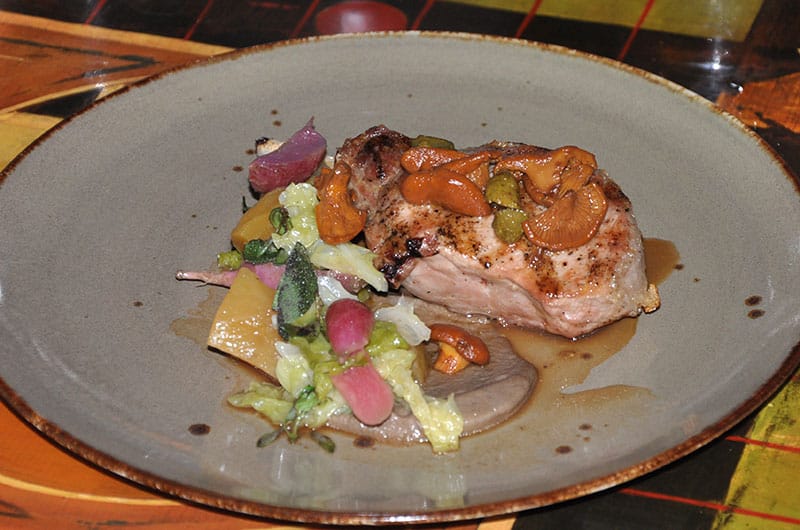 Chanterelles are also featured on the Grilled Pork Chop entree which tied for table favorite. The thick chop is cooked through but succulent and admirably tender, with tasty bits of char along the edges. It's topped with earthy chanterelles and cornichons and nestled against a salad of radishes, golden beets, and greens: flavors that accent the juicy, perfect chop. This is a supremely satisfying dish and one that makes us look forward to what other autumnal dishes could appear on future menus at American Seasons. (Suggested Pairing: Dumol Estate Pinot Noir)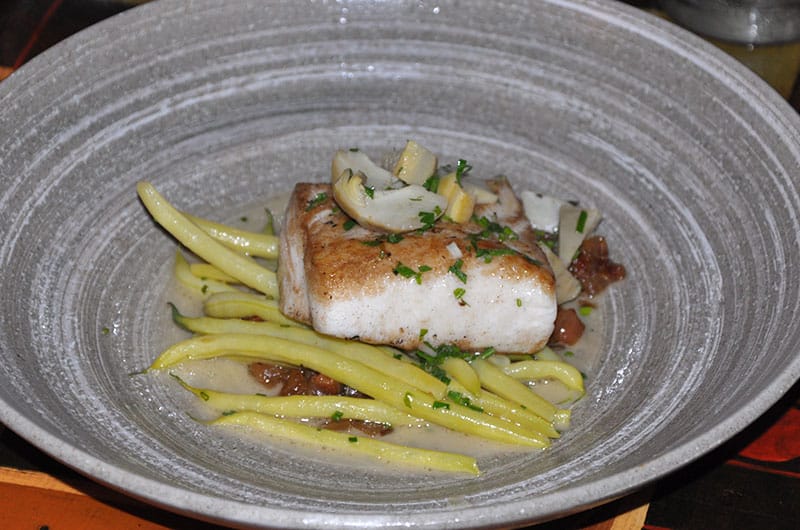 Chef Ferguson's Halibut Filet is another showstopper. Perfectly seasoned and perfectly cooked, this uncomplicated fish topped with tender artichoke hearts and served over fresh, tender-crisp yellow wax beans is transformed into something very special by a sweet, richly savory, and simply superb onion-bacon jam. (Suggested Pairing: Thomas George Chardonnay)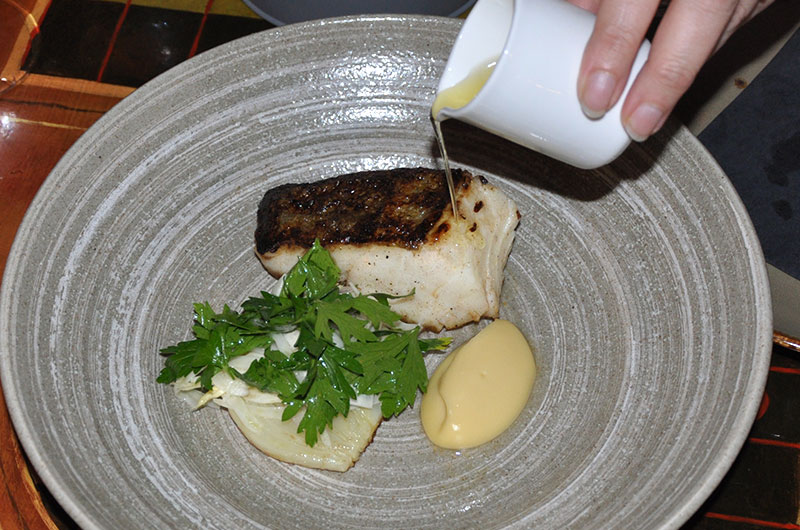 Sometimes it's the simplest dishes that reveal the most about a chef. It was the humble Cod Filet that tied for table favorite among the entrees we enjoyed last week. Prepared skin-on and expertly cooked, the cod arrived easy to pull apart in large, moist flakes and topped with skin shatteringly crisp and deliciously seasoned. It's the accompaniments that make this dish both surprising and possibly the best codfish entree we've ever tasted: roast lemon puree and fennel bulb. The magic happens when you partake of all three together: a large flake of cod, a bit of fennel, and a smear of the lemon puree. The dish plays tricks on your palate in a most pleasing way that is difficult to articulate, leaving us to simply say "Wow!" (Suggested Pairing: Sigl Gruner Veltliner)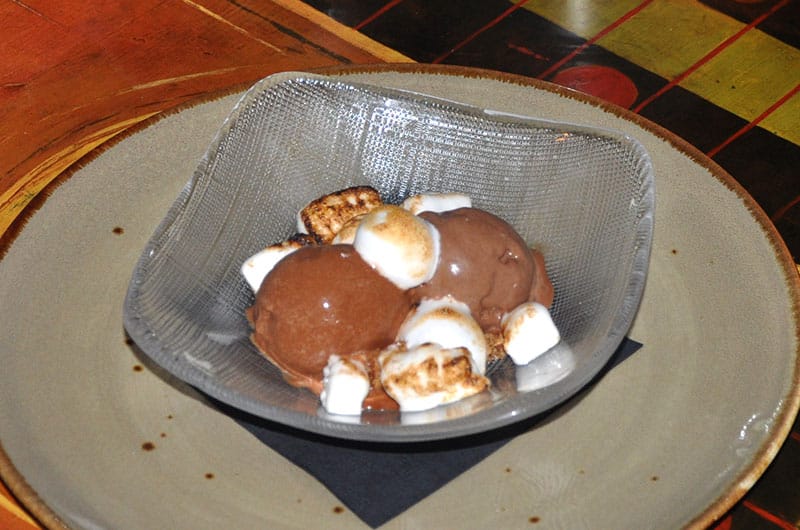 Even if it means you have to skip the very good breads at the beginning of your meal, save room for dessert at American Seasons. Made in-house by Chef Ferguson, they are full of lavish flavor and as creative as the first two courses. We love the concept of an Ice Cream Sundae that changes nightly, and the s'- more inspired version we had (chocolate ice cream, chocolate sorbet, toasted marshmallows, and graham cracker crumbs) was delicious.
For a light and fruity finish, it's the Vanilla Meringue with Vanilla Chantilly you want to order. Layered with these crunchy and cream vanilla treats is lemon curd, blueberry compote, and blackberries.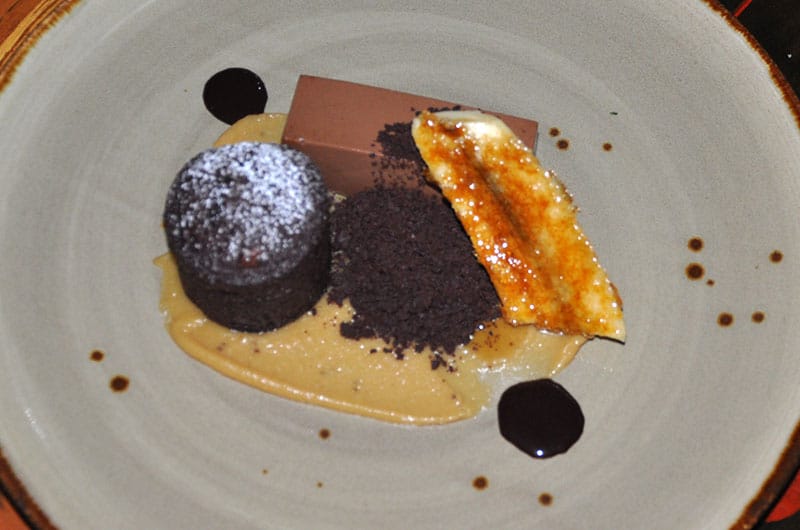 We adored the Chocolate dessert: an assemblage of chocolate delights that include a chilled rectangle of luscious Chocolate Custard that melts into a pool of sensuous delight on your tongue, a warm Chocolate Bouchon that is moist and rich, dabs of dark chocolate sauce, chocolate crumbles, and a caramelized banana in case you need an intermission.
The dessert that will bring us back to American Seasons is Chef Ferguson's Strawberries and Warm Fennel Cake. The slice of fennel cake is moist, light, flavorful, and not overly sweet. It's the "strawberry condiment" that adds sweetness to this unusual dessert.
The restaurant was full and buzzing with happy chatter as we left. Walking through the patio dining area, we overheard a comment that also sums up our evening: "All I can tell you is I was only here once before, and it was so fabulous that I had to come back!"
AMERICAN SEASONS
80 Centre Street • 508-228-7111 • AmericanSeasons.com
reservations recommended • casually elegant, comfortably relaxed
Dinner Menu and Bar Menu served from 5:30 p.m.
Dinner Entree prices range from $31 to $42; Bar Menu from $12 to $18
Expansive Wine list and Full Bar
Credit Cards accepted • Indoor & Outdoor Patio Seating