by Suzanne Daub
I recently talked with Tim of Tim Talks Books about two more author talks that he is hosting this week. These authors have written "stories that are very powerful for very different reasons," he explained. And he's excited to share with audiences the conversations they'll have in the Great Hall of the Atheneum.
At 6 pm on Thursday, August 18, he will converse with Pulitzer Prize winner Geraldine Brooks about her newest novel Horse. Tim describes the book as "a sweeping story of spirit, obsession, and injustice across American history braided from the strands of a discarded painting in a junk pile, a skeleton in an attic, and the greatest racehorse in American history." Brooks has written nine books, several of them international best-sellers, and had a distinguished career in journalism. She is traveling to Nantucket from her home on Martha's Vineyard.
Tuesday, August 23 at 6 pm, Tim will chat with Jennifer Weiner, the best-selling author of nineteen books; her newest is The Summer Place. "She will have you in stiches with her stories of writing, reading, and everything in between," said Tim, "she is so entertaining, she doesn't even need me in the seat next to her. She has great insights into the publishing world."
Both talks are in-person, free, and hosted downtown in the Nantucket Atheneum, 1 India Street. After the talks, the authors will talk briefly with readers as they sign their books.
Tim Ehrenberg, the Tim behind Tim Talks Books is well-known to readers and authors on Nantucket and beyond. He is the marketing director for our island's independent book stores, is a major force in the Nantucket Book Festival, and writes columns for local publications. The book recommendations he posts on @timtalksbooks are followed world-wide.
Born and raised in Weyauwega, Wisconsin, it wasn't until his wedding in June of 2012 that he first set foot on Nantucket Island. "My husband's family had a house here… when we were looking for a place to marry, James suggested Nantucket: I had never heard of it," said Tim. "The minute I landed here it felt like home."
After their wedding, Tim and James tied up some loose ends and moved fulltime to Nantucket in 2013. Tim had just ended ten years as a performer, traveling widely to perform in song and dance reviews including a production in Baghdad with the USO. After deciding to "hang up my dancing shoes," as he puts it, he started working with Emily Hollister, owner of island shop Milly & Grace, and then opened his own marketing company.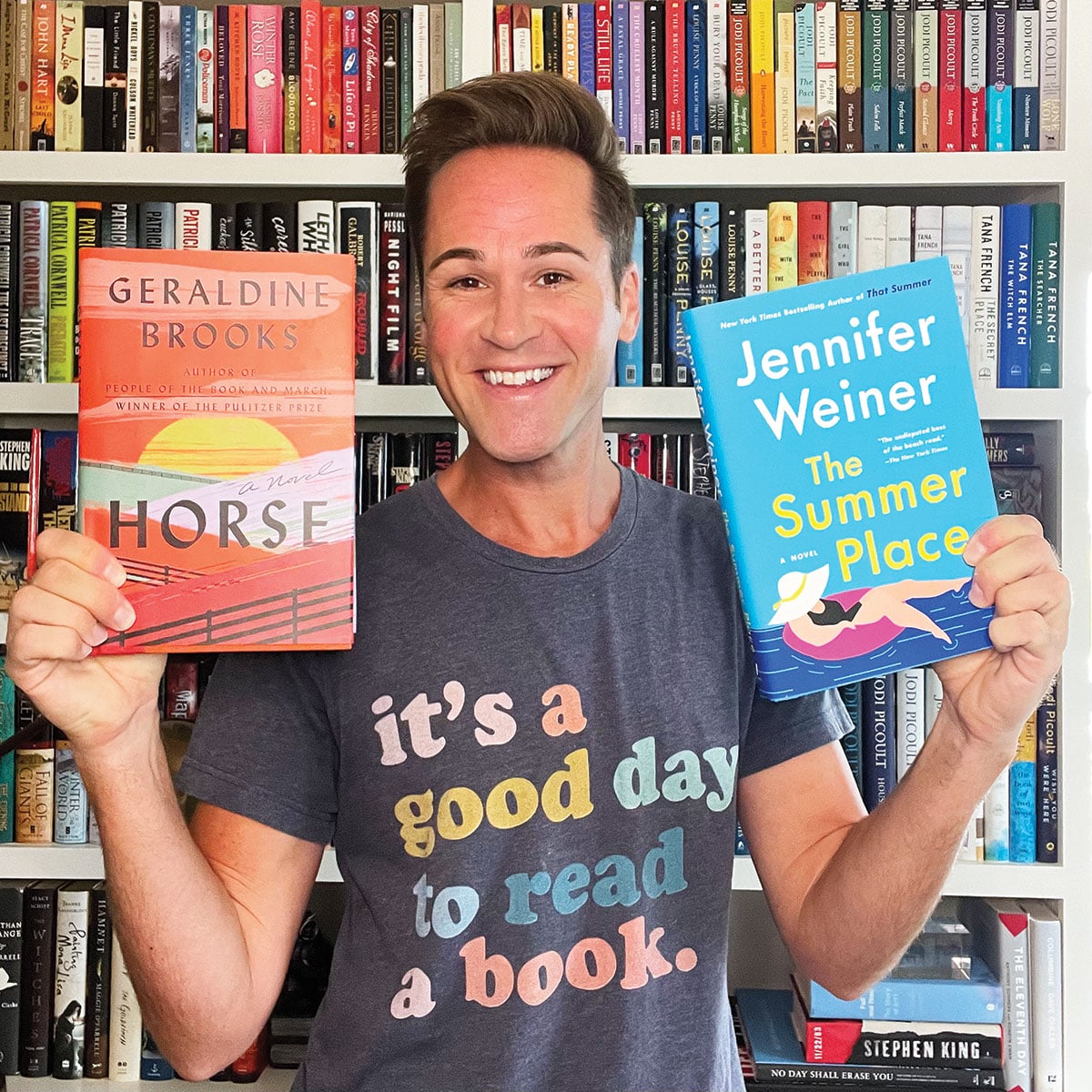 Books have been his passion from a very early age: "I have loved books before I could even talk…I remember how much joy they brought me as a child… I remember sitting in my parents' laps and being truly engaged between the pages of a book." Tim told me he has four or five books with him at all times: "I get something profound out of any book: the beach read someone else might not pick up, the 911 Commission Report… they are complete opposites, but I get something out of each. I just dive into what I'm reading and apply it to my life."
The evolution of his career to focus on books, authors, and readers is a dream come true. "I think it pulls in so many parts of my personality," he explained. "I love connecting with authors—being able to connect with an author whose work I respect and then to have a relationship with an author—and I have been trying to make the bookstores here their island homes."
His online identity as Tim Talks Books came about with the pandemic. Tim and James had just returned from a trip to Australia as pandemic restrictions began. Much of what Tim handled as a marketer was in flux as the global situation and restrictions rapidly changed—the ability for people to shop in-person, the book festival events, it was all uncertain. "We didn't know what was going to happen," he explained. "I thought: 'I could become a book influencer for Nantucket'. I started reaching out to all my author contacts. There are so many people who love books: I wanted to pull in my job with the book stores and the Book Festival and identify myself with the books and the authors…This is my way to share my love of books and to engage with people."
Tim's desire for connection was shared by so many others: "we were all longing for connection (connection was the theme of the 2022 Book Festival) …I've connected with people around the world: it's one of the joys of social media… "
To share his connections with authors is one of reasons Tim hosts his Author Talks, in conjunction with Mitchell's Book Corner, Nantucket Bookworks, and the Nantucket Atheneum. So far this year, he has had public conversations with Zak Salih, Qian Julie Wang, Gabrielle Zevin, Edafe Okporo, and Elin Hilderbrand. This week he is inviting everyone to the Atheneum to hear his conversations with Geraldine Brooks and Jennifer Weiner. A number of his previous conversations with authors are posted on YouTube; to listen, follow the link on timtalksbooks.com.
I couldn't end my recent talk with Tim without asking him some personal questions…
What is your favorite book so far in 2022?
Tomorrow and Tomorrow and Tomorrow. It's about two people who meet as kids: they grow up to make video games together. This book is one of those books where the author builds a whole world—it feels so real—and she really unpacks what those games were: the toxic masculinity, the racism… But the book is not just about video games; it's a story about a powerful friendship. I've had such amazing friendships in my life, but you don't often read about that in books. There are so many layers: it's a book about video games and nothing about video games. This is a passion ate book about two friends."
What are you most looking forward to reading in the second half of 2022?
Fredrik Backman wrote the Beartown series, set in a community in northern Sweden—the third in the trilogy (it's called The Winners) is coming out in October… and Jodi Picoult's Mad Honey, and Barbara Kingsolver's Demon Copperhead. Did you read Hamnet? Maggie O'Farrell's The Marriage Portrait is due out this fall…and I'm a huge Steven King fan! I've been reading Steven King since before I should have been reading Steven King…I read every one of his books that comes out… In September his Fairy Tales is due out—I'm super excited about that one.
What place do you think books have in our society?
I like to think of books as a place we can all come together: as a place where there is no judgement or division. Reading opens our minds to step into someone else's story. Because of a book you can experience something you otherwise could not, but you can in a book. Books are truly magic—there's nothing else like reading."
Can books/reading save the world?
Yes, I definitely think they could—but we have to allow ourselves to let books do it.