by Sarah Teach
A door slamming in your face may not be a traditional welcome, but it fits the bill this time around, as Theatre Workshop of Nantucket has hailed the 2012 season with an unconventional British farce.  Each seat in the Noises Off audience offers a chair prize in the form of a second program for the evening.  No, it's not a duplicate; you see, you are here to watch two separate but methodically intertwined plays that form one spectacular story.  Confused yet?  You should be.  The farce genre is characterized by its far-fetched plots; so relax and enjoy the theatrics rather than try to follow their design.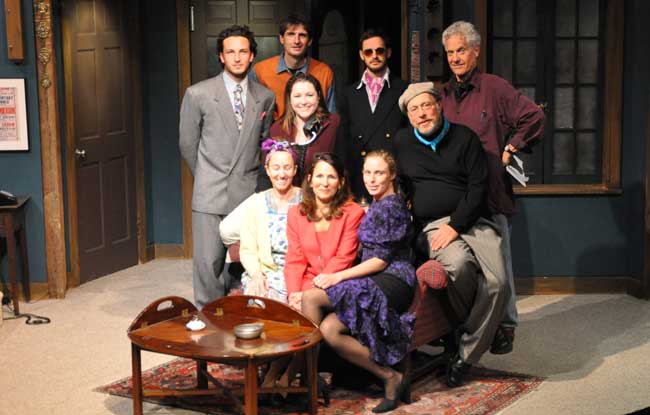 Noises Off is a delicately disheveled circus that leaves you feeling as if Ferris Bueller bumped into Larry, Curly, and Mo at Oscar Wilde's London home.  Director Mark White orchestrates this play-within-a-play brilliantly, balancing the slapstick stunts and sharp-tongued wit that form this injured mess of a show, exactly the way British playwright Michael Frayn envisioned it.  Frayn's creative wheels first started turning towards Noises Off in 1970 when he was backstage watching one of his own plays. Frayn said, "It was funnier from behind than in front and I thought that one day I must write a farce from behind." Success was his in 1982, when Noises Off first leapt onto the stage and immediately claimed two Best Comedy accolades through the Laurence Olivier Award and the London Evening Standard Award. Then-chief theatre critic of The New York Times, Frank Rich (also known as The Butcher of Broadway), called it the funniest play written in his lifetime.
Set Designer Eric Schultz constructed the caliber of set necessary for such a complicated production to succeed.  The entire stage is built upon a giant Lazy Susan; and like a spice rack fit for a culinary Godzilla, it turns the entire way around.  Hysterical backstage skirmishes make this show a must-see for anyone who has ever been involved in a theatre production, and the hammy prima donna cast will have any actor recalling the exploits of a former colleague or two.  Although only those in showbiz will know just how many spoonfuls of exaggeration have been plunked into the mix, don't worry because this play allows non-theatre people in on the joke, too.
A play within a play adds an entirely new element to being onstage.  Not unlike turducken or bacon-wrapped sardines, this show's actors must get into character twice.  Proving that her theater strengths extend well beyond the administrative, TWN's Executive Director Gabrielle Gould shows off her acting skill (and quite a bit more) as Brooke, "…best known as the girl wearing nothing but 'good, honest, natural froth'…"  Putting on a tiny teddy and an intellect of corresponding size, Gould pulls off a Brooke of Jessica Simpson proportions.  Laura Gallagher Byrne also reminds us that she's as talented on the stage as she is from behind the curtain in her role as Belinda, the smarmy-faced gossip queen who can either hold the company together or smash them apart.  (We can't wait to see Byrne's direction of The Wizard of Oz this fall!) Founding Artistic Director of Seaside Shakespeare, Susan McGinnis, does not disappoint in her two-layers-from-reality-deep role as Mrs. Clackett, the harried housemaid who loves sitting and sardines. One could laugh the entire time by simply keeping an eye on McGinnis's facial expressions and an ear out for her method of mixing them with vernacular.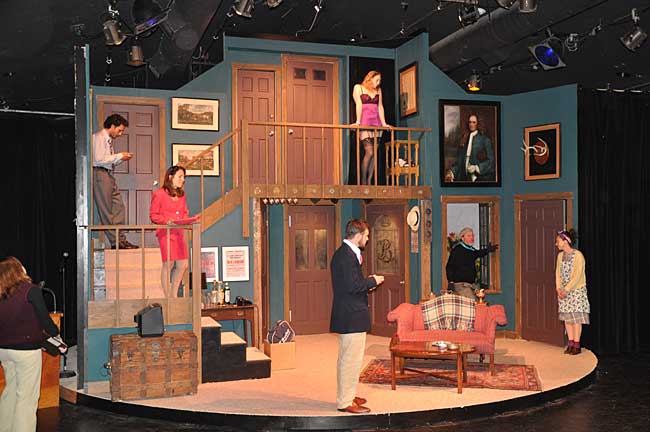 David McCandless is hilarious as Selsdon, the booze-sneaking  burglar (in the play within the play). It is Selsdon's behavior that brings the audience together in uproarious laughter, and McCandless's tendency for deadpan hilarity fulfills this without the over-the-top antics of the rest of the cast. With movements reminiscent of a nerdy urban ballet, Mark Carapezza's clowning proclivity is as polished as his character's wingtip lace-ups.  Asa Jean is sexy as can be, whether his pants are on or off.  If only his fretful character Garry could master that same sleekness.  TWN newcomer Marian Ravenwood Pingree plays Poppy, the anxious stage manager who races throughout set and life like a hamster that can't find the wheel's exit.  The gangling eagerness of Tim, played by 1996 Nantucket High School graduate and longtime TWN actor Chapin Klein, speaks highly of the fruit of Nantucket's backyard garden.  And as for Lloyd, the sardonic director of Nothing On, executed with intensity by John Devaney, he does but one thing consistently: walks a tightrope between complete self-destruction and peaceful cohesion.
Everyone from children to Charlie Chaplin can appreciate the amplification of life that is brought to us by physical comedy. This show would actually be great for kids if only the content were a bit less R-rated; but instead it makes for a fun event for a group of good-humored grownups.  Grabbing a drink before a comedy show is always warranted; and this show offers two intermissions with plenty of time to visit the facilities if need be.  Appropriately, the cast bows to a roaring audience.  Be a part of the noise at Bennett Hall, located at 62 Centre Street, from now until June 2 on Thursdays through Saturdays at 7:30 p.m. and Sundays at 3 p.m. Tickets are $25 at the Box Office: 508-228-4305.  Bring an appetite for sardines and sidesplitting laughter!