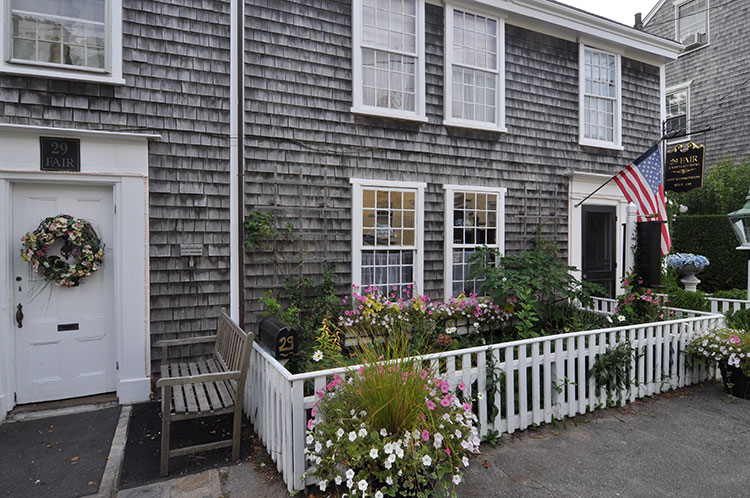 A talented new chef, a brilliant new menu, a professional staff, and a new passion for serving only the best have revived the restaurant at 29 Fair Street, placing it firmly among the best on Nantucket.
For decades, this was the location of The Woodbox, beloved by residents and visitors. After owner Dexter Teutein passed on, there were several attempts at recapturing the success of this longtime favorite, but each try was missing an essential piece…until this season.
In June, 29 Fair reopened with Chef Nimesh Maharjan at the helm, and he's brought this historic island restaurant back to its former glory.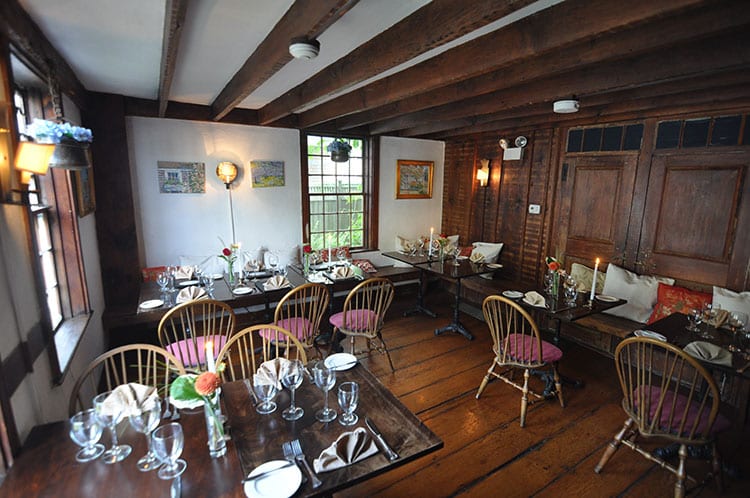 In any one of the three intimate dining rooms at 29 Fair, you are surrounded by Nantucket history. Built as a private home in 1709, many historic aspects have been retained: the walls are wood paneled, each room has a brick fireplace (one the original large cook fireplace), the old pine "kings" board floors have a slight friendly creak, and the dining rooms are appointed with interesting artifacts. Soft lighting and candles add to the sense of having stepped back in time.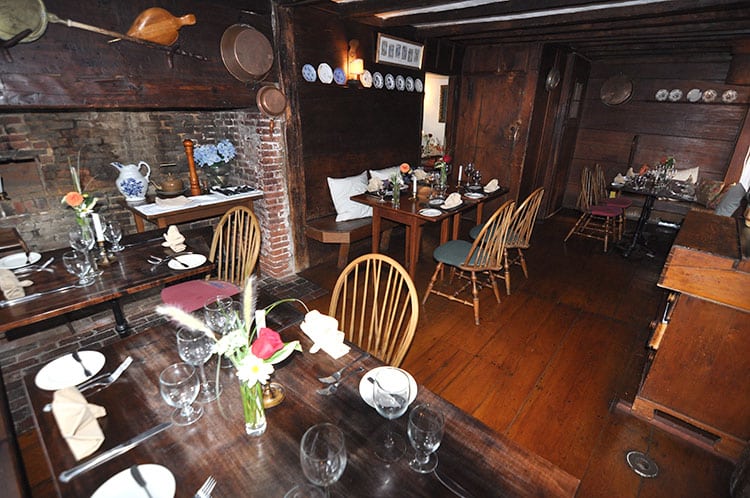 The only contemporary aspect of 29 Fair is the food—the closest we can come to a general description other than "WOW!" is continental cuisine, locally sourced, with innovative sauces and stylish preparations that are nothing short of inspired. Chef Nimesh Maharjan brings serious talent to the kitchen. His technique is impeccable, and his attention to detail is impressive. Every single plate brought to table is beautifully presented. This chef has a knack for designing dishes with vivid flavor, and he has a passion for making every dish as good as it possibly can be.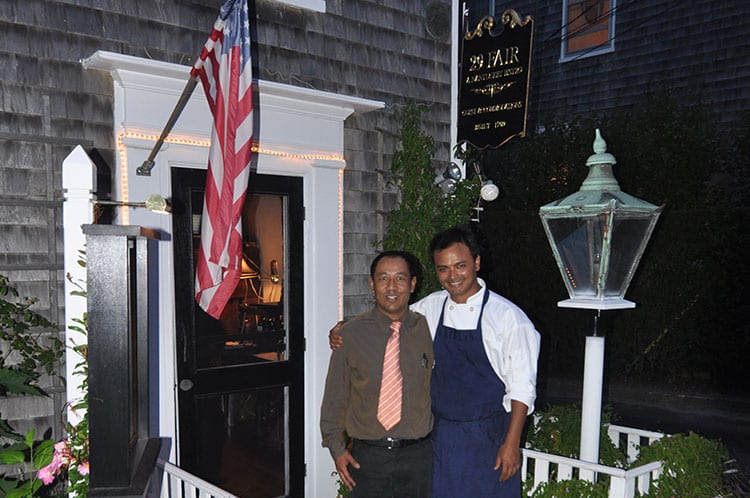 And Chef Maharjan has brought back a less tangible quality—a genuine warmth and caring that flow from this chef and from his maître d' Dilip Maharjan. Waitstaff provides exemplary service: they're very well-trained, professional, gracious, and attentive without hovering. When you dine at 29 Fair, you feel truly welcomed, an honored guest. He's brought back the love!
Click on images for larger view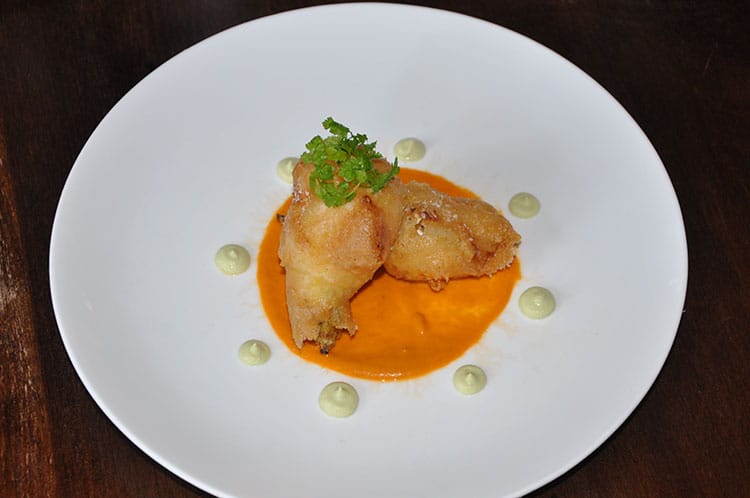 We dined at 29 Fair this week on the eve of a menu shift. Chef Maharjan changes his menu with the seasons, and we must admit that autumn is near. We're not sure how much longer the Crispy Squash Blossom appetizer will be offered, since the main ingredient is so seasonal: too bad, because it's delicious! The pair of large blossoms are stuffed with ricotta, pine nuts, and mint, dipped in batter and fried. They're served hot on a disc of chilled red pepper coulis surrounded by pastel dots of avocado cream. The blossoms are crisp and light and flavorful— not at all oily—the perfect end-of-summer treat.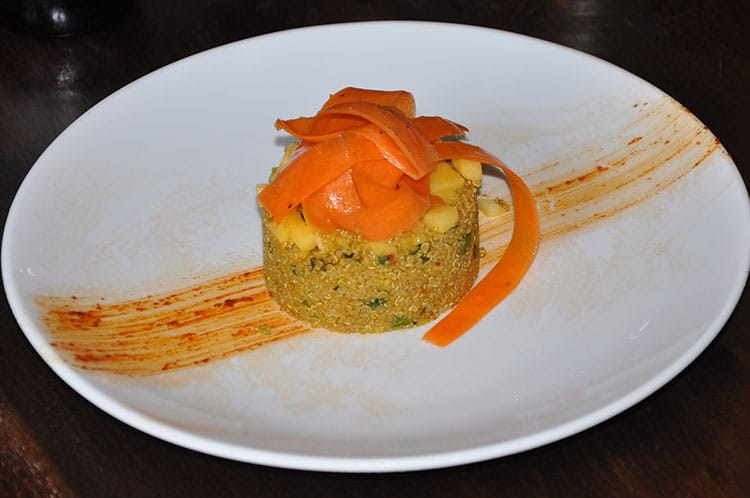 The cool and summery vegan Quinoa Salad is unlike anything we've ever tasted. It's sophisticated without being self-conscious. The quinoa is cooked tender and combined with a a drizzle of honey, and curry vinaigrette and finely chopped olives that add a bit of salt and a whisper of heat to the nutty tasting seeds. The chef tops the quinoa with chopped mango, perfectly ripe and sweet and juicy, and thin strips of spiced carrot. There's vibrant flavor in every bite.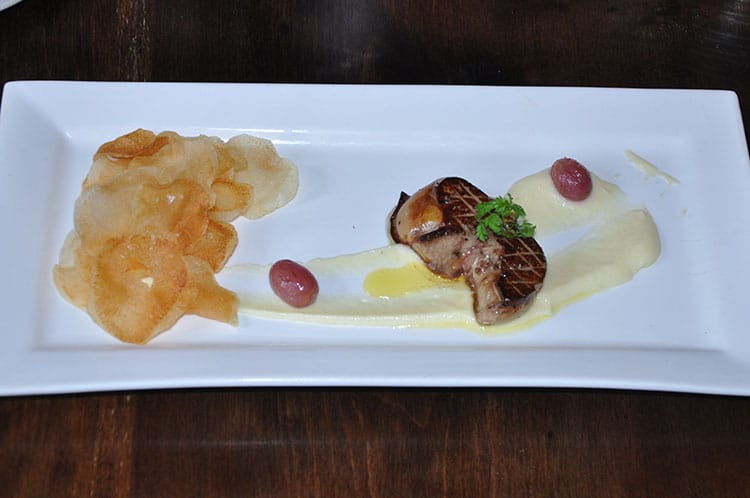 We've rarely tasted a dish featuring foie that we didn't like, but there are not many that are as delicious as the Seared Foie Gras at 29 Fair. The chef gets every detail of this indulgent dish just right: the seared foie's crisp edges and meltingly rich interior, the cool, slightly sweet ginger apple puree, the tang of the peeled kumquats, and the sheer heaven of duck fat potato chips. Surely this dish is autumnal enough to stay on the menu a little longer… please?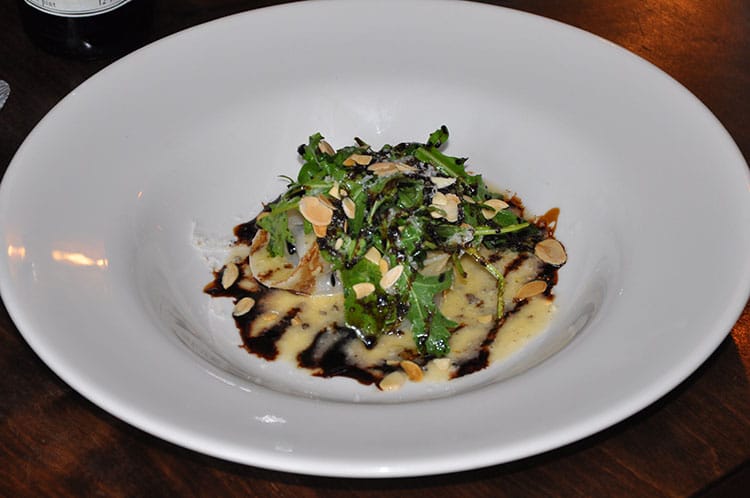 Portobello Tortelli was an appetizer special the evening we spent at 29 Fair, and we highly recommend it. Just the aroma of this dish as it's set before you is enough to make you fall in love! The housemade tortellini are large and folded around a delicious mushroom stuffing. They're set on an astonishingly good truffle cream sauce drizzled with balsamic reduction. Fresh arugula adds a peppery bite, and toasted shaved almonds are the final touch. We'd return to 29 Fair just to enjoy this one dish again, and apparently we can—Chef Maharjan tells us this special will be added to the fall menu as a regular offering.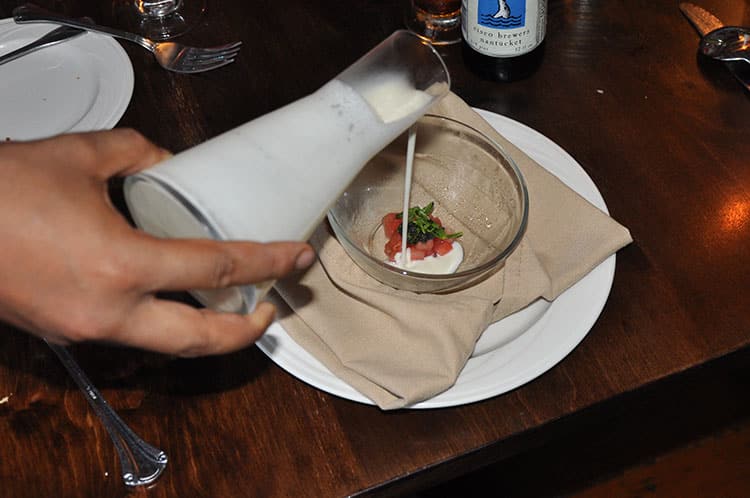 At the chef's recommendation, we also sampled his Chilled Buttermilk Soup. The soup is poured tableside over a cluster of compressed watermelon, sea beans, and paddlefish caviar. We must confess that this is not something we'd be inclined to order, but we were surprised and delighted by the interplay of flavors—by the way the salt, sweet, and tang faded in and out to make this refreshing soup lively and startlingly good.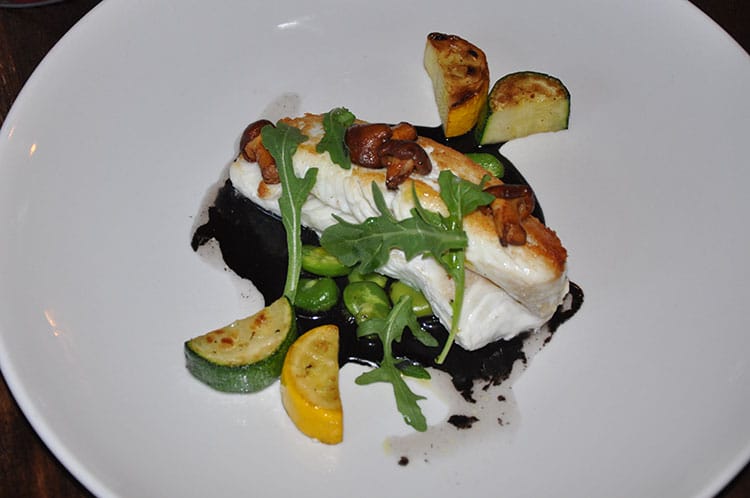 After a first course of perfection, we could hardly wait to try Chef Maharjan's entrees. We were not disappointed! The Halibut is beautifully executed: the thick fish cooked through yet moist and flaky under a tasty top crust. It's served on a puree of black rice, which at first seemed like just a color backdrop—that is, until we tasted it with the tender fava beans, a bite of halibut, and of one the tiny sauteed chanterelle mushrooms that were perched on top. This is a dish you want to eat with each element in every forkful: the flavors combine and reinforce.
L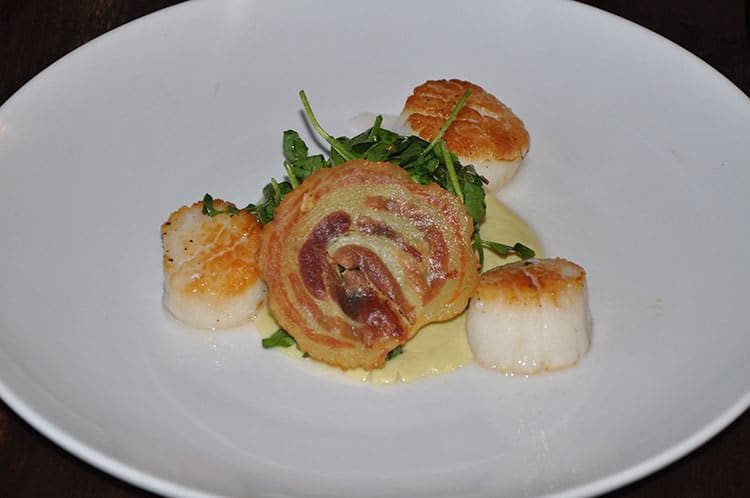 ike many out here on this pile of sand 26 miles at sea, we are scallop snobs—preferring to wait until November, when commercial Bay Scallop season begins, before we'll order a scallop dish. Chef Maharjan has shown us the error of our ways. His Scallops are superb! Each morsel is seared to a sweet caramelized top with sweet shimmering middle. The sea scallops are set around a corn veloute that tastes of summer sunshine and are topped with watercress in a hazelnut raisin vinaigrette that is designed to excite your taste buds. A thin, crisp disc of pancetta is the final crowning touch.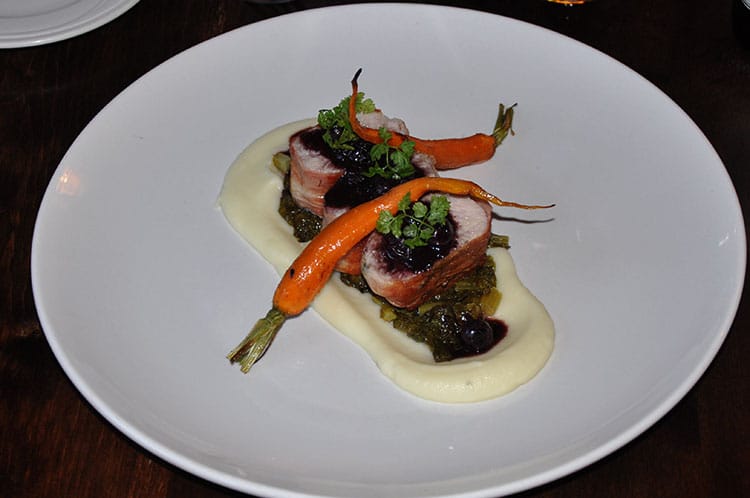 Summer and fall combine in Chef Maharjan's version of Pork Saltimbocca. The thick slices of pork tenderloin are succulent and packed with flavor, and we love that they are nestled into a satiny smooth potato puree between puckery pickled mustard greens and spicy-sweet blueberry mostarda. Again this chef has conjured every possible flavor to make this entree exciting!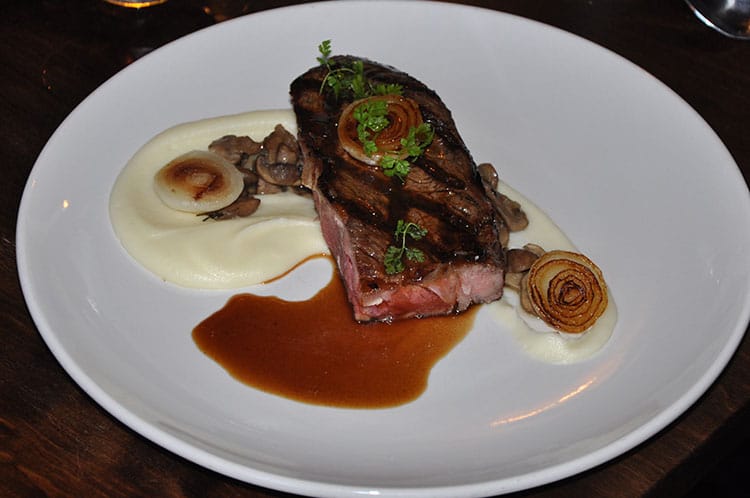 Even the steak-and-potatoes entree deserves high praise. The Dry Aged Prime NY Sirloin Steak is seductively simple: a very good cut of meat, cooked perfectly to order and paired with the chef's pommes puree, sauteed mushrooms, grilled slices of sweet cippollini onion, and a jus that captures the essence of beef.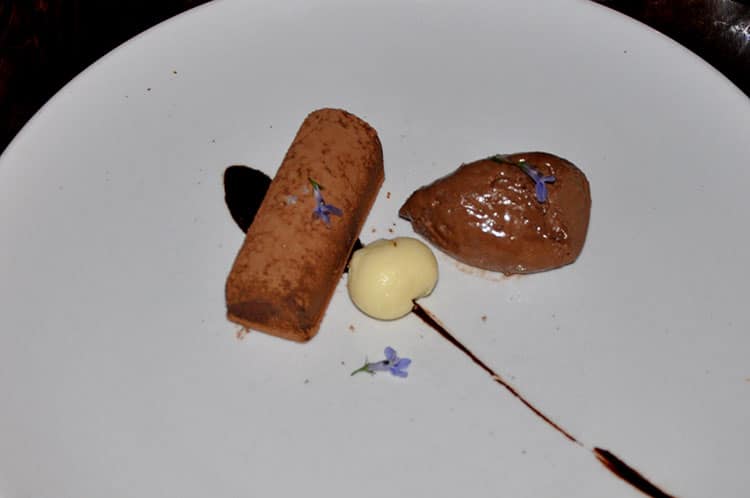 Desserts at 29 Fair are all made in-house, and with six choices there is something for every preference. The Chocolate Diversion offers a delicious dark chocolate mousse, a single white chocolate truffle, and a chilled tort that we sliced and let melt on our tongues, filling our mouths with flavor.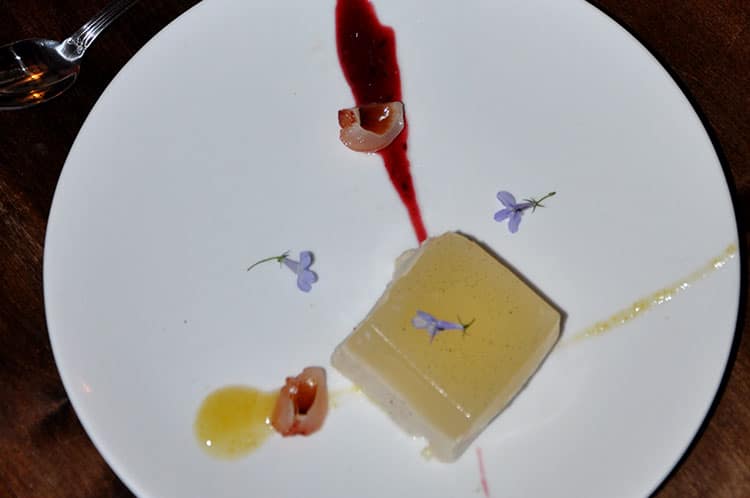 On the lighter side, we like how the chef accents the floral sweetness of the silky smooth Lychee Panna Cotta with a dollop of lemon marmalade and a stripe of red plum puree.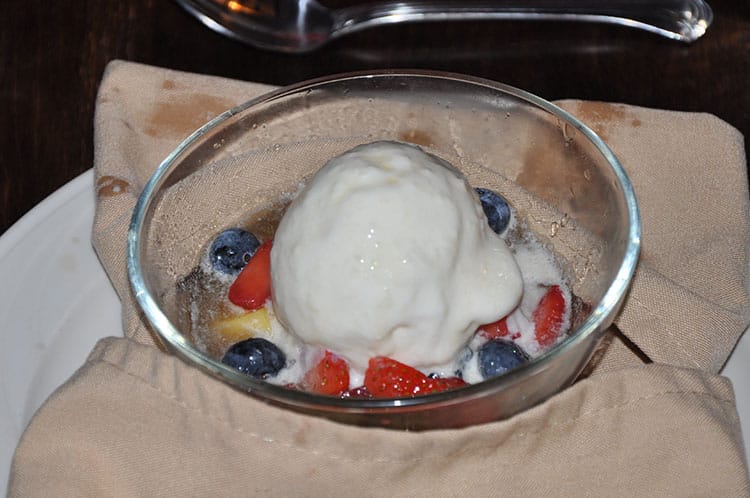 Also very good is the Tropical Fruit and Berries that are topped with a scoop of coconut ice cream and drenched in a sparkling mix of champagne and lemongrass broth with a hint of jalapeno.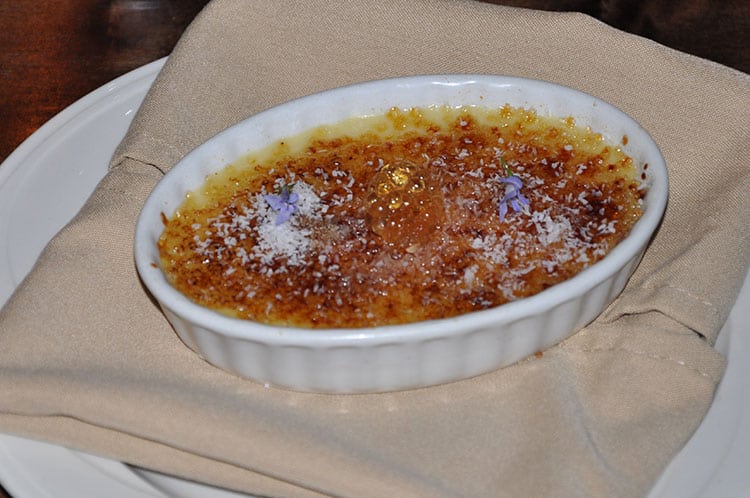 Our favorite dessert at 29 Fair is Chef Nimesh Maharjan's Coconut Brulee. Each member of our team angled over the last spoonfuls. The custard is perfect: delicately sweet, rich, and flavored with coconut but smooth as silk. The sugar top is thin and brittle, sprinkled with coconut and embellished with "caramel caviar" that look like the shimmering delicacy from the sea but pop with delicious sweetness.
For a marvelous meal prepared with passion in an intimate, historic setting, come to 29 Fair. This is the perfect spot to make memories to savor.
29 Fair
29 Fair Street
Reservations Suggested 508-228-7800
Dinner served nightly from 5 p.m.
Sunday Brunch from 11 am to 2:30 pm
Entree prices range from $30 to $46
Beer & Wine • major credit cards accepted
Open seasonally through December 31