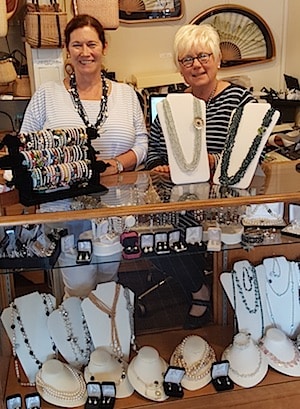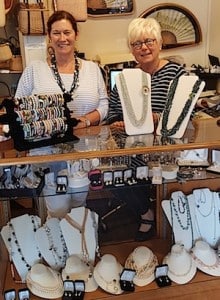 Art is the focus during October on Nantucket, and in the G.S. Hill Gallery at 40 Straight Wharf, the spectacular paintings of island artist Gregory S. HIll hang next to displays of wearable art by the Nantucket Pearl Company.
Collaborating with jewelry designer Pam Freitus, Judi Hill opened the Nantucket Pearl Company with a few signature designs, including the Must-Have Nantucket Bracelet. Each year, their selection has grown to include dozens of handknotted necklaces, new bracelet designs, earrings, and pearls and leather, all
featuring hand-selected fresh water pearls and South Sea pearls. Several of Pam's jewelry designs are exclusive to Judi and the Nantucket Pearl Company and include design elements that Pam and Judi
created together. The popular Must Have Bracelet have custom clasps in sterling, pewter, or gold that sport iconic Nantucket designs: a scallop shell, a lightship basket lid, an island silhouette, a sand dollar, and now Brant Point Lighthouse.
This summer, Freitus moved from her home in Texas back to Shanghai to live for the next three years. "I'm thrilled to be so close" to the pearl suppliers, she explained. "Now I can go find pearls any day I want to, not just twice a year!"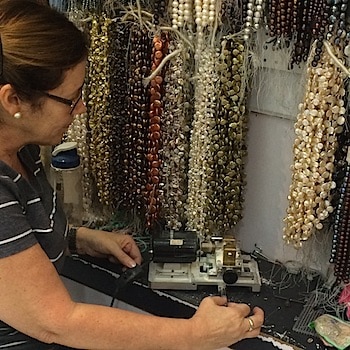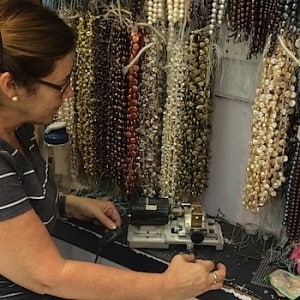 The only natural colors in fresh water cultured pearls are pink, peach, lavender, and white, but Freitus has discovered sources for pearls of many colors and is introducing new colors this season that include seafoam green, gold, navy, and turquoise. Freitus creates her designs using hand-selected pearls that are square, coin, disc, oval, potato, egg, teardrop, pebble, and starshaped as well as the traditional round.
New designs for Fall include a stunning Confetti Necklace, fun and unique Pearl Balls, necklaces with removable embellishments so they can go seamlessly from day to evening wear, necklaces that combine pearls and crystals, adjustable leather and pearls. Some of the new designs come with magnetic clasps.
"I never get tired of pearls," Freitus said, smiling, "I love the colors. I love the possibilities… Pearls are timeless."
Nantucket Pearl Company is open daily in the G.S. Hill Gallery, 40 Straight Wharf (just before the Hy-Line dock). A selection of their pearl jewelry is also available online at NantucketPearlCompany.com.