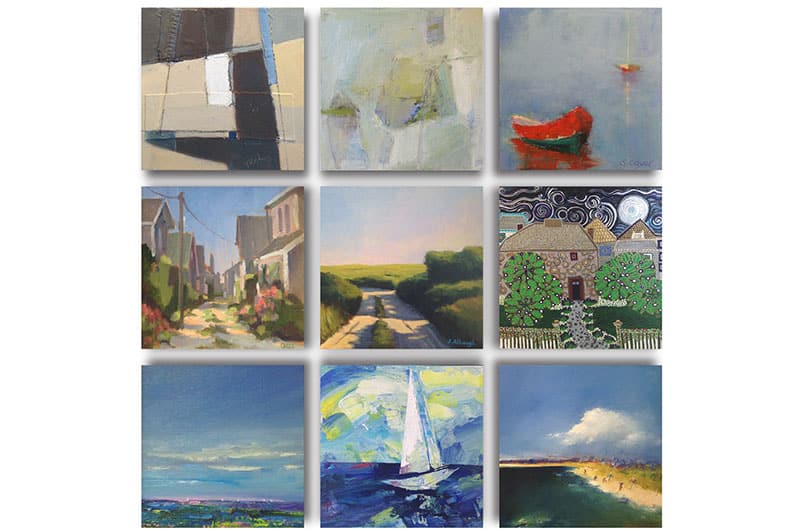 This week and next, paintings by members of the Nantucket community will be on display alongside work by member artists of the Nantucket Artists Association in the AAN's annual Collaboration Exhibition. This popular show opens with a festive reception from 6 to 8 pm this Friday, September 11 in the Cecelia Joyce & Seward Johnson Gallery, 19 Washington Street.
Most AAN exhibitions feature work solely by AAN members, however this annual show is open for participation from the community at large. Everyone may submit up to six pieces of work.
Now in its eleventh year, Collaboration has become a popular and beloved AAN tradition, with every piece in the show measuring 10 inches by 10 inches. The work is hung in a grid-like pattern on the gallery walls throughout the two-story building.
"This is an exhibition that everyone looks forward to and is a favorite among our artists as well as the public," said Peter J. Greenhalgh, AAN gallery sales manager. "It is truly fascinating to see the many different way artists approach a 10 x 10 canvas, all the same size, and yet each piece has its own individual character. Because of the vast number of works, the walls are literally covered in a mosaic pattern that is a sight to behold. We welcome visitors to the gallery to see the colorful works by friends, neighbors, and community members."
The Solo Show Spotlight Artist during this exhibition is Robert Frazier, AAN curator of exhibition, who will also give a short demonstration of his painting technique during an informal talk at the Spotlight Series Artist talk on Saturday, September 12 at 10 am in the gallery, 19 Washington Street.
The Collaboration Exhibition will be on display from September 11 to 28 at the Cecelia Joyce & Seward Johnson Gallery, 19 Washington Street, a stone's throw from Main St. For more about the AAN, visit nantucketarts.org.