by Amy Jenness, author of On This Day in Nantucket History, available at Mitchell's Book Corner
Published by the island newspaper Mirror on September 3, 1849, Jethro C. Brock's list of Nantucket people who went to California was printed as a broadside called A Correct List of Persons Belonging to Nantucket, Now in California, or on Their Way There.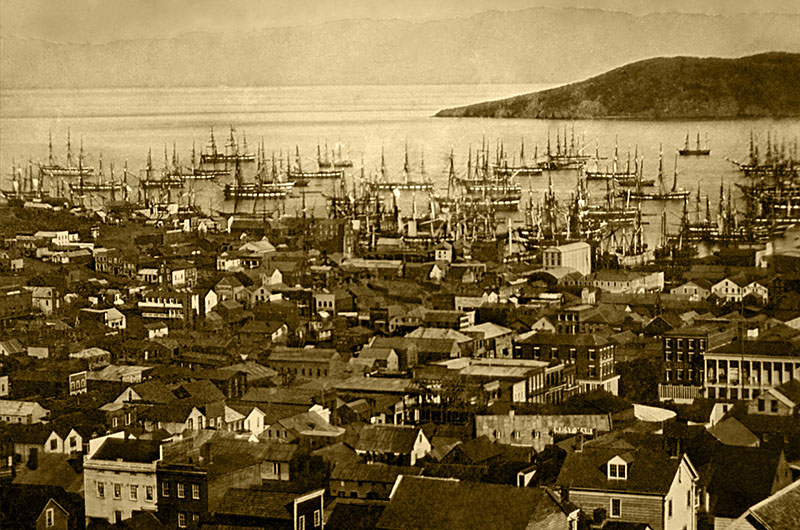 Nantucket first heard about the discovery of gold in California in late 1848. Like the rest of the country, the pull of glory and wealth took a hold, and by the end of 1849 more than 500 Nantucket men had left to seek their fortune. The exodus took a toll on the whaling industry. More than 42 whaleships were withdrawn to be refitted to carry goods and passengers to the goldfields. And numerous whaleships in the middle of a voyage were lured to California or lost men who deserted in order to seek gold.
The national mania for California gold deeply worried those who were heavily invested in Nantucket whaling. In January of 1849, whaling agent Frederick Coleman Sanford wrote to fellow Nantucket whaling master David Bunker, "Every ship's taken from the business of whaling as fast as they come in, to go to California, the Aurora sailed last week with passengers from here, Seth Swain master and 100 ships from other ports, provisions we hear are very high at San Francisco …" In another letter to Bunker Sanford said, "I write to say the fever for California 'Gold digging' is all the rage now, and thinking it would derange you people in the same way. I think it would be well to keep clear of the coast, recruit at the Marquesas till the rage is over."
The loss of ships and seamen to California was one of four setbacks that lead to the end of Nantucket whaling: An 1846 fire devastated the town, wharves and several ships; shifting sand filled in the entrance to the harbor, making it difficult for whaleships to pass through; more than 500 men left for California between 1848 and 1849; and the island lost another 400 men who enlisted to fight in the Civil War in 1861. The island's once powerful whaling industry never recovered from the loss of manpower and infrastructure.
But other Nantucketers sensed a new business opportunity in the California Gold Rush and several Nantucket companies organized to provide transportation to those heading west. These ventures not only moved people, but also moved the building materials and home goods.
And others formed mining companies. The Astor Mining Co was formed on Nantucket, and its proprietors purchased the ship Henry Astor which had just returned from a whaling voyage. The company's constitution banned alcohol and enforced a Sabbath worship. The Henry Astor crew consisted of the captain, three mates, 44 seamen, a cook, a steward, and a physician, plus
15 passengers. She sailed in March 1849 and was among the first to depart from Nantucket for California.
Two years after publishing his broadsheet, Jethro C. Brock re-published the list and included the names of those who had returned from California. But not everyone was fortunate enough to become wealthy or to return home.
In January of 1850 the Inquirer & Mirror published an obituary eulogizing Josiah Sturtevant, a Nantucket resident who had left for California in March of 1849 and died at age 40 at Mormon Island Diggings where he and other Nantucketers had been mining.
The obituary quotes an eyewitness. "After Mr. Sturtevant arrived at this place, he appeared to be well and often said he thought the climate agreed with him. He died on the 4th (of November, 1849), suddenly, and I think unexpectedly to himself. He died towards morning." Sturtevant left a widow and 11 year old son on Nantucket.
Mormon Island, or Morman Island Diggings as it was known in 1850, was a thriving gold rush camp during its peak with 2,500 residents, 4 hotels, 7 saloons, and 1 school. As its name implies, the majority of the camp was inhabited by Mormons. As the gold rush declined so did Morman Island and it was completely abandoned by the 1950s.
There were many Nantucket men who stayed on the west coast and helped settle it. Fourteen-year-old James Athearn Folger and his brothers, Henry (age 16) and Edward (age 20) landed in San Francisco in early May of 1850. James or J.A. as he was called, was hired to build a coffee and spice mill. In 1860, after working for other companies, he opened Folger's Coffee Company. Despite a bankruptcy in 1864, Folger ended up creating a coffee dynasty with a national brand known today as Folger's Coffee.
Nantucket native Captain Laban Coffin died in Oregon at age 66 in 1890. After living a peripatetic life traveling the world on whaleships and clipper ships, living in Spain while recuperating from a whaling accident, and running a business in Hong Kong, Coffin helped settle Oregon as a miner and agent of the U.S. Land Office.
And, Nantucket natives continued to settle the west after the Gold Rush fever settled down.
Engineer Charles Tracy was born on Nantucket in 1853 and worked on steamships all along the west coast from Washington State to Mexico. Walter Swain was born in 1855, reached California in 1881 and went to Seattle, WA in 1887 where he worked on steamships. Engineer Alexander C Riddell was born in 1852 and moved west in 1874 where he worked on steamships in San Francisco, CA., Seattle and Olympia, WA until his death at age 53. Captain Samuel B Randall was born in 1840, married in Australia and moved to San Francisco, CA. Later he operated tug boats in the Pacific Northwest in Puget Sound and on the Columbia Bar.