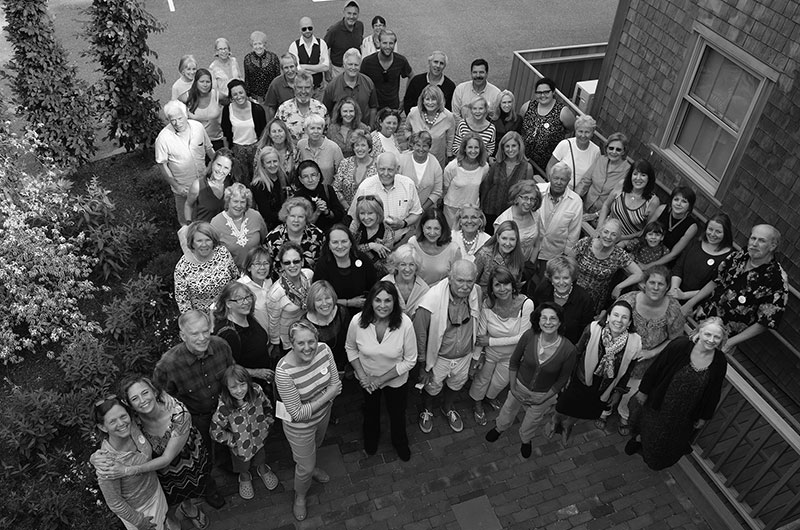 This Friday, September 4, the Artists Association of Nantucket (AAN) will open Seventy Years On, an exhibition celebrating the organization's 70th anniversary, with a reception from 5 to 7 pm in their new Visual Arts Center at 24 Amelia Drive. Intended to celebrate Nantucket art and artists with historic artwork and photographs, the exhibition will spotlight individual artists who have made a lasting impression on the island's arts community over the last seven decades. The exhibition will stay open for visitors to see free of charge through December 1, 2015.
"There will be a decade by decade timeline history, featuring major artworks from our Permanent
Collection," said AAN's curator of exhibitions Robert Frazier. Some of the artists featured in the exhibition include Frank Swift Chase, Emerson and Isabelle Tuttle, Ruth Haviland Sutton, Bobby and Polly Bushong, Phil Hicken, and Robert Perrin.
"We will move through the past seventy years, stopping on significant milestones and people right up to the current era," said Frazier. "People will enjoy jumping back into different periods of art on Nantucket like the water-front scene of the 1940s, the influential 1970s, and the impact of the X Gallery in the 1990s."
"I am particularly pleased to remind our visitors about some of the most influential artists of each period," said Frazier. "Rae Carpenter, Reggie Levine, Elizabeth Saltonstall, George Thomas, and others played significant roles in documenting or nurturing the island art community."
In addition to the exhibition, visitors are welcome to attend a free Gallery Talk with Robert
Frazier this Saturday, September 5, 11 a.m. at the Visual Arts Center, 24 Amelia Drive.
A 70th Anniversary Picnic has also been scheduled for Sunday, September 6, 5 p.m. at the Visual Arts Center, 24 Amelia Drive. Planned as a throwback celebration of 1945, the year AAN was founded, guests are asked to create their own picnic with festive blankets, flatware, and goodies to eat and share. Prizes will be awarded for the Best Classic Picnic Spread, Most Creative Picnic Spread, and the Most Elaborate Use of Jell-O. AAN will provide music, cake, and non-alcoholic
beverages. This event is free and open to the public.
To learn more about the AAN, its programs and events, visit nantucketarts.org or call 508-228-0722.