~ by Mary Miles, Looking bACK ~
Editor's Note: This is an article written in 2003 for Yesterday's Island/Today's Nantucket by the inimitable Mary Miles, whose interviews with so many island residents entertained and enlightened us for years. An excerpt was republished in our print edition because Devaney's art will be exhibited the week of August 28, 2015 at Robert Foster Fine Art at 8 India Street, where you will be able to meet the artist at an opening reception on Friday, August 28 from 6-8 pm.  If space permitted, we would have reprinted the entire article in our print edition instead of an excerpt.  Since page count is not a consideration online, we have posted the original article in its entirety here.  Enjoy!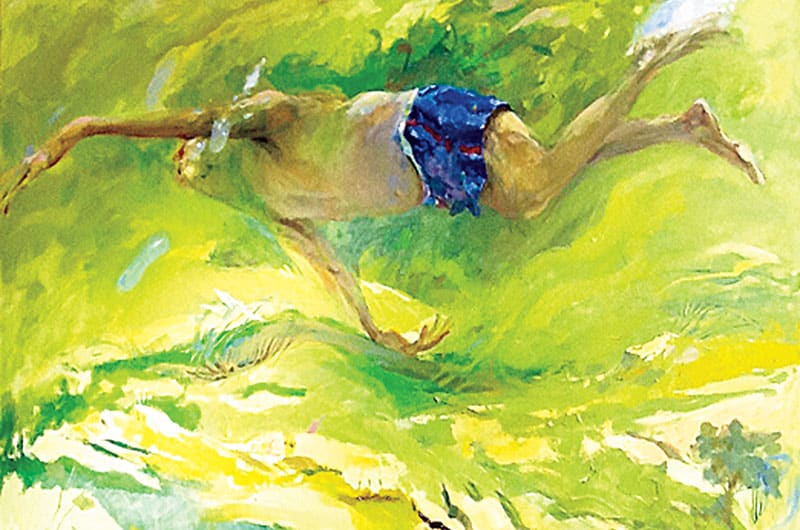 So much to write about these two intriguing people, and so little space to do it! John Devaney and Sandy MacDonald are a truly interesting pair. Although they've been part of Nantucket for only a decade, they have contributed much to the art, culture, and environmental consciousness here. John is an amazing artist and an equally amazing actor; Sandy has become more and more involved in island musical life and at the time of this interview was busily rehearsing the difficult aria "Cara Nome" for the now-annual Nantucket Community Music Center Chorus' Grand Opera concert; and both have a passionate desire to protect the island moors, dunes, and sand plains, close to their home and their hearts.
Sandy answered my first question: How long have you been here and why did you come? "John's been doing theatre here for about ten years, so we've been coming regularly every summer since then. I've been year-rounding since we've had the house, and this was John's first winter." John said, "I love the winter here—it's spectacular, especially with the Great Snows of 2003." He grinned and added, "I was sort of dreading it—I was afraid the Nantucket winter would be like a Bergman movie or something…but it was absolutely beautiful."
A Subterranean Adolescent
Where did these two start their lives? John began: "I'm a Buckeye, officially; I was born and lived briefly in Ohio, and then sort of moved between Indiana, where my grandparents were, and Washington, DC." Did John have any inclinations of his talent in art and theatre when he was young? He said, "I've always been drawing and I've always painted. And I remember my grandmother applauding me on as I did endless routines in the living room, so I guess the histrionic gene manifested itself early. While my mother and I lived in Indianapolis, I went to the Park School for Boys, which was a horrible but funny experience." Why so? I asked. "Well, I think a boys' school is a pretty horrendous environment…with the egos of all male teachers and all boy students, it can get pretty nasty at times. But we learned a lot of Latin. I did a year of high school and then quit—I had a series of breakdowns and clung to the basement of my house for about three years, so my teen years tended to be spent underground. I was a rather subterranean adolescent," he laughed.
He may have laughed, but John's story is true. "I did sort of fall apart," he said. "I was supposed to be really smart, but it turned out I was almost idiot level when it came to mathematics, so my whole cachet was gone…because I was not athletic, and at a boys' school if you're not athletic, you're trash. So I was kind of exposed as a charlatan, or whatever, and having no more reason to live, I snuck into the basement for a while and read a lot of Dostoevski." Did he do any art while he was in his basement mode? "Well, actually, I was trying to write a whole philosophy of life—what was wrong with education—so there wasn't as much drawing and painting going on then. But I got over that, and drawing has always been a path to sanity for me. Later I went to the Sidwell Friends School in DC and then to the Hawthorne School, which was supposed to be much more accepting, but wasn't. It was a progressive, do-what-you-want school. That didn't work either—for some reason I was just not in a going-to-class state of mind. Plus, they had geometry, which I could never pass. I finally just sort of gave up academically, and then got accepted to this wonderful little school in Vermont called Marlboro College, which couldn't care less about all that."
Another Checkered Academic Career
Sandy MacDonald grew up in Riverdale, outside of New York City. "I had a checkered academic career too," she said. "I dropped out of both high school and college. I started out at a parochial school and then went to Riverdale Country Day, then the Convent of the Sacred Heart in Greenwich, Connecticut, then to the Putney School in southern Vermont, which was obviously very different from all the preceding ones—very progressive. I dreamed of theatre as a career, but I was terribly, terribly shy. I'd met all my requirements by the time I finished junior year, so I went to Paris for a year…you know, anybody can go to the Sorbonne, it's wide open—but it was a sort of pseudo-program. Mostly I walked and went to movies. When I came back I thought I was going to Middlebury, but my father had gotten me into Barnard without even asking. So I went there and I was forced to be a debutante, and I started running away from home a lot—that's the whole reason he got me into Barnard, so that I could live at home. And you know, as a freshman in college, you need to start your own life. So I was running away, dropping out… When I was 19, I started working for a radical theatre magazine called The Drama Review as a temporary typist, and three weeks later I was an assistant editor, and I thought, 'How could I get a better job than this by going back to college?'"
Had Sandy ever defied her father's choice of Barnard? She said, "I did try, but he was a very forceful personality—plus, I adored him. He was a surgeon, and was the house doctor at the Metropolitan Opera. He had seats for Monday opening night every week for 28 years, so I grew up constantly hearing opera, which is another reason why doing all this music on Nantucket, after so many years, is wonderful. My mother was very musical also; she'd been a concert violinist with the Portland (Oregon) Symphony.
"While I was working with the magazine, I went the Hagen-Berghof (Uta Hagen and Herbert Berghof) Studio for a year in New York, but personality-wise, at that age, I really didn't have the wherewithal to be an actress—I was terrified. So I fell into editing instead. Also, I did a lot of translation, which was very interesting—plays of Fernando Arrabal, essays by Roland Barthes, stories by Dacia Marain… So there I was, starting at 19 or 20 and doing this rather esoteric stuff. And…what else? Oh, after my apartment burned down—that's another story—I really needed to get out of New York. So I went back to Vermont, because that's where I'd been happiest, and hung out being a hippy. I was sort of catching up, being a kid again, because I'd started working when I was so young. I went to New Orleans on a whim for a weekend, stayed six months, ran a bar, went back to Vermont, where there were no jobs, so I was a waitress/bartender for two years. Things were going downhill, and finally my parents helped me move to Cambridge, where I started working at East West Journal, a spiritually oriented magazine. I was trying to impress a boyfriend who thought I wasn't spiritual enough. Some of us left to start New Age; I stayed there for eight years." Does this mean Sandy was heavily into meditation, yoga, the macrobiotic diet? "Oh no!" she laughed. "I was definitely keeping all that at arm's length. I was mostly interested in the idea of human potential. I was trying to reclaim myself, basically."
Destiny, Deathless Drama, & Daughters
Sandy and John met through a mutual Marlboro friend. John said, "I'd been living in the Cambridge/Boston area pretty much since I'd graduated from Marlboro. Our daughter Laurel was born in 1980…so we probably met before that." (Much laughter) "In 1975, actually," said Sandy. John said, "We loved talking—I remember wonderful conversations. At that time I'd been in theatre groups for eight or nine years. That was the night job. And then I went back to graduate school and began teaching painting and drawing. So I was easing away from being in different theatre groups…I taught at Harvard for a long time as a teaching assistant, and at the Art Institute of Boston, and other places in the area. When Sandy and I met, I was getting more grounded in painting and teaching."
I knew that there are not one, but two daughters in the picture, and they've been seen and mightily applauded on the Nantucket stage. (In 1998, all the Devaneys performed in The Importance of Being Earnest at the Actors Theatre, with John as Lady Bracknell.) John and Sandy's daughter Laurel was born when Sandy had been at New Age for six years or so. "It was great," said Sandy. "She went to work with me for the first nine months, until she started tearing the place apart, and it was like having a big family—everybody would compete to see who'd take her out to lunch, in the little backpack. It was an extraordinary opportunity; I wish more people were able to do that. The magazine job ended when a new editor was brought in who said, 'No more nukes, Indians, or whales,' and fired everyone. So after eight years, which at that point was a quarter of my life, sayonara.
"Laurel," Sandy continued, "is in Los Angeles, being a nanny, a figure model for art classes, a chauffeur"—anything to maintain a life in the theatre. John's daughter, Clover, born in 1972, has recently made him a grandparent. "The baby's name is Parker," said John, "and he's wonderful! Clover's mother and I were in the same theatre company—we'd known each other in college, too. Clover came along while we were touring, and had the typical sort of theatre childhood. She even played a baby raccoon in a deathless rendition of Davy Crockett as a musical, which toured to all the high schools in the northernmost part of Vermont. I was Davy's pet bear, Death Hug, and it's a role I'm very proud of [big grin]. I actually created the song 'Death Hug's Lament.'" Asked to sing the ditty, John didn't hesitate for a moment; the tune is Gilbert and Sullivanish, and the words are too: 'When he came home after huntin' I'd be handy/Waitin' with a warm and furry hug/Then he'd sit down and pour himself a brandy/And I'd lie down and be his bearskin rug/When he was young, I used to be his teddy/He used to drag me up and down the stairs (thump-thump-thump)/So I thought the two of us were goin' steady/That me and him would always be a pair/Wellllll…I'll miss old Davy sumpin' terrible/'Cuz a bear alone is just unbearable…' "Now," said John, "didn't that bring tears to the eyes of second-graders and hoots from the high-schoolers all over Vermont!"
John discovered theatre in college, he said. "A group was formed at Marlboro that ended up touring for about eight years and also had its own theatre in Brattleboro. That was a social focus for me, too, because my friends in college were the ones I ended up working with, virtually 24 hours a day. We toured all over New England and even into the mid-Atlantic states—mostly colleges. I did posters and that kind of thing, but my main role was acting. I began acting with other groups, including The Proposition in Boston, which is where a lot of the Saturday Night Live people came out of—Jane Curtin, Josh Mostel, and others—the Folger Shakespeare Theatre in Washington, and more recently the New Rep, A.R.T., Worcester Foothills, and other New England companies."
At Last—Nantucket
"Right through the '80s," John continued, "I used to go back up to Marlboro College's summer repertory theatre, so acting became a summer activity. That's the reason I came to Nantucket. A Marlboro friend of mine who knew Richard Cary said, 'Why don't you audition for this guy?' I knew nothing about Nantucket, so this audition was the entrée to coming here. And it was so much fun! It wasn't like the typical tourist experience. There was this dormitory on Beaver Lane off Orange Street," he laughed, "and there were hundreds of us in there, all packed in together. We did a Christopher Durang play called Beyond Therapy, which turned out to be one of the biggest box-office smashes they'd ever had. So that was my introduction to island life." Sandy interjected, "We did come once before that—I was writing a piece for New England Monthly on off-season vacations, so we came out here one winter weekend."
Before I asked about Sandy's current career, I wondered if John ever felt torn between his two callings. "I've had that kind of dichotomy going since college, where a painting teacher kept telling me, 'Look, if you really want to get somewhere, you have got to drop everything else.' But there was all of this social excitement…I mean, the first time I was ever popular in a school setting was in the theatre group; plus, I was very excited about acting, too. So at different times there have been tremendous pulls, a lot because of the emotional thing. Painting is very lonely, and acting takes care of a lot of things, like having friends, being told what to do next, getting immediate reaction for what you do…you know, there's no applause when you finish a painting. So just from an emotional standpoint, it often was a struggle. It seems less that way to me now. Maybe now I'm a little more adaptable, so when the theatre work isn't coming in, I take advantage of it to focus on my studio work."
When John started coming to Nantucket, Sandy was Submissions Coordinator at Houghton Mifflin. "I loved that job," she said; "just sitting there and reading all day. And I started writing—it was like getting out from backstage and going in front of the footlights. Some people from New Age had gone up to Northampton to start New England Monthly, a wonderful magazine that only lasted about eight years—it wanted to be the New Yorker for the north. So I was working full time—Laurel was little—and then I'd come home and write all night. The first few summers John was here, I might have come to the island for a weekend or two at most." At what point did the couple decide to move to the island? Sandy said, "Laurel was almost all the way through high school, and we knew she'd be leaving, and, for me, anyway, it was, 'Well, if not now, when?' And we felt Nantucket was a place that both girls would want to come back to."
The productions of Donald Noyes' Nantucket music/drama Faraway Land a few years ago provided the perfect opportunity for Sandy's "rebirth" in music and drama: she played the bawdy innkeeper, Mrs. Brockett. "That was my reintroduction to the theatre after thirty years," she said. "I'd put myself permanently in the audience/appreciator position. But the Faraway male lead, David Callahan, was staying with us—Clover had brought him up to play Earnest—and I thought, 'Well, what the heck—I'll audition.' And then to be there in that huge auditorium—it was such a thrill! Also, at that time I was getting involved with the Nantucket Community Music Center chorus. I'd sung in choruses off and on. It's funny, at Putney two-thirds of the students were in the chorus, but I didn't get in!" she laughed. "So I never really thought this was something I could do, although I loved it. I belonged to the Harvard-Radcliffe Chorale for a while and the chorus at Longy in Cambridge. And then here, I started getting solos! I've been studying with Paulette Allemand, who is simply amazing. I'd never had any lessons—my whole job had been to blend in and not squawk. Now, singing just lightens my whole day."
While John takes acting roles here and off-island when they come up and paints diligently while he is here, Sandy also has work to do. A freelance writer for twenty years, she's written a book about toys, as well as several guidebooks, including Quick Escape Boston: 25 Weekend Getaways from the Hub, which she updates every two years. "I see it as a glove-compartment book," she said. "You can suddenly decide you want to go to Quebec or Manhattan, or anywhere in New England, and know where the good restaurants are, and so on. For ten years I reviewed children's books for Family Fun magazine, and I've had some reviews in the New York Times over the years…and I've started doing some drama criticism for the Boston Globe. I've also had a nice long run with Ski magazine, among others." Sandy confesses to "some sort of weird creative blossoming" since she's been here. She attended Bob Clawson's poetry workshop at the Atheneum in 1999, and is working on a novel which is "basically trying to imagine the life of my great-grandmother in Wilmington, Vermont, a century ago," she said.
Down with Motoring Marauders
Sandy and John are madly in love with the island. Said John, "I am extremely grateful to be here—it's such a beautiful place. I also feel like I'm a real parvenu. I mean, ten years is tiny, compared to how long friends I've gotten to know have been here. It's interesting talking to them, because they've seen changes I will never conceive of, from the '60s, '70s ,'80s. Nantucket is still just paradisiacal in so many ways, but I've never recovered from my very first summer here, when I was lying on the beach, taking in the wind and the ocean and the sand, and I thought I was seeing a mirage. The mirage I was seeing was a car on the beach…and then another, and another, and another. To me, it's the anomaly of all times that in this Shangri-la, the automobile is the one thing that is clearly so destructive to this unique-in-the-world habitat. SUV traffic is gouging, destroying, and mutilating the dunes, the moors, the sand plains, and the beach itself. That's the one very dark cloud. I know there are all sorts of other problems, like housing, but this is something that to me is just inexplicable."
Sandy shares John's love of and concerns for the island. "I intend to live out my years here," she said. "The quiet and the beauty, the simplicity…we can live out where we are and not come into town for ten days at a time, go for walks, wake up to the birds. It's just a miracle to me. But I feel with John the tragedy of what's happening with the SUVs. We've watched the escalation—originally a couple of trucks would come at sunset, but now it's literally hundreds, all day long, and the place I personally feel protective of, because we're there, is the Miacomet area. It was such a relief when the Land Bank bought it, but then they just improved the vehicular access—it was unbelievable. And in the last year, luckily or tragically, they realized, 'Oh, the last dune in front of the sewage beds is going to go, because people have carved roads up and down it.' It's blocked off now, but many, many people still go there. There's that sense that no place is safe from the motoring marauders."
What would John decree, I asked, if he were king of Nantucket? "First, there would be absolutely no vehicles on the dunes; maybe access at one or two points for people who fish, or for the handicapped. I'd encourage people to know that the most beautiful experience in the world is walking on a beach. You know, 80 percent of the true sand-plain habitat left in the world is on Nantucket and Martha's Vineyard. So it's more than just a pretty picture; it's an extremely beautiful and rare resource."
Into the Future
Where do Sandy and John see themselves in twenty years? Sandy said, "I think just more of the same. I like the shape of my days here." John says he'll keep auditioning in Boston and keep pursuing galleries and shows off-island, but intends to show on Nantucket regularly, as well as continuing his theatre involvement here. "I'd love to see the theatre programs we're doing here perhaps take themselves even more seriously and professionally," he said. "And I'd like to see the level of professionalism in the arts go up and be just a little more balanced. A lot of the visual art scene here seems to be torn between a postcard orientation and an exotic gift-shop mentality, which features work that is not produced on the island and has nothing to do with it. It's hard for artists who are making more personal statements to be seen and to get some room in a business that's been stuck with a particular kind of look for so long."