Tucked away on Oak Street between Federal and South Water streets, is an in-town eatery where you can show up in shorts, relax, and enjoy great food and cocktails without breaking the bank.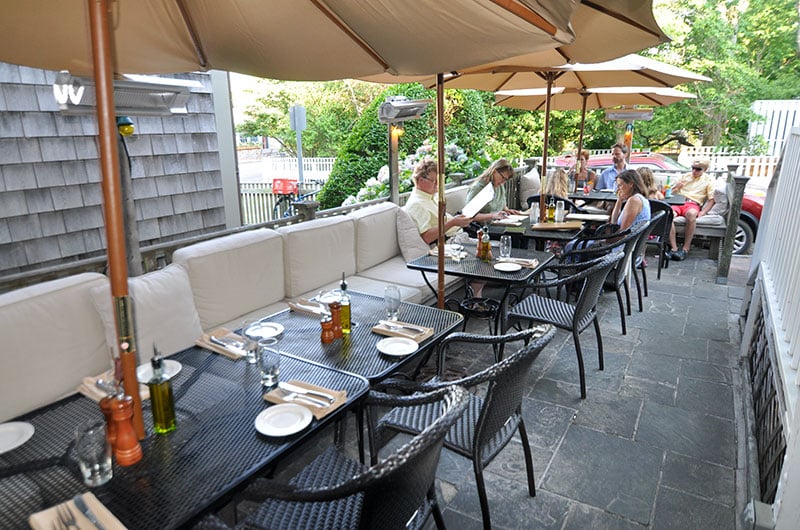 From the outside, Queequeg's looks small and unassuming. Inside, it's warm and welcoming, cozy but not crowded. The indoor dining room is familiar to all year-rounders: this is one of the few restaurants open through the winter. Their Red Wine Braised Short Ribs are enough reason for all of us to trek through the cold and the snow to come to Queequeg's in February. Whale carvings adorn the walls, reminding guests of the Moby-Dick origins of the name of this eatery and giving it a nautical touch without making it touristy.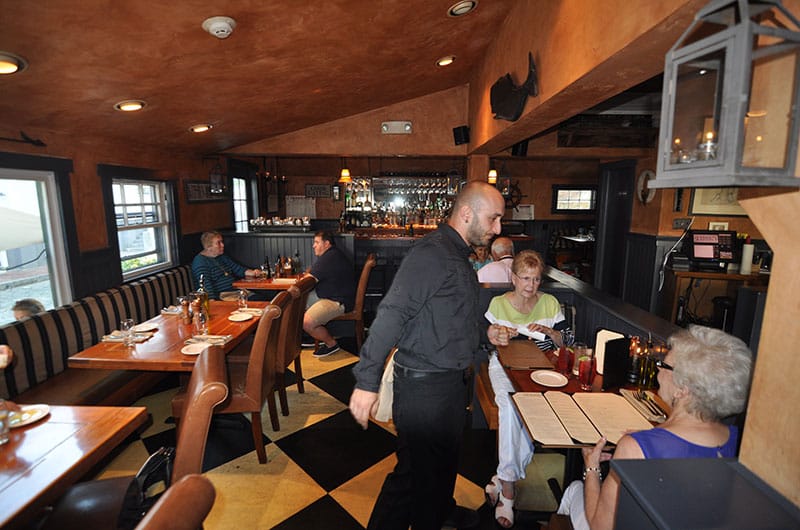 But it's August, so barring rain, we want to be outdoors, and the patio at Queequeg's is the ideal spot to enjoy sunny days, warm evenings, and cool summer breezes. Tables on the patio are close together, and everyone outside is having fun on the evening last week that we dined here. On one side of us is a family group: three generations from the look of it, from under 10 to over 60. On the other side, a group of Millenials here for a girls' night out—we know this because they asked us to take a photo for "The Book." We run into this sort of camaraderie a lot here, and it adds to the fun and casual appeal of the place.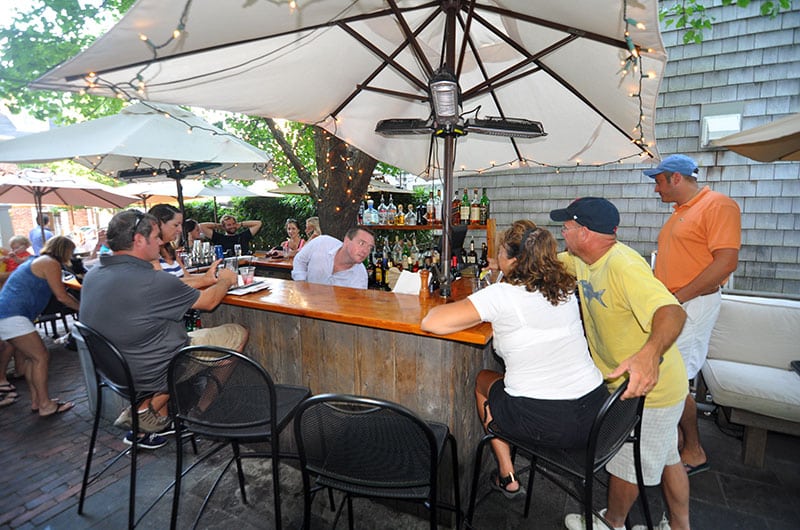 A block long, stretching from Oak Street all the way to East Chestnut, Queequeg's patio is separated from the patio of its sister restaurant Town by the famous Tree Bar. Built to wrap around a central tree, the bar seats about a dozen guests, usually a good mix of locals and visitors. Expert bartenders at the Tree Bar are fast and friendly, and this is known as a great place to stop for a cocktail and a bite to eat before or after a movie, a play, or an opening or simply after work.
The dinner menu at Queequeg's is a single page: you could try everything on it in just a few visits, and you might be tempted to do exactly that! Every dish we sampled was creative and flavorful, with the right mix of classic preparation and new, delicious inspiration.
 Click on images for larger view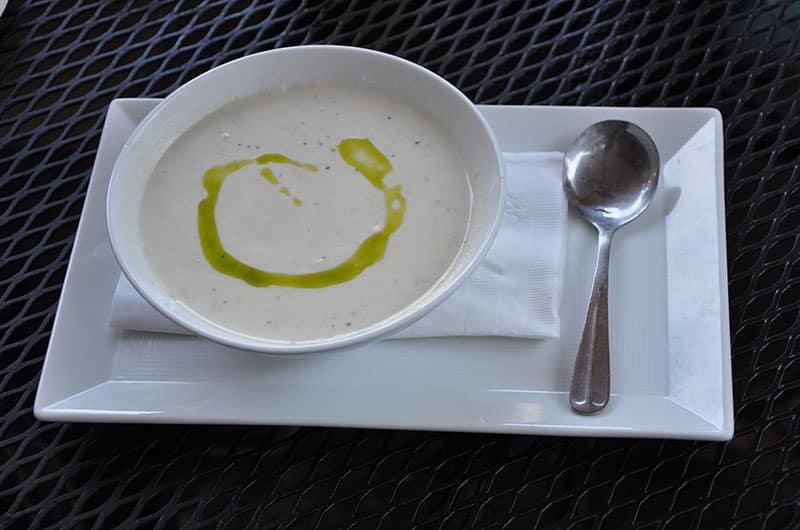 New England Clam Chowder is a classic—creamy but not too thick, and full of tender clams, potatoes, and onions. All it needs is a bit of ground pepper, which our attentive server, Danny, was quick to offer.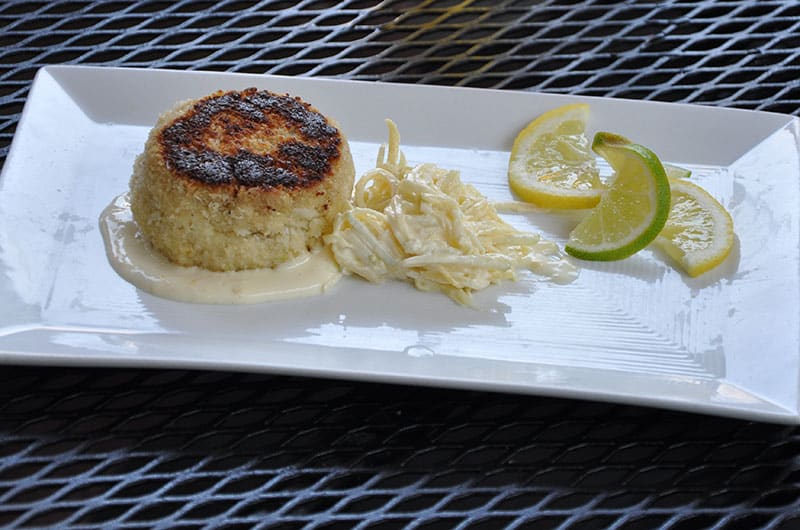 The Crab Cake at Queequeg's is deliciously different. It's served as a single cake, large and very thick. The cake is formed from nearly solid crabmeat with just a bit of lemon zest and herbs—with no obvious crumbs and no apparent mayo, it's a mystery how the it holds together. However the chef achieves it, the result is impressive: a well formed cake that is both dense with sweet crabmeat and delicate. The cake is rolled in panko before being sauteed till top and bottom are browned and crunchy. A brightly flavored lemon aioli sets this dish apart and a cool, crisp, sweet slaw of mango, apple, and papaya adds a final summery touch—you'll want a bit of both with every bite!
Their version of tuna tartar is a delightful taste of summer on Nantucket. We love that at Queequeg's the tuna is not smooshed into a tiny cake: instead, it's spread across a plate with crunchy triangles of fried wonton set sideways into it—hence the name Tuna Napoleon. Chef Brian Williams cuts fresh sushi grade tuna into small chunks, tosses them with little cubes of creamy avocado and pomegranate in a blood orange vinaigrette that livens up the taste and adds a tingle of spice without masking the fresh, clean flavor of the tuna. We love the combination of flavors and textures in this appetizer.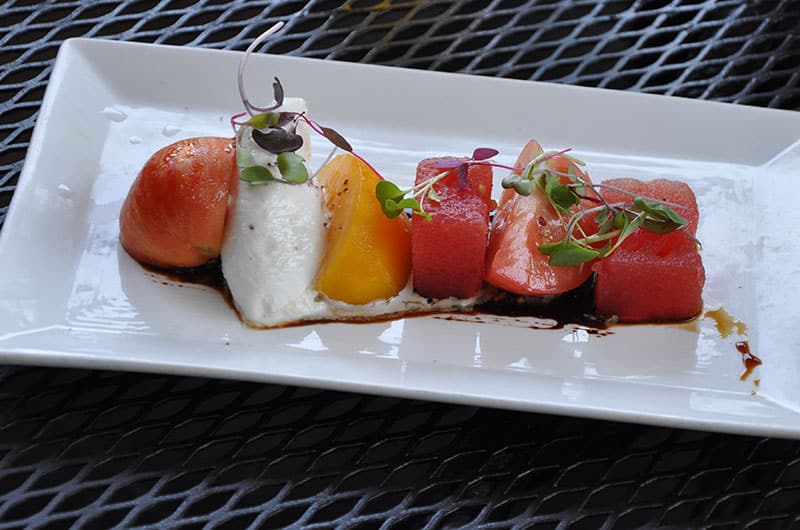 Another sensational seasonal starter is the Heirloom Tomato Salad. The tomato harvest peaks in August, and this salad takes full advantage, showcasing thick, juicy wedges of three different varieties of this luscious summer fruit. Next to the tomato is burrata cheese and two moist, intensely flavored cubes of compressed watermelon. When you cut into the burrata, its creamy center spills out and mixes with the juices of tomato and watermelon and the sweet of sherry reduction underneath. This salad is simple, straightforward, and very very good!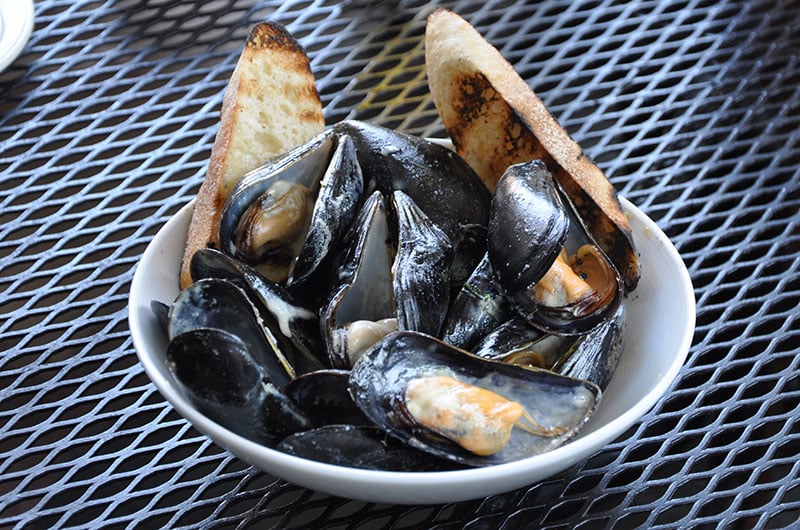 Some variation of Skillet Roasted Mussels have been a staple of Queequeg's for several seasons. The preparation sometimes shifts, but the mussels are reliably good: tender and flavorful. This summer the chef is serving them in a creamy sauce flavored with tarragon, fennel, lardons, and a splash of pernod. After devouring the mussels, we mopped up the sauce with the grilled bread and then asked for spoons.
 Three signature dishes on Queequeg's menu—Red Wine Braised Short Ribs, Jumbo Shrimp Scampi, and Bolognese—are offered in both full and half portions. Each is a patron favorite, beautifully done and delicious. Be warned: if you order the half-portion you may wish you had gotten the full!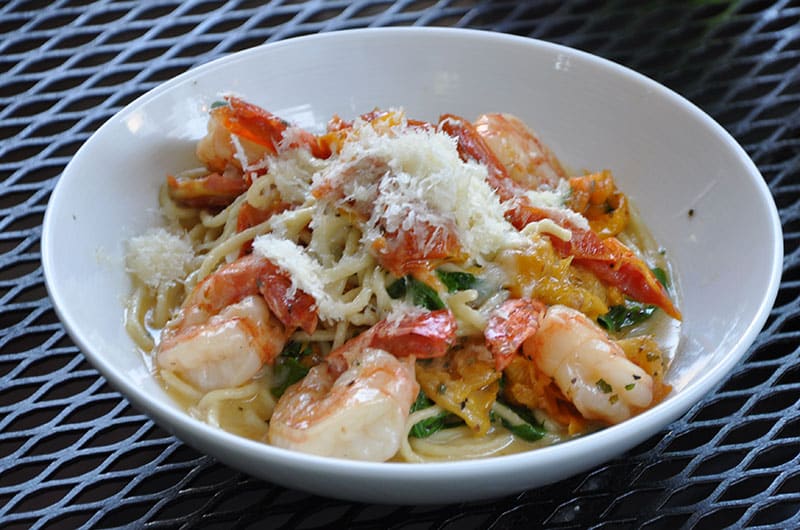 We've enjoyed the Jumbo Shrimp Scampi at Queequeg's many times: it's one of our favorite dishes. The new chef does it just right, with perfectly cooked shrimp, sweet roasted tomatoes, and al dente spaghetti tossed with arugula in a buttery sauce of white wine and roasted garlic.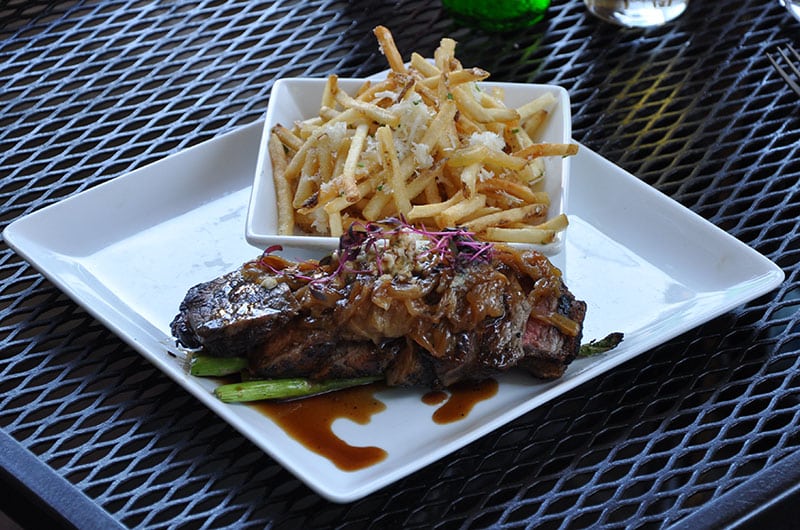 Sometimes all you want is a good steak, and Queequeg's is just where you'll find it. They serve a delectable Creekstone Farm Grass Fed Sirloin that is so beefy and tender that it could take on any tenderloin served in town! Nicely charred outside and a perfect medium rare within, the succulent steak is served over thin spears of grilled asparagus. Soft, sweet caramelized onions are spread overtop the sirloin, with crumbles of blue cheese adding a tasty tang. A classic dark, rich bordelaise is drizzled over the top, and we couldn't resist dipping the truffled frites, hot and crisp and thin, into the flavorful sauce.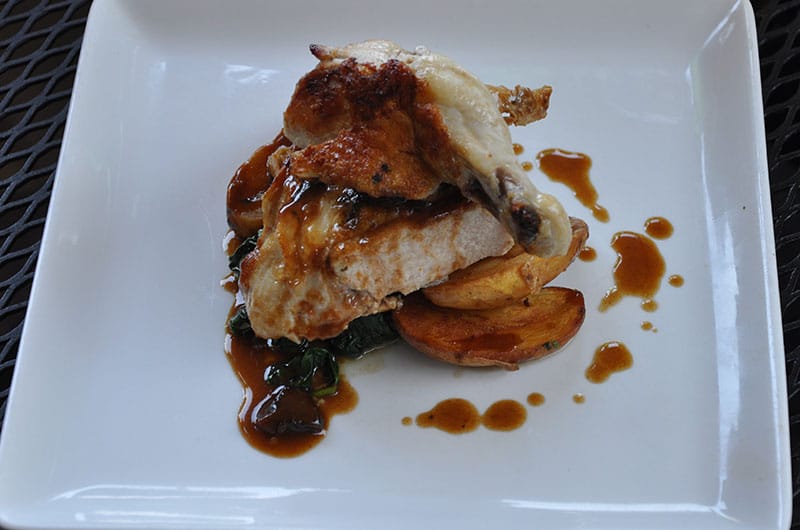 Another stellar dish is Chef William's interpretation of Chicken Marsala. The emphasis is on the moist and tender chicken, with the deeply flavorful and slightly sweet marsala sauce drizzled over and around, forming a pool of deliciousness underneath that envelopes the mushrooms and roasted fingerling potatoes. Spinach, cooked with lemon and garlic lightens the dish.
Our favorite among the entrees on Chef Williams' summer menu is the Pan Seared Scallops. When done correctly, these delicate morsels from the sea are sweet and meltingly tender, and the scallops on this entree are cooked to perfection. They're served on a succotash of sweet corn, and about every size and variety of bean we can think of, from favas to limas. The succotash and scallops are served on an orange reduction that adds a bright citrusy sweetness that enhances that natural sweet flavor of the scallops.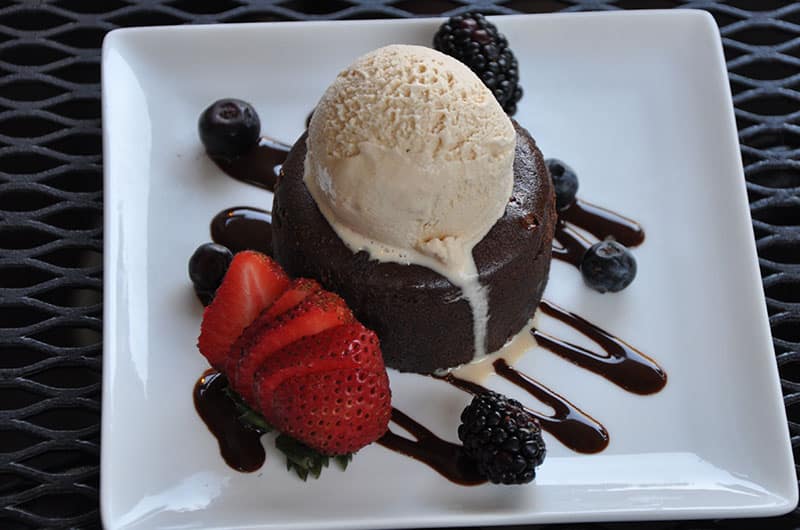 Save room for dessert at Queequeg's, they don't offer a huge variety—the evening we dined there were just two—but what they do serve are sensational! We couldn't pick a favorite between the Dark Chocolate Lava Cake topped with salted caramel ice cream and chocolate sauce . . .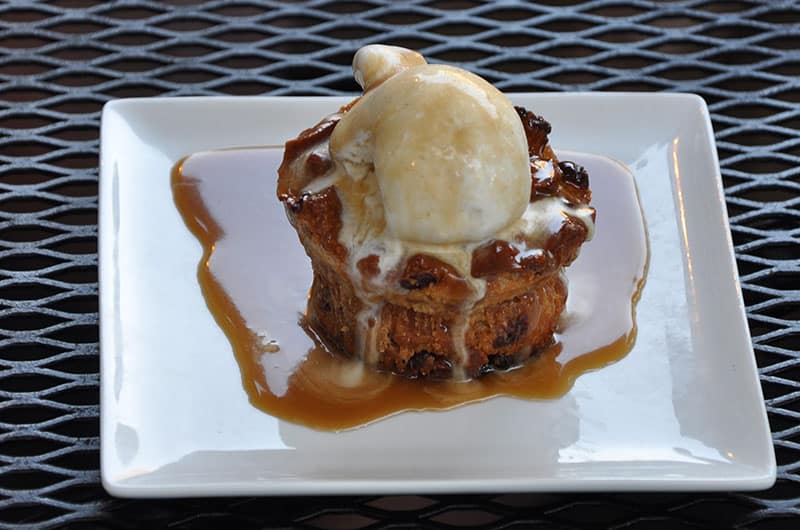 . . . or the Cranberry Bread Pudding, served warm with a scoop of vanilla ice cream melting down into a sweet puddle of warm caramel sauce.
See you at The Tree Bar!
Queequeg's
QueequegsNantucket.com
6 Oak Street • 508-325-0992 • reservations recommended
Brunch daily from 11 a.m. to 3 p.m. • Bar light bites 3-5 p.m.
serving dinner nightly from 5:30 p.m. • full bar open till 1 a.m.
entree prices range from $25 to $32
Visa & MasterCard accepted
indoor and outdoor patio dining • open year-round