– Featured Entrepreneur by Suzanne Daub –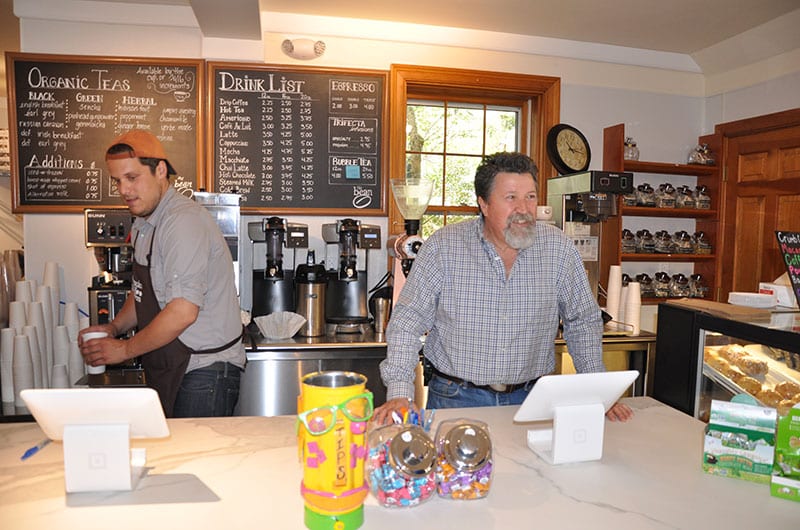 A dream came true this spring for Wes Van Cott when he opened his Nantucket coffee shop in expanded, newly customized digs right around the corner from where he established the island's first shop devoted to coffee.
Twenty years ago he started Nantucket Coffee Roasters "on a wing and a prayer," and with plenty of energy and enthusiasm. "I had gone to training in San Francisco, so I was very excited about the first batch… it was a Guatemalan, and it came out great! So I had this machine and all this coffee, and no customers yet and no retail location…I couldn't understand how I was going to pay the rent, but the coffee was exciting. I had a strong feeling that it was the right place and the right time—this was before Starbucks had a store east of the Mississippi.
"I started walking around door-to-door. I walked up and down Main Street, giving out bags of coffee. Mark Dawson of Fog Island was my first customer, and he's still with me… Tom and Tom of Allserve also signed up on that same day." With those two early customers, Nantucket Coffee Roasters was officially launched.
Wes has loved coffee from an early age: "When I was 12, I lived in Randolf Mass and used to ride my bike to my job as a caddy. There was a little store across from the golf course where I used to stop and get a cup of coffee cause I thought it was cool. I contined as a coffee drinker."
His introduction to Nantucket Island also came at an early age. In the summer of 1964, his father, a pastry chef, brought the family to Nantucket where he had a job working at the Gordon Folger for the summer. They returned in '73, when his father took a job working for Walter Beineke: "my family did all the baking for all the Beineke properties, so I have a strong bakery background."
After his time on Nantucket, Van Cott moved to Maine, working in bakeries while studying Fine Art. "I even set up some bakeries there," he remembered.
He was lured back to Nantucket in the early 1980s, when his friend Theo needed a breakfast cook at the India House. "I worked with All Kovalencik and did breakfast there for a couple of summers." His real dream was to run his own business. While at the India House, Wes helped the owner of the inn with a wallpapering project, then with some painting, and that was the start of a painting company he owned on the island for seven years. "I really didn't care for it—it was grueling—but I had a young family, and it was a living."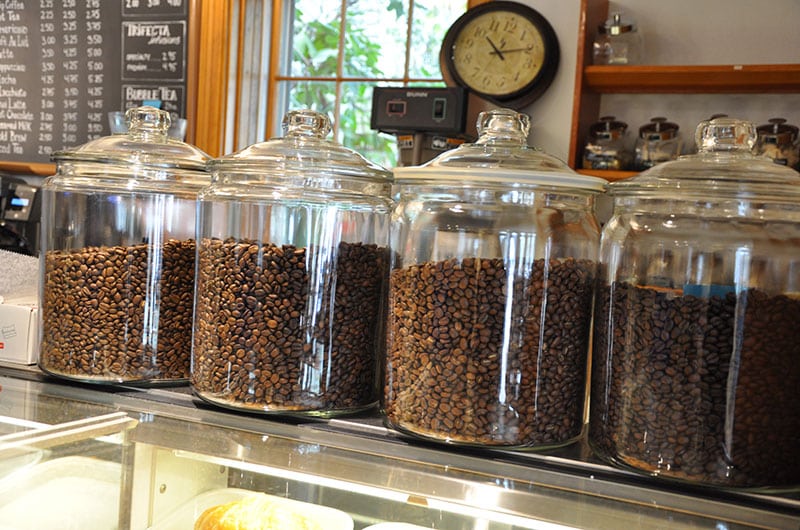 He started dreaming again of a different business… "I knew how difficult it was to create a business on Nantucket. There are just not a lot of locations or opportunities. I needed to come up with something that did not need a huge structure. I had a friend who roasted coffee for Green Mountain, so I started researching. I had another friend here on the island who was making pasta out of a building on Teasdale Circle, and when that building became available, I rented the space, and I've been there ever since."
Six years later, in 2000, Wes heard through the grapevine of a space grandfathered for food that was about to become available in the center of town. He jumped on the opportunity and opened The Bean. "It was an instant success, but we hit our limits in terms of what we could do. With my food background, I felt there was a part of me unfulfilled. I wanted to do more."
Again through word-of-mouth, Wes heard last year that Nantucket Gourmet on India Street would be closing. "When I heard about this space, I spoke to the owner, and it was all set in motion pretty quickly. Three months after I signed the lease, the phone rang and it was Stop-and-Shop corporate, calling to ask if I'd like to open in their new store. Here we are: open now in two new locations…My head is still spinning, but I've had a lot of great help."
Now that he has the kitchen facilities he was dreaming of, Wes is experimenting with various food offerings to add to the range of coffees and teas that has made The Bean so popular. "Our intention is to have a selection of salads and sandwiches, breakfast sandwiches, plus some baked goods… the menu and the space will evolve naturally with what our customers desire…we want the space to feel good and comfy—for our customers to feel at home… Eventually, we'd like to do some coffee education and tastings."
According to Wes, the key to an excellent cup of coffee is good water and high quality coffee, both available on Nantucket thanks to Nature and to Wes. Van Cott works with a socially committed raw bean importer who has a long relationship with growers, and Wes has traveled through Central America on origin trips. "Coffee is an agricultural product, so it can change every year. Right now I'm really liking Geisha, an Ethiopean cultivar that was transplanted to Panama and adopted by Columbian growers."
With help from his island roaster, Leo Keating, Wes chooses coffees the complement each other for their special blends. "All our coffees are stand-alone single origin…we blend them to satisfy customers looking for something safe."
To the extensive offerings of coffee beans roasted daily on-island by Van Cott's roaster, Leo Keating, and coffees and teas prepared to order, Wes has added to The Bean's selection a Cold Brew Iced Coffee, a "smooth, soft, delicious cup" that takes 20 hours to brew. He sells his Cold Brew on tap and in 32-ounce growlers: bring the growler back for a discount on the refill. And if you time your visit right, you might get to try some Nantucket Coffee Roasters superb cask conditioned "Boozy Beans." For this, they "age" green coffee beans in casks that previously held Triple Eight's Notch Whiskey or Hurricane Rum before roasting them for a coffee with incredible natural flavors.
It's clear that Wes Van Cott loves what he does for a living: his dream come true. "It's really brought me into my community; I've made a lot of friends. It's given me a great sense of home—a sense of belonging. Doing this really gives me a deep connection to the place I love."
When asked if he plans to open any coffee shops off-island, Wes didn't even have to think: "No. I have been approached. But it would take me away from home. I'm not about conquering the world…I like my quiet little specialty shop on Nantucket—it's better than what the world has to offer.
The Bean • 4 India Street • 508-228-6215 • NantucketCoffee.com
5 am to 6 pm Sunday-Thursday & 5 am to 7 pm Friday & Saturday
Hours will expand for the summer season
Free Wifi • Open year-round