Nantucket Playhouse for Children Raffle Drawing at Stroll
Nantucket Preservation Trust is honored to be the first island non-profit beneficiary, of the Cape Associates, Inc. children's playhouse donation program. The Nantucket playhouse is now on display at the island business; Bartlett's Farm and will remain on site until the winner has been drawn on December 4 Sunday, of the annual Stroll Festival weekend. A limited number of tickets (300) are for sale, and raffle will end once all have been sold or at noon on the day of drawing. Tickets are available to purchase at Bartlett's Farm market (cash or check only) or by visiting the NPT website www.nantucketpreservation.org <http://www.nantucketpreservation.org>  for the following prices: one ticket for $50 or four for $150. For further information please contact the NPT office at: 508-228-1387 or email info@nantucketpreservation.org
Cape Associates, Inc., a custom home building company located in Eastham, MA, began the annual playhouse donation program in 2001. The philanthropic endeavor has grown from constructing one playhouse to constructing two. Both playhouses are donated and raffled off in support of a chosen non-profit. To date the program has donated 27 playhouses, raising over $120,000 to benefit the chosen non-profit recipient. The NPT is honored to be the first Nantucket based recipient of the 15 year program.

Lindsay Cole, Cape Associates, Inc., Human Resource Manager and daughter of the program's founder (the late Michael Cole) contacted the NPT in early June with the good news,
"The Nantucket Preservation Trust expressed interest in our playhouse program in 2015 and was put on our waiting list.  At that time, there were 4 groups in front of NPT, but when some of those groups opted to wait another year, we were able to move NPT to one of the 2016 recipients.  We gave NPT the option to give us design ideas for the playhouse and we ended up using a design sketched by Michael May.  Our in-house designer tweaked the plans, and two carpenters built it in about two weeks," commented Lindsay Cole, Cape Associates, Inc. Human Resource Manager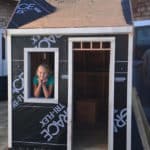 The NPT Nantucket playhouse design inspiration, is a direct result of Michael May, NPT's Executive Director's, design sketch. The playhouse is fashioned to be a "Lean-to" house, a common architectural style seen on Nantucket. The exterior was designed with the island HDC guidelines in mind and includes: Quaker Grey paint for the exterior trim – one of the HDC approved paint colors, and red cedar wood shingles. In typical style of Nantucket it features commonly seen exterior island house features: a window box (floral arrangements provided by Bartlett's Farm), a "red-brick" chimney, and a trellis on the left side. It easily could double as a garden shed, chicken coop, dog house, or even a "man-cave"—measuring 8 feet long, 5 feet deep and 9 feet high. Cape Associates, Inc. have valued the playhouse at $8,000 and the NPT hopes to raise this amount, if not more, by selling all 300 tickets.
Raffle tickets will be available to purchase today, October 3, 2016 until the 300 tickets have sold out or on the day of the raffle drawing: Sunday, December 4. Tickets are available to purchase at the price of either one for $50 or four for $150. All sales will benefit the Nantucket Preservation Trust.  To see the Nantucket playhouse and purchase tickets please stop by Bartlett's Farm market during regular business hours. The winner will be drawn on Sunday of Stroll Weekend, December 4, and winner need not be present to win. For more information or to purchase tickets please contact the NPT at: 508-228-1387, info@nantucketpreservation.org, or visit the NPT website: nantucketpreservation.org