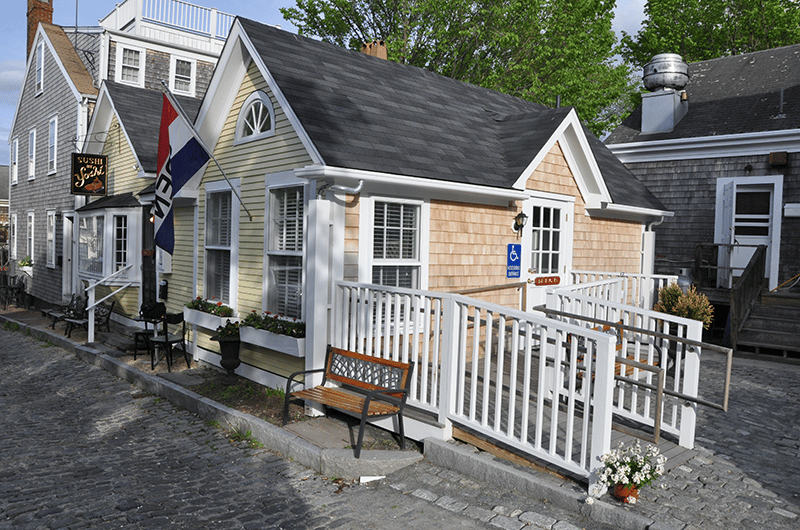 For decades, the tiny eatery tucked away on a short side street in the heart of downtown has served award-winning sushi by Tokyo-born chef Yoshi Mabuchi. In a location too hidden to stumble upon, Sushi by Yoshi became a destination—for some, a meal by Yoshi was the only reason to venture into town. For many young Nantucket residents, their first bites of sushi were prepared by Yoshi; he introduced an entire generation of island kids to Japanese food.
When fire swept through Sushi by Yoshi in November of 2013, there was a huge outpouring of sadness and good wishes for this beloved island restaurant and for owners Yoshi and Donald Noyes. No one had been injured in the electrical fire, but the restaurant was gutted. Throughout that winter and the following spring, the restaurant remained boarded up, and residents were unsure of when (or if) it would reopen. Slowly the plywood nailed over the entrance door filled with graffiti:
"You make miso happy!"
"Must have sushi now!!"
"You're our roll model."
"We love you Yoshi, please return."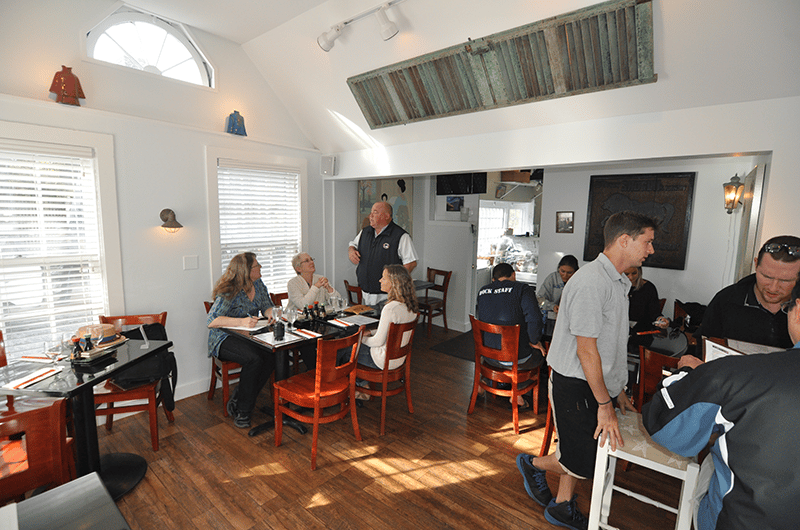 As the weather grew warmer, activity on East Chestnut Street made it clear that Sushi by Yoshi would return. By August, the restaurant was open for business with Chef Terry Noyes taking the place of his Uncle Don and Yoshi working his usual long hours: tending the garden where he grows Japanese vegetables he uses, mixing spices, crimping dumplings, and creating new recipes. "Yoshi is a bundle of energy," Terry commented. "He's up every morning by 5 am, and by 10 am we have a new invention," added Colin, our enthusiastic server.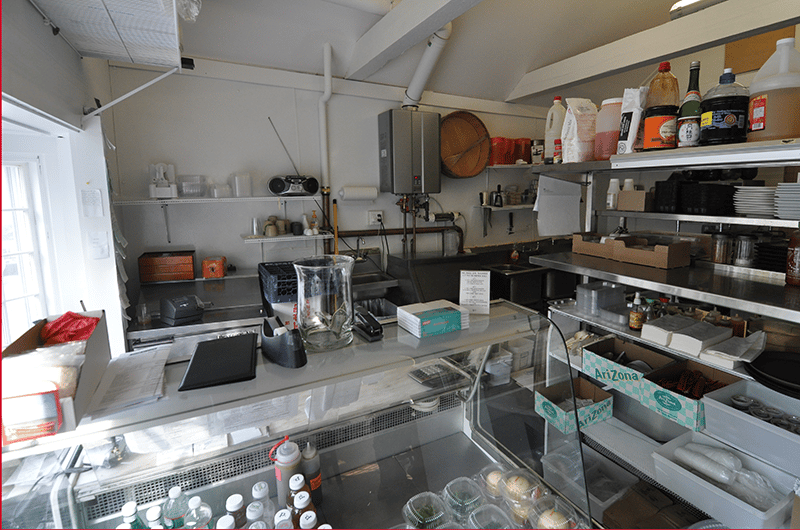 Sushi is the jewel in the crown at Yoshi's, but the menu also offers Japanese dishes (both hot and cold) from spring rolls and miso soup to curry, tempura, rice, and noodle dishes. There's always something new on the Daily Specials board that often features seafood fresh from the docks (we'll never forget the sweet & savory bay scallop rolls offered a few seasons back). Yoshi's is BYOB, but they are happy to chill your wine or heat your saki.
The new interior is bright and airy, with high ceilings and a relaxed, open feel. The small sushi barwas sacrificed for additional table seating in the renovation — good thing, because it's first-come, first served, no reservations.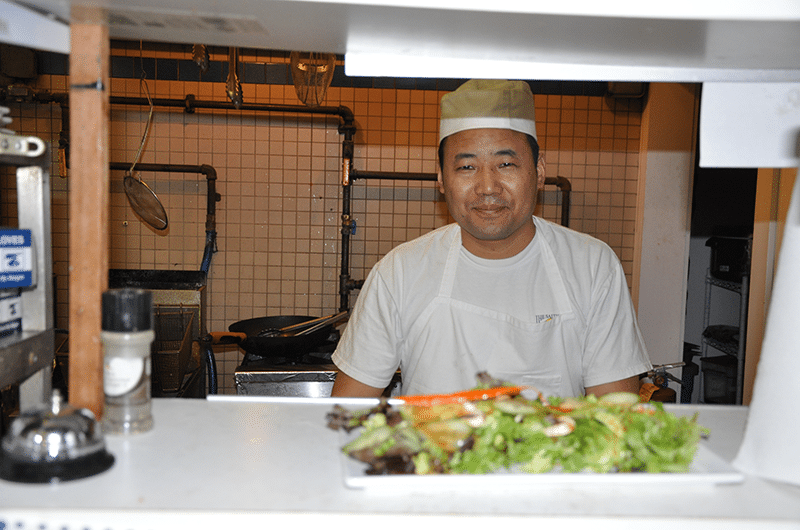 The menu at Sushi by Yoshi is familiar to patrons and includes island favorites like their beautiful Rainbow Roll, simple Negi Hamachi, and summery Aloha Roll, plus a few named after loyal long-time customers (yes, Mitchell, we're talking about you!). The Nigiri is beautifully draped and the Sashimi fresh and shimmering. New items are frequently added, usually successful specials such as the Tempura Sweet Potato Roll and Nantucket Ocean Roll.
New for this season is a 3-course Lunch Special. For just $15, you may order miso soup or salad then add gyoza or spring roll or shrimp shumai and finish with a California Roll or a Dynamite Roll or a Nantucket Tuna Roll. Take out or eat in, it's the best deal in town!
We would have happy just feasting our Sushi by Yoshi favorites during our dinner last week, but every evening there's a tempting new dish to try.
 Click on images for larger view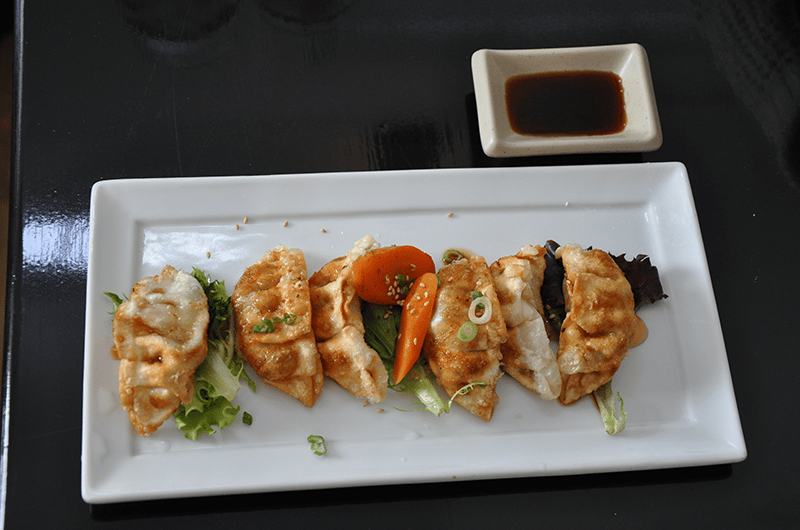 We often begin a meal here with one order each of Spring Rolls, Shumai, Crab Rangoons, and Spicy Edamame to share. But on this evening we started with Yoshi's new Lemon Grass Gyoza. Each plump dumpling was stuffed with a finely minced filling of lemon grass, chives, cabbage, and pork The light and flavorful filling was delicious in the crunchy fried wrapper.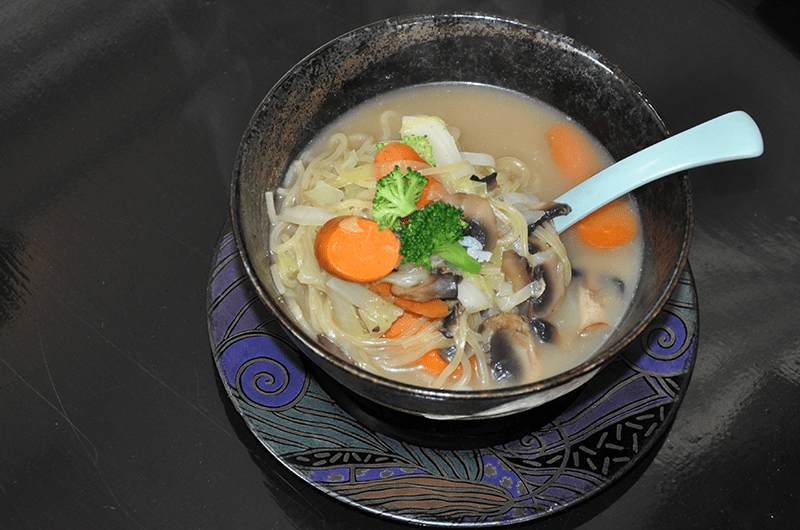 Terry and Yoshi traveled to Tokyo this winter, a journey filled with family, memories, and more than a little food research. One of the results of that trip is Tokyo Ramen. There are thousands of ramen restaurants just in the city of Tokyo alone. Whether you are of the opinion that ramen is all about the broth or all about the noodles, this soup is hearty and delicious. We ordered the vegetable version (shrimp or chicken were the other choices), the miso broth filled with noodles and topped with mushrooms, carrot, cabbage, broccoli, and scallion. We were instructed to slurp quickly, as they eat ramen in Japan to not let the noodles become mushy. No worries, Colin, there was no way this tasty soup was going to last more than five minutes at our table.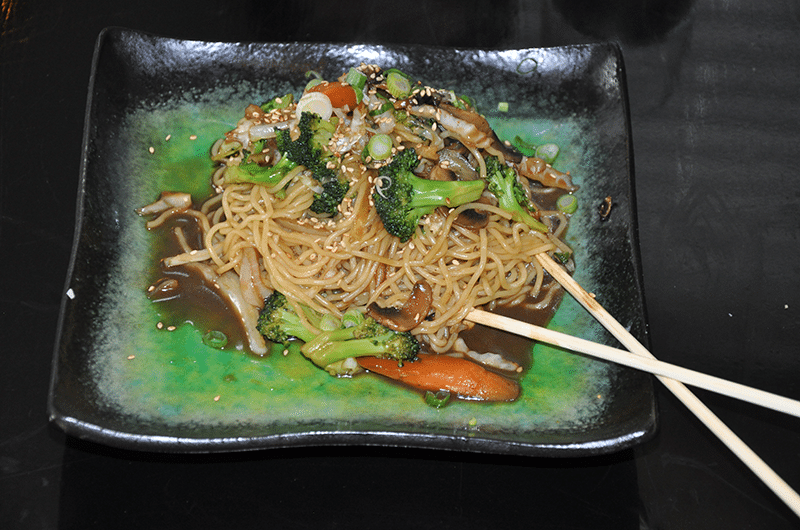 If you prefer more noodles than broth, it's the Nippon Soba you want to order: a tangle of buckwheat noodles in soy flavored broth with vegetables, fish, or chicken. And the chilled Hiyashi Soba tossed in sesame dressing with shrimp and crabstick is perfect for a summer picnic.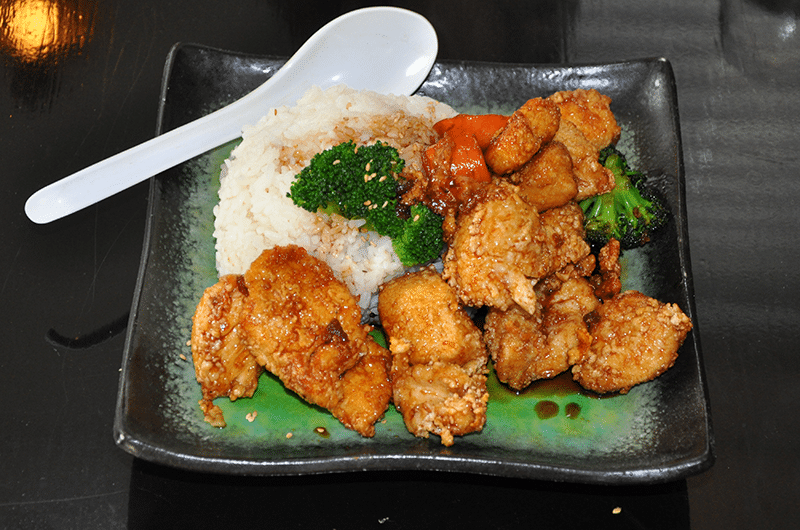 In addition to the noodle entrees, there are several other cooked dishes, featuring chicken, salmon, and shrimp for your friends who shy away from eating raw fish. Far more than just afterthoughts to appease the uninitiated, these entrees are quite good. We were very happy with the Chicken Teriyaki and found the emphasis is on the moist bite-size chunks of chicken anointed with what we would call a teriyaki "glaze" rather than a puddle of sauce.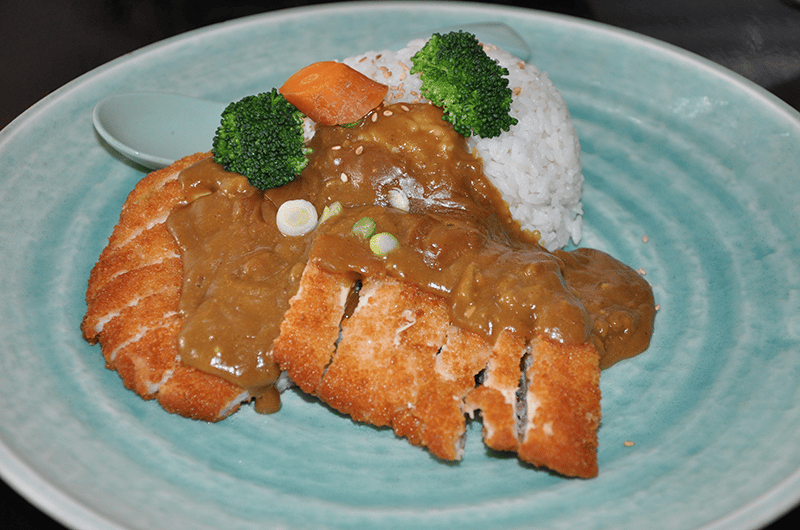 The Chicken Curry is also satisfying—a generous portion of tender, moist chicken breast with a crunchy coating of panko with curry sauce that has more deep flavor than fire.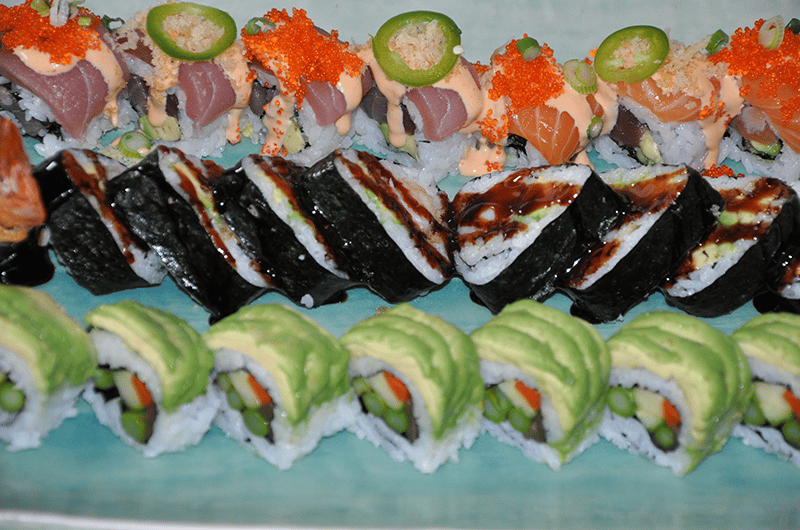 Be sure to introduce those timid friends to the sushi at Yoshi's—perhaps you can talk them into a simple Vegetable Roll or a Tempura Shrimp Roll (shown in the middle of the plate), or…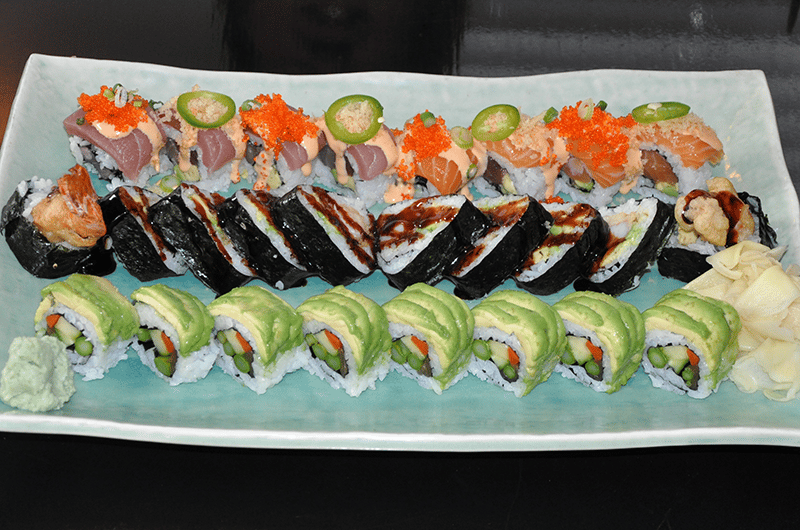 … even better, a colorful and crisp Caterpillar Roll (shown at the front of the plate) with asparagus, cucumber, carrot, and marinated kanpyo (a type of gourd) inside and creamy layers of very thinly sliced avocado overtop. Either one of these sushi rolls could start them on a journey of discovery.
Yoshi's sushi has long been ranked among the best. For more than 30 years he has been perfecting his technique, starting with Yoshi and Don's award-winning restaurant Hatsune (named for Yoshi's mother) that they opened and operated for a dozen years in Connecticut before settling on Nantucket. Yoshi's sushi chefs are expert. According to Terry, "all the really good sushi chefs on Nantucket have come through here." At Yoshi's the sticky sushi rice has just right tinge of vinegar, the fish is cut with precision to maximize flavor and texture, and the rolls are shaped (not mashed) with a firm but light touch.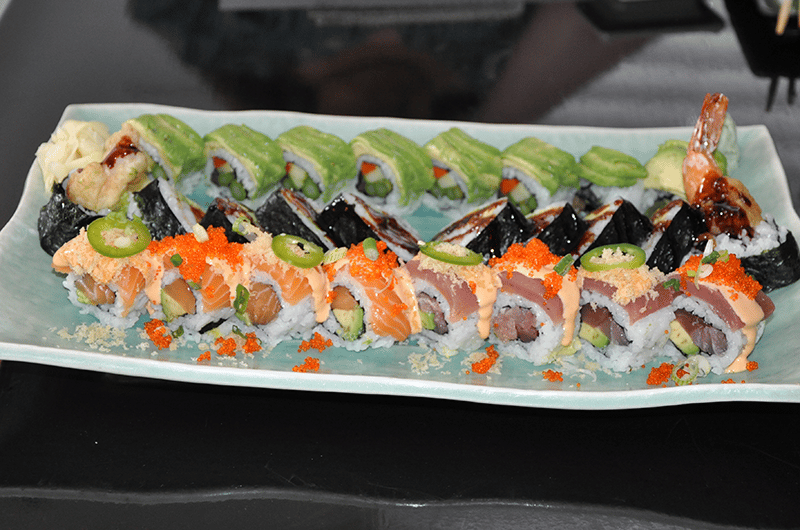 The star of our recent meal was their special Double Dragon Roll (shown at the front of the plate). The chef shaped this special roll with listening fresh tuna and salmon on the inside nestled next to a chunk of fresh avocado, and tuna and salmon draped overtop. A dusting of panko, thin rings of jalapeno, and tiny globes of bright tobiko add more color, flavor, and texture. This roll is not always on the menu, so when it is, don't hesitate to order it!
For now the downtown location of Sushi by Yoshi is the only place you can buy Yoshi's sushi, but come July their superb sushi will be available fresh daily in Sconset at the Sconset Market and in Madaket at Mille's Market.
Sushi by Yoshi
508-228-1801 • 2 East Chestnut Street,
(around the corner from the Information Center)
Lunch Daily: 11 am – 2:30 pm Dinner Daily: 4 – 9:30 pm
Expanded hours in-season
BYOB • First-Come, First-Served.
Party Platters and Catering Available
Major credit cards accepted
Indoor Dining & Full Menu offered as Take-out
sushibyyoshi.com