The Breeze Restaurant – Perfect Spot for an Alfresco Feast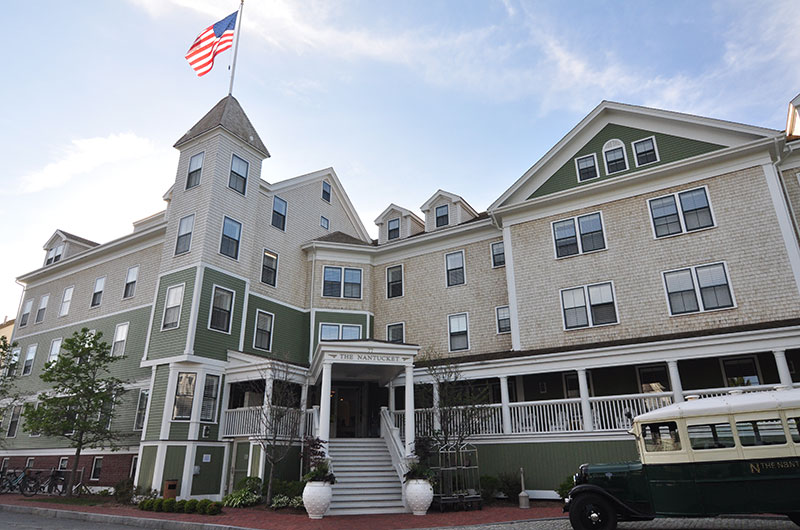 Summer sunshine, cool breezes, live music, creative cocktails, and fabulous food all come together in the alfresco dining offered at The Breeze Restaurant in The Nantucket Hotel & Resort.
Originally built in 1891, the hotel was renovated top to bottom in 2012 and has taken its place among Nantucket's exclusive resorts. Despite decidedly upscale amenities and ambiance, The Nantucket manages to retain an old-Nantucket charm and offers many simple pleasures designed to help guests relax and forget the world outside. Those simple pleasures include their new Front Porch offerings and their handsome bar with a handful of tables and spacious and beautifully decorated back deck where you'll find the aptly named Breeze Restaurant. In the heat of July (which promises to continue into August), we were happy to be seated at a table on the covered outdoor deck.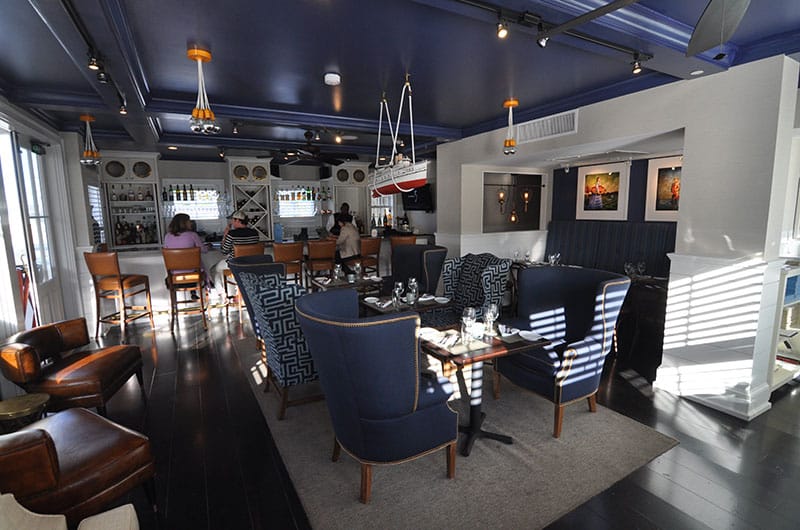 Executive Chef Josh Schoen is back at the helm of The Breeze this season. Well into his second year on Nantucket and his seventh cooking, he told us that his goal this year for himself and his staff is "to challenge ourselves." His summer dinner menu illustrates this with unique and appealing preparations and delicious twists on favorite dishes. At our dinner last week, we were impressed by Chef Schoen's beautifully presented dishes and his attention to detail. Each element of every dish is included to enhance the main ingredient, so even the sides and garnishes are specifically matched. This chef's culinary style is perfect for summer dining: light yet flavorful, fresh, with plenty of fruits and greens and vegetables.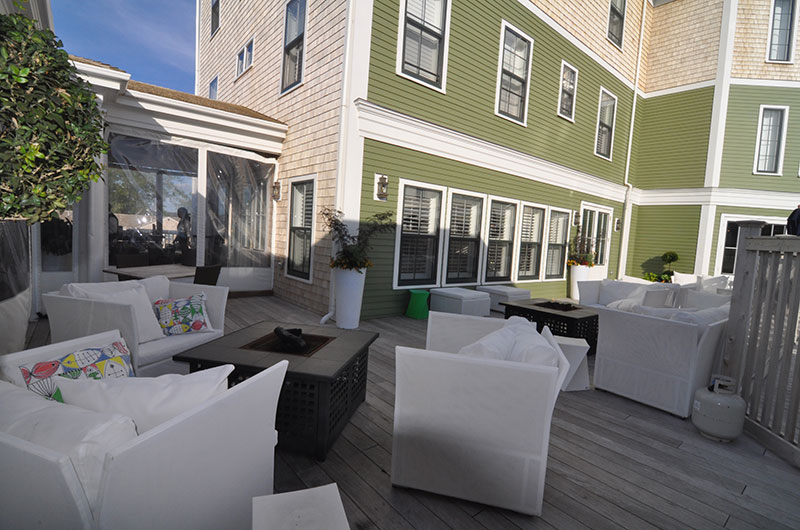 Several of the dinner entrees (or slight variations of them) are offered at lunch or on their Afternoon Light Menu served from 3 pm. We started with two that are perfect as snacks with libations or for sharing 'round the table.
 Click on images to view enlargements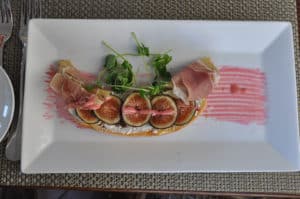 Fresh Figs is as pretty as it is delicious, with layers of flavor. Creamy goat cheese is spread across a thick crostini, and fanned out over that is a perfectly ripe and juicy fresh fig. A bundle of soft milk-braised fennel wrapped in a thin slice of salty prosciutto is at either end of the crostini, and drizzles of raspberry vinaigrette finish the appetizer. (Suggested pairing: Ferrari Carano Fume Blanc, Sonoma County. This wine has notes of peach, pear, lemon, mango, with bright acidity, crisp freshness, and subtle oak hint.)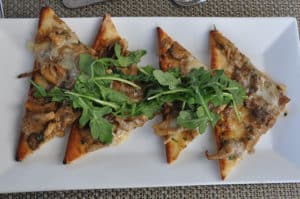 Full of warm, rich flavor, the sensational Mushroom Flat Bread was a table favorite. The flatbread is thin enough not to be a distraction, but firm enough to support the assortment of sauteed foraged mushrooms, melted gruyere cheese, and a luscious creamy truffle béchamel. Fresh arugula scattered overtop adds a peppery zing. (Suggested pairing: Veuve Cliquot Ponsardin, Brut Reims, France. Medium acidity with hints of honey, candied lemon zest and a light smoky finish.)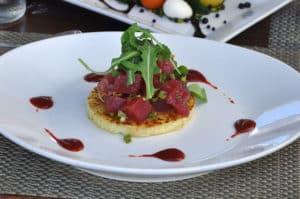 You can't capture summer any better than with Chef Schoen's Korean Poke. Simple and simply delicious— sliced pineapple, grilled and topped with chunks of sparkling fresh tuna—the very fresh ingredients shine. The tuna is marinated in a mix of soy sauce, scallions, garlic, and sesame, but the flavors of the tuna and the juicy pineapple dominate. Dots of Korean hot pepper paste adorn the plate in case you want to add some heat. (Suggested pairing: Sonoma Cutrer Chardonnay, Russian river Ranches, California. This wine has hints of butterscotch, honey and other citrus with an after-taste of golden apple and a slight oaky finish.)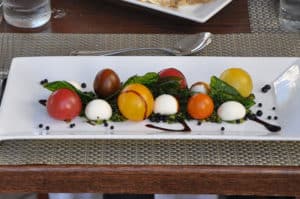 Schoen's Caprese with Pearls is superb! We adore this unique variation on this ubiquitous summer salad. Fresh, juicy heirloom cherry tomatoes are interspersed with miniature balls of fresh mozzarella on a tasty bed of fresh pesto. Fried basil leaves and drizzles of balsamic finish the salad with fun balsamic "pearls" that pop with flavor in your mouth. We've never had anything quite like this and cannot praise it enough! (Suggested pairing: Lucien Albrecht, Brut Rose, Cremant D'Alsace, France. Dry with a bright lemon finish and fresh crisp taste.)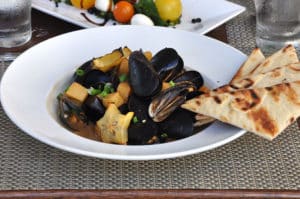 Listed among the appetizers, but hearty enough for a light meal, the Cape Cod Mussels are fresh and fruity, sweet and spicy—another of Chef Schoen's inspired variations. The mussels are bathed in a coconut chili broth that adds just enough heat to wake up your palate, but not so much as to mask the flavors of the mussels, pineapple, and star fruit. (Suggested pairing: Greywacke Sauvignon Blanc, Marlborough New Zealand. This wine has a silky texture with hints of peach, nectarine, cassis, and ripe stone fruit.)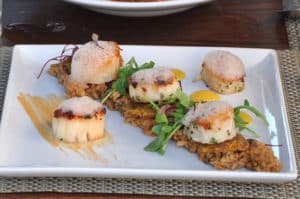 At the chef's suggestion, we started our entree course with his Scallops, a dish he described as one of his favorites, adding "all my career I've wanted to make a dish with nothing but fruit." This fits the bill, with the only non-fruit elements being plump and delectably seared sea scallops and coconut rice. The dish has several layers of sweetness: caramelized scallops, mango foam, blood orange puree, a pineapple coulis, and disks of twice-fried plantains. A flicker of heat to offset the sweet comes from the deliciously seasoned coconut rice. (Suggested pairing: Santa Margarita Pino Grigio ,Valdadige, D.O.C Italy. A dry yet fruity with hints of crisp apple and lemon zest with slight notes of lemongrass and acidity.)
Another standout on the summer menu is the Organic Salmon. The fish is beautifully cooked and marked with a slight char from the grill and moist and medium rare inside. It's served on golden brown polenta cake and a rich and earthy sauce of wild mushroom scented with truffle, topped with fresh asparagus and arugula. Suggested pairing: XYZin Zinandel, Vine Age Series, Dry Creek Valley. A medium-bodied complex wine with its notes of raspberry compote, cherries, and red current.)
Intrigued by the menu description, we were excited to try the Seared Chicken Breast with chocolate chicken enchiladas. Fun to eat and very tasty, this is a spicy stew of poblanos with bell peppers and onion, topped with an impressively moist chicken breast and delightfully crisp skin, in turn topped with a cool and creamy avocado crema, and garnished with a pair of chicken enchiladas with a variation on molé. (Suggested pairing: Bouchard Aine & Fils, Bourgogne, France. Plump in body with hints of cherry, lime, and subtle mint and a note of wood in the finish.)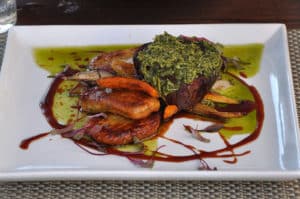 The Seared Center-Cut Filet and the Pork Tenderloin tied for table favorite. Whipped marrow melts lusciously into the tender filet, adding to the beefy flavor, and the roasted carrots and parsnips are earthy and sweet. Rectangles of gnocchi are just the thing to mop up every drop of the jus and the chimichurri. We hope this stays on the menu through fall so everyone can try it! (Suggested pairing for the filet: Charles Smith, Chateau Smith Cabernet Savignon. A bold, full-bodied wine dark with rich hints and tasting notes of chocolate, dark cherries and tobacco.)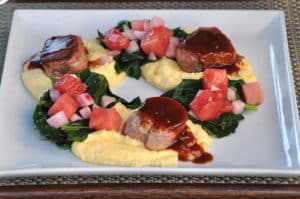 The Pork Tenderloin is just as good but very different. Where the beef is deeply rich and traditional, the pork entree is summery and surprising. Thick slices of pork are topped in a sweet but not cloying Dr. Pepper barbecue sauce. They are nestled in a wreath of soft cheddar grits, sauteed chard with watermelon chowchow. We loved the contrast of the pickled watermelon, the mellow grits, and the sweet sauce. (Suggested pairing for the pork: Cisco Summer of Lager.)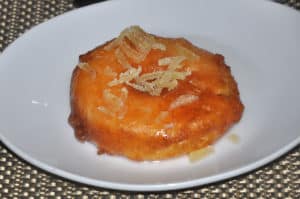 If you have little room for dessert (a real risk here with such delicious appetizers and entrees), then finish with a BCC Coffee. This dessert cocktail with Bailey's, Frangelico, and dark Crème de Cacao is topped off with whipped cream. But if you sit up straight and find a little more room, we recommend the Pineapple Donut, a sliced of fresh pineapple, batter-dipped and fried, topped with coconut icing and candied ginger.
Though the White Chocolate Tiramisu goes down very easily as well!
Make reservations now for your summer alfresco feast at The Breeze.
The Breeze Restaurant
in the Nantucket Hotel, 77 Easton Street • breezebarandcafe.com
Reservations suggested: 508-228-4730
Open daily serving Breakfast, Brunch, Lunch, Afternoon Bites, & Dinner
Dinner entrees range in price from $25 to $39 + Breeze Burger for $19
Indoor & Sheltered Patio Dining • Children's Menu & Kids' Club available
See our Calendar of Events for Special Breeze & Nantucket Hotel Offerings
Full Bar • Live Music • Major Credit Cards Accepted