Spectacular Spring Menu at Brant Point Grill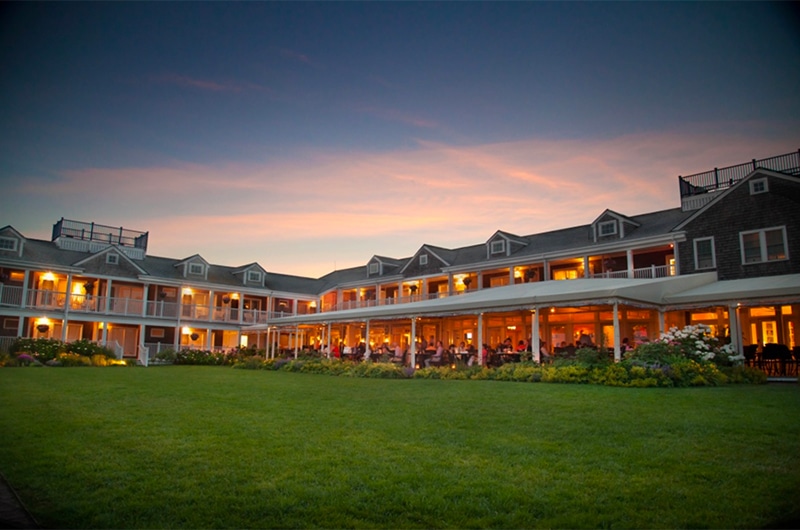 It wasn't long after they opened for the season that we began to hear about the spring specials at Brant Point Grill. Three courses for $39 in a Nantucket restaurant known for fine dining is enough to draw even the most thrifty New Englander out of the house on a chilly May evening. Then the buzz shifted from the value to how everyone was impressed with the meal and plans to head back before the summer crowds fill the dining room. A look at their menu online clinched it: BPG would be our next stop.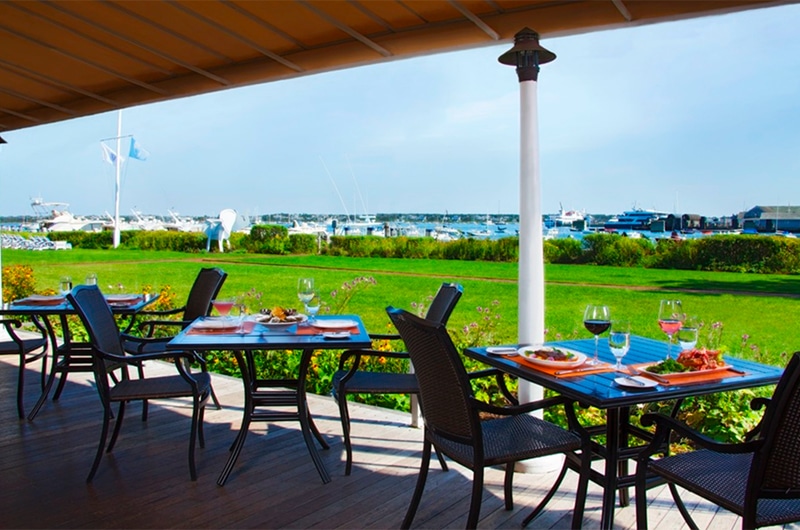 The Brant Point Grill is tucked behind the elegant White Elephant Hotel on Easton Street, which means it's dining room faces Nantucket Harbor withbeautiful waterfront views. During breakfast, Sunday brunch, and lunch, guests can watch the boats and the activity on nearby Children's Beach. Evenings, the setting sun makes the water glisten till the stars come out.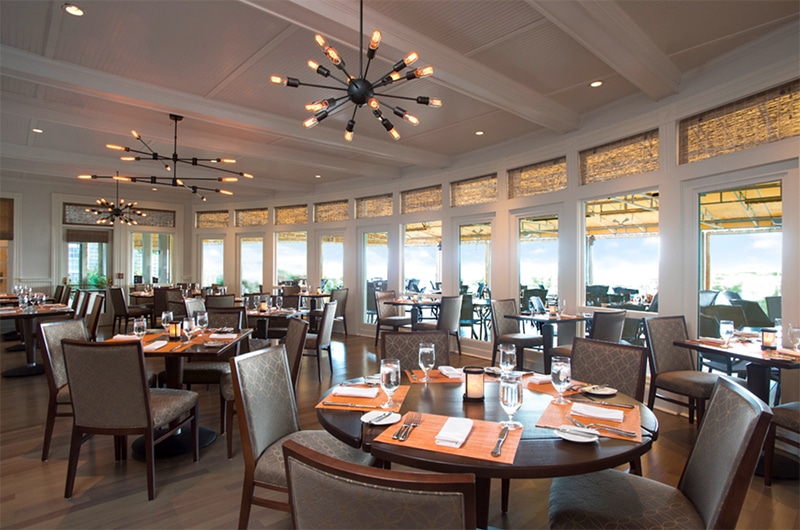 Within this exclusive location and grand hotel, the Brant Point Grill is delightfully casual. It's refined yet relaxed. No white linens or pretentious staff, they've got nothing to prove here! Dinners are served on the outdoor covered deck to take full advantage of the gorgeous view and the ambiance of a classic summer resort. Until the weather warms (and after if needed), there are heaters in the rafters to keep diners cozy and clear panels that can be dropped to shelter from wind and weather.
From late afternoon until 11 pm, a light menu is also served in the BPG Bar, where there's live entertainment on Fridays and every night in season. The bar menu selection ranges from a Burger and Chowder to Lobster Salad Sliders and Short Rib Tacos. Sunday brunch here is known for its raw bar, so we weren't surprised to see fresh local oysters on both the bar menu and the dinner menu.
 Click images to view enlargements
At the urging of our host, we tried two classic pub dishes from the bar menu. The Charcuterie & Artisan Cheese Board is beautifully curated with four different cheeses, from a creamy Vermont Willoughby to an aged cheddar, arranged with wild boar sausage, fennel salami, slightly smoky sopressata, and thin slices of proscuitto. A colorful assortment of pickled vegetables, cornichons, and whole grain mustard provide a delightful crunch and delicious notes of acidity and spice. Sommelier Robert Pruett suggests a glass of 2009 Finca Villacreses, Tempranillo as the perfect accompaniment.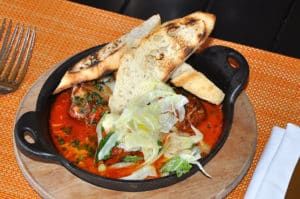 The other "BPG Bite" we tasted and adored are the Beef and Veal Meatballs. This bar menu treat arrived in a cast-iron casserole, hot from the oven with an aroma that turned heads as it was brought to our table. The moist and very tender meatballs are topped with mozzarella and parmesan and served in a luscious pool of housemade marinara scented with basil. A fennel salad overtop adds a tasty anise crunch. (suggested pairing: 2015 Delas Frères, "Saint- Esprit")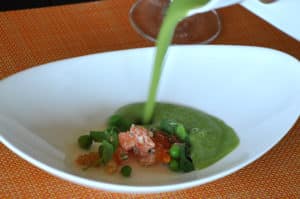 Because of all the rave reviews we'd heard about the Dine for $39 special, that's what we chose first. From the three appetizers and three entrees (dessert is from the full menu), we settled on the Warm English Pea Soup and the Breaded Pork Chop. The soup was the best pea soup we've ever had! Poured tableside over chunks of housecured salmon, salmon caviar, small croutons, plump fresh peas and pea shoots, the rich soup was full-flavored, creamy, and satisfying. The salmon was good, but what we really enjoyed in the soup were the salty pops of caviar and the sweet fresh peas. (suggested pairing: 2013 Weingut Stadt Krems, Grüner Veltliner)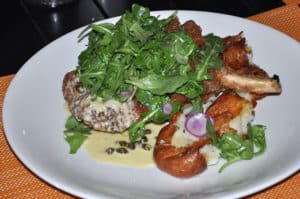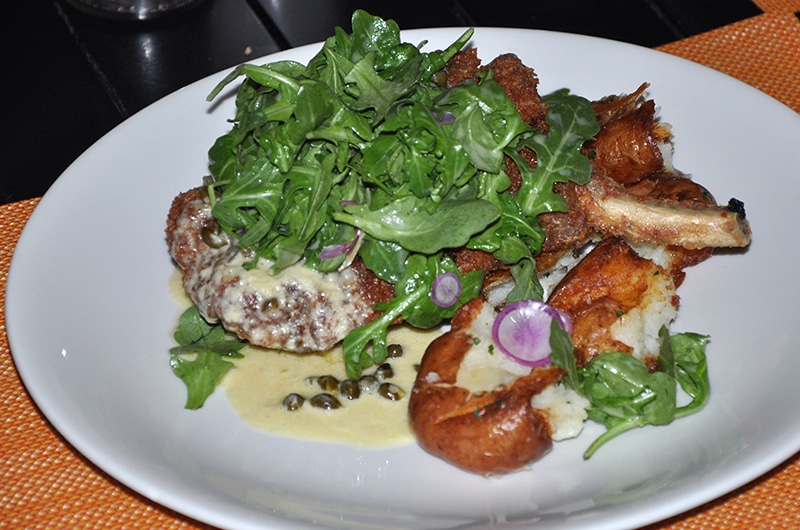 The second course, the Breaded Pork Chop, was also impressive: a massive 12-ounce bone-in chop, its thick, crisp breading enclosing superbly moist and tender pork. A handful of arugula and parmesan salad was served on top of the chop, and a tangy lemon-caper sauce poured over. Even the roasted red bliss potatoes deserve praise: the crunchy browned exteriors gently smashed to reveal fluffy white centers. Bravo Executive Chef Thomas William Pearson! (suggested pairing: 2013 Shea Wine Cellars, "Block 7," Pinot Noir)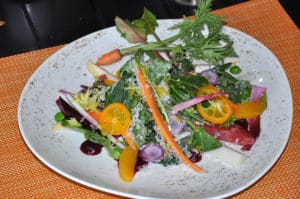 From the regular dinner menu we ordered a trio of chilled seasonal appetizers. BPG Spring Salad is a gorgeous toss of greens, vegetables, and fruit that has an exuberant variety of pickled, fresh, sweet, juicy, and puckery flavors. (suggested pairing: 2014 Domaine Fouassier, "Clos de Bannon") 
The Cured Hamachi is another stellar choice that excites your senses with its fresh, citrusy dressing of white soy vinaigrette, lime, ginger, and chili pepper drizzled over the sparkling fresh tuna. Pearls of tapioca, curls of shaved pickled cucumber, and twirls of salsify chips add a playful mix of textures and flavors. (suggested pairing: 2013 Temlo Rodríguez, "Gabo do Xil") 
Our favorite appetizer of the evening was Chef Pearson's Chicken Liver Mousse, offered with the Dine for $39 and served as a special the evening we were at BPG. Each bite of the creamy, satiny-smooth mousse filled our mouths with flavor, but milder than most: more like foie than chicken liver. Pickled vegetables served alongside were a delicious contrast to the rich mousse.
If you're hungry for a great steak dinner, Brant Point Grill is the place to go! Their pastureraised steaks are all-natural, free of antibiotics and hormones. And under the expert direction of Chef Pearson, they are cooked perfectly to temperature. We paired the tender 12- ounce Pineland Farms NY Strip with their Oscar Style topping for a sensational entree. Sweet crab enveloped in a luxurious bearnaise covered the top of the steak; thin, tender-crisp spears of asparagus were draped over. We highly recommend this add-on to any of the BPG steaks, even the Surf and Turf for Two. (suggested pairing: 2014 Ridge, "East Bench," Zinfandel)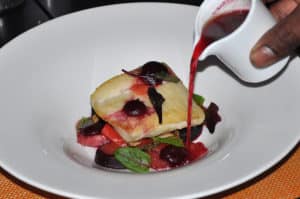 We were intrigued by the new preparation of Atlantic Halibut that matched the fresh fish with foraged mushrooms, salt-roasted beets, and rhubarb, and are happy to report that it is as tasty as it is beautiful. The earthy, sweet, tart flavors are delicious with the fresh fish, a ruby-red sauce poured tableside adds an extra touch of sweetness. (suggested pairing: 2016 Domaine Ott, "Chateau Romassan," Rosè)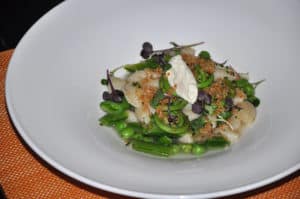 Our vegetarian friends were very happy with the Spring Salad Starter followed by the Cavatelli Pasta. The pasta in this entree is more of a backdrop to the medley of spring vegetables: spring peas, English peas, fava beans, ramps, and shiitake mushrooms all topped with a luscious dollop of smoked ricotta. (suggested pairing: 2014 Ceretto, Arneis)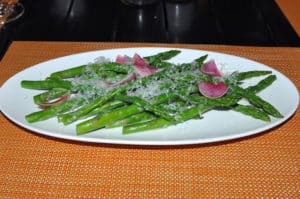 Pair this with the Asparagus and Parmesan side salad for even more fresh spring flavors.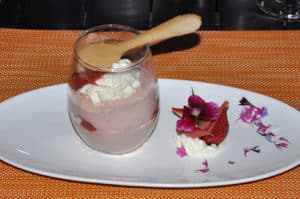 Dinner proved to be a homerun when desserts were presented. Pastry Chef Marcia Bruce's pretty platings were perfect followups to Chef Pearson's appealing presentations. It was impossible to choose a favorite, but the standouts are the light and tangy Rhubarb Mousse with touille cookie "spoon";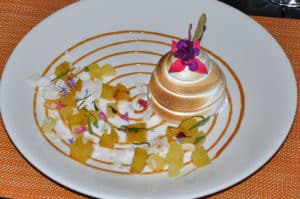 the classic Baked Alaska in an whimsical beehive design with poached pineapple, coconut, and caramel;
the dark and delicious Chocolate Bouchon with caramel ice cream, meringue kisses, and chocolate-pistachio brittle;
and the flavorful Ricotta Cheesecake with bruleed top, fabulous blueberry-lime ice cream, and fruit compote.
If you don't have an occassion to leave the house this month, then make one up and get over to The Brant Point Grill!
Brant Point Grill at the White Elephant
50 Easton Street
BrantPointGrill.com • Reservations suggested: 508-325-1320
Breakfast served 8 to 11 am • Sunday Brunch from 10 am to 2 pm
Lunch 11:30 am to 3 pm • Bar Menu 3 to 11 pm • Dinner from 5:30 pm
Most dinner entrees from $25 to $56 with a "Dine for $39" Spring option
Full Bar • Indoor & Outdoor Dining • Handicap Access
Major Credit Cards Accepted • Families welcomed