The Ships Inn – Perfect from First Bite to Last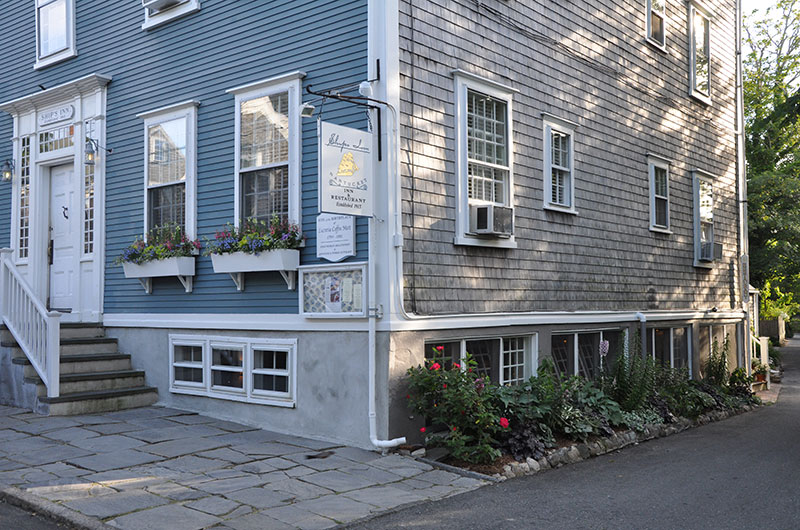 It occurred to me when I started writing this week's featured restaurant that I could probably sum up our experience with just a single word: WOW! But that would not give you any detail on how very good Chef-Owner Mark Gottwald's food tasted or how warmly welcomed long-time The Ships Inn manager Bob Moulder made us feel or what a fine job Melissa did serving our table.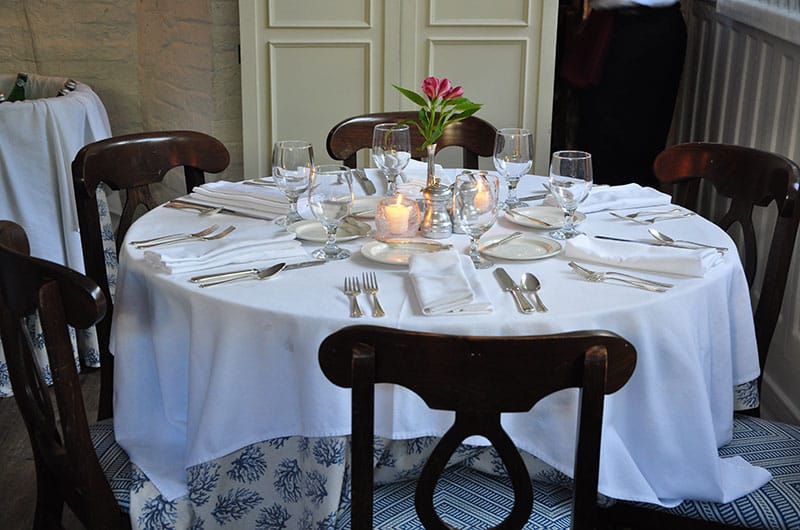 For the second year in a row, our meal at this restaurant was a homerun— perfect from the first nibbles of warm Ships Inn rolls and cinnamon baguette to the final spoonfuls of raspberry souffle drenched in creme anglaise. From the moment you enter The Ships Inn on Fair Street, you are surrounded by Nantucket history. The building it occupies, along with the inn upstairs also run by the Gottwalds, was once the home of Captain Obed Starbuck, famous for his record-breaking success in whaling. The lower level restaurant is divided into a main dining room and the less formal Dory Bar, with the same menu served in both.
We were seated in our favorite corner of the main dining room, under the row of windows that look out onto one of their several gardens. (Take a peek out the window behind the Dory Bar: there's even a garden in that subterranean view.) Tables are beautifully set with classic style—crisp linens, silver, candles and fresh flowers—your first indication that this truly is a fine dining establishment.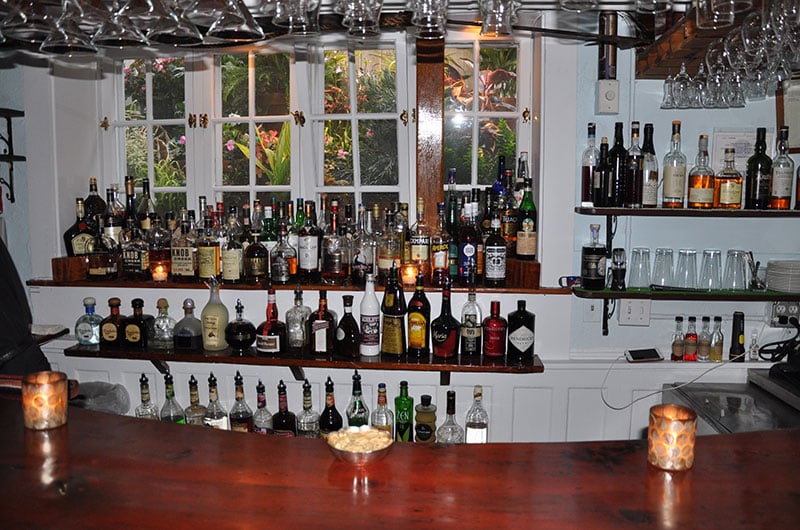 Everything served at The Ships Inn is made in-house from the freshest ingredients. Chef Gottwald was classically trained and has spent years honing his skills, but it takes inborn talent to cook as he does. Each of his dishes has layers of intense flavor. He knows just when to add a sauce and how to use restraint in doing so. And his presentations and accompaniments are well-thought out and beautifully designed, with an eye for color and texture as impressive as his talent for pairing flavors.
Click on images for larger view
His cool and summery Jumbo Lump Blue Crab and Kale Salad is sophisticated without being self-conscious. The chopped purple kale is tender and tossed with plump golden raisins, roasted beets, and a subtle yogurt and marscarpone dressing with a hint of lemon. On top is a generous serving of crab meat in very large sweet pieces, chilled and topped with a curry remoulade that adds vibrant color and flavor, yet lets the delicate crab shine through.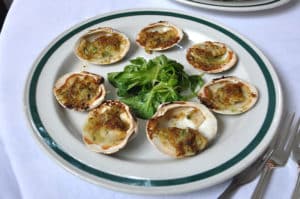 If you like clams, you'll fall in love with the Clams Broiled "Croute Herb." For this sensational starter, Chef Gottwald shucks tiny littlenecks, places them back on the half shell and tops them with garlic herb butter and bread crumbs. He then broils them just till the butter melts and the crumbs turn golden. The clams emerge very lightly cooked with an appealingly crunchy topping. Without all the extras typical of clams casino, in this dish you can really taste the clams.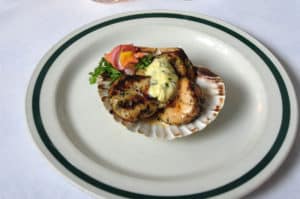 The third seafood appetizer we tasted and adored is the Grilled Sea Scallops. The scallops are elegantly presented in a large scallop shell with a single colorful flower — the aromas of butter, smoke, and truffles combine to capture the attention of all at our table (and at the table next to us). Grilling enhances the sweetness of the scallops. The lobster vinaigrette underneath and the hollandaise studded with bits of black truffle overtop make this appetizer irresistible.
The robust and enticing Vegetarian Risotto can be ordered as an appetizer or as an entree. There's a garden of flavor in this dish: fresh herbs are stirred into the creamy risotto along with diced carrot, leeks, mushrooms, asparagus, and tomato. Draped over the rice are broad grilled slices of zucchini, summer squash, and eggplant, with a delectable summery char.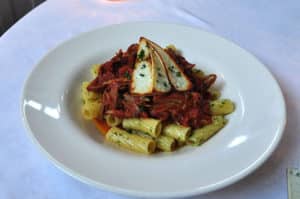 Fresh herbs and the bright flavor of garden-fresh tomato take the reigns in Chef Gottwald's Rigatoni with Duck Bolognese. We thought this dish might be heavy for a summer menu, but no. The shreds and juicy pieces of duck meat are enveloped in a sauce that tastes of summer sunshine.
Hearty, but lighter than steak (which is also excellent here) is the Veal Scallopini Citron, one of our favorite dishes. The veal, pounded thin, is forktender with deliciously crisp edges and is served in a deeply flavorful, rich sauce studded with capers and brightened with citrus. Think of veal piccata with rich veal stock added to the sauce. YUM! A tangle of homemade fettuccine (spinach and egg) is served alongside with two quenelles—one of broccoli and one of carrot—that add bright color and intensely fresh flavor.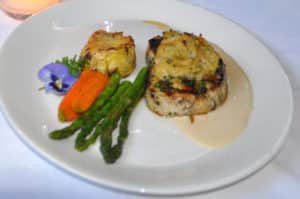 You will never go wrong ordering fish at The Ships Inn. Chef Gottwald is a master at preparing fruit de mer. If Grilled Swordfish is offered as an special as it was the evening we spent at Ships Inn, don't hesitate to order it! The meaty swordfish steak was fresh from the dock, moist, and deliciously charred from the grill. Nantucket's fresh garden harvest was paired with this bounty from the sea, with lemongrass and braised leeks served on top of the swordfish, tender-crisp asparagus and carrots served alongside with a tasty, golden brown artichoke and potato gratin.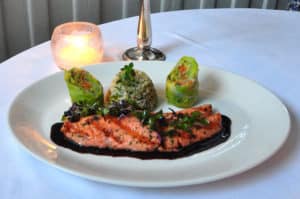 It was the Paillard of Wild King Salmon that stole the show. We have never had salmon this good! Sparklingly fresh and handled with the expertise of a very talented chef, the salmon was simply seasoned, grilled, and served on a dark, potent sauce of balsamic vinegar reduced with malbec to soften it and add depth of flavor. Alongside the salmon is herbed brown rice and a fun and colorful vegetable spring roll truly made with just vegetables.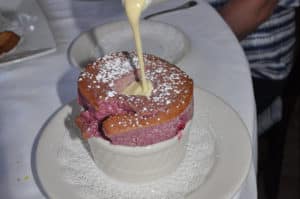 Don't skip dessert at The Ships Inn—just don't! As full as we were entering into the final course, we couldn't resist finishing every last bite, each dessert was that good. We had ordered the souffle, of course—you don't dine at The Ships Inn without someone at your table ordering the Souffle of the Evening. The night we were there it was Raspberry: tall, fluffy, and delicious, served with creme anglaise good enough to drink from the pitcher.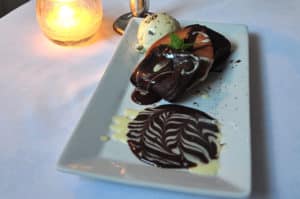 Pastry Chef Matt Ames' Flourless Chocolate Souffle Cake is back on the menu this season, its deep, dark chocolate flavor set off with pistachio ice cream and white and dark chocolate sauces.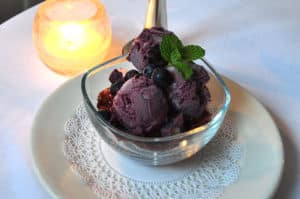 The two desserts we were still raving about the next day were the housemade Blueberry Ice Cream that somehow captured the deliciousness of fresh summer berries in a frozen treat…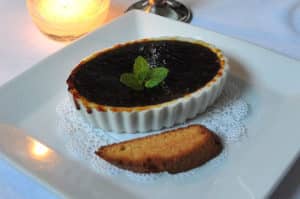 … and the Cappucino Creme Brulee that is a coffee lover's dream captured in a perfectly executed creme brulee. Good thing they used decaf, because we devoured every bit.
For a marvelous meal prepared with passion in an intimate, historic setting, spend an evening at the Ships Inn. This is the perfect spot to make memories to savor.
The Ship's Inn
Reservations suggested: 508-228-0040
13 Fair Street • shipsinnnantucket.com
Dinner served from 5:30 p.m. • Dory Bar opens at 5 p.m.
Entree prices range from $24 to $45
International Wine List & Full Bar • major credit cards accepted