Rose & Crown – A Lively Evening of Food & Fun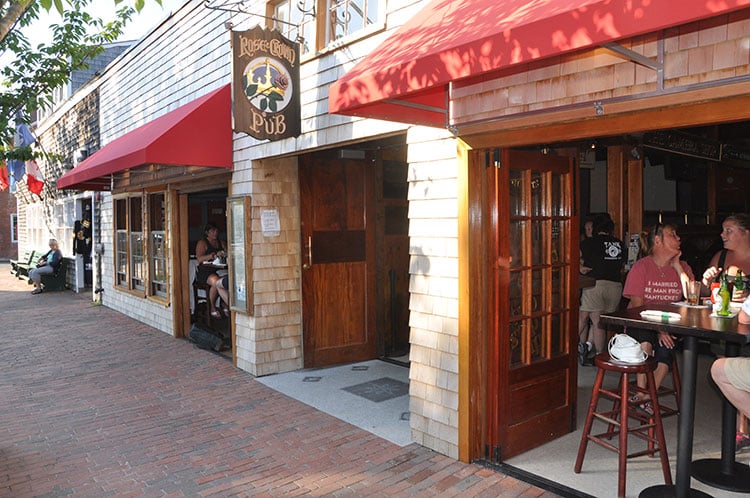 We arrived at The Rose & Crown last week we had our choice of seats. It was early—just before 6 pm— and the after-work crowd had thinned and the dinner crowd not yet arrived. Sean Lee was playing his heart out in the bar and, with the big doors wide open to the sidewalk and inviting, a crowd was gathering to listen and check out the menu. By 7 pm, the place was packed with couples, families, and groups of 20- somethings out for a good time.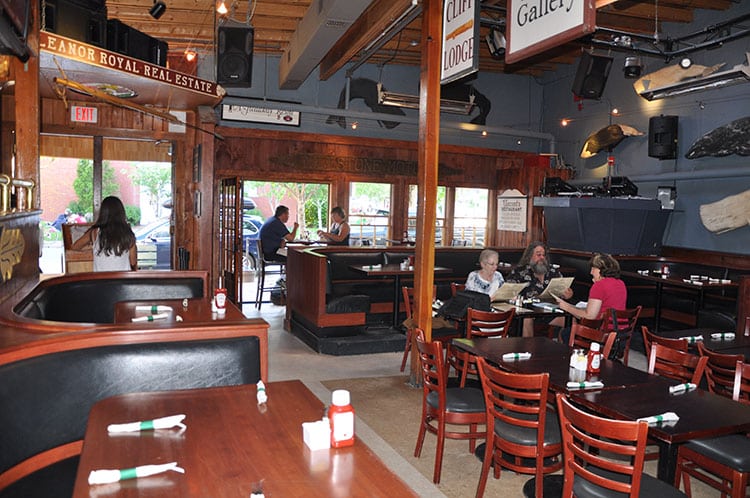 The bar at the Rose & Crown is an island favorite. With several bartenders who are quick, know their craft, and are just sassy enough to be fun, there's never a long wait to quench your thirst, even with all the seats are filled. All 12 of the beers they offer on draft are craft beers with a summer lineup that ranges from Blue Moon Belgian White Ale to Shipyard Summer Ale. And they often have something new to sample: ask about the Staff Pick of the Week.
Bartenders here can do more than just pull a tap! Their cocktails are creative, flavorful, and refreshing. Try The Nantucket Sipper or the honey infused Island Buzz. After a day in the sun a refreshing Cucumber Girls or Slightly Breezy hits the mark. Even their "mocktails" deserve high praise, from their summery Watermelon Ice Tea to The Virgin Spa Day with cucumber, mint, watermelon, and lavender.
Food at "The Crown" has been a draw for years, with standouts ranging from burgers to steamers, sandwiches to shrimp scampi. Even with a sudden change of chef in June, this landmark Nantucket pub did not miss a step (a testament to the expert management here!). David Capitos, who'd been in the kitchen for years, moved into the position, revised the menu, and is sending out some of the best pub food on the island.
The summer menu includes more than half a dozen gluten-free choices, though if you do eat bread you'll be impressed by the bakery-fresh artisan rolls and the brioche buns used for their sandwiches and burgers. Several menu selections are designed to please those who follow vegetarian and vegan diets. The Rose & Crown is one of a handful of eateries on Nantucket that encourage you to bring your kids by offering a Children's Menu with selections under $8. And they'll bring free crayons and paper to the little ones without having to be asked.
Click on images for enlargements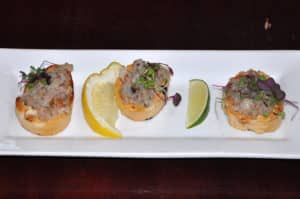 There's a new "Bites" section ideal for patrons who just want a snack while they sip. We tried every one of these—Grilled Shrimp Toast, Deviled Egg Toast, Smoked Salmon Toast, and Bollies. Each one is just a tasty bite or two, with flavors that appeal to a range of preferences. Standouts for us were the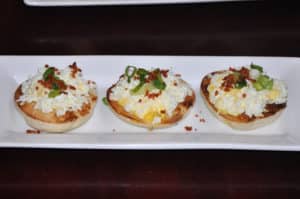 Deviled Egg Toast, a deconstructed deviled egg that's creamy with chopped egg, scallions, and bacon on a mini toasted Portuguese bun,…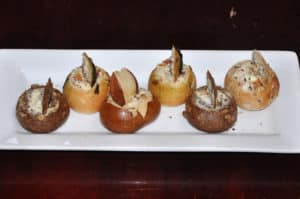 … and the Bollies, an assortment of tiny cocktail rolls, pumpernickle, herb, wheat, and pretzel, hollowed out and filled with goat cheese and pancetta.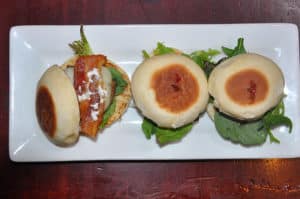 Many of the appetizers at The Rose & Crown fit into the finger foods for sharing category. Patrons will be happy to see that the Nachos, Bluefish Pate, and Steamers they love are still served. We adore the new Grilled Lamb Sliders, served three to a plate. The patties are juicy and flavorful as only lamb can be, topped with bacon and melted provolone, with greens and a dollop of chilled tzatziki. The buns are the mini toasted Portuguese bread buns used with the deviled egg toast.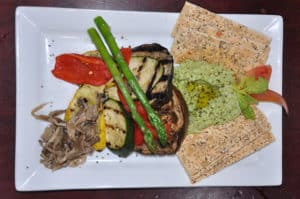 Also very good and very summery is the Veggie & Edamame Hummus Plate, one of the new vegan choices (gluten-free, too, if you skip the crackers). The red pepper, zucchini, summer squash, and eggplant all have a deliciously smokiness from the grill. Spears of asparagus, blanched and chilled, are tender-crisp, and the sauteed mushrooms are tender and tasty. It's the garlicky housemade edamame hummus that was our favorite on this plate. It's good with the vegetables or just spread on a whole grain cracker.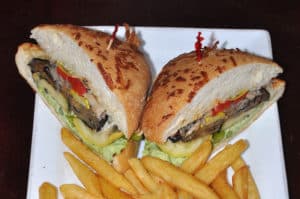 For the Grilled Vegetable Sandwich, Capitos takes the same beautifully grilled vegetables he serves on the hummus plate and stacks them on a fresh parmesan ciabatta roll with a smear of his hummus and some herb mayonnaise. Very tasty and—if you manage to avoid devouring all the hot, crisp, salty fries served alongside—very healthy.
We were happy to see that they kept their sensational Fried Oyster Po'Boy on the menu for this summer, but since we were there to try what's new, we ordered the Smoked Blue Cheese Cheese Steak and the Braised Short Rib French Dip. Both are hearty and delicious. The Cheese Steak served on a craft beer roll is not even close to the Philly sensation we grew up on, but we like that The Crown kitchen slices the grilled tri-tip a little thicker than chipsteak, and the smoked blue cheese is a nice twist on the classic "wiz."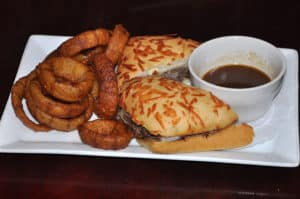 The French Dip was our favorite of the two. The short rib is deeply flavorful and very tender. The swiss cheese and schmear of garlic mayonnaise add a tasty bite, and the toasted parmesan ciabatta roll doesn't fall apart but is not so crunchy that it hurts your mouth. Best of all, the "dip" is deliciously beefy, not the watery broth that usually comes with this style of sandwich.
Hangover Burger is our favorite among the trio of specialty burgers served at The Crown. Stacked almost too high (we took off The Crown's sweet, crunchy onion rings and ate them separately), this juicy monster with bacon, onion, and three cheeses on a buttery brioche bun is sure to soak up any alcohol left from last night's party.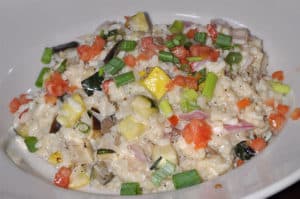 In addition to the pub food, at 5 pm every evening The Rose & Crown offers nine different dinner entrees featuring steak, chicken, and seafood, often rounded out by one or two evening specials. The Roasted Vegetable Risotto is a winner for vegetarians and for meat-eaters. The risotto is creamy with hints of garlic and earthy mushrooms— but it's delightfully fresh rather than heavy! The asparagus, zucchini, and squash diced and stirred into the risotto hold their flavors and add a nice firm texture to the mix. Juicy, ripe tomato along with chopped scallions add color and freshness to this summer treat.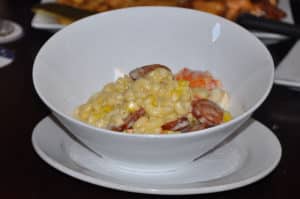 The Lobster Mac & Cheese (a Crown staple) is a little rich for summer fare, but when it's this good we don't mind at all! We're not sure how the new chef tweaked the recipe, but this dish is better than ever this season. We love the sweet pops of fresh corn kernels alongside spicy circles of linguica and tender chunks of lobster all folded into the luscious cheese sauce.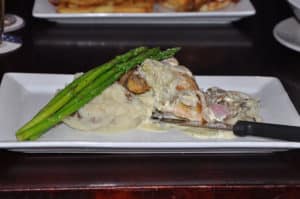 Our only complaint about the chicken entree is its name: Airline Chicken Breast. Nobody loves airline food, and this entree is superb! The statler breast is moist with deliciously crisp, well-seasoned skin. It's served nestled into a scoop of skin-on mashed potatoes and topped with a creamy parmesan sauce with wild mushrooms, artichokes, and onions. When you cut into the breast a sensational stuffing of herbed goat cheese and pancetta spills out.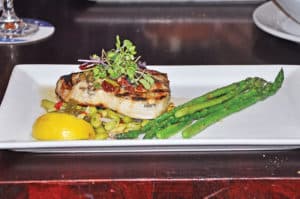 Our favorite entree of all is the Grilled Swordfish. It's marked on the menu as a "Rose & Crown Favorite," and after tasting it, we know why! The fish is moist, meaty, ocean-fresh, and cooked with a delicious smoky char. It's served in a mix of sunny Mediterranean flavors: sun-dried tomatoes, onions, capers, and a very light garlicky lemon sauce. Tucked underneath the fish is a cool salad of edamame, grilled corn, and red onion that adds bright, fresh flavor to the dish. It's a winner!
Rose & Crown
23 South Water Street • 508-228-2595 • theroseandcrown.com
Serving food continuously from 11:30 am to 10 pm; entrees from 5pm
Entree prices range from $17.99 to $24.99, plus
burgers, meal-size sandwiches & salads most under $16
Bar open until 1 AM with craft beers on tap
Entertainment • Air-conditioned
Children's Menu available for 12 & younger
MasterCard, Visa, Amex accepted