Nantucket's Best Bites – 2016
Now that the summer crowds have thinned, it's much easier to score a table at Nantucket restaurants. This time of year, we like to take a little time to recall our favorites from the 2016 season and revisit them before some close for the off-season. Here is a list of one dish we'd love to enjoy again from each restaurant we featured this summer. Some of these dishes that we enjoyed during July and August were seasonal and have been replaced by autumn fare; some that we tried last spring are back on menus for fall. We're confident that even if you cannot try the dishes we list here, you're sure to find another that will become your choice for Best Bite. When you do, send us a photo and description to yi@nantucket.net.
The Proprietors bar & table
9 India Street • 508-228-7477 • proprietorsnantucket.com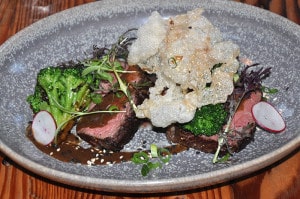 We've never had shortribs the way Chef Michael LaScola prepares them in his Shortrib Beef & Broccoli. Cooked sous vide and finished on the grill, the beef is served sliced and has the rich flavor of a ribeye and the supreme tenderness of a slowcooked shortrib. The broccoli is as good as the beef, with umami flavor and a tinge of smoky char. Gingered turnip puree and a red-eye gravy make a delicious East-West finish, and the final touch is a cloud of flavor, otherwise known as deep fried beef tendon.
Brant Point Grill at the White Elephant
50 Easton Street • 508-325-1320 • BrantPointGrill.com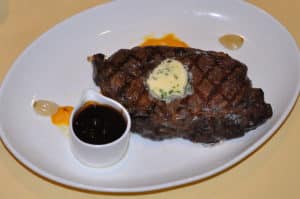 Steaks at Brant Point Grill are simply served and simply delicious. We were dazzled by the tenderness and rich flavor of the Prime Aged Rib Eye. The thick steak arrived at table with beautifully charred edges, its center warm and red—exactly medium-rare, as ordered. The rib eye rested upon a sweet, bright orange carrot puree and a pat of herb butter melted down to run into the jus. At 16 ounces, it was a bit large for us to finish at dinner, but it made lunch the next day very special.
The Restaurant at Miacomet
12 West Miacomet Road • 508-325-0335 • MiacometGolf.com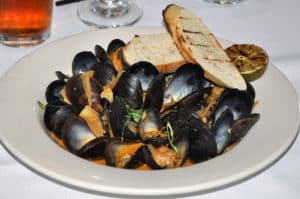 A new chef brought renewed vibrancy to the popular fare served in the Restaurant at Miacomet Golf this season. The Mussels were so good that we could have asked for a double order and been perfectly happy feasting only on this appetizer. Small but plump, the mussels are brought to table in a wide shallow bowl arranged like a flower blossom: each glossy shell wide open to reveal a glistening orange morsel. And the deeply flavorful coconutharrissa broth with sparks of heat left us purring with delight! After we devoured the mussels and dipped and ate all the grilled bread, we were tempted to lift the bowl to our lips to drink the rest.
The Ship's Inn
13 Fair Street • 508-228-0040 • shipsinnnantucket.com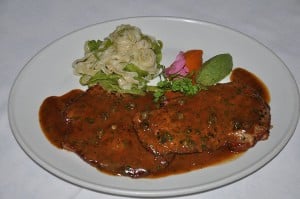 Hearty, but lighter than steak (which is also excellent here) is Chef Mark Gottwald's Veal Scallopini Citron. The veal, pounded thin, is fork-tender with deliciously crisp edges and is served in a deeply flavorful, rich sauce studded with capers and brightened with citrus. Think of veal piccata with rich veal stock added to the sauce. YUM! A tangle of homemade fettucine (spinach and egg) is served alongside with two quenelles—one of broccoli and one of carrot—that add bright color and intensely fresh flavor.
American Seasons
80 Centre Street • 508-228-7111 • americanseasons.com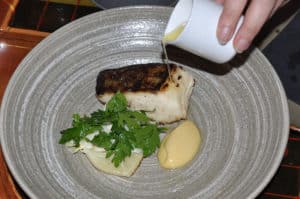 Sometimes it's the simplest dishes that reveal the most about a chef. It was the humble Cod Filet that tied for table favorite among Chef Neil Ferguson's entrees on his late summer menu. Prepared skin-on and expertly cooked, the cod arrived easy to pull apart in large, moist flakes and topped with skin shatteringly crisp and deliciously seasoned. It's the accompaniments that make this dish both surprising and possibly the best codfish entree we've ever tasted: roast lemon puree and fennel bulb. The magic happens when you partake of all three together: a large flake of cod, a bit of fennel, and a smear of the lemon puree. The dish plays tricks on your palate in a most pleasing way that is difficult to articulate, leaving us to simply say "Wow!"
Dune
20 Broad Street • 508-228-5550 • DuneNantucket.com
Chef Michael Getter's Spanish Shrimp, Littlenecks, and Mussels is a dish of warm, rich flavor. Slices of chorizo, peas, tender fregola, red pepper, join the shellfish and shrimp in the deeply flavorful and tomato broth with smoked paprika and saffron. This is not quite a stew, but much more than a mixed seafood dish. The clams (whole and out of their shells), the mussels (still tucked inside theirs), and the huge shrimp (heads-on) were each cooked just right, retaining their individual tastes and textures, but delicious when eaten with a bit of chorizo or smoky broth.
Fifty-Six Union
56 Union Street • 508-228-6135 • fiftysixunion.com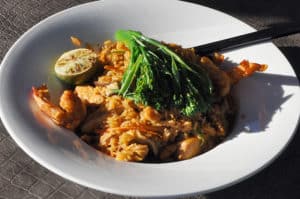 Some like it hot, and if you're one of them, you'll love Chef Peter Jannelle's Javanese Spicy Fried Rice. It may already be one of your favorites: the dish is legendary on Nantucket. It even comes with a warning: "this dish is level 8 on a 1 to 10 scale of heat…cannot be modified at all. For spicy lovers only." Intriguing, eh? This fiery dish is also full of flavor. Shrimp, chicken, shiitake mushrooms, ginger, rice, carrot and other vegetables—all tinted red from the Javanese hot chili sauce—somehow retain their individual flavors. Although the heat is searing, we found it short-lived and addictive. Eat this dish with the chopsticks provided and you'll take smaller bites between this and sips of your choice of cold brew.
The Breeze Restaurant in the Nantucket Hotel
77 Easton Street • 508-228-4730 • breezebarandcafe.com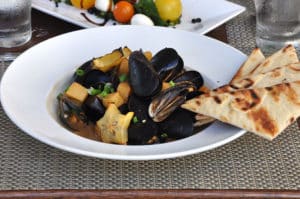 Listed among the appetizers, but hearty enough for a light meal, the Cape Cod Mussels served at The Breeze are fresh and fruity, sweet and spicy—another of Chef Josh Schoen's inspired variations. The mussels are bathed in a coconut chili broth that adds just enough heat to wake up your palate, but not so much as to mask the flavors of the mussels, pineapple, and star fruit.
TOPPER'S at The Wauwinet
508-228-8768 • wauwinet.com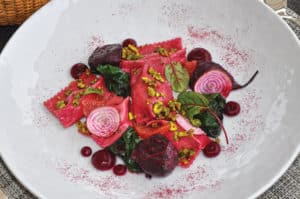 The dishes that come out of Executive Chef Kyle Zachary's kitchen emphasize the fresh seasonal harvest without relying on heavy sauces or overwrought presentations. In keeping with this chef's devotion to fresh produce, it was his Cloumage Cheese Agnolotti that was our table favorite. Tender housemade beet pasta is filled with award-winning creamy cloumage cheese and served with sweet roasted beets. Toasty pistachio gremolata sprinkled overtop adds a tasty crunch, and segments of blood orange add sweet pops of juice. Fresh and braised beet greens help cut the sweetness of the dish with a pleasantly bitter bite.
Kitty Murtagh's
4 West Creek Road • 508-325-0781 • KittyMurtaghs.com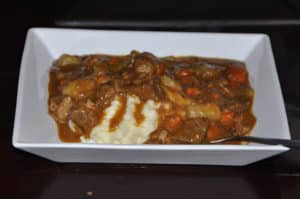 The Lamb Curry is a new take on an old classic. We already know Kitty's has mastered the classic Irish beef stew. This entrée, however, takes it to another level. The exotic symphony of South Asian flavors compliments the lamb beautifully. Served over mashed potato and suddenly it all makes sense; you're right back home again. New world flavors with an old world feel.
Atlas BBQ & Fish House
130 Pleasant Street • 508-825-5495 • atlasnantucket.com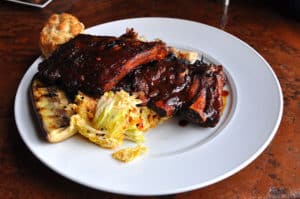 There's no way we were going to skip Chef Brandt Gould's House Smoked Baby Back Ribs at Atlas. The meat was fall off the bone and moist, smothered in house made barbecue sauce. The ribs came with a tangy sesame slaw, a cheese biscuit, and perfectly simple rice and beans, and we paired them with a Pirates Paradise that combines local Privateer rum with house-made pineapple shrub with fresh lime and bitters. It's oaky, smoky, with a nice kick of subtly sweet pineapple.
Rose & Crown
23 South Water Street • 508-228-2595 • theroseandcrown.com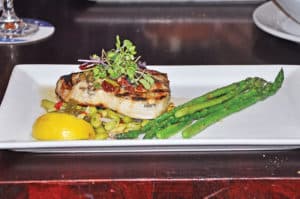 The Grilled Swordfish is marked on the menu as a "Rose & Crown Favorite," and after tasting it, we know why! The fish is moist, meaty, oceanfresh, and cooked with a delicious smoky char. It's served in a mix of sunny Mediterranean flavors: sun-dried tomatoes, onions, capers, and a very light garlicky lemon sauce. Tucked underneath the fish is a cool salad of edamame, grilled corn, and red onion that adds bright, fresh flavor to the dish. It's a winner!
29 Fair
29 Fair Street • 508-228-7800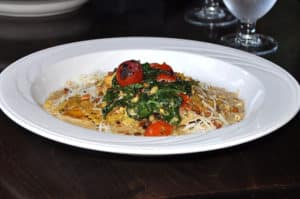 After tasting the Butternut Squash Ravioli once, we'd order it again in a heartbeat. The ravioli are filled with butternut squash, nutmeg, and parmesan for a deeply satisfying, sweet flavor that is sensational with the toasted pine nuts, baby spinach, and the bright acidity of the whole roasted tomatoes served on top. The ravioli is sauteed just before plating, which adds a slight golden crunch before the sauce is poured over. We can only hope this dish remains on the Fall Menu for 29 Fair.