Fifty-Six Union – Perfect Spot for Summer Celebrations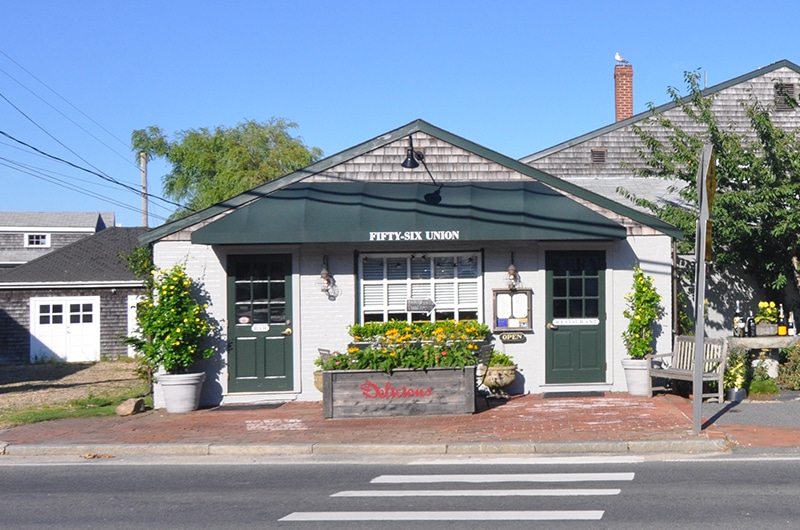 There are restaurants on Nantucket that have one very special table—a table in a private area, set apart from other diners. It can be in a hidden nook off the main dining room. It can be a chef's table in bustling kitchen. It can be on a private patio or in a garden. This table is rarely advertised (guests hear about it from an insider), and it must be requested, sometimes well in advance. But if you can score a reservation at one of these, your dinner out becomes a special event.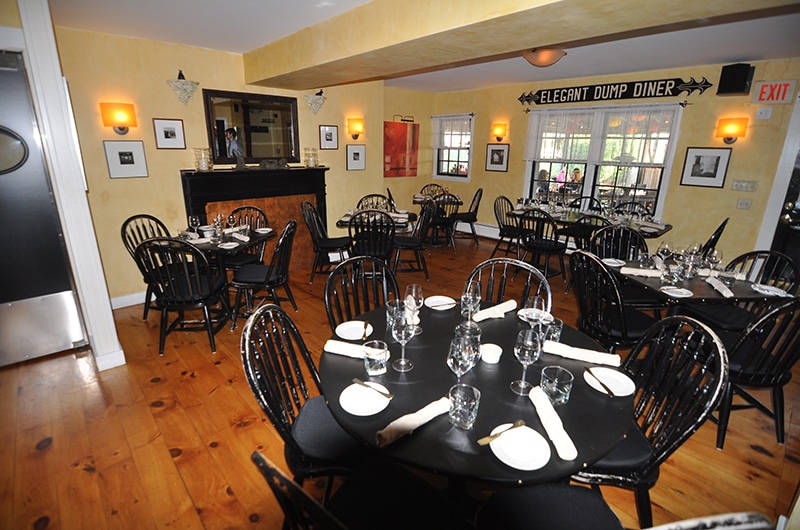 We've dined at Fifty-Six Union many times over the years: stopping by on a dinner break for a quick bite at the bar, gathering with family round the big table in the front window, celebrating the holidays at parties in the back room. But until last week, we had never dined at Table 56.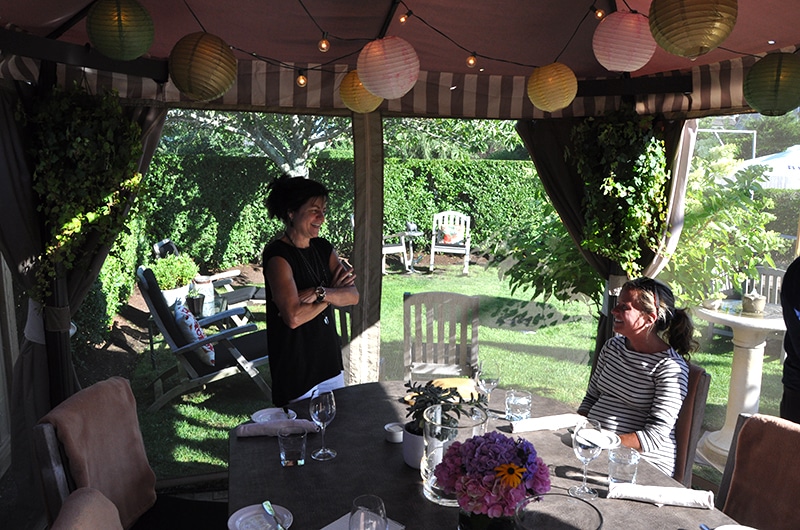 Positioned in the lush, colorful, and meticulously cared for garden just beyond the sheltered patio dining area and outdoor bar at Fifty-Six, this special spot looks like a Bedouin tent in an oasis. It's spacious, airy, and festively decorated. The large wooden table inside comfortably fits 8 to 10, possibly 12. Screening prevents small annoyances from crashing the party, but permits full clear view of the surrounding garden.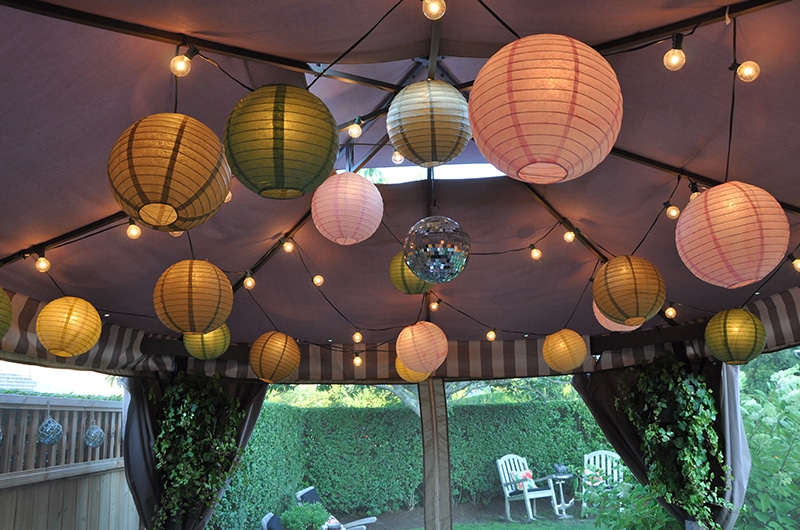 There's no doubt about it: you really feel like you're celebrating something special at Table 56.
As it turns out, we were! Congratulations to team member Sarah and her husband Brett on the early arrival of their first child just a few days after she joined us for the meal. Which dish was the trigger?
Click on images for enlargements.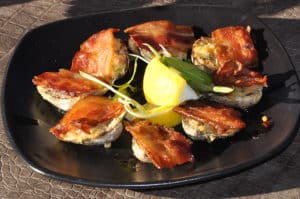 Chef Peter Jannelle, who owns and runs Fifty-Six Union with his wife and partner Wendy, changes his menu seasonally, but there are a few beloved items that are consistently offered. One is his Clams Casino. This is a very well done classic, with small, fresh and tender clams under just enough buttery herb crumbs to make them irresistible without masking the flavor of the shellfish. Each is topped with a generous piece of crisp, smoky bacon.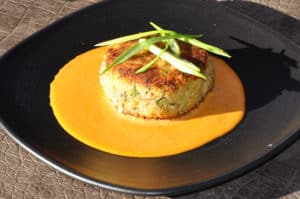 Back on the summer menu and receiving great acclaim is the chef's version of a Crab Cake. The single thick cake is moist, and full of the sweet flavor of fresh crab (Jonah and lump) with accents of bell, poblano, and jalapeno pepper. It's lightly rolled in panko before being cooked to a delectable golden brown and served in a pool of silky Sauce Americaine tasting of lobster, tomato, brandy, and dijon that demonstrates Chef Jannelle's classic training and impressive talent. (Suggested pairing: Louis Latour White Burgundy)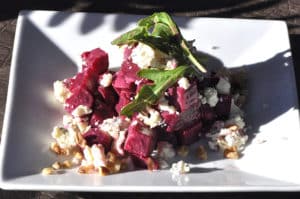 August heat persisted into the evening nearly every day last week, making the cold appetizers particularly appealing. We adored the chilled Beet Salad for it's great mix of flavors: toasty walnuts; tangy Great Hill Blue cheese, and clean, sweet beets in a light yet creamy dressing…little cubes of deliciousness. (Suggested pairing: J Pinot Gris)
Melon & Prosciutto is another excellent choice for a hot summer night. Supremely juicy cold watermelon, compressed with agave, lime juice, St. Germaine, and a touch of smoked salt, is cubed and stacked in a colorful and tasty composition with ribbons of thin prosciutto, crumbles of creamy goat cheese, strips of fresh basil, and drizzles of balsamic glaze. (Suggested pairing: Domaine Houchart Cotes Provence Rosé)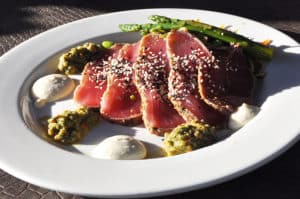 One of our favorite Fifty-Six entrees is also served cold: Seared Rare Tuna. Glistening pink fish with just a narrow edge of sear and seasoning is dusted with white and black sesame seeds and fanned out over a cold salad of udon noodles, edamame, thin slices of snow peas and carrot. Thin spears of asparagus are laid across the top. Two dipping sauces are dotted around the plate: a smooth and creamy aioli with hints of pickled ginger and a nubby nuoc cham that has a perfect balance of sour, sweet, salty and spicy—nice job Chef! (Suggested pairing: Veuve Clicquot)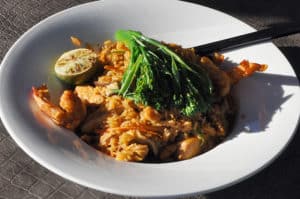 Some like it hot, and if you're one of them, you'll love Chef Jannelle's Javanese Spicy Fried Rice. It may already be one of your favorites: the dish is legendary on Nantucket. It even comes with a warning: "this dish is level 8 on a 1 to 10 scale of heat…cannot be modified at all. For spicy lovers only." Intriguing, eh? This fiery dish is also full of flavor. Shrimp, chicken, shiitake mushrooms, ginger, rice, carrot and other vegetables—all tinted red from the Javanese hot chili sauce—somehow retain their individual flavors. Although the heat is searing, we found it short-lived and addictive. Eat this dish with the chopsticks provided and you'll take smaller bites between this and sips of your choice of cold brew.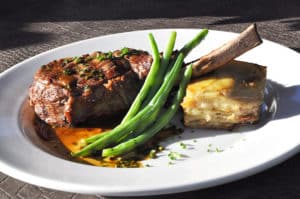 There are times that you think the only meal that will satisfy your hunger is a great steak: on evenings like that, order the Grilled Veal Chop at Fifty- Six. It's got the heft and flavor of a prime steak, but the tenderness and smooth texture that only comes with veal. The bone-in chop is served thick cut, both sides sporting beautiful grill marks with just the right amount of char moistened by a rich wild mushroom demiglaze. Tender-crisp green beans are served alongside, with a deliciously layered potato gratin scented with truffle. (Suggested pairing: Fifty-Six Union Pinot Noir by Jed Steele)
Chef Jannelle includes a vegetarian selection on each of his menus and these are always more than just a nod to this preference. His Vegetarian Ravioli on the summer menu are huge pockets filled with a vibrant and hearty Mediterranean mix of eggplant, squash, artichokes, pepper, onion, olive, sun-dried tomato, and a trio of cheeses : feta, mozzarella, and asiago. The raviolis are served in a light, fresh, and brightly flavored tomato-fennel sauce. This dish sent the vegetarian in our party over the moon, and the rest of us omnivores loved it, too! (Suggested pairing: Domaine Houchart Red Blend from Provence)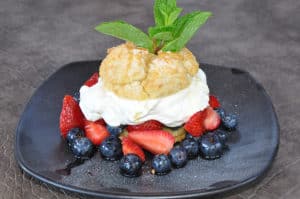 It's hard to top Chef Jannelle's Berry Shortcake with fresh strawberries and blueberries spilling out from between two fluffy orange scented biscuits with plenty of whipped cream.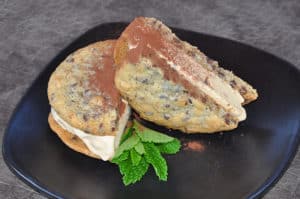 But the Chipwich dessert might just do it. We could not decide which we like better: the two chocolate chip walnut cookies or the salted caramel chocolate truffle gelato sandwiched in between them. This Chipwich is the best ice cream sandwich we've ever tasted!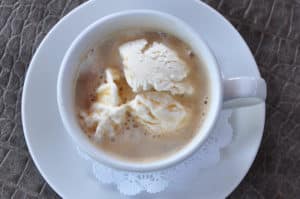 If you'd prefer a lighter dessert, go for the Fifty-Six Float — vanilla ice cream floating in a shot of espresso. I want my morning coffee like this!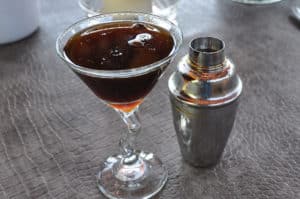 Or try their signature Espresso Martini for dessert. One of the secrets to why these are so good is the espresso is made to order for each martini.
When you're at Fifty-Six Union this week, seated at Table 56 or in one of their other indoor or outdoor dining rooms, raise a glass to Sarah, Brett, and little Michael Christopher.
Fifty-Six Union
Fiftysixunion.com
Open year-round at 56 Union Street • 508-228-6135
Bar opens at 5 pm; Dinner served nightly
Entree price range is $18 to $51 indoor and outdoor dining;
special Table 56; full bar
dining rooms available for private celebrations major credit cards accepted
plenty of parking